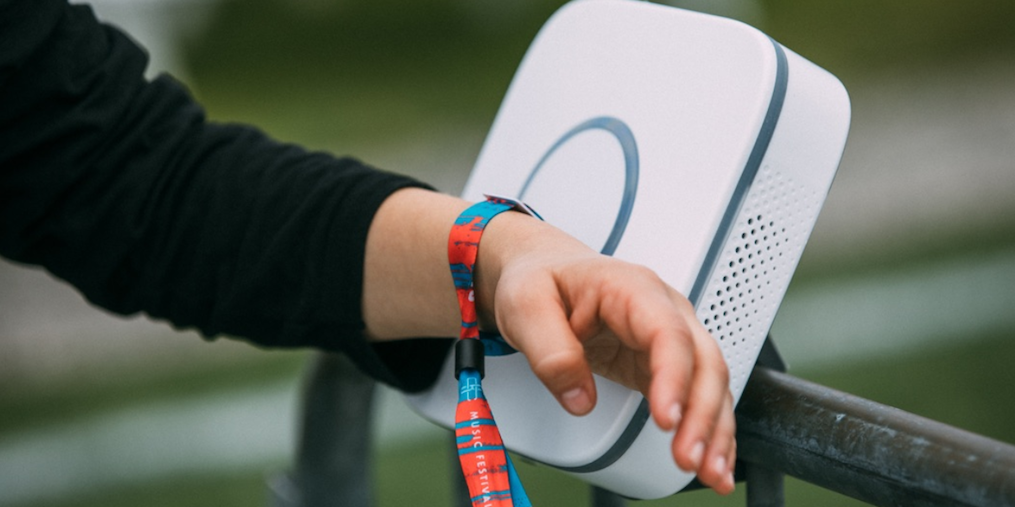 What Is RFID, and Why Should Event Creators Care?
For large festivals and conferences, RFID has become industry standard. For other events, it likely will be soon. So what is RFID, and why should you care?
From music festivals to business conferences to retail events, RFID is a wireless technology that enables shorter lines, richer data, and more engaged attendees and sponsors. To find out if RFID is right for your event, you need to first understand exactly what RFID is.
What is RFID
?
RFID stands for "radio frequency identification," a phrase that may sound like futuristic jargon but represents a concept you're already quite familiar with. If you've ever used a hotel door-entry card or a highway toll tag, you've used RFID. This type of technology has been widely used since the 1970s, and today more and more consumer applications are emerging — especially for events.
To find out more about the technology, read What is RFID: The Event Organizer's Comprehensive Guide to RFID Technology.
How does RFID work?
RFID works by enabling a chip embedded in a card, badge, or wristband to communicate with a scanner via a radio signal. That chip can be used to enable anything from entry to purchasing.
For events, the uses of RFID are vast, enabling event-goers to simply tap a wristband against a sensor to enter an event and make purchases inside. For event creators, RFID makes it possible to capture more attendee data than ever before.
An RFID system consists of two types of devices: RFID readers and RFID tags. Each tag also consists of two parts: a chip and an antenna. The chip stores and processes information. The antenna communicates with the radio signal from the reader.
Unlike barcodes, which must be scanned, RFID chips can be read in rough proximity to a scanner. They don't need to touch or even be in the line of sight of the reader. The chip can thus be embedded in a wearable device such as a bracelet, which makes it convenient and even fashionable for attendees to wear with pride.
What does RFID mean
for events?
There are quite a few ways event creators can use RFID to streamline the event experience and allow for better data capture. The main applications of RFID for events are:
1. Entry to the event
Sans paper tickets and will-call lines, entry is swift and seamless — more than 20 people per scanner per minute. RFID entry is faster and easier than other types of electronic scanners, too. Staff doesn't need training to use it, because RFID equipment lights up green for go and red for stop — simple for security to process.
2. Flexible access control
Grant fast, controlled entry to specific zones (like VIP areas or conference sessions) that only a subset of your overall attendee base should be allowed into.
3. Cashless payments
RFID allows attendees to pay for food, drinks, and merchandise with their wristbands instead of carrying cash or credit cards. It's streamlined and safe, and makes checkout faster for you. And research shows that people spend up to 20% more at events when using RFID instead of cash.
4. Better data collection
RFID technology gives real-time insight into how attendees are moving through events. This can help you make in-the-moment decisions such as "We need another entry lane" or "Let's reorganize the layout of porta-potties."
RFID also enables better collection of attendee data on an individual level. If they register their wristbands with an email address or link them to social profiles, you collect rich data you can use in future marketing.
5. Less fraud
RFID chips have an extra layer of security that makes them nearly impossible to duplicate, which means no more counterfeit tickets. Each ticket is associated with an individual ID, so you can easily deactivate a lost wristband and issue a new one.
6. Sponsor benefits
Sponsors can use RFID to engage with attendees with things like raffles, polls, and competitions. Attendees participate by tapping their wristbands. Because data collection is so simple with RFID, your sponsors get tangible ROI from these efforts.
7. Social engagement
RFID can also be used to better engage attendees in creative ways. With RFID-enabled photo booths, event-goers can tap their wristbands to email themselves the photo. And that's just one potential creative application of RFID for attendee engagement.
How to get started with RFID
Just knowing what RFID is can be the first step to putting an RFID solution in place. So what's next?
The easiest way to implement RFID at your event is to team up with a full-service ticketing platform that partners with this technology. The right technology provider can walk you through the process of implementing RFID with state-of-the-art equipment and best practice guidance.
For more insight into how RFID can benefit your event, download The Event Organizer's Comprehensive Guide to RFID Technology.