When you work for a company whose motto is "Love Beer. Love Life." and whose ethos is all about brewing quality beverages that bring people together, a pandemic that keeps the world apart is rough on everyone involved. It proved especially hard on Megan Wilson, Director of Digital Strategy at Harpoon Brewery, and the woman in charge of getting the word out about (and selling out) the brewery's incredibly popular festivals and events.
"We're very much focused on beer as something that brings people together. Having a culture of community and people who like to have a good time is really important to us." 
Harpoon is all about coming together with good people and good beer, Megan explains. The brewery's beer hall has communal tables so that people can meet new friends they might not cross paths with otherwise. And that idea of camaraderie is especially prevalent at the brewery's festivals. "We have so many people who met their spouse at one of our festivals," she says with a smile. "They're some of the biggest parties in Boston, so they're just a place where a lot of people meet."
Needless to say, when Harpoon was able to start safely hosting events at their Boston and Vermont breweries again, Megan was thrilled. "Bringing people together and having a good in-person experience is a priority for us," she explains. "As is creating a culture of community and giving back."
"Consumers can go to Eventbrite and easily find out what's happening in their area. That's definitely a perk that the other platform did not have."
It's why Harpoon throws three major festivals every year with 8,000 to 12,000 attendees each weekend (St. Pat's Fest, HarpoonFest, and Octoberfest), the annual Harpoon 5-miler, a race (followed by a huge party) that raises money for ALS research, as well as lots of smaller events, like trivia nights and live music. And it's one of the reasons why as soon as Megan joined the company in 2019, she insisted they immediately ditch the expensive event ticketing platform the brewery had been using and make the move to Eventbrite, which she knew would make promoting events much easier. "Consumers can go to Eventbrite and easily find out what's happening in their area. That's definitely a perk that the other platform did not have."
A simple way to save
Megan also realized that switching to Eventbrite would save Harpoon a lot of money since the other platform didn't have the functionality to help get the word out about events, and was quite costly due to a large annual fee and a per ticket processing fee. 
"If we work with Eventbrite, we don't have to pay an annual fee, and we can pass the ticket fees onto the consumer. It made a lot more sense from a financial standpoint."
In fact, using Eventbrite made so much sense that soon after Harpoon made the switch, Megan won the brewery's Finance Award, given each month to someone who finds a new revenue stream or helps the company save a lot of money.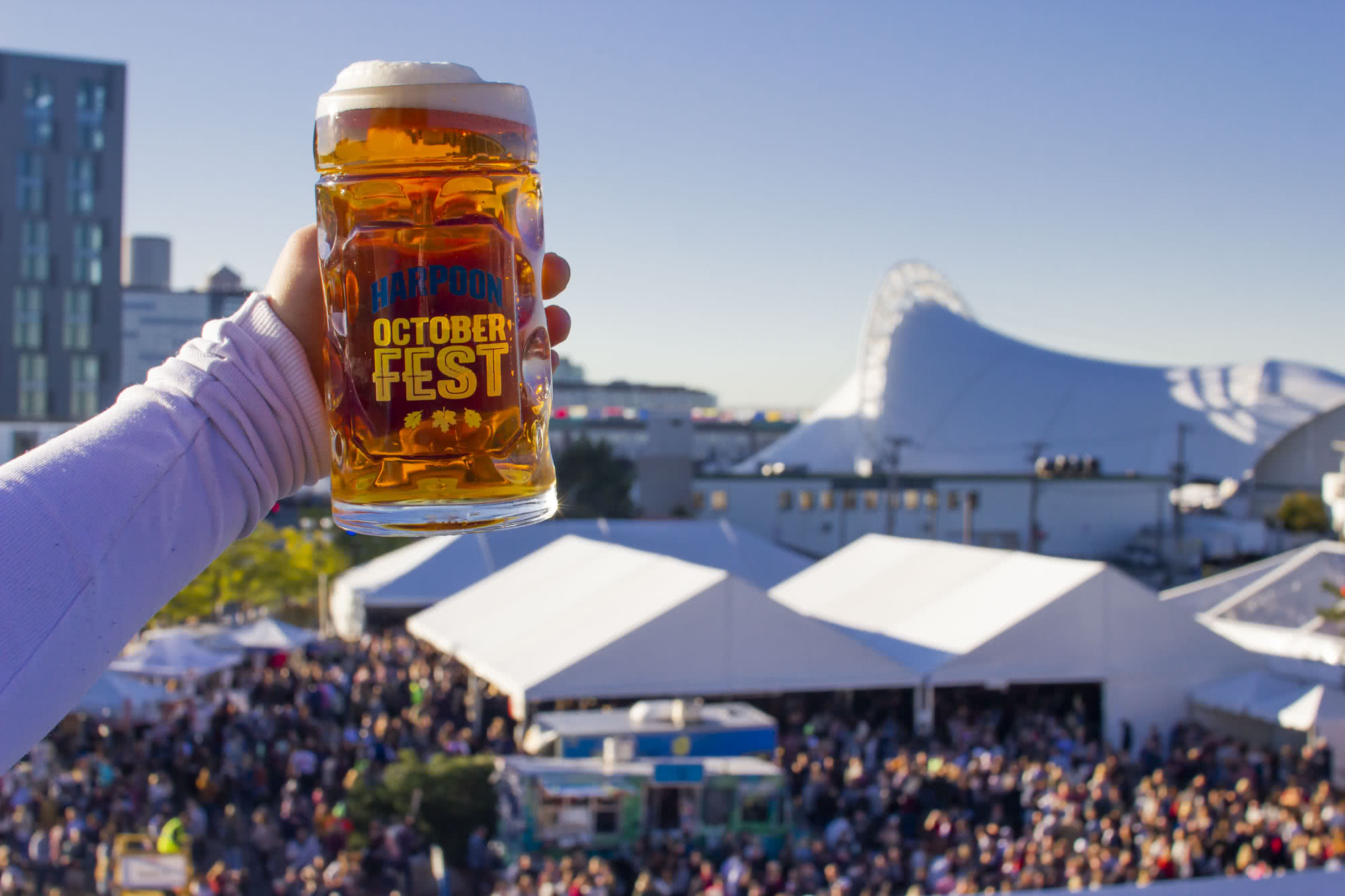 …And a simple way to put smiles on faces
And while switching to Eventbrite made a lot of sense from a financial standpoint, Megan says it also immediately improved the customer experience.
"The ability to get people in the door really quickly and get them into the experience is huge. It's made things a lot easier for us." 
Megan says that before they used Eventbrite, some people had to wait in line for two hours just to get into the festivals because of the clunky ticketing experience. With Eventbrite, however, consumers are already familiar with how to use it, which saves time, as does scanning everyone in using a QR code, something that's easy for the staff since the Eventbrite organizer app can be downloaded to any phone and used to scan tickets. Now, she says, even at the peak of a festival with 12,000 attendees, the longest anyone has to wait in line is 20 to 30 minutes.
Getting people in the door quickly is even more important since the switch to Eventbrite has helped Harpoon sell out its events ahead of time. "That wasn't something that happened before," Megan says. "But since we've switched to Eventbrite, we decided to release all of our tickets ahead of time instead of holding the majority to sell at the door, and we've sold out the Saturday tickets for all of our major festivals." That doesn't only mean that more people can plan ahead for their fun; it also means that Harpoon gets revenue even from people who buy tickets but don't show up (a total of 7,000 "extra" dollars at Octoberfest).
Analyze this
Megan is also a fan of Eventbrite's analytics, saying they've helped ensure even more people can get tickets to their biggest events.
"We're able to use the analytics to do real-time optimization," she explains. While a Saturday event may be sold out, the amount of people who can be there is actually based on capacity and space. By monitoring the data across desktop and mobile devices, they're able to get accurate data that they can use to drive more revenue. "Around three hours into an event, we see a slow down of people entering and more people leaving, so we know we can release more tickets at that time."
And it's not just about getting those last-minute folks through the door. It's also about making sure the loyal customers don't miss out. 
'We can also track when most of our ticket sales happen, so we know they skyrocket in the 48 hours leading up to the event." Harpoon communicates that with its loyal customers to let them know that if they want to get tickets, they should buy them by a certain date; otherwise, there's a good chance they'll be sold out. 
That kind of info, plus access to exclusive events and discount codes for tickets comes via the Friend of Harpoon email loyalty program, which Eventbrite has also helped the brewery grow. About using discount codes on Eventbrite, Megan says, "It's really easy to use. We create the codes for discounts and VIP complimentary tickets within the platform, and when people use it, it's automatically applied."
"We've added thousands of people to our list."
And they did it all just by adding a simple checkbox that appears when people purchase tickets asking if they'd like to become a Friend of Harpoon. 
Megan has also taken advantage of the ability to send a survey to people after an event to get their feedback and says the responses are shaping what future events will look like for consumers. "We're finding that now that people are buying their tickets ahead of time, they're wanting even more of an experience from us." Right now, the festivals have plenty of live music and great beer, but the feedback has inspired Megan and her team to find new ways to deliver even more for their guests. 
Using the Eventbrite platform has helped Harpoon save money, improve the customer experience, and even reach new customers who are finding out about the events just by browsing and sharing with friends. All to bring people together in the name of loving beer and loving life. (And maybe even meeting their future spouse!) We'll raise a pint to that.
Ready to get started with Eventbrite? Contact our sales team today.