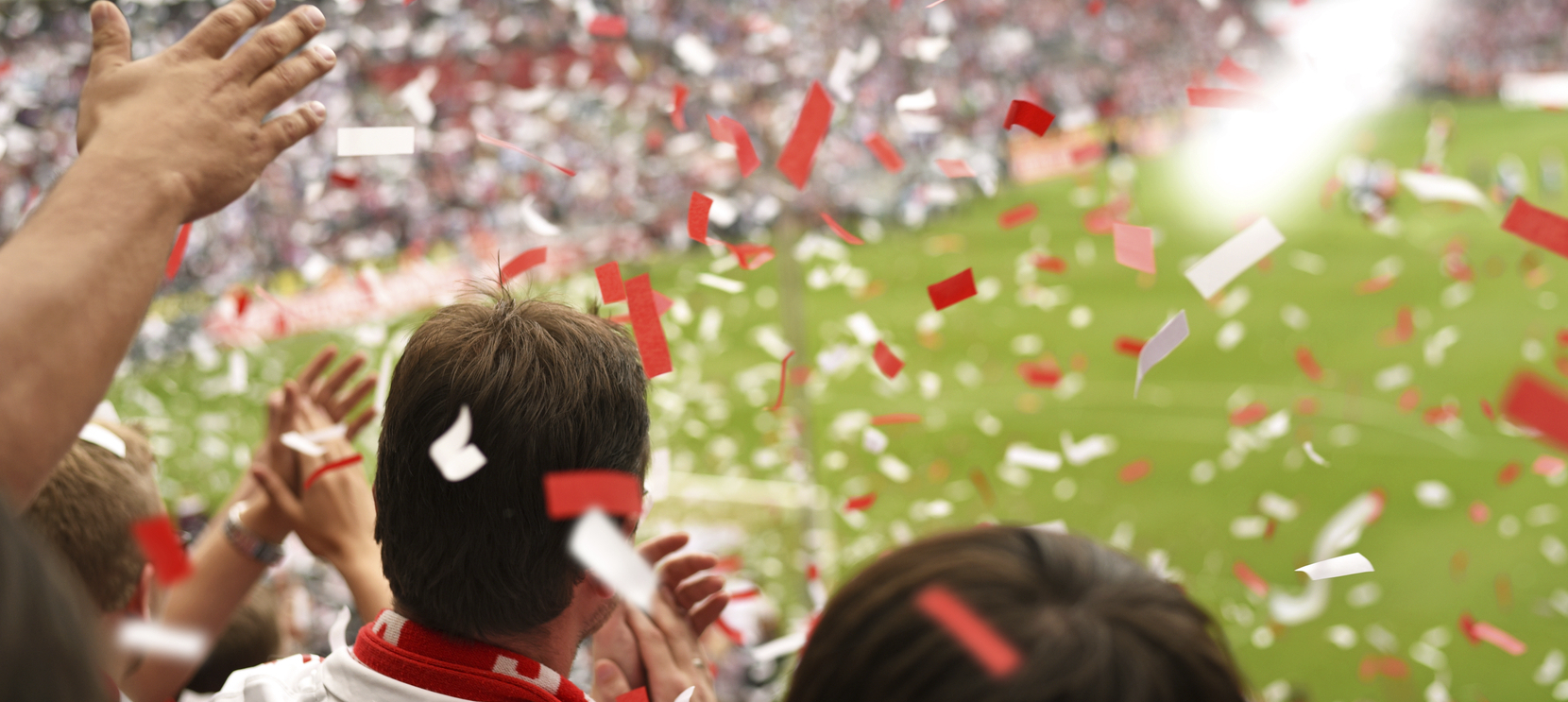 Update: 5 Reasons People Go to Sporting Events
This guest post is from Joe Denton, staff member at SCA Promotions.
Major League Baseball alone brings more than 70 million fans to games each year. But it's more than just the game that draws so many fans into the stands.
The live experience — from the smell of hot dogs to the sound of a roaring crowd — is something that you just can't get watching at home.
If you want to pack the stands and sell out your event, you need to get into the heads of your attendees. Here are the top five reasons people attend sporting events, and how you can leverage them to give attendees a winning experience.
1.  Socializing and networking
Whether it's the friends you brought along or the people seated next to you, sporting events bring people together. Maybe it's the common interest in (or hatred of) a team that starts the conversation — or the simple joy of having a beer with a stranger. Whatever the reason, talk to any sports fan and you're bound to hear a story or two about mid-game encounters with interesting folks.
How can you encourage your attendees to mix, mingle, and network? It could be as simple as arranging a pre-event happy hour or encouraging your guests to introduce themselves to the person next to them.
2. Halftime shows
Who doesn't enjoy a good halftime show? Sure, some acts are better than others, but they can be quite entertaining. A good halftime show engages the crowd and keeps them happy while the teams are resting up and preparing their second-half strategy.
Think about it: What's the best halftime show you've seen? What made it so great? Channeling that type of entertainment and flash can help you create those special memories for your attendees; it may even be the thing they'll be talking about for years to come.
3. Promotions and giveaways
Free stuff — 'nuff said. Though the odds might be slim, there's always the chance that you could walk away with some cool swag — or even a car — if you're lucky. Not to mention, you could get the opportunity to walk onto the field or court and make a fool of yourself as you try to accomplish a ridiculous task in front of thousands of people.
Consider incorporating contests into your events to engage attendees. You could offer a chance to win backstage passes, a personal meeting with your speaker or artist, or a free VIP package to a future event. You could event hold a ticket giveaway on your social channels to generate excitement and boost your social presence at the same time.
4. Team spirit
People — especially sports fans — are competitive by nature. When you put fans from opposing teams in the same stadium, there's bound to be a ton of smack talk, and, of course, team camaraderie. Diehard fans live and breathe this kind of environment ; it's the perfect chance for them to show some team pride, painted faces and all.
Think about ways you can encourage team spirit among your event attendees. Foster a sense of belonging by nurturing your social media community. If appropriate for your event format, consider breaking your attendees out into groups to complete some sort of challenge.
5. Impressing someone
If you're trying to impress someone, what better way than to take them out to a ballgame? For some, it's that cute girl from the bar. For others, it's that big client. Whoever it is, sporting events are a great way to take someone out and show them a good time.
How can you make your event a unique experience that attendees want to share? Brand your event carefully to make attendees feel like they're a part of a one-of-a-kind experience. Offer a range of packages, including a VIP option for people who want something more exclusive.
Ready for more tips on creating an amazing attendee experience? Check out this short eBook to hear secret experiential marketing strategies from pros at Airbnb, Lyft, Blurb, and Paypal.