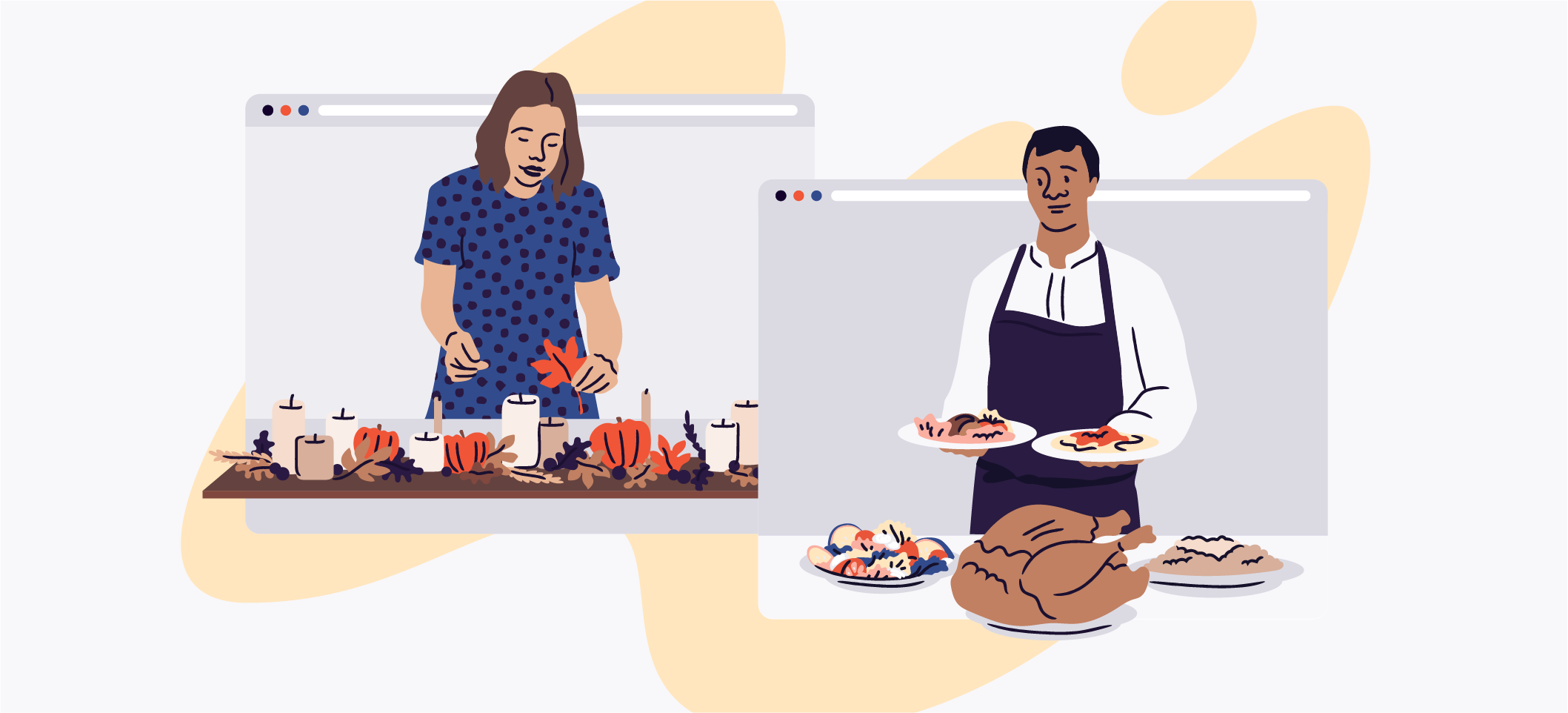 10 Friendsgiving Ideas to Have a Great Time With in 2021
When thinking of Thanksgiving, many creators automatically think about traditional celebrations with family. But in a time when traveling can be difficult and families may be separated, consider coming up with some Friendsgiving ideas as well. Thanksgiving is ultimately about community and gratitude — concepts we can celebrate whether we're surrounded by friends, family, or neighbors.
Friendsgiving events tend to pop up amongst those who can't make it home or who don't have family members to celebrate with, but anyone can leverage Friendsgiving party ideas. Planning a Friendsgiving event is a great excuse to bring people together and extend the holiday, even if attendees do have plans with their family on the actual Thanksgiving date. You can also shake up traditional family routines with fun activities and games that will help create lifelong memories.
If you're planning an event that you want to open up to the wider community, Eventbrite can help you sell multiple ticket types right on your website or Facebook page. If you need some help coming up with Friendsgiving theme ideas, we've compiled a list of 10 unique events that we hope will excite and inspire you, along with some tips for creating a safe and enjoyable event.
Tips for planning a safe and happy Friendsgiving event
Decide who will be invited
Before you dive into brainstorming new Friendsgiving theme ideas, it's important to have a good idea of who your attendees will be. Is this an event you're planning for a place of worship, a neighborhood, or your workplace? Is this an event catering to children, adults, or both? Depending on your attendees, you'll need to tailor the event activities accordingly. Think about how comfortable your potential audience is with gathering in groups either indoors or outdoors, and how that will shape your overall event.
Address social distancing requirements
While COVID-19 restrictions are lifting in many places, there are still important safety concerns to consider. Pay attention to local guidance for events when it comes to the number of people who are allowed to gather and if social distancing rules, mask mandates, or proof of vaccination requirements apply. No matter what your local regulations are, it's important to put in place safety measures that will help everyone feel relaxed and secure. Check out Eventbrite's resources on safety precautions and vaccination requirements to help you plan a safer event.
Make it a potluck
One way to ensure that your Friendsgiving or Thanksgiving is about community is to make it a potluck event where your guests bring a dish to share. If you're organizing a community event with guests from different backgrounds, this is a great way for them to learn about different cultures and taste delicious foods they might not have otherwise encountered. Create a sign-up sheet in which your guests can write down what they're bringing to avoid duplication or competition. Remember that not everyone is a master chef, so add items like paper products, beverages, or board games to your list for those who prefer not to cook.
Design a comfortable, inviting event space
Nothing puts a damper on what could've been a great event like a cramped space. Make sure you pay attention to your venue capacity when coming up with your list of attendees to invite. This is especially important when considering social-distancing requirements because you'll need extra room for (and between) each individual. Aside from the overall space, consider the general well-being of your guests. Can everyone fit comfortably around the dinner table? If you've planned games or activities, can these occur safely without disturbing the food? Thanksgiving, however you celebrate it, is about unity, so think about how best to make your guests feel relaxed and welcome.
Keep things positive and set your event up for success
Everyone jokes about politics or issues coming up at Thanksgiving, but there is a real risk that a heated conversation could make your guests feel uncomfortable. Keep things positive, steer conversations away from divisive topics, and embrace the diversity of your guests. A stress-free celebration is better for everyone.
10 Friendsgiving ideas for a joyful holiday
Interactive Friendsgiving party ideas
1. Football watch party
Watching football is one of the more traditional Thanksgiving party ideas, but that doesn't make it any less fun. Serve some bar-quality snacks and have guests come wearing jerseys and colors that support their favorite team. Even those who aren't interested in football can enjoy watching the halftime performances, so make sure you have access to a big screen and a good sound system that will work for your venue.
2. Board game day
If your attendees are competitive, but not really into football, consider hosting a board game extravaganza. You probably want to provide some board games, but you can also encourage guests to bring their favorite games to teach others. Ask attendees to share what makes their choice special or who introduced it to them. If your guests are particularly interested in one game, turn your event into a tournament to see who comes out on top!
3. Community potluck
When bringing a diverse community together, a potluck is a great way to share different cultures and traditions. Perhaps not everyone in your community celebrates Thanksgiving specifically, but they would still be interested in an event that brings people together around sharing food and giving thanks. You'll learn a lot about your neighbors and maybe make some unexpected new friends. Set up an event page, so your community members can get their tickets, and then follow up with a sign-up sheet for different potluck dishes.
4. Turkey Trot 5K race
For the athletic group that doesn't just want to watch sports on Thanksgiving, walk or run a Turkey Trot 5K race that will get everyone ready for a big dinner. Consider planning training meet-ups in the lead-up to the race to foster community. You can add a charitable component to the event by having runners, either in teams or as individuals, collect donations from their friends and family to donate to charity. Create a custom T-shirt for the runners to commemorate the event and work with local vendors to provide refreshments afterward.
Charitable Friendsgiving theme ideas
5. Write letters for those who are spending the holidays alone
Some people are unable to visit with their families over the holiday season because they are incarcerated, deployed, or are receiving long-term hospital care. Writing letters to send to those who might spend the holidays alone is a great way to brighten the days of strangers when they may need it most. Host an event where attendees write letters, cheerfully decorate them, and get them ready for mailing. You can provide stationery and craft supplies for the letter writers at your event, or have your attendees participate virtually from their homes using their own materials.
6. Give back with your time
The holidays are a great time of the year to volunteer with local organizations that could use your help. Food banks or kitchens often have more volunteers than they need on Thanksgiving, so consider giving your time to organizations that might not traditionally be associated with the holiday, such as animal shelters or nursing homes. Your few hours of labor can do a lot to alleviate the pressure on these organizations' employees, and it will make you feel good, too. This is a particularly good event idea for corporate groups looking to give back.
7. Donate blood
According to the World Health Organization, "There is a constant need for a regular supply of blood because it can be stored only for a limited period of time before use. Regular blood donation by a sufficient number of healthy people is needed to ensure that blood will always be available whenever and wherever it is needed." Organize a blood drive at your workplace, place of worship, or for a group or organization.
Virtual Friendsgiving dinner ideas
8. Dine together, virtually
Alhough many people are excited about in-person Thanksgiving and Friendsgiving celebrations, this still isn't possible for everyone. Whether attendees need to be apart for health reasons or can't physically get there, you can still bring them together on a video call while they enjoy their holiday meal. Virtual Friendsgivings help people feel included and ensure that nobody has to eat Thanksgiving dinner alone.
9. Thanksgiving trivia night
Organize a Thanksgiving trivia night that tests attendees' knowledge about historical Thanksgiving facts, Thanksgiving movies, and past sporting events that took place on the holiday. Guests can organize teams or play these kinds of Thanksgiving party games solo. Encourage teams to come up with a clever Thanksgiving-related name, and send fun holiday prizes or virtual gift cards to the winners. For an adult event, consider coming up with a themed cocktail and sharing the recipe with attendees so they can make it at home to enjoy while they compete.
10. Holiday watch party
Virtual watch parties became incredibly popular during the COVID-19 pandemic, and many people still plan these kinds of events so they can enjoy television shows, movies, sporting events, and concerts with their loved ones even when they're apart. Organize a game watch party for football fans via Zoom or the video chat platform that works best for you. Appeal to potential attendees who put up their Christmas tree on November 1, and host a virtual Christmas movie watch party right after you've finished Thanksgiving dinner.
Creators who have done Friendsgiving party ideas right
View this post on Instagram
Turn the Page Book Club
Maggie Glover's Turn the Page Book Club chose to read a cookbook and expand their normal book-related discussions into a virtual Friendsgiving. The group combined their usual written discussions with an event where they each chose a recipe from the book to prepare. Glover also added a charitable aspect, donating to a woman's shelter in Boston, Massachusetts, for every person who joined the event.
Cooper's Hawk Winery & Restaurants
View this post on Instagram

Cooper's Hawk Winery & Restaurants decided to bring Friendsgiving to multiple states in 2021, hosting Friendsgiving Wine Club events in Florida, Illinois, Ohio, Virginia, and Michigan. Guests were seated with others they might not know to foster conversation and new friendships. Everyone enjoyed Chef Matt McMillin's menu, which reinvented classic Thanksgiving dishes for a meal that was both familiar and innovative — and which was paired with Cooper's Hawk wines for an indulgent experience.
Friendsgiving Fleur Event
View this post on Instagram

Allyson Whitney Designs' Friendsgiving Fleur Event gave attendees the opportunity to create a beautiful centerpiece for upcoming Thanksgiving or Friendsgiving events all while mingling with other flower-arranging enthusiasts. Guests went home with a gorgeous pumpkin Thanksgiving arrangement that they made themselves, after enjoying an evening of cured meats, cheeses, and drinks at the Sweetbelle Farms venue in Holdenville, Oklahoma.
Already have your Friendsgiving or Thanksgiving party ideas?
Eventbrite can help you plan, market, and sell tickets for your next Thanksgiving or Friendsgiving event, freeing up your time to come up with creative activities and fun games for everyone. Find out how Eventbrite can work for you and when you're ready, sign up and get started on creating your next event.