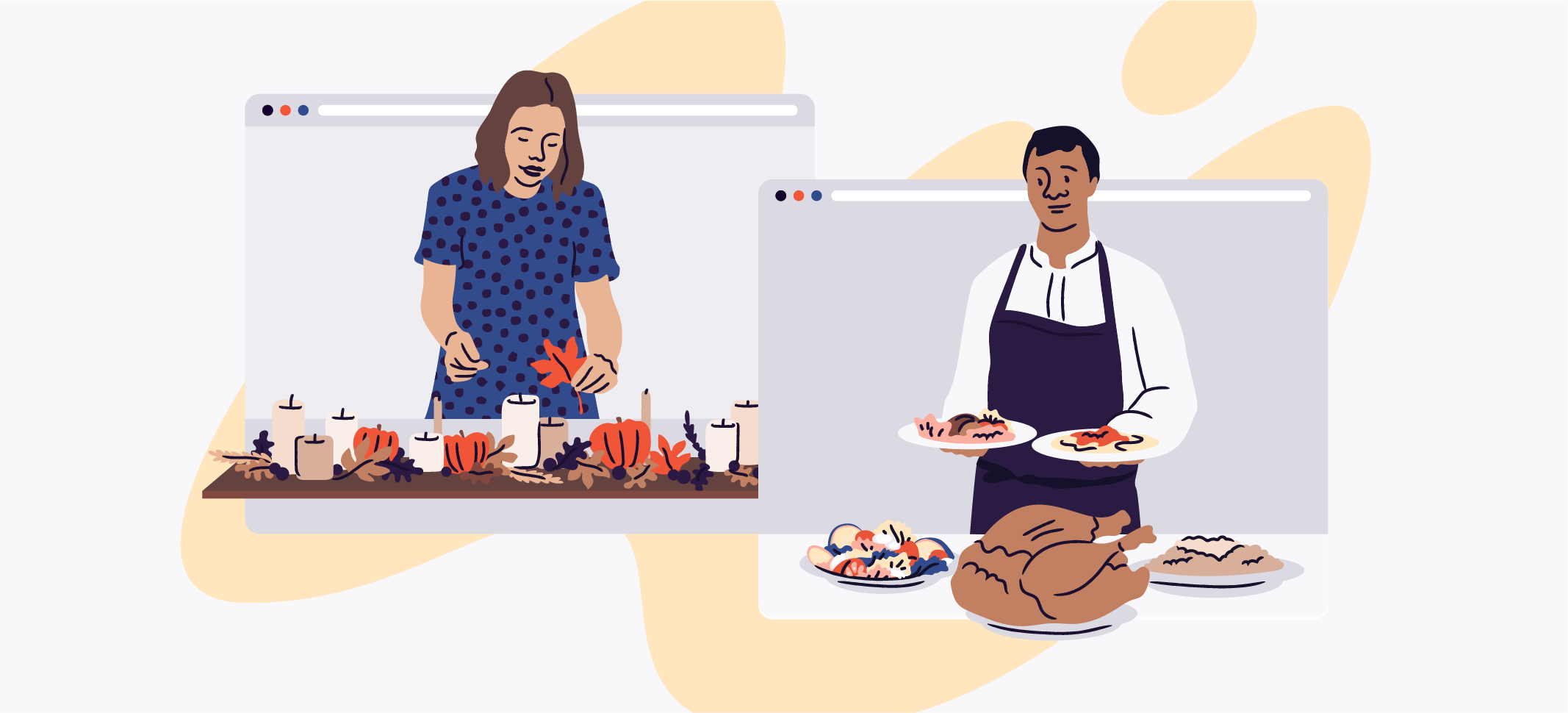 Gather Around the Virtual Table: Celebrating Thanksgiving During COVID-19
Thanksgiving will look a bit different this year, but the desire to connect and give thanks is still strong in the United States. We looked into the data and found over 8K Thanksgiving-related events available on Eventbrite and saw consumers across the country are hungry for volunteering opportunities, turkey trots, and free turkeys.
Every year, two types of people tend to emerge to celebrate the holiday in their own ways: the turkey trotters and the Black Friday shoppers. Luckily, consumers can find both options on Eventbrite and then some. Many Black Friday events have gone virtual this year, offering online beer tastings, wine bingo, or yoga sculpt classes. We're seeing options for both in-person and virtual turkey trots, with California coming in first for the most turkey trot events, followed by Florida and Texas.
Besides trotting and shopping, we're seeing hundreds of Friendsgiving related events (with over 3K tickets issued) on our platform that include everything from friendly games of trivia, virtual wine and cheese tastings, and a few fundraisers to aid in the fight against childhood hunger, cancer, and socially distanced park clean up events. Despite the global pandemic, it seems there's still an appetite to do good and give back to our communities.
Although the holidays may not be celebrated in the usual ways this year, there's always creative alternatives to stay connected with your friends and family – even if that means giving thanks on a video call rather than in person. If you need some inspiration, be sure to visit our collection of virtual Thanksgiving events on Eventbrite. And if you need some tips on how to host a virtual Thanksgiving, Eventbrite's Virtual Experiences Expert, Vivian Chaves, has got you covered. Check out her tips below:
Make it an occasion
Instead of sending your typical email invite, try something new to turn your event into a unique experience: create an online event page and invite friends /family to register to attend. Using a self-service platform like Eventbrite can be a fun way to collect RSVPs and make the experience feel more "official." You can also use the platform to engage with guests leading up to the event, sending them email reminders about what day and time it starts, what they need to do to prepare and more.
Send tangible items to create a physical connection
Send your guests Thanksgiving decorations, desserts, or even ingredients for do-it-yourself drinks. This can help everyone feel connected and like they're really part of an experience you're hosting, even when far apart.
Choose the right platform for the vibe you want to create
Different platforms fulfill different needs. For a smaller, intimate event, Zoom is a great option. If you're looking to host a big, blow-out event look into Youtube or Twitch instead.
Set yourself up to be the hostess with the mostest
Plug your computer directly into your router for a faster connection than Wi-Fi. Ensure your microphone is using its optimum settings and your camera is in HD, if possible. And frame your shot! Pick a spot with great light and add some decor in the background to set the scene. Spending a little time creating a nice background can keep your guests tuned in for longer.
Encourage a festive dress code
Give everyone a fun excuse to ditch the sweatpants and dress up a bit. The ritual of getting ready for a party can create anticipation and excitement for the event itself.
Create touchpoints and schedule them
Let's be real, everyone will be juggling what's happening in-person wherever they are and the online gathering. You can kick the night off with a cocktail hour and chatting, and encourage everyone to mute their mics but keep their cameras on during dinner – that way you can have a peek into everyone's festivities and feel together, without being glued to your screens. Then, come together at the end of the night for a moment of gratitude and some toasts to send each other off on a high note.
Be thoughtful and inclusive
Remember that many people find these gatherings overwhelming, whether it's in-person or online. Encourage people to mute when they're not talking to keep background noise down, and make sure people know they can use chat features if they feel more comfortable participating that way! If any guests are hard of hearing or seeing, explore closed caption options and screen readers on the platform of your choice.