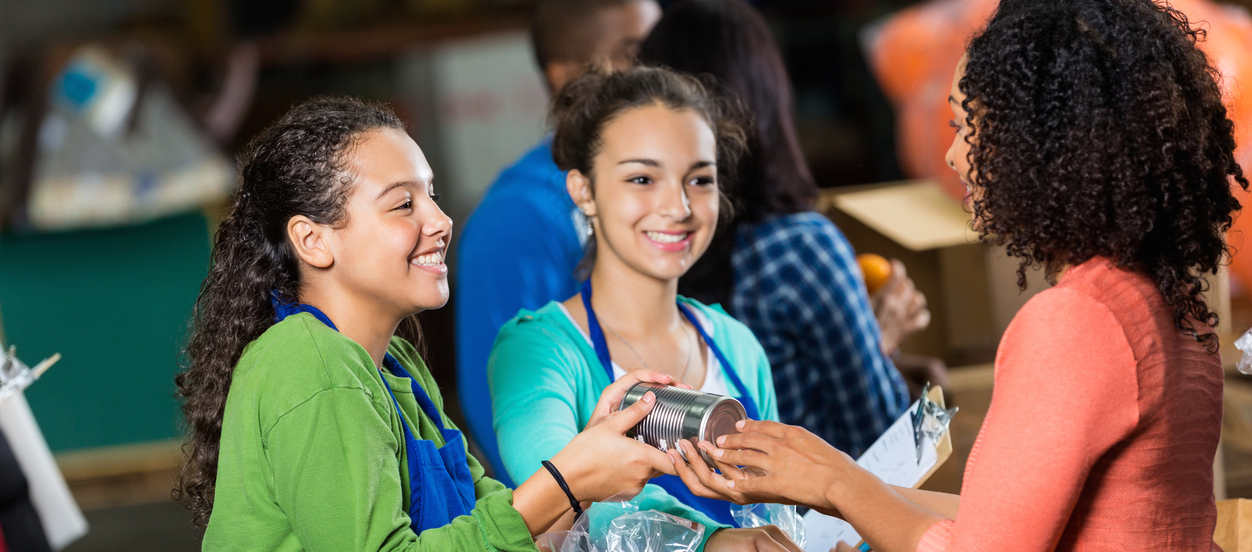 10 Thanksgiving Charity Event Ideas
Celebrating with family and friends — alongside enjoying delicious, indulgent meals — is one of the first things that comes to mind when thinking about Thanksgiving. But ultimately, the holiday is about gratitude. It's a good time to come up with Thanksgiving charity ideas that give your potential attendees the opportunity to give thanks and give back to your community.
As an event organizer, you have a lot of people to be thankful for. There are the ticket buyers who show up at your event, the staff and volunteers who make it happen, and the partners, guest speakers, and featured artists who make it unique and valuable. In general, people are also wondering where to donate and how to give back for Thanksgiving, so planning an event that supports a nonprofit organization is a good way to draw in potential attendees during this time of the year.
If you're in the mood to give thanks and give back, we have some great Thanksgiving event ideas that we hope will inspire you and your guests.
1. Donate some or all of your proceeds to charity
Find a charity that aligns with your brand values and whose mission will speak to your attendees and inspire them to donate, or go all out and design your entire event around supporting that charity. Fortunately, Eventbrite makes it easy to collect money online. Choose a theme that makes sense for the kind of charity you're supporting and which still speaks to the identity of your organization.
View this post on Instagram
Creative Girls Rock hosts an annual Charity Sneaker Ball in Nashville, Tennessee, where attendees are encouraged to pair their black-tie attire with their best pair of sneakers. The proceeds from the event are used "to create additional programming for young girls and women," and the event itself showcases art, fashion, and music. The event creators work with vendors and sponsor to create a memorable event that benefits the young women in their community.
2. Add a fundraising component to your Thanksgiving event
Even if you're planning an event that isn't focused on fundraising or Thanksgiving charity, you can still add a charitable component. Announce to potential attendees that you are donating a certain amount of money to a nonprofit organization for every ticket sold, or that you're donating a portion of your profits. You can also give ticket buyers the option to add on a donation as they check out. Your organization's generosity can both inspire potential attendees to also support your chosen charity and help them make the decision to purchase tickets to your event because of the charitable component.
View this post on Instagram
Koru Yoga Studio in Oakdale, CA, holds donation-based Vinyasa classes on Thanksgiving morning, with donations going to the Children's Crisis Center of Stanislaus County. Participants get a double dose of peace of mind knowing they're supporting a local organization while they stretch and breathe.
3. Roll up your sleeves and do some charity work for Thanksgiving
If you're looking for a way to support local organizations with your time, consider organizing a volunteer event. These kinds of events are especially good for youth groups or workplace events, and there's no need to reinvent or create a volunteer opportunity. Search local organizations that already have these opportunities in place and have mastered the art of organizing volunteer events. Look for a local meal service providing Thanksgiving charity meals, a shelter, or a school that is in need of some extra hands to serve. If you're looking for something unique, consider animal shelters, veterans affairs, or music organizations that might be overlooked in the holiday season.
Thanksgiving for Paso Robles hosts a free Thanksgiving community meal for 1,500 people every year. This huge undertaking is entirely organized and executed by volunteers, and the preparation takes several days and about 200 people working 1,200 hours. Without volunteers, events like this just wouldn't happen!
4. Find sponsors that matter to you and your guests
Find sponsors who share your event's vision. The right sponsor might become a long-term partner for greater impact in your community. The wrong sponsor can send the wrong message to your potential attendees, so partner with socially responsible brands. Once you've landed a great sponsor, let potential attendees know: remember, consumers appreciate corporate responsibility.
View this post on Instagram
FoCo Cafe in Fort Collins, Colorado, is providing traditional, locally sourced Thanksgiving lunches on the holiday, and attendees have the opportunity to pay it forward and pay for someone else's meal beforehand. The organization is sponsored by local farms, vendors, and businesses that help them provide sustainable, nourishing meals to their community. Their philosophy is that if you can give more, pay it forward with an extra meal for someone else. Or if you have less to pay, you can pay what you can and still get a tasty meal. By using local and seasonal ingredients, FoCo does less harm to the Earth while helping people.
5. Give your charity a booth and airtime at your event, for free
Donate a booth or a table to your charity, or charities, of choice at your event and make sure they get prominent placement and lots of hype in your marketing materials. This is an excellent way of giving back without spending a lot of money or time. Offer these guests the opportunity to share more about their charity/organization at your event. Prearrange a time limit for them to tell a story of impact from their organization's cause that will encourage attendees to support them.
When selling tickets on Eventbrite, you can choose to enable different ticket types, such as VIP tickets. Consider creating ticket tiers that include larger donation amounts for your chosen charity — with the top tier including the greatest donation amount.
6. Provide discount codes for your Thanksgiving charity events
Use discount codes to give ticket-buyers a deal on your event. You could offer discounted tickets to a specific set of people, like seniors or those buying in bulk. Or you could let anyone use the code during a certain window of time. (Bonus: these limited-time offers can create urgency and boost your sales.) As a creator on Eventbrite, you can also use discount codes in order to easily navigate guests' tickets and determine which are charity recipients.
7. Virtual charity ideas for Thanksgiving
If an in-person event doesn't make sense for you this year or you're looking to reach a wider audience, consider taking your Thanksgiving charity events online. There are lots of ways to create an engaging, virtual fundraising event. Plan a Thanksgiving-themed cooking class, trivia night, or a virtual concert so that attendees don't have to leave their homes to attend. If you're hosting a crafting or cooking event, be sure to send the materials along before the event or provide attendees with a list of the ingredients or tools they will need.
Chef Faith Brown is hosting a virtual cooking class teaching attendees how to cook vegan macaroni and cheese and peach cobbler prior to their Thanksgiving events. In honor of the holiday, 15% of the proceeds will be donated to the Feeding America charity.
8. Plan a Thanksgiving race for charity
Turkey Trots are growing in popularity across the country. Avid runners and joyful walkers come together for a 5K race, often complete with Thanksgiving-themed costumes. Join in the festivities and create a group to run at a local Turkey Trot event or create your own fun run event. Donate proceeds from the run directly to charity, or have your runners ask for donations from family and friends. Some organizations have chosen to take their 5K races virtual as well; participants receive T-shirts or other swag in the mail and can run the 5K and upload their run information during a limited time window.
The Center for Human Services – Missouri hosts its annual Turkey Trot in Sedalia, Missouri. Participants run or walk a 5K race, a 1-mile race, or take part in a Gobbler Dash. All of the proceeds from the event go toward the Center for Human Service's programs, which support more than 5,000 individuals and families in 39 Missouri counties. This creator is streamlining the process by mailing all race bibs and T-shirts to participants prior to the event to avoid the hassle of organizing pick-up.
9. Give thanks to the Earth by taking care of it
Say "thanks" to Mother Nature by creating as little waste as possible, using recyclable or compostable materials when you can, and going paper-free to the best of your ability.
The Ecology Center in Berkeley, California, hosts a class on how to create a sustainable Thanksgiving from start to finish, educating the community on how to be less wasteful during the holidays. Chef Alison Mountford teaches attendees about zero-waste cooking, responsible food storage, using up leftovers, and how to manage your stress levels whether you're hosting a party or attending as a guest.
10. Don't forget to thank the people that make your Thanksgiving charity event happen
Sometimes, just some hearty public acknowledgment is enough to make your staff and volunteers feel valued. Shout-outs on social media are a sweet way to say, "Hey, I see you!" — you can also call people by name, and make a point of talking about exactly what each of them did to contribute.
Consider creating giveaways for your attendees or customers as a way of thanking them for their business, or offering discounts on products or services that they can use in the future.
Ready to try out these Thanksgiving fundraising ideas?
Now that you have lots of charity ideas for Thanksgiving events, sign up for Eventbrite to make your planning and promotion easy. Eventbrite can help you sell different ticket types and you can sell those tickets right on your website or Facebook page. Promote your event on social media with Eventbrite Boost, and evaluate the ROI of your event afterward with Eventbrite's data analysis tools.