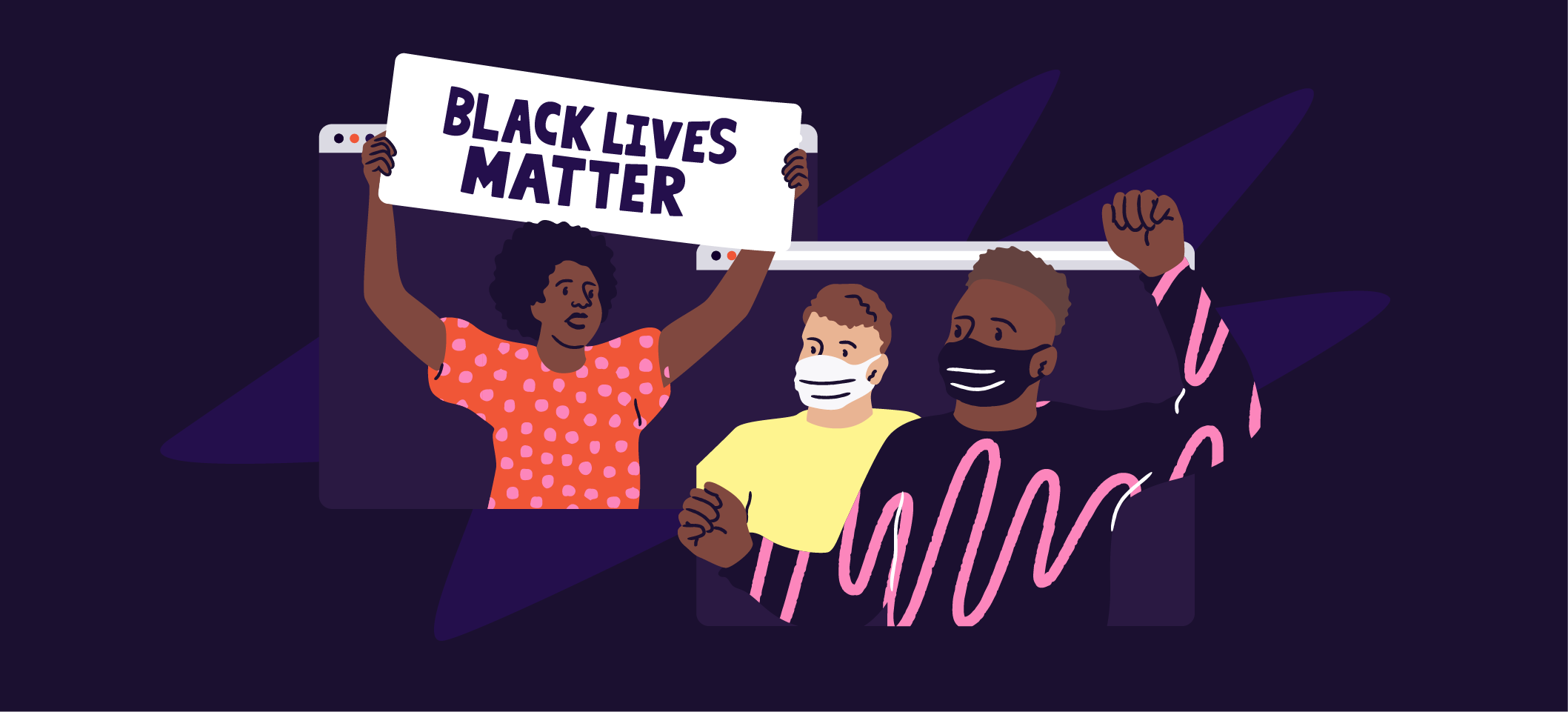 How Eventbrite Creators are Using the Platform for Social Action
Since June, a visit to the Eventbrite homepage reveals a striking image: A jet-black map of the United States lit up with a constellation of yellow pins, each one marking a different march in support of racial equality. It's a visual representation of what we anecdotally know to be true: Socially-conscious organizers are seeking to rewrite the narrative around race in our country. So, too, is Eventbrite's partnership with Headcount, a nonprofit that registers people to vote at concerts and events across the country. Creators can add "Register to Vote with HeadCount" as a free ticket type for online and in-person events. To date, 4,500 events have included it — resulting in more than 8,500 new potential voters.
Protests engaging a threshold of 3.5% of the population have never failed to bring about change. And when protests are nonviolent, they are twice as likely to succeed. Our event organizers know that these protests can actually make a difference in our world, and they are charging full steam ahead. To better understand this movement, Eventbrite caught up with four creators to see how they're effecting change and educating attendees about racial injustice — both online and in the real world.
Bringing people together
"The emotion of protests of 2020 has been a combination of hurt, resentment, anger, and disbelief," said Julius Thomas, an executive board member of the Atlanta-based taskforce The People's Uprising and chairman of its Young Atlanta Leaders advocacy committee. "However, at the same time there is optimism, determination, grit, and dedication in the hearts of many people on the front lines." A chorus of voices — especially those of young people — are demanding change and refusing to be ignored, he continued. They're "taking the future of America into their own hands."
In early August, Thomas helped organize the Good Trouble Ride, a traveling protest inspired by the activism of late Congressman John Lewis. Nearly 100 activists — all of whom were asked to produce negative Covid-19 test results before participating — made their way from Louisville, Kentucky, to demand justice for Breonna Taylor to Chattanooga, Tennessee, where they demanded the same for Reginald Arrington. Thomas was blown away by the ride's success.
"Just the concept of people from one city, going out their way to unite with another is powerful to me," Thomas said. "We have our own problems in Atlanta, but that did not stop us from still extending our hands to our brothers and sisters in Louisville and Chattanooga. Experiencing the love and unity from both cities was just remarkable."
From a planning standpoint, Thomas said that social media is imperative to helping get the word out about events. "Our Instagram presence has been our greatest reach with story and profile posts," he said. "Then internally we divide into specialized committees to split responsibilities determining the route, communicating with law enforcement for road closures, getting supplies, finding guest speakers and crowd control marshals." Then, a team develops and coordinates march performances and speakers — guided, of course, by an overarching goal. "All of our marches have action agendas that explain the purpose of us coming together and the necessary next steps," Thomas said.

Taking to the streets
For activist and politician James Felton Keith, founder and leader of the progressive Keith Institute, one of the most memorable moments of 2020 took place on the streets of Manhattan. He watched as a march came together, chanting voices echoing down city avenues. "We saw nurses step outside of hospitals to wave, delivery men stop and lock their trucks to join, and joggers leave Central Park to join," he said. "It shows how together we really are."
Keith is currently helping to organize the Back2Skegee march in Tuskegee, Alabama, set to take place in late October. The march is intended to "show economic and political influence over a town square that is actually owned by the racist organization Daughters of the Confederacy," Keith said. In the center of the square, which the Daughters of the Confederacy once described as a "park for white people," is the polarizing Tuskegee Confederate Monument, erected in 1906 as a monument to fallen Confederate soldiers.
"The city can't afford to remove the statue or buy the land of their own town square, but we can," Keith said. He hopes that the march will help galvanize efforts to finally bring the statue down.
Keith described the planning and organization of local protests as decentralized, and said they catch on by word of mouth. "The use of social media and instant message groups helps spread the word faster to organize local leaders with unconnected crews, but it starts with a spark, an initial want to go out," he mused. "That creates a snowball effect of calls and video conferences to plan meeting points and speakers and logistics. 
"I also think that the role of organizers is to inspire more organizers to join in, adding a small part to the broader movement," Keith added. "At each march that we've launched, we've seen three to five new leaders emerge who've launched actions of their own."
Giving activists the tools to succeed
For other event organizers, action takes the form of education. "I see Race Forward's content that we're producing online as an entry point," said Leslie Grant, the director of conferences and convening for the national nonprofit, which provides racial justice training and education. "We help to resource grassroots organizations who are on the front line," Grant explained, whether that be providing media training or providing a curriculum for training recruits in the fight against structural racism.
Before the pandemic, the nearly 40-year-old group held regular 1,500-person conferences and produced 15 to 20 in-person racial justice training sessions a year. Since early March, though, all of its events have gone online. It's a major and at-times challenging change, but 2020 remains a pivotal time for the group. 
"I think the shape that social action [is] taking in America right now is really unique," Grant said. "The sweet spot that we have found ourselves in is that people are looking to consume content about race right now, just because of what is happening in the world." 
As a result, Race Forward has doubled down on its efforts to make its content more accessible, from investing in closed captioning and ASL services for its hard-of-hearing and deaf attendees to making sure Spanish translators are available at training sessions. The group's Builder Racial Equity sessions, once day-long in-person affairs that encouraged attendees to mingle and have side conversations, have also been reimagined for virtual audiences.
"We've been integrating the use of break-out session tech, polling features, using lots of video to help introduce various ideas and thoughts — [so you're] not just having talking heads [spouting] at you for like five hours," Grant said. She added that it's more important than ever to make events interesting and keep attendees — often distracted at home — interested and engaged. So far, Grant is heartened by the changes. "We found our secret sauce," she said.

Opening hearts and minds
So has Haymarket Books, the self-proclaimed radical and independent nonprofit book publisher based in Chicago. In pre-pandemic times, Haymarket Books was known for organizing thoughtful author events and book tours. This year, it had planned to open Haymarket House, the group's new physical home in Chicago, which was to serve as a public events space.
"The pandemic and quarantine changed everything," said Dana Blanchard, who heads the publisher's publicity and marketing department. Haymarket's only move was to pivot online, streaming live author talks and book launches. Some events' virtual head counts have swelled to impressive numbers. "Many of our talks have about 500 to 1,000 people attend live," Blanchard said. "Our biggest attendance was the Antiracist Baby Board Book launch event with Ibram X. Kendi and Derecka Purnell that had over 17,000 people."
Coordinating online events for such crowds is a delicate dance, Blanchard said. "We have an events team on our staff"—just four people—"that keeps a master spreadsheet with our events and then follows up on all the details, like speakers, bios, and event programs/descriptions for the Eventbrite page," she explained. A couple tech leads make sure everything is running smoothly. 
"Once a month we have a full Haymarket staff meeting to brainstorm ideas for potential events," Blanchard added. "Everyone is always looking for good speakers, good books to promote, an awesome article that someone wrote, etc. We have also been super blessed by having a lot of incredible people pitch events to us after seeing one or more on our YouTube channel."
Post-pandemic programming "has been a real whirlwind," but Blanchard is hopeful for the future of Haymarket's programming. "This moment has shown that people are hungry for political ideas," she said.
No matter how event organizers are helping to effect change, a common theme is the sharing of progressive ideas and values. Blanchard puts it succinctly: "I hope that these talks can be a place where those ideas are shared and where collective learning can happen," she said. Building a value-based community — either in person at marches or virtually at online events — is the goal. 
"I hope that we can continue to amplify voices and topics that need to be heard and discussed," Blanchard said. "[We want] to build a kind of online community hub where people feel less alone, less isolated, and more connected to one another."