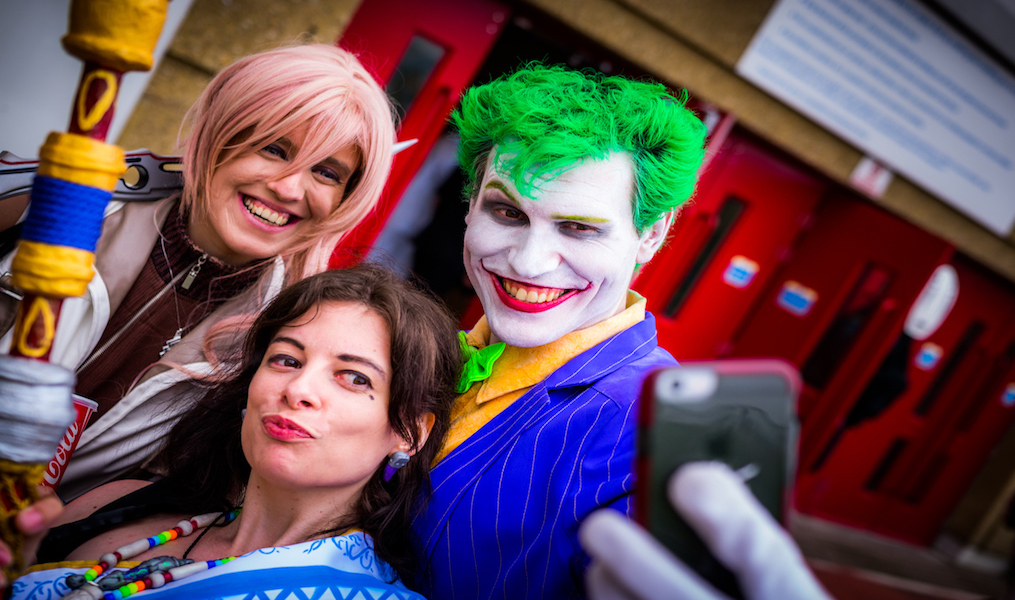 4 Ways to Sell Out Your Fandom Convention
Fandom events are a booming business. From niche local meetups that attract die-hard fans to multi-day international events that draw in celebrities, major corporate sponsors, media industry tycoons, and more, it's no surprise that these fandom conventions are quickly becoming game changers in the industry.
One of the most popular comic conventions, San Diego Comic Con, has sold out for the last ten consecutive years, with over 135,000 fans at last years' convention in 2017. While San Diego Comic Con's growth and popularity might seem like fan fiction, it's not alone. Fandom events across the country are popping up and packing the house.
While star-studded panels and FOMO-inducing experiences are key to generating buzz about your fandom event, you'll need a heroic promotional strategy to actually drive ticket sales.  Here are four ways you can superpower your marketing efforts to sell out your fandom convention.
The fandom event industry is booming. With more events popping up each year, how will you make sure you pack the house?
Make it easy for fans to find you through search
If a fan wants to find a nearby convention, all they have to do is type in "fandom event nearby" in Google search and they are bound to strike gold. So how do you make sure that these interested fans find your event?
The answer is SEO, or search engine optimization. For most events, search can be expected to drive between 5-10% of ticket purchases or registrations. But it takes dedicated effort to show up in search results. Choosing the right keywords, increasing your domain authority, regularly posting new content, and optimizing for mobile are all important considerations for your SEO strategy. To go deep on these tactics, download the SEO Cheat Sheet for Events.
You can also supercharge your SEO — and increase the odds that you'll show up at the top of the page in search — by choosing the right ticketing partner. The higher your partner's domain authority, the better shot your event has at ranking in search results. Eventbrite is one of Google's top 100 most trusted sites — the only ticketing or registration page with a high enough domain authority to rank alongside sites like Yelp.
Reach even more interested event-goers online
Ranking highly in Google is an important way to attract fans who are already looking for events, but you can't count on selling out solely through search. Your promotional strategy needs to be tailored to reach fans with niche interests who will want to attend your events. You can accomplish this through typical means like display ad targeting and social media advertising, but you'll want a secret weapon in your back pocket as well — event discovery sites.
Most fans have go-to event discovery websites they rely on to make plans. In a survey of 3,000 urban event-goers in the U.S., well over half (64%) said they look to neighborhood guides when searching for things to do. Fans also turn to more targeted sites to discover events — especially ones that cater to their unique interests. Think Bandsintown or Spotify for music fans, Lanyrd for conference-goers, or Facebook Events or Eventbrite for those looking for personalized recommendations.
Make sure your ticketing partner is actively promoting your event to their own audience of event-goers. Ideally, their site is an event discovery platform. If you've partnered with Eventbrite, your event will be shown to 50+ million active ticket-buyers based on their locations and previous ticket purchases. This means that the audience you reach will be even more targeted — and more likely to purchase a ticket. In fact, people who discover events through the Eventbrite homepage or targeted interest and city listing pages buy tickets at twice the rate of people coming to an event page via social media.
Sell where your fans are
Why stop at selling tickets on your website or your ticketing partner's platform? Event distribution is one of the most effective — and most overlooked — ways to boost ticket sales. In fact, distributed commerce ticket purchases have more than doubled since 2016.
If you sell tickets on sites where your fans already spend time online, you'll multiply your ticket sales too. Take Facebook, for example. 550 million people use Facebook Events every month. Event creators who make tickets available directly on Facebook drive 2X more sales and free registrations, on average, than those who redirect to their ticketing page.
Your ticketing tech should push your events to potential fans' favorite sites automatically, and enable on-the-spot purchases — no doubt about it.
Convert more interested fans into ticket buyers
Why is it so important to to offer fans the most seamless purchase experience? Because most won't make it past the first step of checkout. They may abandon their order if the process is too tedious — or if they're redirected to your ticketing page and get distracted. This is especially true for fans buying from mobile devices. One in 10 buyers drops off for every extra step in the purchase process.
Make sure that your ticketing partner has a seamless purchase flow and is optimized for mobile as well. If you're selling through Eventbrite, fans can buy tickets in just two easy steps. And buyers are never discouraged from a poor "pinch and zoom" experience on mobile — all Eventbrite pages are 100% mobile optimized.
The easiest way to sell out your event is to make it easy for fans to buy tickets, so eliminate any unnecessary steps and partner with a ticketing tech that will help you along the way. If you're looking for more tips to pack the house, check out this free guide: The 10 Best Ways to Sell Out Your Event.