The Ultimate Ticket-Pricing Guide for Event Organizers
By Helen Alexander in partnership with behavioral experts Kristen Berman and Melina Palmer
Inflation, competition, and changing consumer behavior — it's a lot to consider when pricing your event.

We've created a definitive guide of Eventbrite ticket prices across categories, states, and formats to cut through the noise and show you what's really happening. We draw on expert insights from behavioral economists and scientists to understand what drives consumer value and a willingness to purchase tickets so that you can make an informed decision on the right price for your event.
2022 is showing signs of recovery for ticket pricing and consumer demand
Consumer Demand Is Reaching Highs:
In the first half of 2022, events hosted on Eventbrite sold, on average, 42 paid tickets per event — the highest number of paid tickets per event since 2019.
Let's cut to the chase — Eventbrite data shows signs of revenue recovery for creators. After a 23% drop in yearly average ticket prices from 2019 to 2020, we've seen an 11% lift in prices from 2021 to the first half of 2022.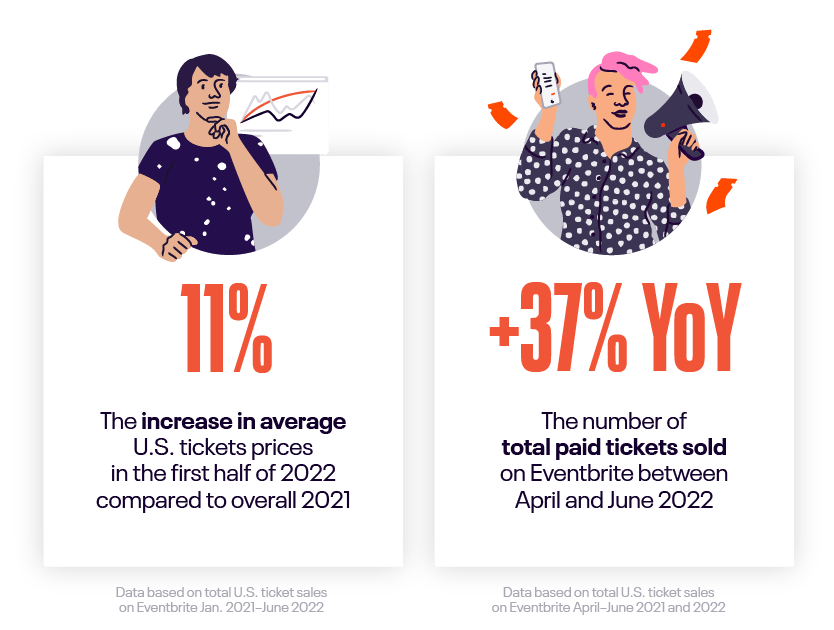 In addition, consumer demand is growing — fast. March 2022 was the best month on Eventbrite for both gross ticket sales and revenue that we've seen since the pandemic hit in early 2020. And the number of paid tickets sold on Eventbrite between April and June 2022 grew 37% year-over-year.
See how you stack up regionally and against the events industry pricing averages
Before we dive into key expert takeaways, check out the average paid ticket price data below to see if you're charging more or less than other event organizers. This information is useful in comparing ticket costs within your category as well as other verticals, as the data reveals interesting insights about the current state of the events industry across the board. 
For example, as the only two categories to break $100, science & technology, and business & professional events commanded the highest price tag, while food & drink, health, sports & wellness, and music occupy positions in the middle of the table as three of our most-popular categories in terms of tickets sold. We'll explore this phenomenon in more detail in takeaway number two.
And because we know it's fascinating to compare pricing across the states, peep this map below, but keep in mind there are a lot of factors playing into prices here (population, taxes, etc.).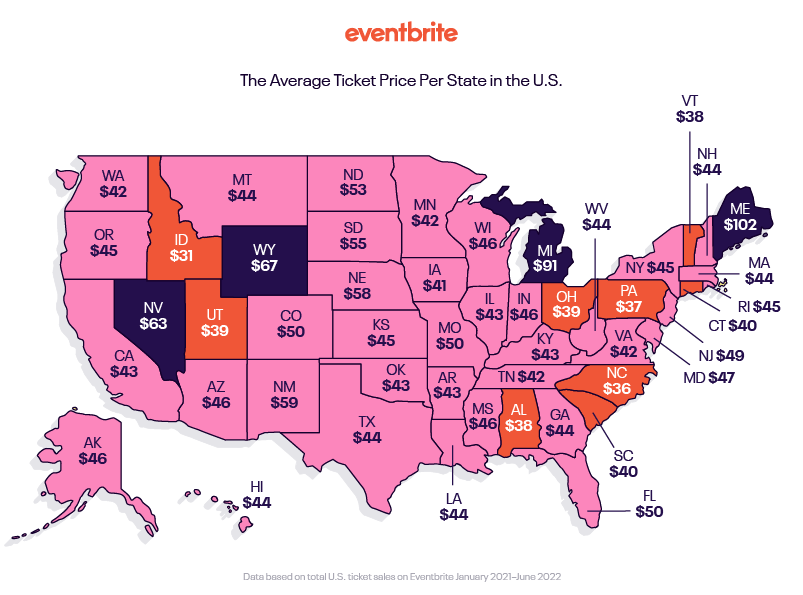 Let's dig into the data in more detail, and layer in how behavioral scientist and CEO and co-founder of Irrational Labs Kristen Berman and behavioral economist and founder and CEO of The Brainy Business Melina Palmer advise you to price your tickets in order to attract attendees and drive sales.
Pricing takeaway #1
Create a steady revenue stream by marketing and selling tickets year round
Before the pandemic, 2018 and 2019 data reveals average ticket prices remained relatively stable from one month to the next. In 2020, however, average ticket prices fell by 50% across the year — from $84 in January to $42 in December. 
So far in 2022, we're  seeing less price fluctuation from month to month than even 2019 — stability is here. So rather than worry about seasonal or external factors impacting pricing fluctuations, think about creating a steady revenue stream by selling tickets all year, and not just in the months, weeks or days before an event. 
Creating urgency around your event will raise its perceived value and excite potential attendees. To incentivize interested attendees to buy their ticket early, offer an exclusive discount to early bird purchasers. You can set a certain time period for the discount (say, the first week of sales) or limit it to a certain number of uses (say, the first 50 tickets purchased).
The early bird pricing strategy is a no-cost, extremely effective way to generate buzz for your event months in advance. Create demand in terms of quantity and availability by offering a limited number of spots — for a limited period of time — at a discounted rate.
Example CTAs could include:

Early bird special! First 50 tickets are only $50 before the price increases to $65

$50 tickets only if you purchase before August 1 — $65 afterward!
By rewarding attendees who buy before a deadline, you'll motivate them to commit earlier. The words "sold out" are like gold for sales. Once people see that your early bird tickets are snatched up, they'll rush to grab remaining tickets before they're gone. Ultimately, that means you'll sell more tickets and increase your profit.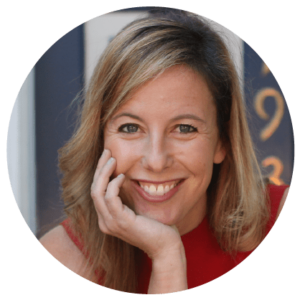 "People have a lot going on in their life. If you want them to come to your event that is four months away, you need to give them a reason to buy a ticket today, not procrastinate. One way to inspire action now is early bird discounts. This way, you give people a deadline to help them get a good deal."
–Kristen Berman, CEO and co-founder of Irrational Labs
Pricing takeaway #2
Consider your event's true value, and sell fewer tickets
Selling fewer tickets might sound counterintuitive, but by charging more — in other words, by setting a price that realistically covers your expenses and overheads, and reflects the event's true value — you could reduce the need to sell the same volume of tickets in order to not only break even but to turn a profit.  
For example, when we look at music events between January 2021 and June 2022, millions of tickets were sold with an average ticket price of $44. But what if organizers pushed this to $50? As Berman points out, it's all about finding your event's threshold. Increase your prices by a few dollars and see where demand drops off: "If that's $25, and you've previously charged $21, you might as well charge $24 but never more than $25."
But what if you're concerned that a higher price tag could put people off? For Palmer, the amount you charge for a ticket sends an important message to the consumer.
"People tend to value things more when they are more expensive. Event organizers may feel they need to offer lots of discounts and specials, and make tickets as affordable as possible to attract people. That is often not the case. If your event is more expensive, there can be a higher value placed on it."
–Melina Palmer, CEO and founder of The Brainy Business
Palmer adds: "People may be more likely to believe they'll get more out of it, which essentially creates a self-fulfilling prophecy. When someone pays a lower amount, they have less invested in it, and studies show they often get less out of the experience, too."
Pricing takeaway #3
Prime people before revealing your price and build FOMO
After two years of canceled or postponed events, people are excited to experience something extra-special, but being able to convert interest into action isn't guaranteed. Particularly when we consider the rising cost of living. 
But Eventbrite is seeing an 11% increase in average ticket price year-on-year (comparing January–June 2022 data vs. overall 2021) that indicates the appetite is there. That's why Palmer says it's so important to make sure people are ready to make a purchase before they even see the price.

"In general, pricing is almost never about the price," Palmer says. "What happens before the price matters much more than the price itself."
Palmer suggests organizers frame their marketing messages in a way that showcases the benefits to a potential attendee and triggers the emotions necessary for making buying decisions.
"Humans are also very loss averse, which is a big reason why FOMO exists," Palmer says. "If you can frame something as what attendees might miss out on, they're more likely to want to take action. Because we are a herding species, we really want to do things others are already doing. Therefore, leveraging social proof to show that your event is popular, and that other people want to attend can be a major motivator for getting people to act."
Berman agrees, saying it's all part of building a sense of anticipation before an event. Anticipation elongates the experience," she says. "Imagine a concert is just three hours long. If you build up excitement before — maybe asking people to plan outfits, listen to songs, know trivia — then you're extending the experience. It's not just three hours. You get to enjoy thinking about and planning the event for more time."
And if you want to charge a higher price for your event, Berman says to add more value and highlight the benefits of the experience more. For example, market that it's a concert with the lead singer sharing personal stories about the album or a cooking lesson that lets you personally pick the spices from a garden.
"Price is about the perception of value, and organizers should find ways to show or tell that the value of the event is high for their audience," says Berman.
Other strategies we recommend to inspire excitement before your event are: 
Sharing teasers via social media of your event details and performers or hosts

Adding a countdown timer to your website for the day tickets go on sale or the day of your event

Sharing positive customer reviews or testimonials from prior events

Posting recap videos or images from prior events
Provide a premium experience by offering attendees access to a range of special perks and benefits when they purchase a top-tier ticket. From the chance to meet guest speakers to the opportunity to head backstage for free food, drinks, and merchandise, VIP tickets create a sense of must-have exclusivity.
Pricing takeaway #4
Use tiered ticket pricing to create comparisons
"The brain has a hard time valuing one-off items," says Palmer, "which is why having the option to compare items can be really valuable." Tapping into the concepts of relativity and anchoring, she suggests using tiered ticket pricing to give attendees a choice while at the same time guiding their ticket purchase decision-making. 
"The first numbers people see have an impact on what comes next," says Palmer, "so you don't want to list the lowest prices first and work your way up. It is almost always better to start high and go low. You also don't want to have the thing you want to sell be the most expensive option you offer. Create a bundle or do something to make it so that the 'best option' isn't the highest price."
Multiple ticket types can also increase perceived value: They make cheaper tickets look like a better deal, and more-expensive tickets look like a VIP option, all in a way that reinforces the benefits of value-based pricing. Remember, the ticket types you offer are completely up to your imagination – you can get creative with branding and names to make them even more ownable and unique to your experience!
Although there's a variety, tiered pricing examples can go into four core groups: 
Regular tickets: Standard general admission 
Special access: Gives attendees something extra for a higher price. For example, VIP, early access, or a backstage pass 
Targeted discounts: Gives discounts to all groups that can "prove" membership. For example students, children, or members of the military 
Group discounts: Offers discounts for bulk purchases, for example, a pack of six tickets for one price
The reality is there are multiple pricing sweet spots, and by using tiered pricing, you can hit each potential attendee's perfect price.
Pricing takeaway #5
Close the gap between online and real-life pricing
During the pandemic, many organizers pivoted to hosting online events. And despite venues reopening and more and more people attending live events as 2022 unfolds, it's clear that digital-only or hybrid events are here to stay.
Although business and professional events ($145 online vs. $130 in-person) and family and education ($89 online vs. $42 in-person) see higher average ticket prices online, there are many categories in which online events are significantly cheaper than in-person events, such as government and politics ($59 online vs. $76 in-person), health and wellness ($67 online vs. $80 in-person), and science and technology ($160 online vs. $235 in-person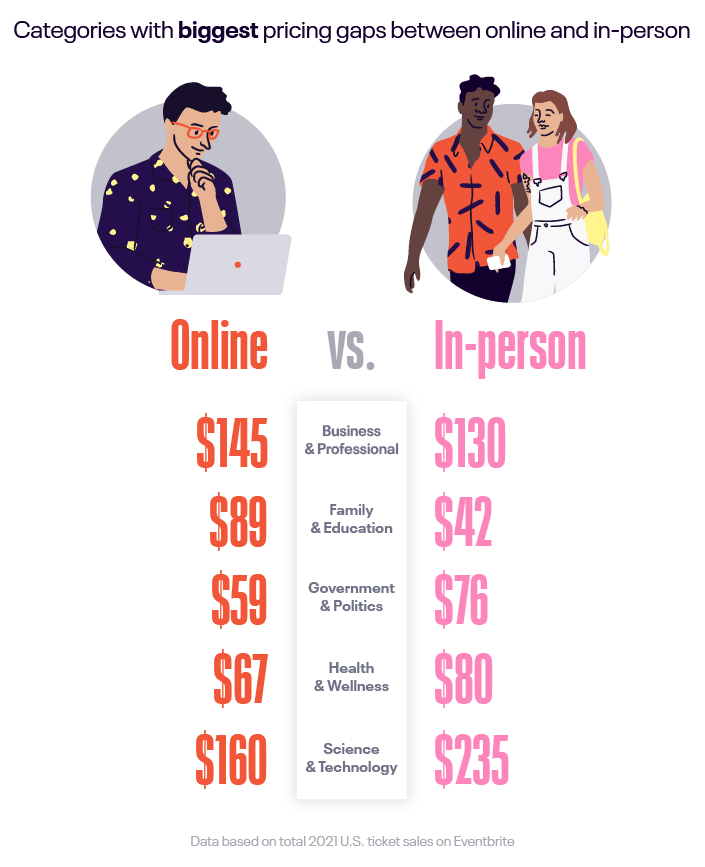 So how should creators price their online events? "Remember that virtual events are different [from] real-life events, and they should be treated as such," says Palmer. "Don't try to [reconstruct] a version of what would have happened in person. Instead ask: 'What amazing things can we do virtually that wouldn't be possible in person?' and 'What do people want most out of our event?' and then look for a virtual option that can fulfill that need, and charge accordingly." 
In other words, by offering a unique digital experience and adding value for attendees, there's no reason why organizers shouldn't aim to close the gap between online and in-person ticket prices – as we're already seeing across event categories, such as: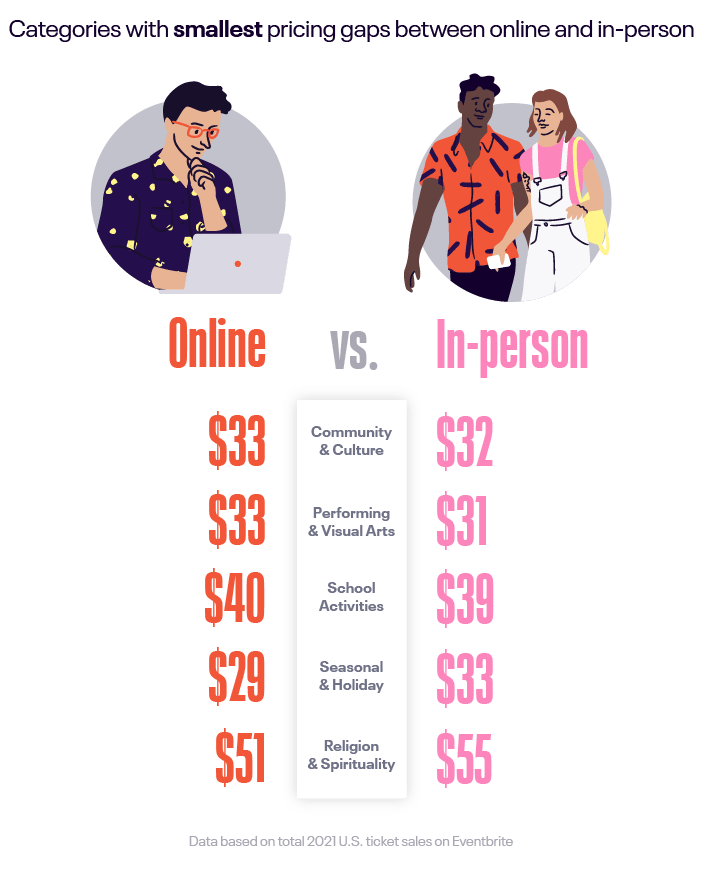 Pricing takeaway #6
Convert (free) online attendees into (paying) real-life attendees
As mentioned earlier – despite the pandemic and increasing inflation rates – consumers are still willing to spend money to attend events. But how can you capture the attention of the huge number of attendees who purchase free tickets to in-person events? And how can free online event attendees be encouraged to pay for a ticket and/or attend an in-person event? For Berman, the solution lies in how you craft your marketing messages. 
"​​The coolest thing about virtual is that it can be a foot in the door, which is a small step to a large action," says Berman, who cites an experiment in which people were asked to put a small sign in their window to promote a candidate. Then, a few days later, they were asked to put a large sign in their front yard to promote a candidate. The people who were first asked to put up the small sign were more likely to put up the big sign, compared to the people who were only asked to put up the big sign.
"With virtual, you can ask your audience to do a small thing, like attend a 30-minute event where they don't even need to leave their house. Instantly they are involved, and your next job is simply to figure out how you build on that relationship," says Berman.
Ultimately, the decision around whether to start with a free online event to get audiences familiar with you and establish trust is going to come down to your budget and business strategy. Our caution to you is to remember there is a value to your content. And if you aren't charging for it, you immediately reduce the perceived value and could struggle to monetize your events in the future.
Other ways you could look to monetize should you decide to host free virtual events:
Monetize with sponsorship
Focus on your sponsorship sales and drive revenue through a larger overall attendee base. Digital sponsorships are trackable and more flexible than their in-person counterparts. And the more attendees you capture, the more your sponsorships are worth.
Monetize with data
The second way to monetize your free virtual event is through your event data. You don't need to convert a paid attendee right away — sometimes a free option works like a try-before-you-buy. Think of the freemium model we see in the SaaS vertical. Once you've captured them as a virtual attendee, it becomes much easier to convert them down the road. The concept involves lowering the barrier to entry, proving the value at a free virtual event and then converting as a paid attendee for a future event.
And this takes us into our final takeaway — more reason to be cautious when not charging your attendees for event entry.
Pricing takeaway #7
Avoid undermining your pricing with free events — if you can get attendees to pay, you'll see more people show up
Attracting attendees doesn't mean you have to offer your events for free. Remember the number from earlier: paid tickets sold on Eventbrite between April and June 2022 is +37% compared to 2021, reflecting strong consumer demand and an increase in paid events. 
However, when we look at both online and in-person ticket sales data from January 2021 to June 2022, 65% of tickets purchased were free. As discussed, when pricing your online event, it can be tempting to offer free tickets in order to give audiences a taste of what you do. However, it's always worth benchmarking your events to others within your category, as well as across other categories that offer similar events in terms of the entertainment or educational value that an attendee can expect to experience.
As Berman comments: "You might feel you have to compete with events that command a lower price. But by offering a cheaper or free price, you run the risk of creating a lower anchor in the market than there was before. The same goes for pricing your online and in-person events. We've already talked about how people like to make comparisons, and if people see your online event for $5 and your in-person event for $25, it's likely they will opt for the former. In other words, your free events run the risk of cannibalizing your paid events."
The real win is if you can get people to pay something (anything), you will have a higher percentage of people show up. "You may have less people register since it's a paid event — free will usually win with number of attendees!" says Berman. "But when people pay something, they feel more obligation to go because you're losing/wasting money if you decide to bail at the last minute. There is no cost to bailing for free events."
Anecdotally, we can tell you that we hear more concern and experiences with "no-shows" from creators who host free events or those with tickets under $10. Many of them execute an "oversell" strategy in order to ensure attendance meets expectations. This is another reason why free events may or may not be a tactic your business wants to employ.
Leverage the above data and advice as a guide and reference point to price your tickets, build your audience base, and grow your business.
Create your event with confidence

Make a beautiful event listing for free and easily drive attendance with marketing tools, payment processing, and analytics.
Get started
Partner with
event experts
Speak with industry experts to learn how you can drive sales, delight attendees, and simplify your work with Eventbrite's event management tools.
Speak to an expert
Get more from your event marketing
Power your growth with time-saving social media ad tools and reach your ideal audience with intelligent targeting options and insights.
Try Eventbrite Boost

Here's to a stellar rest of 2022 for your business and attendees. We will bring you more data-backed trends and insights as the landscape evolves.