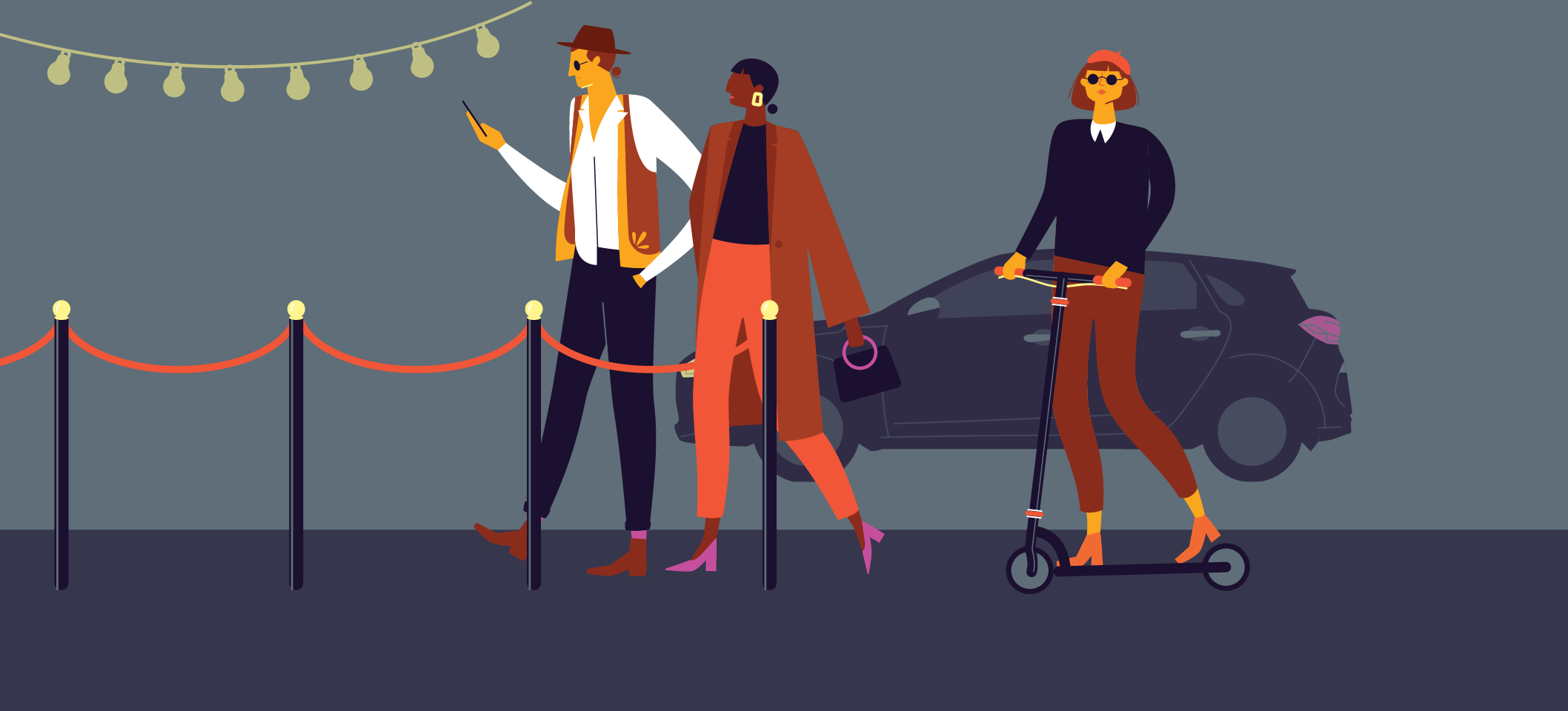 Ridesharing Trends & Statistics: Why Millennials Love Lyft for Events
Every generation had its signature mode of transportation. In the '70s, hitchhiking symbolized freedom. The '80s heralded conspicuous status in the form of Porsches and Beamers. And in the early aughts, the first wave of hybrid vehicles arrived, as the focus shifted to environmental awareness.
Today, transportation has gotten even more efficient. Millennials, officially the biggest generation, are also the rideshare generation.
To understand why millennials lean into ridesharing — including for event transportation — Lyft's 2019 Economic Impact Report is an abundant source of data. Read on to find out what you as an event creator can do to take advantage of all of these ridesharing trends and statistics.
Trend #1: Ridesharing makes it easier for millennials to be social
It's no secret that millennials love a good time: 2 out of 3 would rather be known for their experiences than their possessions, and 3 out of 4 attend events specifically to express who they are.
Rideshare makes it easy for them to get out and about. Nearly half of riders are more apt to get out and explore their city with rideshare as an option. And 37% of Lyft riders are more likely to attend community events as a result of using Lyft.
Rideshare is easy and convenient for millennials, who are used to summoning a car with a push of a button on their phone.
Trend #2: Millennials prefer to make decisions last minute
As much as millennials adore a good time, it has to be on their terms. They want the option to bail, even if they've previously committed to an event. In fact, 4/5 Americans will flake on an event they've already bought tickets to if transportation is tough.
"With ridesharing, you are able to get from point A to point B in just a few minutes," says Amanda McDermott, Event Marketing Manager, Lyft. "It takes the stress out parking and enables attendees to arrive and depart according to their own schedule."
More than half of Americans say convenience is the top factor they consider when deciding to attend an event at the last minute. Rideshare is a factor that tips the scales toward "go."
Trend #3: Millennials don't carry cash
Millennials would rather not carry a wallet if they don't have to. The great majority — more than 92% — own smartphones and are used to using them for everything.
For this reason, nearly half of event organizers offered cashless payment options in 2018. At many events, attendees can use their smartphone or RFID bracelet to get in the door and pay for food, drinks, and merch onsite.
Ridesharing further enables a cashless lifestyle. Payment information stored in the app takes cash — and hassle — out of the equation.
Trend #4: Millennials party responsibly
As much as millennials love a good time, they don't want it at the expense of their health and safety. Rideshare makes it easy for them to get to and from events where they'll be drinking. Nearly three-quarters report that they're less likely to drive when impaired because of Lyft.
While 46% of riders take public transit at least once a week, 25% also Lyft to get around beyond public transit hours. In fact, 10% of the rides on Lyft are late-night rides.
Trend #5: People are less likely to own cars
Millennials are far less inclined to purchase cars as status symbols than past generations. Today, 35% of Lyft riders don't own a car, and 64% say Lyft is part of the reason why. In the U.S., 46% of Millennials and their slightly younger Gen Z counterparts are apt to question car ownership when rideshare is so easy.
In this way, the rideshare trend is really more of a movement. It's partly about efficiency and practicality. And it's partly about environmental awareness — today, 75% of consumers consider a brand's corporate sustainability responsibility when making a purchase. Events that put rideshare at the forefront of transportation options are poised to tap into millennials' natural attraction to environmental responsibility.
How to get millennials to your event with ridesharing
For event creators, tapping into the rideshare movement is a smart way to align yourself with the values of your millennial audience. Here's how you can take advantage:
Use Lyft Events to set up ride codes your attendees can plug into the Lyft app for a discount on rides to your event.

Establish your event with a geotag in the Lyft app to make pickup and dropoff seamless for both drivers and riders.

Let it be known that your event is rideshare-friendly in all of your marketing and communication.

Go the extra mile and staff your event with rideshare ambassadors to help people get to their cars.
For a detailed manifesto on how you can take advantage of ridesharing trends and statistics, download the free guide The Future of Event Transportation: An Inside Look From the Lyft Business Team.