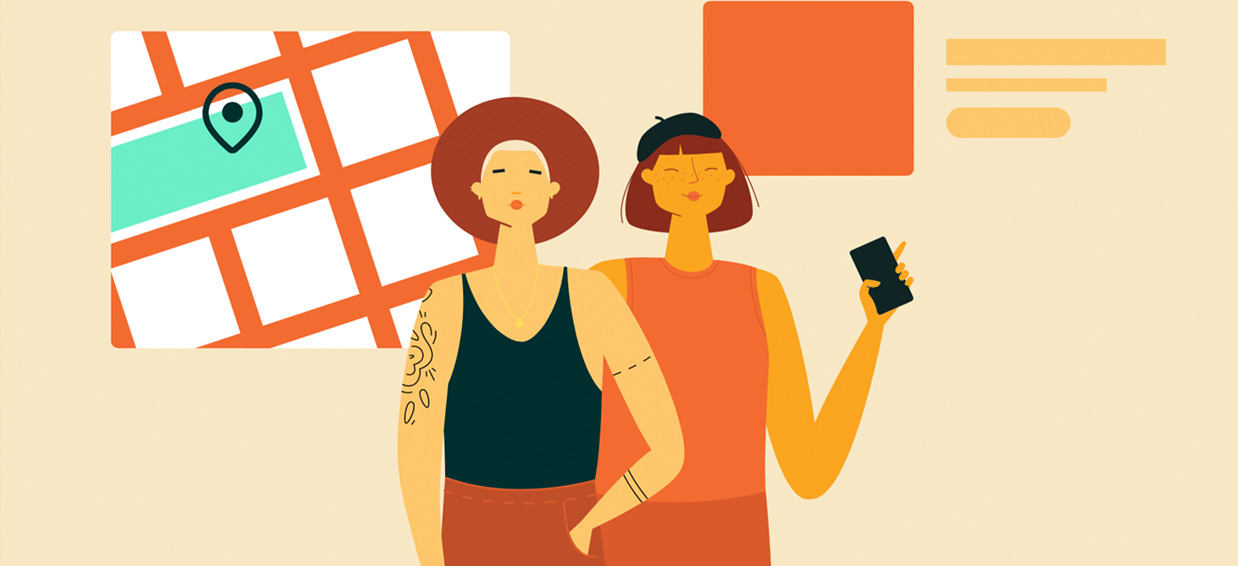 Where to Reach the Most Influential Event-Goers
50% of online consumption is concentrated on a handful of mobile apps — most of which are owned by Google and Facebook. With so much of people's time spent on these mobile apps, the future of your event is literally in your attendee's hand.
To get a leg up on the competition, you'll need to understand how event-goers use mobile apps to learn about and ultimately decide to attend your events.
In Eventbrite research, two key types of event-goers emerged who use their mobile apps to find events differently:
The Ringleader: The leaders of their packs, convince them your event is worth attending, and they'll convince their crew.
The Tastemaker: They've got more than a few people relying on them to find out what's going on — the Tastemakers have a few thousand social media followers who trust their suggestions.
These event-goers always seems to know about the hottest events — but how can you make sure your event is on their radar? By making sure your event is prominent in these three places when they're browsing their phones.
Social media: Where social connections drive ticket sales
Like most people, The Ringleader and The Tastemaker spend a lot of time browsing their Facebook app. And since they follow their favorite artists, venues, and other social event-related pages, their Facebook News Feed is a directory of what's happening any given week.
The Ringleader and The Tastemaker are also habitual Instagram users. While browsing photos posted by artists, influencers, and brands, these event-goers hear about events from sources they trust.
Chances are you're already promoting your event on Facebook or Instagram. With a firm understanding of how your audience uses them to find events, you'll be better equipped to grab their attention. These resources on Facebook and Instagram advertising will ensure you're on the right track.
Streaming apps: Where artist and event discovery meet
The second most used apps (18% of mobile usage) are streaming apps like Spotify and Pandora. But these apps aren't just made for listening. Eventbrite research has found that 50% of fans purchase tickets to see recently discovered artists live.
Spotify and Pandora make this easy for The Ringleader and The Tastemaker. While listening to their favorite artists and discovering new ones on Spotify, for example, these influencers will frequently check the artist's profile to see if they're coming to town soon. Spotify also recommends concerts and festivals to listeners based on their music preferences on the Concerts tab.
So how do you reach listeners on Spotify or Pandora? Unlike most promotional opportunities, connecting your events to these streaming platforms will require the right ticketing and registration partner. Consult your provider to find out your options.
Already using Eventbrite? Thanks to a partnership with Spotify (and soon, Pandora), events on Eventbrite can reach music fans more easily. Check out this post to learn more about it.
Event discovery sites: Where the doers find something worth doing
The Ringleader and The Tastemaker have go-to event discovery websites they rely on to make plans.
In a survey of 3,000 urban event-goers in the U.S., well over half (64%) said they look to neighborhood guides like DoStuff Media (e.g., DoNYC) when searching for things to do. Event-goers also turn to more targeted sites to discover events. Think Bandsintown or Songkick for music fans, Lanyrd for conference-goers, or Eventbrite for those looking for personalized recommendations.
The Ringleader depends on Bandsintown or Songkick to let them know when their crew's favorite acts are performing in the area. This gives them ample time to find out who's in and who's out before the event goes on sale.
The Tastemaker's personal brand depends on catering to an audience with a broad taste in events. So they check local event discovery sites like Bandsintown and DoStuff Media for smaller shows, art walks, and community events.
Because they appeal to event-goers actively looking for something to do, getting your event on top discovery sites can drastically increase your reach and sales. But don't waste your time doing it manually. Instead, your ticketing partner should automatically push your event to those sites.
The rules of event promotion are changing
To reach new attendees and grow your event, your promotion strategy needs to focus on a handful of mobile apps and online destinations. But it's not enough to promote your event on the apps your attendees already frequent — you've got to make the purchase as seamless as possible.
Check out The New Rules of Selling Tickets Online to learn how your future attendees use their favorite mobile apps to find events and why the right partnerships can help you double your event sales.