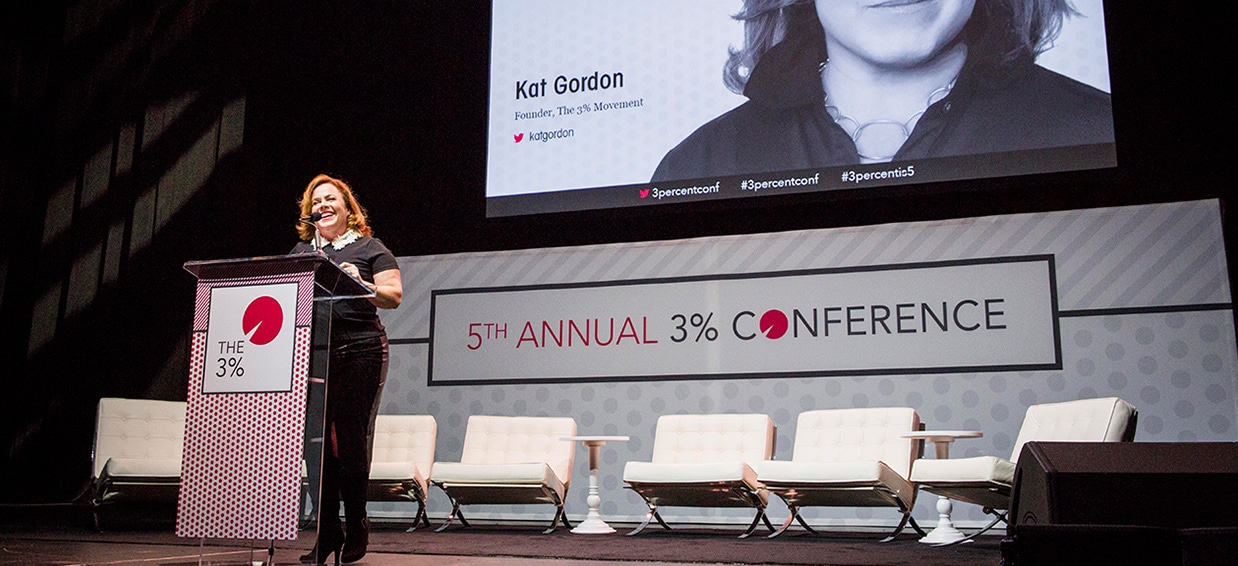 How to Grow an Event Community and Scale Success
Live events have long been contained to their duration and location. But today, your event can extend its reach online and engage attendees year-round.
The payoff? Ask Kat Gordon, the founder of the 3% Conference — an event that teaches men and women in advertising that diversity inspires creativity, which leads to profitability.
For five years, she's enabled attendees to guide the direction of future events and built an online community that has turned the 3% Conference into an international success.
Read on to find out how the 3% Conference turns attendees into participants and keeps a vibrant community engaged between events.
What do event attendees want? Just ask them
Post-event surveys are a common, if not standard practice, for events. But these questionnaires often don't go beyond asking attendees if they enjoyed the event or would recommend it to a friend or colleague.
For instance, when the 3% Conference surveyed attendees after the 2012 event, 80% of attendees rated the conference "Excellent" and 85% indicated they planned to return in 2013.
But ratings like that provide little to no insight into how you can recapture that excitement at future events. That's why Kat Gordon and her team decided to go the extra mile and ask attendees the hard questions — like what content they're eager to hear more or less of at the conference.
"In one round of surveys, motherhood was a polarizing topic," Kat says. "Half of the respondents said they heard enough about it, while the other half begged us to do more on the subject. So we created an elective session that attendees could go to if they wanted."
Cultivate year-round engagement
Incorporating attendee feedback may be the secret to the 3% Conference's success. Five years and twenty events after founding the 3% Conference, Kat Gordon can say she's sold out every one of them.
But as the event grew bigger and expanded internationally, the need to maintain momentum between events was paramount.
"Being a mission-based conference, it's important that attendees don't just consume the content and go home," says Kat. "We need to keep them engaged so they can become advocates for the cause and enact change at their workplace."
Using MailChimp's direct integration with Eventbrite, the 3% team was able to effortlessly segment attendees by the event they attended or any other characteristics.
"I just sent an email to attendees from a recent event in Detroit, which included links to press and photos from the event, as well as links to content they were asking for," Kat says.
Such personalized communication has led to the 3% Conference's year-over-year growth, and paved the way towards achieving equality in the advertising industry.
"We've hosted 20 events — all of which have sold out. Beyond the event, the 3% community had grown to over 30,000 people."
Learn more about the 3% Conference's ability to scale globally by reading the full story here.