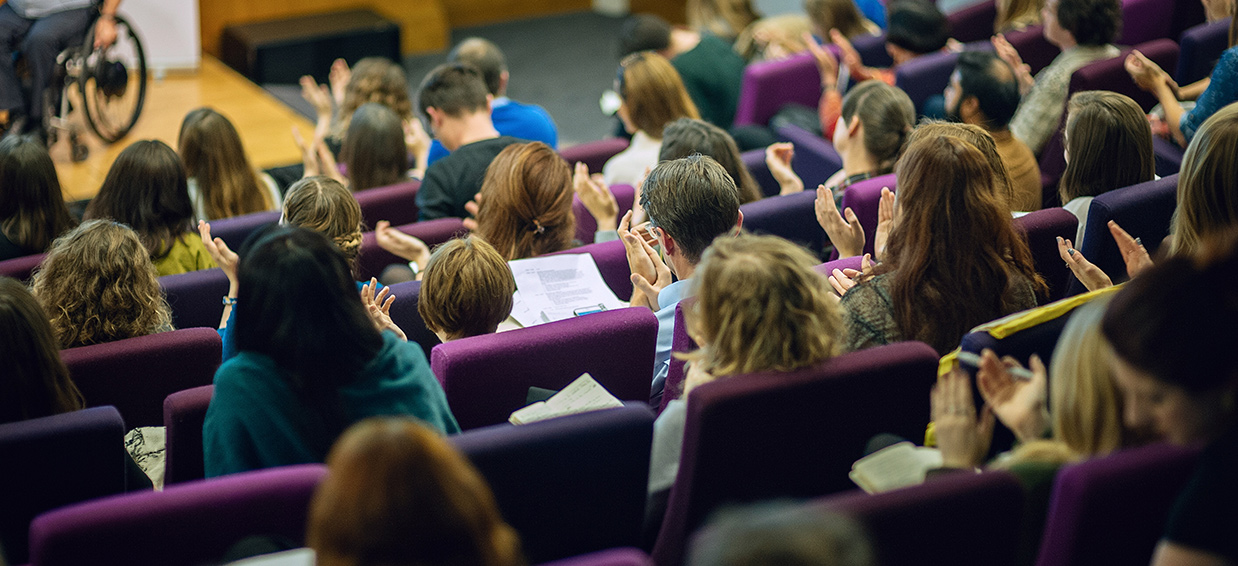 How Social Media Turns Events into Thriving Communities
Are you using social media to its fullest potential? If your social media accounts remain dormant until registration opens or become a barren wasteland once the event is over — you're missing out social media's greatest strength.
That's the key takeaway from a recent webinar with Nick Borelli, a digital marketing consultant for events and event companies. Early in the webinar, he likens social media to a campfire.
"Your event isn't just what attendees register for, it's the epicenter of a community," he says. If you imagine your event as a campfire, all the work you put into planning and promoting it is similar to starting the fire. By the time your event starts, "[your campfire] tall, it's warm, and it's exciting." You've created a community around your event, bringing people together based on shared interests.
But once you let the fire go out, it's really hard to get it started again. That's why it's so important to maintain that sense of community around your event, even after it's long over. Social media provides you with an opportunity to keep your attendees around the proverbial campfire — engaged and excited about your event.
Over the course of the webinar, Borelli goes into detail about how you can use social media to build a community around your event. Here are three of his top ten tips:
Tip 1: Know your audience
It's easy to believe you know exactly what your attendees want or need. But Borelli says it's important to fight your assumptions and listen closely.
"Knowing your audience means knowing which of their desires isn't being met," he says. When you understand the needs and desires of your attendees, you'll be in a better position to speak directly to them and sell your event as a solution.
Borelli suggests using social media to monitor conversations potential attendees are having online. You can then use that insight to build an agenda that becomes a part of the broader conversation.
"Consider this research and development," says Borelli. "Find out what's missing at other events in your market and gear yours towards that." For example, let's say you hear a lot of online chatter about the lack of networking opportunities for young professionals in your area. You may want to act on this insight by re-positioning your networking event to focus on a younger demographic.
You can use a tools like HubSpot to monitor hashtags people use when discussing specific topics. You can then search by hashtag on Facebook or Instagram every couple of days to understand the latest conversation around that topic — and use it to inform your event layout.
Tip 2: Let them know you're listening
Listening passively to your audience's needs is just the first step to building an engaged community. Borelli suggests creating a two-way conversation by openly asking potential attendees about their needs and desires — and letting them know you're listening.
It's an exercise in validating your research, but this extra step can have a positive effect on your event promotion strategy.
When you engage with your audience and let them know that the information they're providing will influence your event, you create buy-in with them. According to Borelli, this is important because there's a major difference between "I'm attending an event" and "I've actually contributed to this event."
One way to do this is to host an open Twitter Q&A with speakers or sponsors prior to your event. This allows event-goers to get a sense of the value your event can provide — and encourages them to attend your event to learn more. More importantly, it makes them feel invested because they've already created a relationship with your speaker or sponsor.
When you let attendees guide your event, they become more than consumers: they become stakeholders.
Tip 3: Use content to keep the conversation going
Do you have a reoccurring event — like a yearly user conference or fundraising dinner? If so, Borelli's next tip should be an essential part of your social media strategy.
"You should start marketing next year's event during this year's event," he says. Most organizers do a good job of capturing and publishing content during their event, such as tweeting a profound quote from the keynote speaker with the event hashtag. But according to Borelli, few think of how to use that content to market their next event.
From speaker presentations to event photography, capturing content you can use to promote your next event helps you engage your audience and drive interest.
Borelli used a recent example from the [International] Consumer Electronics Show (CES) to illustrate his point. The photo of the award-winning UNLV student hackers (see below) may not seem like much on its own, but the way CES used the content to promote their 2017 event stood out.
Meet @unlv students who won the Smart Cities Hackathon at #CES2017 https://t.co/0wqDuPqjZH via @reviewjournal pic.twitter.com/QTfL7jm9vp

— CES (@CES) February 25, 2017
Instead of dumping a bunch of photos into a gallery shortly after the event and forgetting about it, CES used images to tell a story and engage attendees long after the event.
To circle back to Borelli's campfire analogy: use your event content to keep the fire going, and you'll have an easier time drawing your audience to your next event.
Tips 4 – 10
These three tips just scratched the surface of how you can use social media to engage your audience and keep the fire going all year long. For more tips, including how to gather the right content at your event to use for promotion, watch the on-demand webinar: 10 Tips To Sell More Tickets With Social Media.