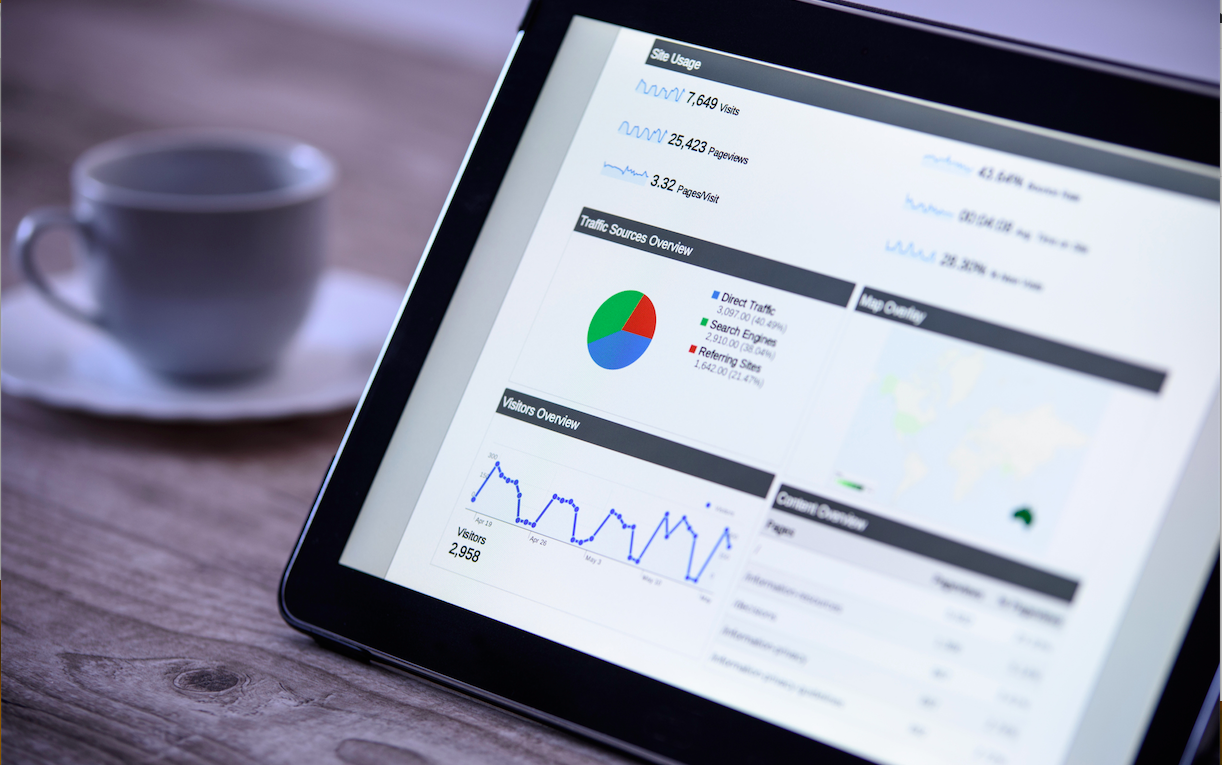 How Google Analytics Can Help Sell Out Your Event
Is your event website helping you out, or holding you back?
If you're not sure, you're in good company. Many event organizers aren't positive whether their websites are "converting" visitors into attendees, which marketing channels are attracting the right visitors, or how long people typically stay on their event page. But while the behavior of your website visitors is hard to predict, it can definitely be tracked.
The best place to start? Google Analytics. The free platform allows you track who's visiting your event page, who's buying tickets, and how they're getting to your page  — if you know how to use it. Here's a quick primer to get you started.
Google Analytics: The basics for events
Google Analytics is essentially a dashboard that lets you track whether and how your website is meeting its goals. For event organizers, that goal is to turn page visitors into registered attendees or ticket buyers (or to "convert" website visitors).
So how does the dashboard help you improve your website performance? Here's an example: you might learn that the majority of your ticket buyers are from a specific geographic region, inspiring you to target event-goers in that region. If you advertise to people more likely to buy tickets, you'll see higher conversion on your website.
Another example: say you learn that online ads are bringing tons of traffic to your event page — but those visitors immediately leave your site. The culprit might be a compelling, but ultimately misleading ad…time for a creative refresh.
Or, imagine you find that people are spending a long time on your page, but they aren't pulling the trigger to buy. If that's your problem, try some simple UX (user experience) testing to make the purchase flow is clear.
Get started with Google Analytics for your event
Your first step is to set up an account. From there, you can add your web page to your account as a "property," which will give you a tracking ID or tracking code snippet. That ID or code is how you'll link your page to your Google Analytics account.
(Pssst…If you have an Eventbrite event page, it's easy to track visitors coming to your event listing with Eventbrite's tracking pixels tool for Google Universal Analytics.)
Once your account is set up and linked to your page, the next step is to tell Analytics your "goal" — getting a page visitor to buy a ticket or register for your event. Click "goals" in the "view" column of your Analytics admin page and add a "new goal."
Now GA's various charts and stats will tell you if and how your goals are being reached — who is buying tickets, when they're buying them, how they're getting to your page, and more.
If you're using Google AdWords for your online ads, you can also link your AdWords account to evaluate how those ads are performing. Click "AdWords Linking" on the admin page to set this up.
Now, you can customize your dashboard and your Analytics reports, known as "views," to show you what you want. If you have multiple pages on your site, for instance, you could focus on specific pages, or you could exclude visitors from your own company from the reports. You can adjust the reporting date range, set up shortcuts for the reports you use most, add "segments" to compare your data by subsection, and export or share the reports for use in other programs.
Not sure where to start? Here's a breakdown of the data you might find in Google Analytics:
New versus returning visitors
How to find it: Click into the "Audience" category on the left-hand navigation column, then "Behavior," then "New vs Returning." You can get the percentage of ticket buyers by clicking the "Ecommerce" tab at the top of the graph.
This metric will help you see whether your website visitors have visited your page before. A high percentage of new visitors mean you're expanding your reach, bringing potential new attendees to the site. High returning visitors means you're bringing them back — they could be ticket-buyers wanting to double-check the directions to the event, potential attendees who weren't quite convinced to buy a ticket last time, or repeat attendees (if you host repeated events on the same site).
If you have your goals set up in Google Analytics to track conversions, these data can also tell you the percentage of ticket sales purchased by first-time versus returning visitors. If it's mostly returning visitors who are buying tickets, perhaps you should invest more in ad retargeting to get that rate up even more.
Frequency and recency of returning visitors' visits
How to find it: Click into the "Audience" category on the left-hand navigation column, then "Behavior," then "Frequency & Recency."
This metric shows you how often unique visitors visit and how recently those visits were. For instance: let's say your returning visitors are, on average, coming back every day. They're interested — hoping for news and updates about your event or just waiting for the right time to buy a ticket. Or maybe the frequency of unique visitors is down. If so, maybe update the site more frequently — try teaser videos, discount codes, or clips of past shows.
Visits broken down by mobile, desktop, and tablet
How to find it: Click into the "Audience" category on the left-hand navigation column, then "Mobile," then "Overview." Go to the far right-hand corner of the screen and click the pie chart in the row of icons. That will bring up a pie chart breaking down your traffic by device type.
To optimize your page and ticketing process, you need to know how visitors are engaging with them. This metric lets you know how important optimizing for mobile is for your event. (Spoiler: it's important.) If 90% of your visitors are on their phones, you want to know.
User flow
How to find it: Click into the "Audience" category on the left-hand navigation column, then click on "Users Flow" (it's the last option in the list).
Imagine you could look over a potential attendee's shoulders as they scrolled through your site. You saw which pages they visited in the order they visited them, including what they were looking at right before they bought tickets — or left the site. That's what this graphical representation of your visitors' paths through your site provides.
This will show you where website visitors are dropping off of or converting on your site. Is a confusingly worded testimonial turning visitors off? Drop it. Is a photo gallery of last year's event spurring conversions? Make sure more visitors see it.
Of course, these are just the basics. You can learn all about Analytics with Google's tutorials. And for even more tips on creating an event website that sells, download this free guide: How to Create an Event Website That Will Sell Out Any Event.