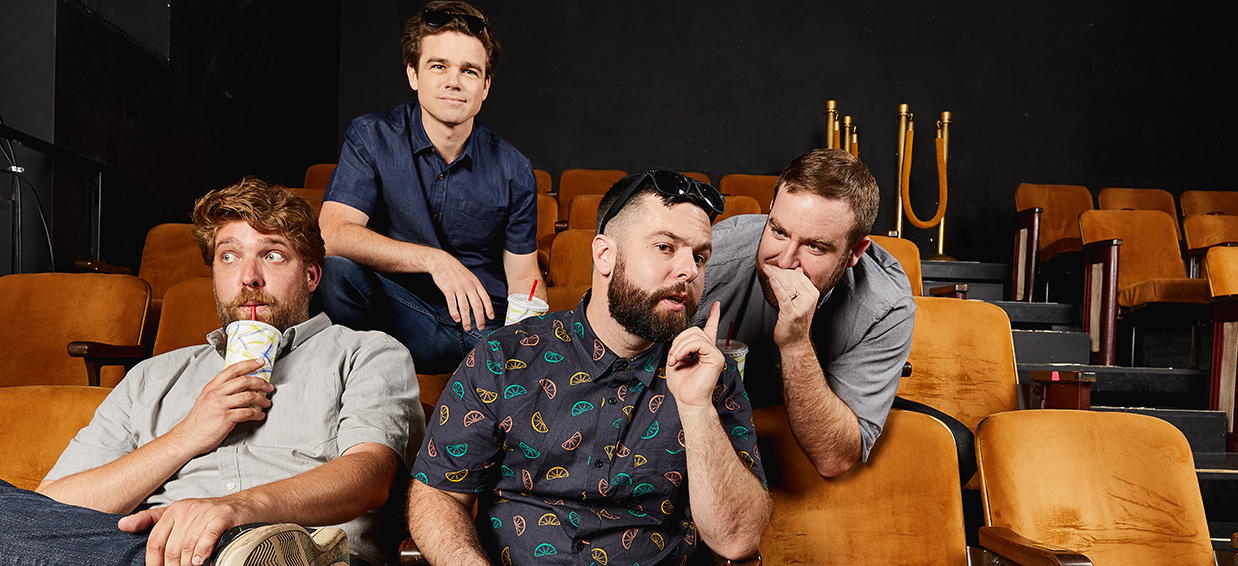 The Secret to Hosting 1,500 Performances a Year: Passion (and Whiskey)
The best events don't always start with a business plan. Often, they start with spark. Someone has a passion they want to share, and a great idea about how to share it. They're moved to bring people together around a vision, so they make it happen — even with no event planning experience. Here's an interview with two creators whose events arose from a passion they shared.
For all intents and purposes, Duncan Wold and Rob Ready are seasoned event professionals. Their venue, PianoFight, features nearly 30 events per week for more than a decade and is the epicenter of San Francisco's indy art community. Throughout the year, over 50,000 patrons flock to see local artists showcase their talents, ranging from musical acts to drag shows and film screenings.
But long before they were the live event entrepreneur extraordinaires, these friends were trying to make a break writing and producing sketch comedy performances.
Read on to learn how Duncan, Rob, and their partners transformed a passion for theater production into a bustling live entertainment business that hosts 1,500 performances a year.
What first sparked the idea for your event venue?
Duncan: Back in 2007, Rob, along with our other partners Danny and Kevin, were producing a play Rob wrote at a small theater called Off Market Theaters. It was during that time that the manager let us know that he was in the process of moving away. We had worked with him a bunch, so he asked if we'd be interested in managing the venue for him. After a little bit of deliberation — and some whiskey (tequila for Rob) — we decided to give it a shot.
Over the next two to three years, we produced a lot of our own shows there and gave other local artists a shot too. But when the owner of the building wanted to raise the rent, we paused to think about our future.
We always want to do our own thing. So long story short, we found a suitable venue, raised $2 million ourselves in addition to a Kickstarter campaign to start PianoFight.
When did you know your venue would be a success?
Duncan: It's hard to pinpoint an exact moment — partly because of the way we work. We're kind of like a shark that can't stop moving or it'll die. We do 25-30 shows a week here on average, so things are in constant motion and there's seldom time to reflect.
Rob: All arts businesses and restaurants are a couple of decisions away from failure — and we're both.
But there have been moments when I've felt successful. For instance, we did a fundraiser for the California wildfires. It was a big show — six bands, drag burlesque, comedy, spoken word, poetry — that we put together really fast. We ended up raising over $6K for the people affected by the fires in Butte. I'm really proud that we were able to do that.
Was there a moment you had to take the leap and go
all in
?
Duncan: For me, it was good timing and luck. When we started to renovate the space, I worked at a startup. When that startup folded, I started working for another startup part-time. That allowed me to split my time between there and this venture.
As the venue opening got closer, that startup failed and it forced me to make a decision: Go back into that world, or invest fully in this one. And here I am.
Rob: I was working multiple part-time jobs: canvassing for a mayor candidate, marketing for ODC Dance Commons, a contemporary dance and arts organization, and at Z Space, another San Francisco theater. All the while I was helping get this place up and running. Eventually, the venue needed too much time and energy, so I made the leap.
What was your first big failure, and what did you learn from it?
Duncan: I get torn up when the littlest of things goes wrong here. And when they do, I'm always motivated to drill down and find out why they happened and make sure they never happen again.
For example, sometimes people don't show up and you end up selling those no-show tickets. The first time we did this, someone showed up 15 minutes late and we already sold their seat. As it turns out, they drove 20 miles and caught the bridge traffic on the way in. I felt really guilty. That night I tried to figure out what a safe oversell rate is, and now we hold a certain number of tickets per night to ensure it never happens again.
How much has your company grown, and were there growing pains?
Rob: As Duncan said, we started as a group in 2007. It took us four or five years to go from an idea to opening the venue. Since then, we've grown tremendously.
We have a tech director and a whole tech team for every show. We have a box office team and run the ticketing for every show. We take on a lot of that logistical heavy lifting and then let the producers work on the content and hopefully also the marketing. This past year, we hit our 5,000th show.
Duncan: As the old saying goes, do what you love and you'll never have to work another day in your life. But looking back, I have a different perspective on that concept. It's true in a way — but it's also naive. Because once your passion becomes your profession, then the profession has to become your passion.
When your passion becomes your profession, it fundamentally changes your relationship with your passion. We've been doing art, sketch comedy, and music together for 10 years. We used to meet up after work and on weekends to do it. But now you won't find me near here on my day off.
I'm still passionate about it. But it's now the thing that I need to get time away from. I love it. I'm glad I'm not doing anything else. But that's a readjustment that's taken time to figure out. We're all friends, we were doing it for fun, and now it's a job.
Rob: What Duncan said.
If you could go back in time and give yourself a piece of advice about your event, what would it be?
Rob: Imposter syndrome is real. Every artist has to deal with it and even now I have it — despite making a living. I would tell someone or myself to get over it. You shouldn't be afraid that what you bring to the table isn't good enough. Because it is good enough, and the sooner you can accept that the faster you'll progress in your career.
Duncan: You're worth more than you think you are. Figure out the money and how it should work. You have to say, "This is what I'm worth, this is what I'm going to make. This is what people will have to pay to make it lucrative."
We came to that realization after a couple of years of trying to be cool and not too expensive. But that's not how you make a business work.
If you, too, have a spark of passion to share…
Perhaps you, too, have an incredible idea for bringing people together around your passion — but no idea how to get started. Don't let your idea die in the realm of imagination! There may not be an instruction manual for turning your passion and vision into an events business, but there are plenty of inspiring examples you can emulate.
Ready to take the leap? Set up your event on Eventbrite in minutes.