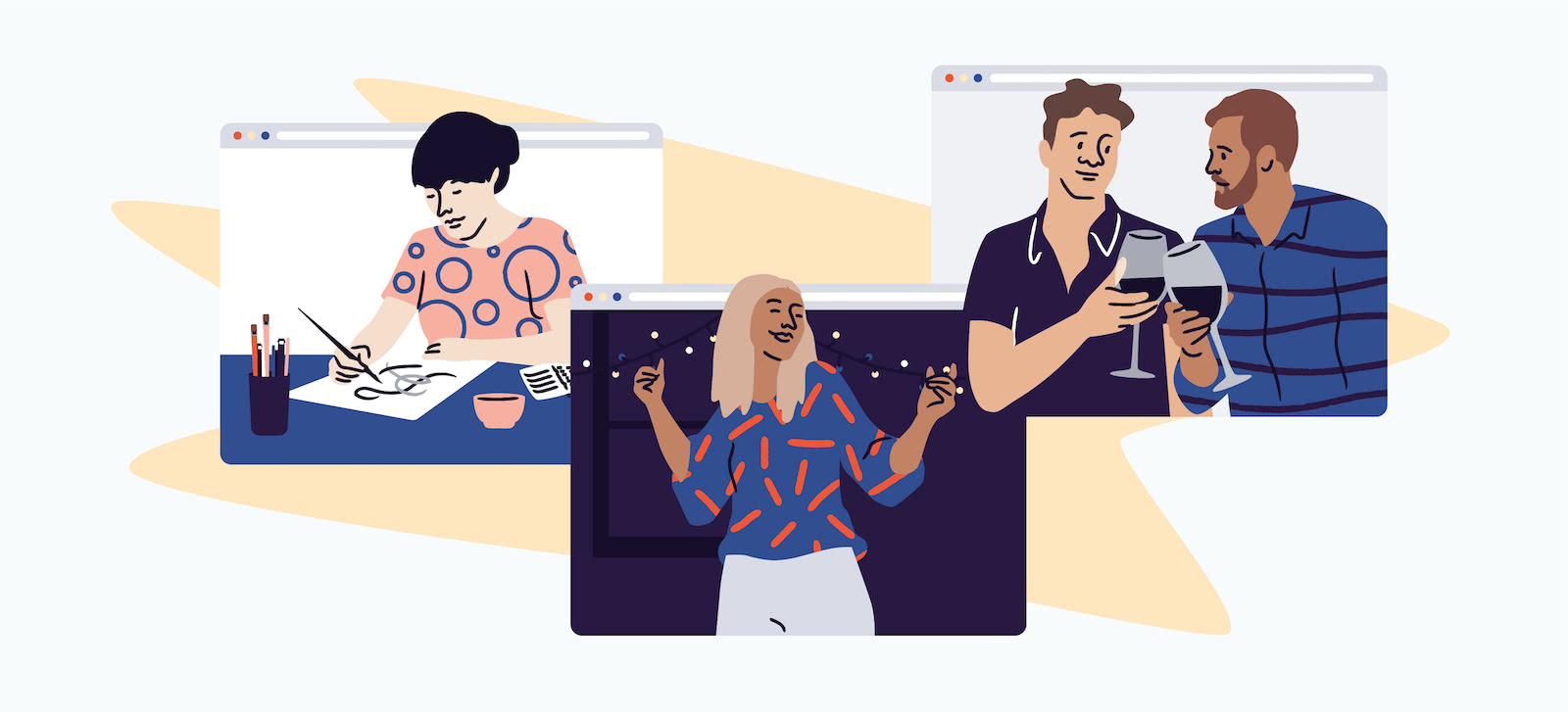 Cultivating Community Through Virtual Events: How Eventbrite's Creators Are Doing It
If you've ventured outside anytime in the last few weeks, chances are that the desolate scene beyond your front door is a bit unsettling. But know this: Even though folks aren't congregating in person (in accordance with stay-at-home orders the nation over) the online world is an entirely different subject. Across the web, a diverse range of communities have logged on to find meaning and strength in these strange times. From online seminars to livestreamed dance parties, innovators are finding novel ways to forge connections until we can all hang out IRL again. They might even change the way we communicate forever.
Wine Moves Online
The shift online was easier than anticipated for La Paulée, the 20-year-old wine events company based in New York City. "Like so many, we had to reinvent ourselves," says executive director Jaime Dutton. Wine-splashed seminars that previously might have taken place in high-end restaurants and luxe hotels have migrated online with help from Zoom. As part of the company's At Home Sessions, attendees are encouraged to snap up a particular bottle of wine before they're greeted online by wine director Edouard Bourgeois for an interactive tasting. Wine region maps and illustrations, shown with Zoom's screen-sharing feature, help bring the tasting to life. 
More than a few familiar faces have popped in. Cameos so far have included big-name chefs and restaurateurs like NYC locals Daniel Boulud and Andrew Carmellini, along with such influential winemakers as France's Olivier Krug of Krug Champagne and Jean-Marc Roulot of Domaine Roulot. Taste-making sommeliers like Aldo Sohn and Rajeev Vaidya are also in the mix. Proceeds from each At Home Session go to crisis funds that support food and beverage employees and industry advocacy groups.
In some ways, La Paulée now has the potential to bring together more oenophiles than ever before. "Time-zone differences aside, it is fantastic to be able to connect with our winemaker and chef friends in France that we usually only host in-person events with," says Max Goldberg Liu, La Paulée's designated tech guru. 
"There are practically no limits to the number of people we can accommodate," adds Dutton. "Whereas renting a private room at a restaurant has its limitations due to space, our sessions can allow up to 100 attendees." Plus, not having to shell out the dough for event spaces rentals is a major benefit. "There is no food and beverage minimum!" Dutton notes.
The Show Must Stream on
For the theater community, going online is bittersweet. Physical theaters are more than just ordinary places to congregate — they're sacred ground — but the show must go on. For Conor Kelly O'Brien, co-founder and executive director of Pennsylvania's Scranton Fringe, that's meant pulling together the Social Distant Scene Theatre, a virtual theater featuring a slew of pre-recorded independent and original performances from stages across the world.
With a single click, virtual attendees can watch shows like Static, a haunting story of a fraught father-son relationship on a road trip to New Orleans, or the Dave Maher Coma Show, a comedy (really!) about funnyman Dave Maher's month-long coma. There's also the 2019 Big Gay Storyslam, a collection of heartbreaking and hilarious tales from LGBTQ voices; Good Grief, a comedy show about grief; and much more.
Going online has created a new dynamic between performer and audience member, O'Brien says. "The imaginary veil between the performer and the audience doesn't really exist right now," he explains. "We are all faces on screens, and while that can feel distant, there is a unifying factor in all being in the same boat." 
There are other benefits to going online. "I love the potential we are seeing now with online work reaching those in more remote areas and those who are not financially capable of paying high ticket prices for performances and workshops," O'Brien says. 
Although nothing can replace the magic of live theater, he anticipates that online performances are here to stay. "Live performance and storytelling are vital and ancient parts of the human experience," O'Brien says. "However, I do feel that a mix of digital and in-person events will become more normal in society."
Dancing in the Streams
Even dance parties are going online. Among them is cult-favorite morning rave Daybreaker, which hosted its first virtual event in late March. To say it was well-attended is an understatement — nearly 3,000 dancers tuned in — inspiring Daybreaker to host several more raves in weeks since. 
"Especially now, when people are really dealing with isolation, loneliness, [dance is] more important than ever," says Daybreaker CEO and co-founder Radha Agrawal. Not that pulling together a virtual event of such magnitude was an easy feat. She and her partners spent two weeks "becoming experts in livestream technology," she says, and continue to make tweaks to the livestream.
"We bought a bunch of cameras, we figured out how to get the sound right," Agrawal says. "At the first event, our sound was terrible — now we're all sound snobs."
Tech issues aside, Agrawal knew that her main hurdle would be making the virtual events feel intimate and interactive. She's taken pains to encourage commenting in the stream's accompanying Zoom chat and creating participatory moments, like asking attendees to hold up signs saying where they're from and pictures of people they're missing. The effect has been breathtaking, she says.
"The deep support that you're seeing, you don't see in live events," Agrawal reflects. "The level of focus and presence and support and enthusiasm and encouragement is almost like a level-up to the IRL events, because people are right here in front of you and it's such an intimate expression of dance and community."
Crafting a Wider Community
For companies in the craft education space, holding classes virtually has required getting, well, crafty. Before stay-at-home orders hit, Charlotte, NC,-based Crowned Sparrow Craft Company held crafting events at local craft breweries. Now, it's shipping make-your-own-craft kits — embroidery, macrame, punch needling, and more — to participants far beyond the Charlotte area. In some of founder Steph Newman's recent Zoom classes, "I had someone from New York, someone from Massachusetts, I had a couple people from Virginia, I had a couple of people in Florida," she says. "That's definitely the bright side of it."
People log onto Crowned Sparrow's online events not only for the crafting, but for a sense of community, she says. Participants are encouraged to unmute their microphones and chat as they craft. Newman actively prompts attendees, checking in on their crafting progress and offering helpful tips. At recent events, "I'd say probably at least 80% of the people there were like, 'Well, I don't know these people, but we're all friends for the night.' So it was great."
—
Perhaps it's unsurprising that connectivity is a recurring theme in today's online events. With social distancing a likely necessity for the foreseeable future, we're all hungrier than ever for meaningful connection. Even with tech hiccups and learning new software, online events are proving a much-needed emotional lifeline to so many of us.
That's perhaps why, at La Paulée's first At Home Session, Max Goldberg Liu found himself getting teary-eyed. "It was honestly a very emotional experience to see the same group that is usually gathered together around a table for the first time since everyone started to self-isolate," he says. "It may be through a screen, but in these times when we all crave human contact, these online events are a way to capture some of that emotion of being together."