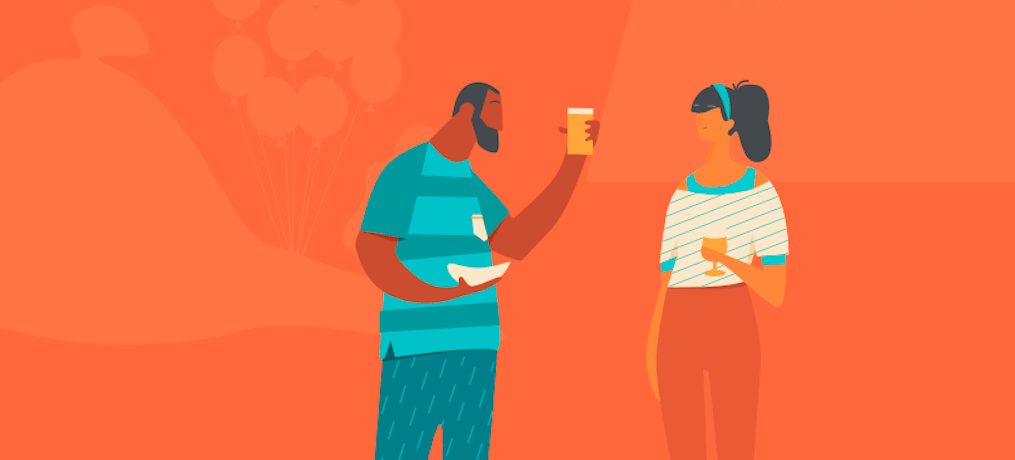 Industry Roundup: What 'Experiential' Means for Event Brands
As we head deeper into 2018, the web is abuzz with event trends. One area of event marketing that's getting a lot of airplay is experiential marketing. There are countless anecdotal tales of experiential success, and the actual metrics to back them up.
Personalized events, activations that leave a lasting impression, technology that makes it easier to customize the attendee experience — these are just some of the ways smart event brands are connecting and reconnecting.
In this month's content roundup, dive into these five articles from around the web to help you bring experiential to your event brand.
Become an experiential event master
"The art of experiential does appear to work for those who've mastered it."
According to AdWeek, AgencyEA (a brand experience agency) surveyed 1,000 Fortune 500 professionals on their insight into experiential marketing technology. Of these, 94% think emerging tech has a positive impact on events, but one in three still struggles to gain ROI from it. The event creators who've mastered experiential, though, often cite emerging technology as their most successful marketing strategy.
This article provides tips on how you can become one of these experiential event masters: Get in the mindset of your audience. Don't bombard them with random experiences that aren't relevant to your brand. And most crucially, always collect data on how your audience interacts with your event.
Bring personalization into the mix
"The number one question on most marketers' minds is how to cut through the noise to make their company stand out and deliver personalized event experiences in 2018."
According to one survey, 70% of marketers increased their event spend in 2017, and that number is rising. But it's not just about spending more money on event marketing. Event creators are getting more and more strategic about investing in personalized attendee experiences.
For instance, at business conferences, there are abundant experiences an attendee could choose to have: browsing vendors, sitting in on keynotes, setting up networking sessions. To better orchestrate the experience for each individual, brands wield a variety of tools.
Chatbots act as virtual concierge desks. Hashtags aggregate event-related information on attendees' channels of choice. And event automation tools tailor the audience experience down to the individual level.
Replace your traditional ads with experiences
"Has the customer lost their love for the brand? Absolutely not. They're just seeking a more meaningful and memorable interaction."
EventMB cites a recent survey by Freeman showing that 59% of CMOs consider brand experience increasingly more important than traditional advertising. Up to 50% of their event budgets now go to experiential activations such as interactive art installations and pop-ups.
The focus on event experience gives event creators enormous opportunities to experiment, explore, and impress. But with opportunity comes pressure. To succeed in this new era of brand experience, event creators have to really bring it.
Find your local reach score
"Sometimes a high reach score alongside low website authority translates to a passionate online following."
Your reach is the breadth and depth of possible attendees you touch with your marketing. For local events, reach can be tricky to measure. Sure, website analytics tell you how many people visit your site. They even give you some detail about who those people are. But your website is only a small part of your overall event marketing strategy.
Marketing Land has done some illuminating research into how different types of events in various cities perform. Out of this, they've created a Reach Score methodology. There are some interesting takeaways from this research.
For instance, it's not uncommon for local sports teams to have low website authority — meaning, not a lot of website visitors. Yet, the same teams often have a high Reach Score on other channels such as social media. Local sports fans tend to follow along on social rather than visiting the site.
Try out new engagement ideas
"The concept of engagement was up across the board in 2017. But we think technology should enable engagement, not get in the way of the user experience."
It's confirmed: engagement is everything. Trade Show News Network advises heading into 2018 with an eye on how your event brand can better engage potential attendees. This article gives tactical suggestions for how you can better engage your audience such as:
Audience engagement tools

— live polling and Q&A sessions

Increased event app engagement via audio tours and enhanced first-timer tools

User-generated panel content, and much more
To learn how to do experiential marketing right from brands like Airbnb and Lyft, download Inside Experiential Marketing: Big-Name Brands Share Secrets to Success.