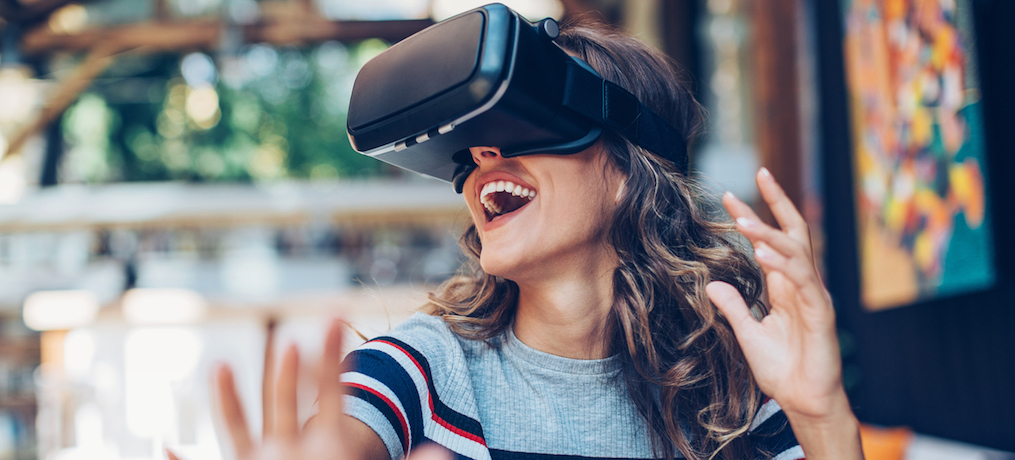 The Event Technology Attendees Will Take for Granted in 5 Years
"If I had asked people what they wanted, they would have told me a faster horse." — Henry Ford
Things that once seemed futuristic are now mainstream: personal assistants in your phone or transcontinental video chat, for example. At some point, everything we now think of as normal seemed cutting edge.
For the forward-thinking event creators, predicting the next innovative event technology can make your event must-attend. But ignoring new innovations could make your event irrelevant. To make sure your event falls under the first category, get these event technologies on your radar now.
Event technology
#1: Artificial intelligence
The idea of artificial intelligence, or AI, used to conjure up scary sci-fi images of robots taking over. But now, AI is a practical, human-friendly technology you're probably already using. Digital assistants like Siri and Google Now, for instance, use a form of AI called "machine learning" to get better and better at serving you over time.
Machine learning is a potent event technology as well. Progressive event organizers are starting to use it for things like chatbots, which can answer basic attendee questions swiftly. This could be at your event through your event app, or before the event through Facebook Messenger or a similar platform.
Similarly, an AI matchmaking engine can interpret data that attendees have already synced with your event app from social media profiles like LinkedIn and Facebook. Then, the app could recommend people to meet, conference sessions to attend, or even products that would best suit their business interests.
In the future, the technology could enable events to move away from having a dedicated event app, having, instead, all event content delivered through a Facebook Messenger chatbot.
Event technology
#2: Virtual reality livestreams
Social media is full of livestreams today, and smart events will follow suit. In fact, a New York Magazine survey showed that 67% of viewers are more likely to buy a ticket to a concert or event after watching a related live video.
But viewers won't be satisfied with 2D livestreams once virtual reality headsets find their place in most American households. Experts are predicting that VR will grow into a $30 billion industry by the end of this decade.
The event creators using virtual reality now are making a splash. For example, the N.B.A. partnered with Oculus to create an immersive VR view of the 2016 N.B.A. Finals. ProBrew let attendees of the Craft Brewers Conference and BrewExpo America see their beer machinery in action using VR headsets — while the actual machinery was across the country.
In the near future, building a VR livestream of your event will be as standard as having an event app is. And once it is, event creators' audiences will expand from local to global.
Event technology
#3: RFID and on-site activations
Radio Frequency Identification, or RFID, is already taking the events industry by storm. RFID technology enables event creators to speed up event entry and shorten lines for vendors within the event.
But in five years, attendees will expect more when they receive an RFID wristband in the mail. They'll expect an event that isn't too crowded because event creators have used RFID data to understand traffic flow around the event. And they'll expect to be able to share every aspect of their experience online — with the tap of a wristband.
Elements of this future are already in place at some of the country's top events. Technology like the Hypno GIF photo booth, for example, integrates with Eventbrite's RFID solution to make it simple for attendees to get their photos or videos. Fans simply tap their wristband and are sent an email with their images.
Event technology
#4: Cashless payments
Another powerful application of RFID is cashless payments. With RFID bracelets, attendees no longer have to carry cash or even a credit card. They simply wear a wristband or lanyard that contains an RFID chip.
Cashless doesn't just speed up and smooth out the payment experience for attendees. It also leads to more revenue for event organizers. Fans spend up to 20% more when using RFID wristbands to pay for incidentals at festivals. With this potential for increased revenue, cashless payments will become the norm in the next few years.
More than that, cashless payments will provide event creators a new layer of insight into their event. They'll be able to understand attendee buying behavior, from the ticket purchase online, to vendor and merch purchases onsite, to how many beers they bought at the bar. And that data will lead the way for events to better track sales, manage inventory, and gain insight into how their event can be made more profitable.
Prepare for the future of event technology
You may not be able to implement each of these ideas now. But you can invest in an event technology stack that will help you stay on the cutting edge. Read more about how to upgrade your event technology today in Future-Proof Tech for Large-Scale Events.