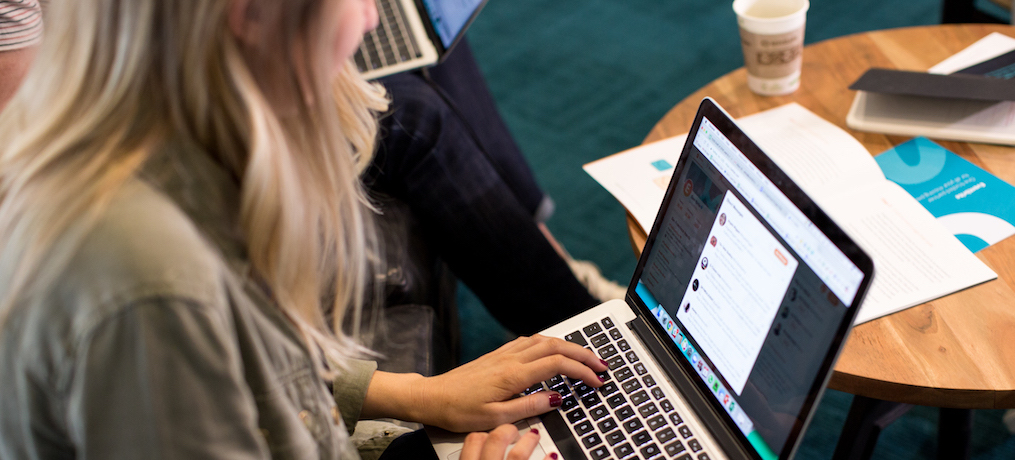 55 Event Planning Resources From Event Experts
As a busy event planner, it can be tough to stay up-to-date on event planning best practices and trends. But if you feel like you're missing out on resources, are trying to solve a specific business challenge, or simply feeling burnt out, you've come to the right place.
The websites on this list are for event planners and feature blogs, industry news, ebooks, and certifications from industry thought leaders. Take a look to decide which ones to add to your must-read list.
Event industry blogs
Go to for event industry news and trends
1. Event Industry News
Event Industry News provides a comprehensive collection of all the breaking news in the events industry. This blog is a thorough resource for organizers who don't want to miss a thing.
2. International Meetings Review
International Meetings Review offers a global collection of event industry news. Filter by your location or get inspired by ideas from another part of the world.
3. Corporate Event News
If you've been a corporate event planner for some time, you'll find senior-level solutions on this website. Corporate Event News provides industry insights within its many articles, blogs and news coverage.
Best for event insights and inspiration
4. Eventbrite blog
You are here now — the destination for experience makers. In addition to providing you with the best event industry sources from around the web, the Eventbrite blog delivers fresh insights from exclusive research and actionable guides to transform your event business into a successful enterprise.
5. Hello Endless
As an AV and event production company, Hello Endless shares its advice on everything from stage design ideas to tips on how to livestream your event. They also have a popular podcast.
6. BizBash
BizBash publishes ideas, news, and resources to create smarter events. Get inspiration for venue discovery, event style, technology, and tools. This team also creates a podcast called GatherGeeks.
7. MeetingsNet
This comprehensive site has it all — a digital magazine, a webinar library, and a blog. They also break out topics into categories like Event Tech and Global Events Planning to appeal to the different aspects of and niches within event planning.
8. Eventplanner.tv
Eventplanner.tv is a blog and an online TV channel geared toward event planners. Topics run the gamut from event website tips to risk management.
For those new to the industry
9. The Event Manager Blog
The Event Manager Blog features how-to articles and event ideas to educate and inspire those who don't have a lot of event planning experience. Their Event Trends Watch section is extensive and acts as a warehouse of actionable tips and best practices.
10. Event Planning Blueprint
To support its course offerings, Event Planning Blueprint also provide a lot of free content resources for aspiring or new event planners via its blog. It covers topics ranging from how to start your own event business to how to handle deadbeat clients.
11. Gallus Events
The Gallus Events blog features informative posts by an experienced event management team. Learn from their experience and expert opinions.
Best for event conferences and meetings
12. Smart Meetings
A free resource for event and meeting planning professionals, you can access the digital version of Smart Meetings monthly print magazine, destinations guides to help you plan events, and video content on its website.
13. Velvet Chainsaw
With a frequently updated blog from Jeff Hurt, a top name in the meetings and conferences industry, Velvet Chainsaw offers a more in-depth look at event planning strategy. There are also recorded webinars that you can watch for free.  
14. Conferences That Work
Conferences That Work focuses on creating memorable conferences that attendees love. Get inspired by posts about conference design, facilitation, and peer conferences.
Go to for tech
15. Plannerwire
From augmented reality to data protection to photo editing, turn to Plannerwire for answers to technical questions about event planning. The site's straightforward articles are approachable and authoritative.
16. Event Tech Brief
Event Tech Brief is all about "building the events of the future." You'll find coverage of new event technologies, and tips on how to use analytics to drive growth.
17. Techsytalk
Techsytalk uncovers cutting-edge event technology and teaches you how to implement it with entertaining articles. They also air candid conversations with event professionals on the Techsytalk unscripted podcast.
18. The Meeting Pool
The Meeting Pool helps meeting professionals explore the latest event technology. Their goal is to encourage event organizers to be early adopters who share the "next big thing" with their attendees.
19. Pathable
Pathable is an event app technology blog published by a team with deep roots in the technology, social networking, and event industries.
Event guides and resources
When you want to make sure all your bases are covered
20. Pre event de-stress checklist
While not everything will go exactly to plan at your event (is that even possible?), you'll rest easier if you can stay organized.
Download the ultimate event checklist
21. Every template you need to plan & manage multiple events
Planning and promoting one event is stressful enough. But if you're juggling multiple events at the same time, you need all the help you can get.
Download every template you need
22. How to foolproof your festival operations
Make sure you've covered your bases before the day of your event with this checklist, including all the key tasks you need to accomplish pre-event.
Download the foolproof checklist
23. Event sponsorship outreach cheat sheet
Sponsorship is a relationship business. If your initial attempts to attract key sponsors for your event fail, you might not get a second chance. This cheat sheet outlines the foundation needed to secure and retain event sponsors.
24. The 2019 guide to event marketing: Strategies, ideas, and examples
Whether you're just starting out or you have a few years of experience, you're going to want to keep this roadmap to the event marketing industry on hand as you build out your strategy — and your career.
25. A step by step guide to choosing the right ticketing or registration partner
Use this guide to find the right solution that meets your team's needs — and convince your boss that making the change is better for their business.
Get the ticketing and registration guide
26. How to plan a successful community event
Planning a smaller, community based event is a lot different than corporate or consumer event.
This guide has all the tips you need to plan a successful community event.
When you're looking to step your game up
27. Essential guide: Website conversion for events
What would happen if instead of focusing on attracting new people, you turned more existing site visitors into ticket buyers? Learn how simple changes to your website can help you dramatically increase ticket sales.
Get the guide for selling out your event
28. The basics of event accessibility: How to create a more accessible event
Organizing your event to be more accessible widens your reach, makes attendees feel welcome, and fosters an environment of inclusivity. It's a win-win.
Get the guide on event accessibility
29. Essential guide: Social media for events
To master social media for events, check out this Essential Guide from Eventbrite and Buffer, a social media management platform. In nine simple steps, you'll learn how to develop and improve your marketing strategy across the six most popular networks.
30. Thinking outside the ballroom: The rise of nontraditional and unique event venues
More and more event creators are looking at their venue as a way to deliver one-of-a-kind experiences. Find out why in this guide from Eventbrite and Peerspace.
Get the guide to unique event venues
Event industry ebooks
When you wish there was a manual  
31. How to craft the ultimate event experience
The recent failures of several new festivals have proven the need to create a unique experience. This guide breaks down the three stages of crafting an event that will stand the test of time.
Get the ultimate event experience ebook
32. Small teams, big pay-off: How to maximize your event budget
You're trying to market your event, and you need more time, more money, more support. With only a few teammates to help you out — or maybe none at all — how are you going to dedicate the time and resources needed to sell out your event?
33. 2019 guide to event sponsorship
Learn to identify new sponsorship opportunities without the endless effort by pinpointing exactly what sponsors gain from partnering with your event. Learn how to find the right sponsors and keep them.
Get the event sponsorship ebook
34. Strategies for identifying, finding, and securing conference speakers
Your speakers and panelists are arguably the most important part of your conference, but how do you secure the right ones?
Get the conference speakers ebook
35.The new rules of viral marketing
This ebook breaks down breaks down how to use every social media marketing channel at your disposal to best get the word out for your event.
36. New data: How to plan and promote the next generation of family-friendly events
With plenty of options and high expectations from parents, you need a strong promotion strategy to win over modern families.
Get the family-friendly events ebook
37. How to create moments of connections at your event
A good event draws a crowd. A great event creates moments of connection between those people. Create an event to remember.
Get the moments of connection ebook
For an expert's point-of-view
38. The event organizer's ultimate guide to productivity
As an event creator, the pressure and stakes are high. The productivity experts at Asana provide tips for setting up more efficient workflows to help reduce stress.
Get the ultimate guide to productivity ebook
39. Storytelling sells: Bring your event's copy to life on social media
Find out how to write social media copy that engages followers and turns them into ticket buyers in this ebook written with Grammarly.
40. The ultimate event advertising plan for busy event creators
The experts at ToneDen have seen it all and then some. To sell out your event, use their experts' complete event advertising plan including timeline, copy, and campaign types.
Get the ultimate event advertising plan ebook
41. Promote your event on LinkedIn: Inside tips from the LinkedIn team
LinkedIn is the place to find B2B audiences online, and no one knows better than the LinkedIn marketing team. They host multiple in-person or digital events every week and use LinkedIn's promotional tools and sophisticated targeting to draw the right audience to each one.
42. The 2019 guide to video marketing for events
Get this 2019 guide for advice from the event video marketing experts at Animoto, an online video maker millions of businesses use to create their own compelling videos.
Download the video marketing ebook
43. Ultimate guide to event surveys: Inside tips from SurveyMonkey
Event surveys are the best way to find out how your attendees really feel about your event and collect authentic, usable feedback. In this guide written with SurveyMonkey you'll gain insider insights on how to craft event surveys — and use the data you collect to create better events and grow your business.
44. Facebook and Instagram reveal how users discover events
No one knows how event-goers use these platforms better than the teams at Instagram and Facebook. Understand how event discovery works differently on these channels and turn these platforms into the most impactful part of your marketing strategy.
Get the Facebook and Instagram events ebook
When you're in search of inspiration
45. Creative event email examples: Success stories from top event brands
You can't afford to settle for moderate email marketing success, leaving tickets unsold and your business behind the curve. Not when an innovative email strategy has the power to sell out your events and transform your business.
46. How I built it: The unlikely stories of thriving events
In this ebook, you'll learn how some of the most exciting events in the industry, like the 3% Conference and SneakerCon, grew from sparks into sensations — and how you can turn your idea into the next celebrated event story.
Get the unlikely thriving events ebook
Event management courses and certification
47. Eventbrite's event marketing course and certification
In Eventbrite's free Event Marketing Course and Certification, you'll master the essentials for event promotion.
Become certified in event marketing
48. Udemy's event and wedding planner course
Udemy's course is a great place to start if you prefer to learn by watching and listening. It's broken up into 12 individual lectures of varying length, which makes it easy to fit into your schedule.
49. Eventbrite's event sponsorship course and certification
Learn the skills you need to win and manage event sponsors in Eventbrite's Event Sponsorship Course and Certification, a five-part course taught by Chris Baylis, CEO of the Sponsorship Collective.
50. Certified special event professional
Designed for experienced professionals with at least three to five years on the job, the tracks each focus on expanding existing knowledge while exploring new trends.
Become a certified event specialist
51. QC event school
QC Event School is all online and offers four tracks spanning both corporate events and wedding planning.
Gain event planning confidence
52. Eventful ventures
Another online course with working professionals in mind. Eventful Ventures offers a popular video/eBook-based program that delves into everything from how to get started to maximizing an existing planning career.
53. Convene
Published by the Professional Convention Management Association (PCMA), Convene offers educational content and professional development. This blog has won numerous publication awards.
Communities and networking resources
54. #eventprofs
While not a community in the traditional sense, this Twitter hashtag is well-used. Created, so to speak, by marketer and event planner Lara McCulloch, the hashtag creates a kind of virtual resource recommendation community.
55. Planner lounge VIP lounge
The VIP Lounge section of Planner's Lounge offers a members-only space for wedding planners. Membership does come at a cost — $8 a month or $80 for the year — but if you're willing to pay for access, the VIP Lounge is one of the few professionals-only wedding planning forums available.
Having the right event planning resources is key to success
Armed with these amazing event planning resources, you're ready for every phase of event planning. What are you waiting for? Set up your event on Eventbrite right now.