Sarah Jane Semrad is an award winning photographer, social entrepreneur and community organizer committed to cultivating creativity in Dallas. Semrad is currently employed by Dallas Social Venture Partners and produced the social innovation conference bigBANG!.
Our event is named bigBANG!; naturally, we expected big things to happen. But, as it often goes with events, sometimes the biggest things are unexpected.
bigBANG! is a conference hosted by Dallas Social Venture Partners. We bring together money and business expertise with innovative ideas in the social sector. The purpose is two fold – to create exposure to cutting edge ways of addressing some of our most pressing social problems, but also to encourage actual investment and giving.
Our event was originally slated for June 16 at Union Station in Dallas. Then, the Dallas Mavericks won the NBA Championships. Our event was right in the middle of the celebration parade. We moved our event at the last minute to June 17.
Here are a few things I learned while moving the date for a massive conference, with busy attendees slated to attend:
Line up communications well in advance.
Who thinks to ask if a venue is on a parade route? On the front end, all of the people who were supposed to attend, from volunteers to VIP, were loaded into Eventbrite and tagged appropriately through discount codes. When it came time to contact any particular group along the way, download the registration list, sort by discount code and – viola! – instant custom list.
When it came time to move the event, a few simple communications to the whole list allowed us to quickly and efficiently move the whole shebang. Sure, we made some calls, but the bulk of the move was done through existing technology, all at once.
Keep cool and smile even when you don't want to.
No one wants to have his or her schedule rearranged at the last minute. In many cases for our event, it just didn't work.
But, lesson learned over the years of executing event larges and small: a smile, sense of humor and a level head will always prevail when making difficult decisions and in communicating with sponsors, attendees and volunteers.
Capitalize on post-event sympathy when things go awry. In our case, a date change.
This sounds exploitative, but examine more carefully. I think the colloquial version of this statement is "when life gives you lemons, make lemonade." When executed well, a change to your event of this magnitude can work to your advantage. What kinds of newsletters, events, brown bag lunches and the like can you create to support efforts on the flipside of the event? To reach more people? To create more buzz?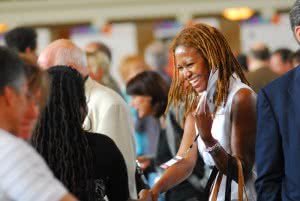 Put it in perspective.
There's a phrase I use mentally to get perspective: NCC or "Not Curing Cancer". The reality is, most events fall into the NCC category.
Another phrase I use when facing difficult decisions like what kind of salad dressing the caterer should use: "this is a first world problem." Repeat three times and then make your salad dressing choice. Perspective. Hold it near and dear.
Don't wait until the last minute; join the conversation on Facebook and Twitter.