To learn more about the FirstGiving software and the Eventbrite integration, fill out this form here.
—
Eventbrite has always been amazed by the Nonprofit community that is empowered by our software. In 2012 alone, we saw $59,000,000 raised through sales from fundraising events.
Eventbrite knows that event sales can be a very powerful part of a fundraising campaign, but a majority of charity funds are still raised through direct donations, email appeals, or website widgets. To enable nonprofits to have the most powerful tool for their multi-channel campaigns, Eventbrite is excited to announce a new partnership and with FirstGiving!
With this partnership, FirstGiving and Eventbrite users can:
Integrate the Reporting for Fundraising and Event Sales: With this integration, you'll never have to combine excel reports or bust out your calculator to get a sum for total money raised. Now, your event sales and your fundraising dollars will be aggregated into your FirstGiving dashboard.
Enable Attendees to Setup Fundraising Pages: One of the most powerful aspects of this integration is that FirstGiving users can now add a 'Call To Action' to the event's order confirmation page. This 'Call to Action' will prompt registrants to setup their own fundraising page on FirstGiving, and all fundraising pages set up by attendees will sync with your FirstGiving account where reporting will be aggregated.
Sync Event Attendees and Communication: After syncing Eventbrite registration with a FirstGiving event, you can email Eventbrite registrants directly from the FirstGiving platform. Send out customized emails, or setup automated emails for those that make a donation.
Add Eventbrite Widget to FirstGiving Fundraising Pages: Once Eventbrite registration is connected to a FirstGiving fundraising event, an Eventbrite widget will be added to your fundraising page. As the event organizer, you can drive potential donors and attendees to one page knowing that they'll find exactly what they are looking for.
To learn more, you can chat with a FirstGiving Rep by signing up here.
Previous Screenshots below or check out our partner page!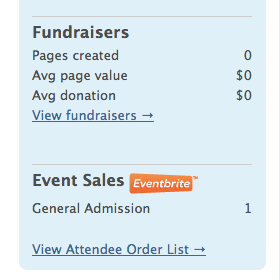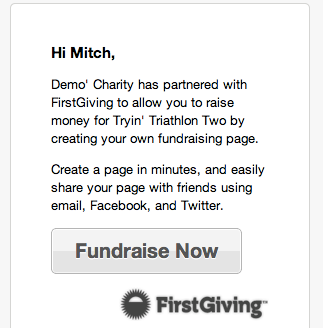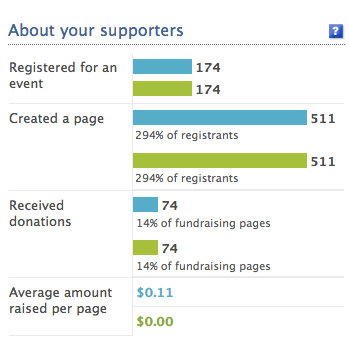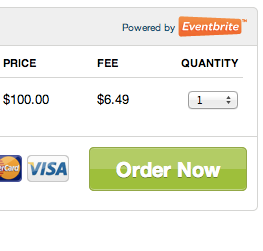 To learn more about the FirstGiving software and the Eventbrite integration, fill out this form here.