Looking to bring your office parties up a notch? A memorable office party theme will turn a corporate event into much more than a generic team-building day – it can increase morale and drive sales for your clients. A successful corporate event nurtures work relationships and builds stronger connections outside the office environment. It also rewards and incentivizes employees to do their best work.
The most unique office parties arise from creative approaches combined with corporate team-building activities tailored to your company and employees.
The first step? Coming up with an inventive concept your staff and/or clients won't be able to resist. If you're still looking for fun ways to improve your parties, here are 28 great ideas for office parties to inspire you.
Client-focused office party ideas
Bring in your favorite clients to bond with your team and make lasting memories at these original office parties you can enjoy together.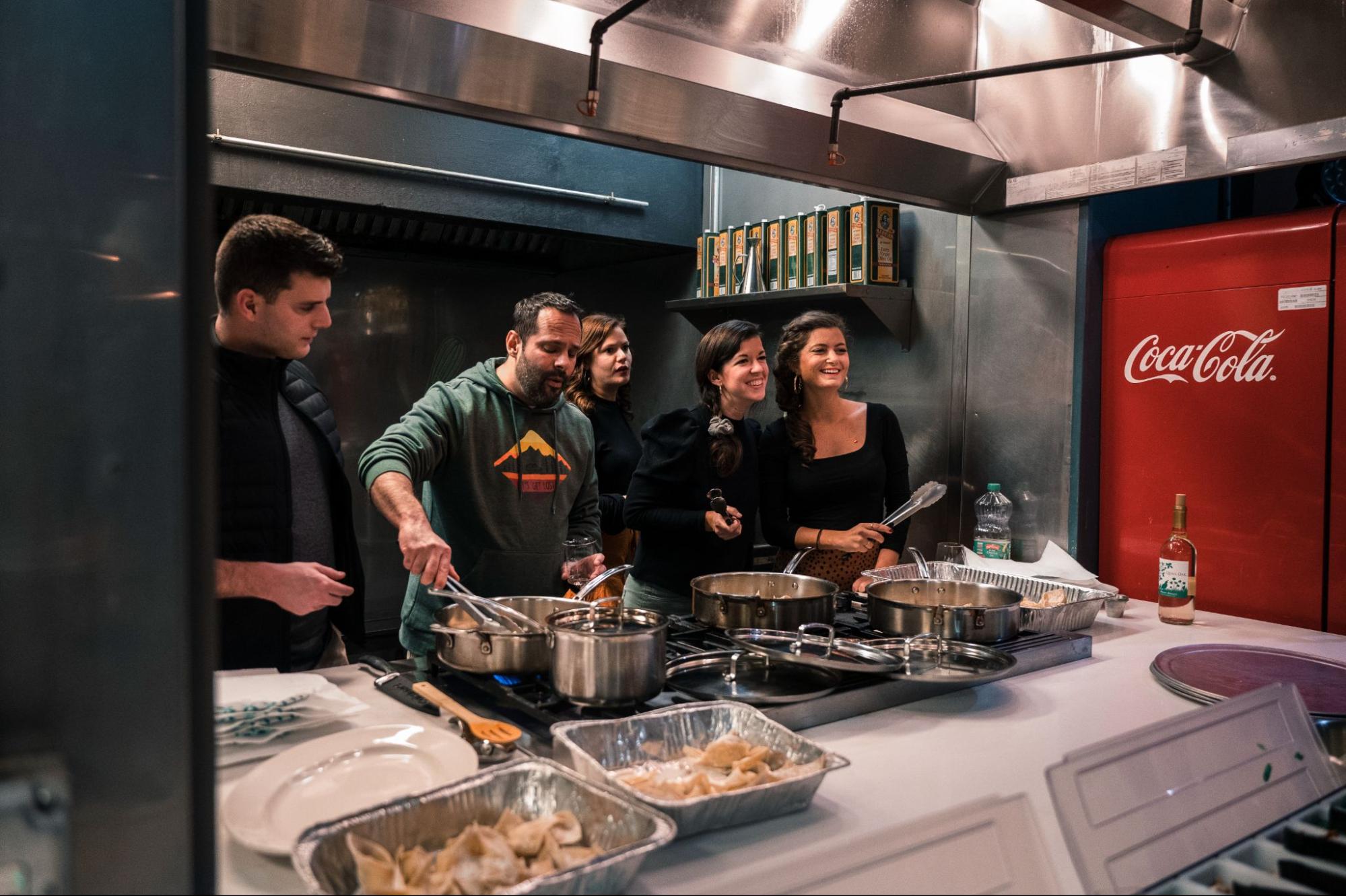 1. Cooking class
A hands-on corporate cooking class event is ideal workplace entertainment, as it can involve all of your staff and clients.
What: Cooking classes put you and your clients on the same team learning how to make a delicious meal together.
Where: You can hold cooking classes online and send out ingredient lists in advance, or run them in person in a rented kitchen space or even a local restaurant.
Why: Everyone comes home with new skills, full stomachs, and a shared experience of learning together.
Eventbrite expert advice: Take your corporate event to the next level by asking a celebrity chef or TV cooking personality to host it.
2. Outdoor cinema screening
Outdoor movies are a chance to get to know your clients better while everyone's entertained and enjoys a pleasant outdoor experience.
What: Gather everyone for a warm evening watching a great movie outside together.
Where: If you have access to an outdoor space, take a cue from outdoor cinema event creator Adventure Cinema and bring clients and employees together in atmospheric locations. How about watching a much-loved film in the park?.
Why: Outdoor cinemas have become increasingly popular as corporate activities over the past couple of years. They offer a unique type of movie night where people can relax, socialize, and get to know each other with some great entertainment.
Eventbrite expert advice: For a dose of healthy competition, you could host a quiz related to the film afterward. You should also provide some popcorn and other movie theater refreshments to add to the atmosphere.
3. Auction
Auctions are great client-focused office parties because they give you a chance to show off the partnerships and talents of your office's team.
What: Have everyone chip in art, stays in vacation homes, crafts, services they can offer, or anything else they can think of! Auction it off to raise money for a charity you all support.
Where: You can host an auction face-to-face or online.
Why: In addition to bringing everyone together for an entertaining evening, an auction doubles up as a corporate fundraiser, with attendees bidding on goods or services donated by sponsors.
Eventbrite expert advice: Silent auctions add an extra layer of mystery (and confidentiality), as attendees won't know who's bidding on what or how much each person is willing to spend.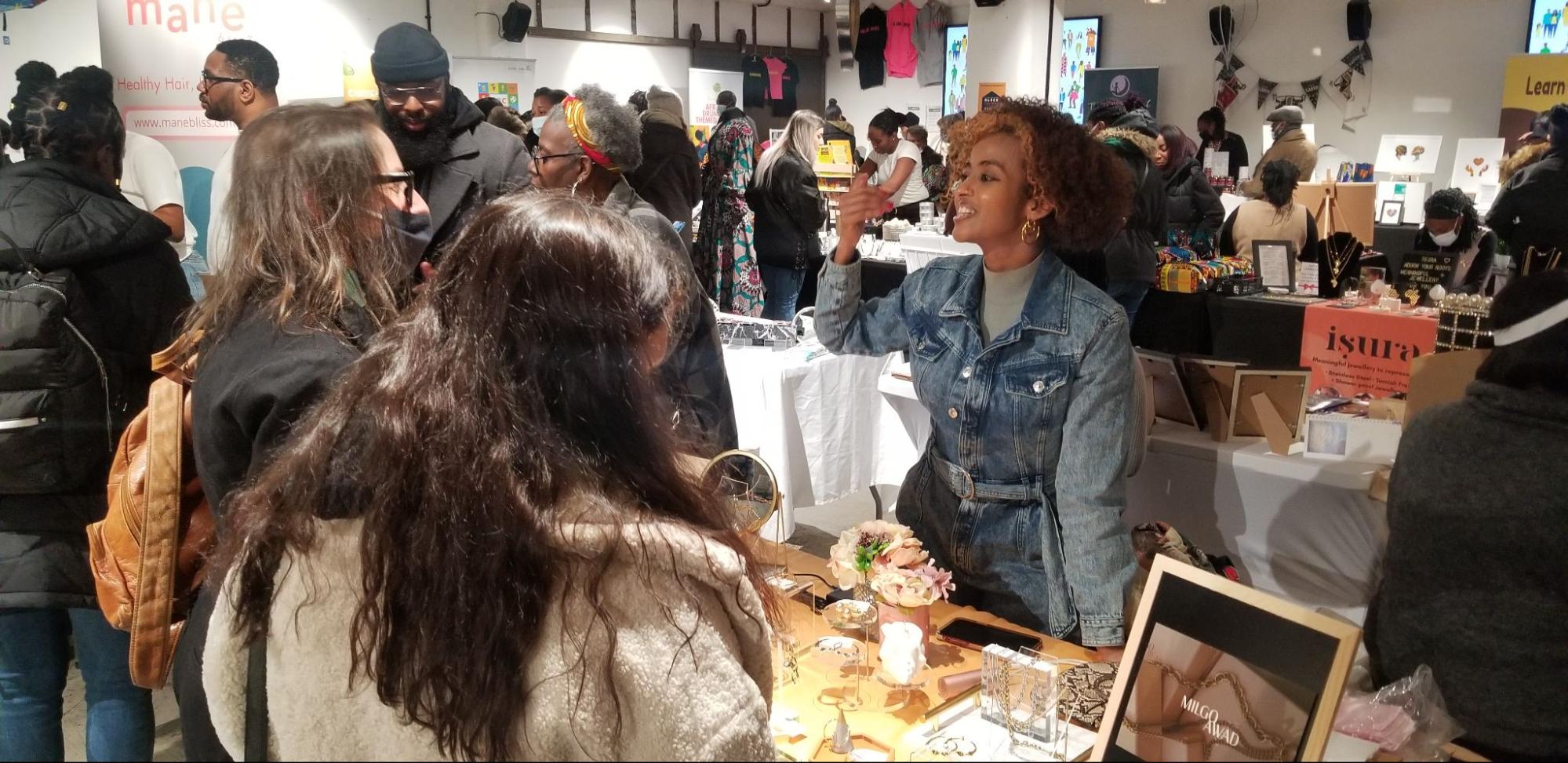 4. Pop-up market
Merge a client-focused event with your corporate social responsibility strategy! Start a pop-up market where you and your clients can gain a new appreciation for local vendors.
What: Pop-up markets or shops bring together a variety of vendors selling handmade food and goods.
Where: You could host this kind of work party in your own office, or pick a location around town to give everyone some fresh air.
Why: You build partnerships with local vendors, give everyone a fun activity to do together, and could even expand local awareness of your business.
Eventbrite expert advice: Celebrate the local community by offering spots to small businesses and artisans in the area, or create a globally-influenced food truck festival to get your attendees tasting and talking. You could also highlight sustainable food brands and show how your organization is committed to supporting environmental causes.
Team building office party themes
These office parties bring everyone together by putting them in teams or helping them let loose and get to know each other better.
5. Scavenger hunt
Interested in fun days out packed with team building corporate activities? Scavenger hunts give everyone a common goal and a way to get to know each other.
What: Send everyone out looking for clues! Scavenger hunts let everyone put on their detective hats as they search to find objects, locations, or people in an organized competition. You can even take a note from Puzzling Adventures and add a component of adventure to the excursion.
Where: You could hide items around the office, the neighborhood you work in, or even pick a local park that everyone could explore. This does hinge on having the right place, so be picky with the location!
Why: Scavenger hunts (or treasure hunts) can help you enjoy the great outdoors, build relationships, and keep groups entertained while fostering an atmosphere of collaboration and teamwork.
Eventbrite expert advice: Match up employees who don't have the chance to work together on a daily basis to increase synergy across your company and give everyone name badges if people aren't sure who's who. You could even turn things up a notch by turning the scavenger hunt into an escape room.
6. The ultimate pub quiz
Give everyone a chance to prove their knowledge and team up for some light, competitive fun.
What: Divide your office into teams and have them work together to answer trivia questions in a comfortable environment, with a drink of their choice.
Where: You could choose a local bar, open a pop-up bar in your own office, or even hold it virtually. Check if any nearby pubs have their own trivia night or happy hour you could partner with.
Why: In-person or virtual pub quizzes make great corporate team-building events because they encourage teamwork. Attendees can form teams and discuss answers (in breakout chat rooms if done virtually).
Eventbrite expert advice: Put a modern spin on proceedings by designing interactive slides and incorporating custom animations. You could also combine your quiz with another event, like corporate awards.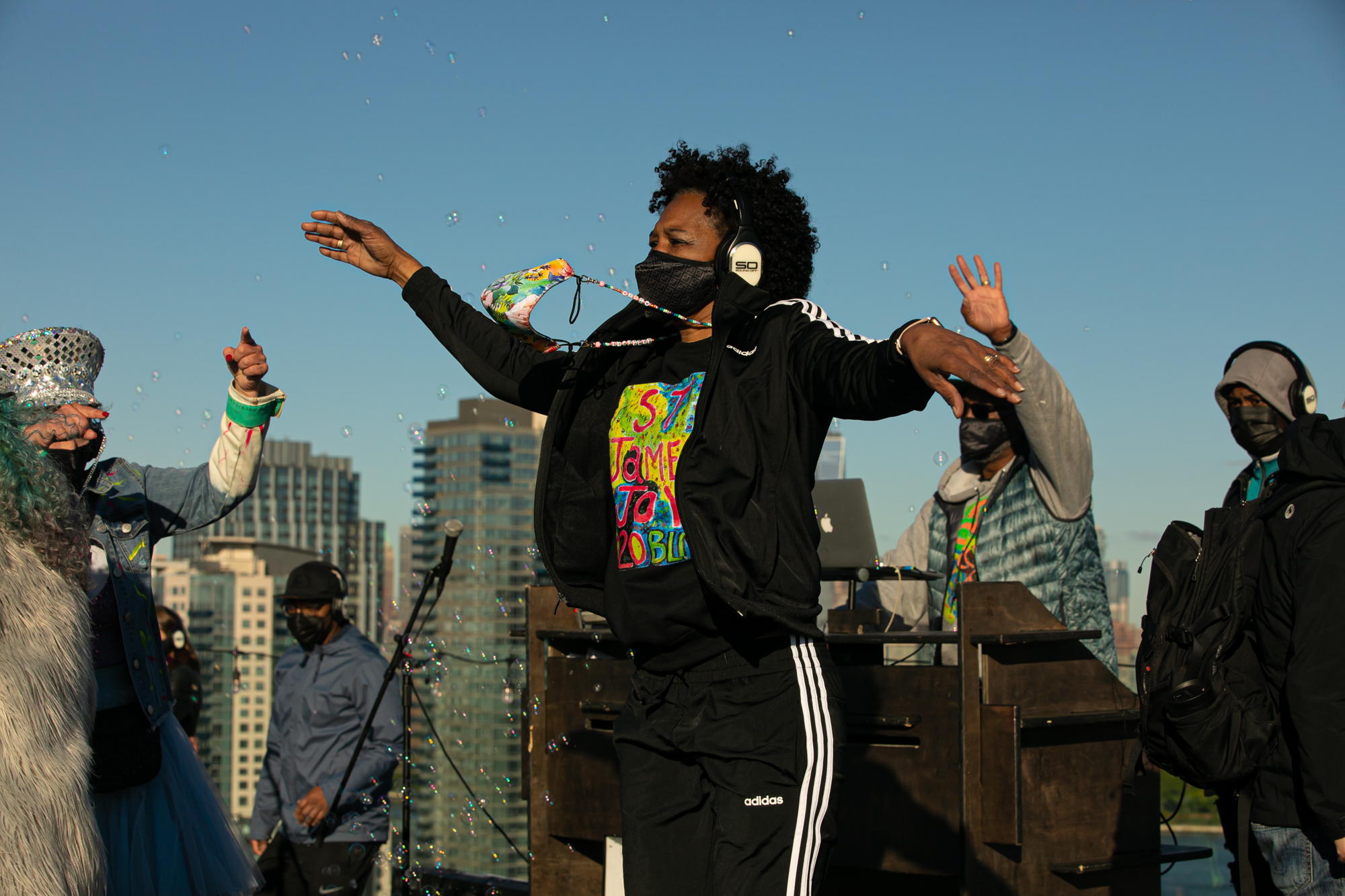 7. Silent disco
Try something truly unique and help everyone relax while dancing in a fun environment.
What: If dancing is on your list of corporate party ideas, you're likely to have a great time. Silent discos are a fun and unique way to bring your team together. The best part: everyone wears a pair of headphones and can tune into a channel that suits their personal music taste.
Where: Silent discos work just as well outdoors as they do indoors if you need a bigger space.
Why: Help everyone shake loose a little and join together for a goofy, fun activity.
Eventbrite expert advice: You can also get as creative as you like by giving your disco a great theme, whether it's an elegant masquerade ball or a fun '90s party.
8. Themed supper club
If you're looking for something a little more formal but still fun, a themed supper club could be the perfect balance!
What: Add a fresh twist to corporate dinners by hosting a small supper club instead. You could even consider having each attendee bring their own dish.
Where: Supper clubs are usually hosted in person but they can easily be hosted online too, if supplies are sent out to guests in advance.
Why: A supper club will get everyone talking over a nice meal with a common theme. This can build camaraderie, draw them into a conversation, and even encourage people who don't usually meet to get to know one another.
Eventbrite expert advice: Make your event even more distinctive by theming your supper club around a specific country or cuisine. Alternatively, incorporate an engaging activity such as a murder mystery theme to keep everyone active and engaged.
9. Kidult day
Help everyone get a little goofy with a day of fun that would normally be reserved for children.
What: Even the most serious business executives would probably like the chance to regress to their younger selves. Give them the opportunity to jump around on a bouncy castle, practice tricks on a trampoline, or learn circus skills.
Where: This kind of event works really well outdoors and you can organize as many different games as you like. Some businesses that usually host kids parties will offer these as well, such as Egeray's Party Room.
Why: Help everyone let out their inner kid and have fun. This is a great way to relieve stress and provide a truly unique experience for employees.
Eventbrite expert advice: Set the tone by curating the perfect playlist for the soundtrack to your corporate event. By adding competitions in different kids' games, you could also turn this into a kind of office Olympics. Alternatively, you can make the event more accessible by incorporating kids' board games as an activity.
Formal office parties
Looking for an excuse for everyone to put on their formalwear? These formal office party ideas will be sure to impress everyone.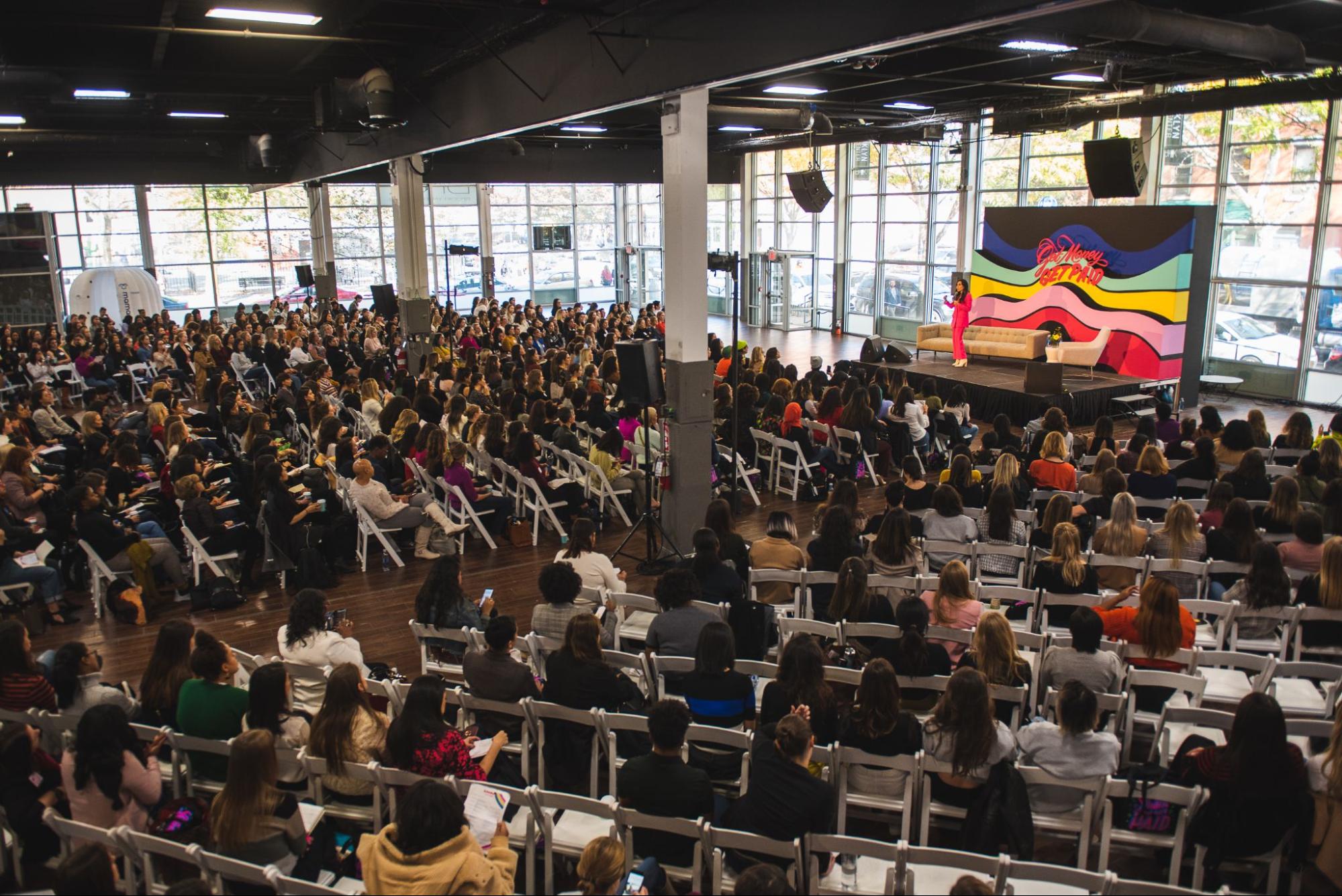 10. Industry conference
If you'd like to bring in people from other companies to a larger office event, an industry conference could be just what you're looking for.
What: An industry conference is a type of corporate event that brings together professionals from the same field to discuss trends, challenges, and opportunities within a specific industry.
Where: When looking for venues to host an industry conference consider locations around big cities. More attendance means more brand awareness and a better chance of getting industry-leading speakers.
Why: Industry conferences allow attendees to interact on the same level and gain valuable knowledge about their sector. They can also help attendees form partnerships and discover new resources for future business endeavors.
Eventbrite expert advice: To help everyone have as much fun as possible, consider incorporating activities like virtual tours where participants can get a first-hand look at what goes into creating the products and services on offer. Another entertaining addition could be game shows at the end of the conference, offering exclusive prizes or 'VIP packages' to further incentivize attendance.
11. Gala dinner
The classic event for everyone from presidents to nonprofits, gala dinners are a great way to organize a formal networking event for your company.
What: A gala dinner is a formal corporate event that typically includes a sit-down dinner, drinks, and entertainment. It can be used to celebrate corporate successes, as a networking opportunity, or to raise money for a cause.
Where: Gala dinners can be held in many different venues ranging from hotels and restaurants to outdoor spaces or even historic venues.
Why: A gala dinner is an excellent way to bring people together and foster relationships while building brand recognition. It's also an ideal opportunity to show appreciation for clients, employees, partners, and vendors who have contributed to the company's success.
Eventbrite expert advice: Create a fun twist on traditional elements like interactive activities rather than speeches, or introduce new food/drink options that no one else has ever seen – try incorporating local culture into the menu too if possible!
12. Awards night
If just a dinner isn't enough, hosting an awards night can add some excitement while keeping the formal atmosphere intact.
What: After a long year of hard work, an awards night is a great opportunity to appreciate your team. An awards night is a type of corporate event that celebrates the successes, accomplishments, and achievements of individuals or groups.
Where: When planning an awards night it's important to choose an appropriate venue to host the event – consider traditional banquet halls or ballrooms for a formal setup. If you want something more laid back, mix things up with outdoor spaces such as parks or beach locations.
Why: In addition to helping show appreciation for the year's accomplishments, an awards night can be a great networking opportunity. Executives from different departments can get together to discuss their respective accomplishments.
Eventbrite expert advice: For a fun twist to your corporate awards night consider incorporating fun activities into the evening such as trivia quizzes or special performances by comedy troupes. These will break the monotony while still maintaining a formal atmosphere.
13. Charity fundraiser
Office parties don't have to be all about you! With a charity fundraiser, you can hold an exciting and formal corporate event while keeping what matters most in mind.
What: A charity fundraiser event is a day where everyone at a company pitches in to raise funds for a charity they all support.
Where: Anywhere could work for this, so just make sure your venue has the capacity, amenities, parking facilities, and security measures you'll need.
Why: Charity fundraisers give your company an opportunity to demonstrate its commitment to supporting a greater cause, build relationships with stakeholders, and recognize employees' volunteering efforts.
Eventbrite expert advice: Add interactive elements like games or raffles, enlist unique entertainment options, and decorate the venue in creative ways that capture the spirit of the event.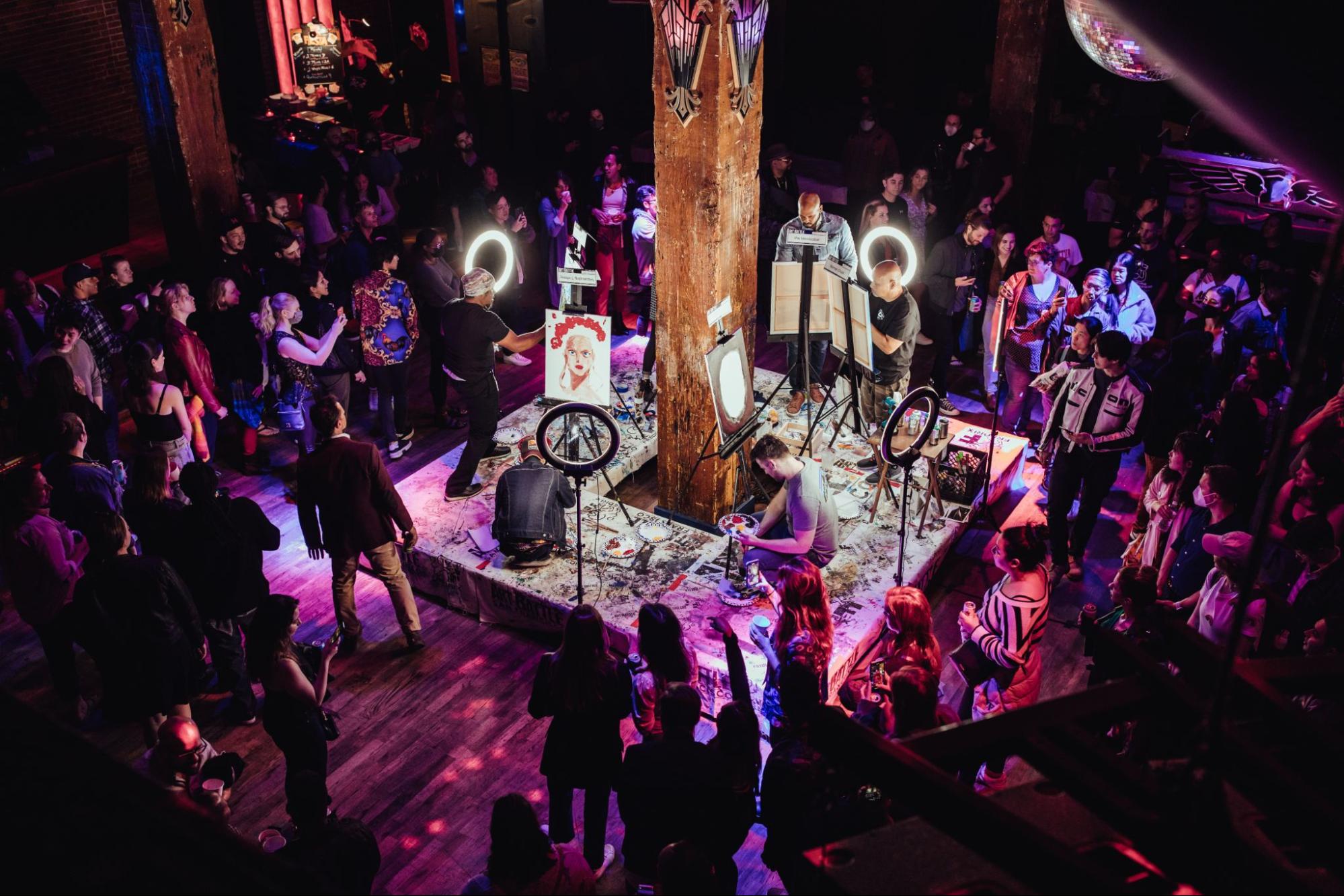 14. Art show
If you're a fan of the finer things, what better way to bring some culture into your office than with an art show?
What: An art show can be a great corporate event as it is a perfect opportunity for companies to showcase their creative side while supporting local talent. The event can involve displaying a wide range of art pieces which can include paintings, sculptures, and installations.
Where: Art shows can be held at a variety of locations. The event can be hosted at a local art gallery, a museum, or even a rented exhibition space. Local arts-related organizations like the Miami Art Club could also partner to host the show.
Why: Hosting an art show can establish the brand's image as a supporter of local talent and creativity. It also creates an opportunity for networking as attendees get to interact with each other and the artists.
Eventbrite expert advice: Create a fun twist on the art show by incorporating activities such as live painting, interactive installations, or even a mini art auction. Consider sponsoring art that features the company's logo as well.
Seasonal office party themes
Sometimes, you need a party that celebrates the season–whatever season it is. These ideas for seasonal parties should keep you entertained year-round.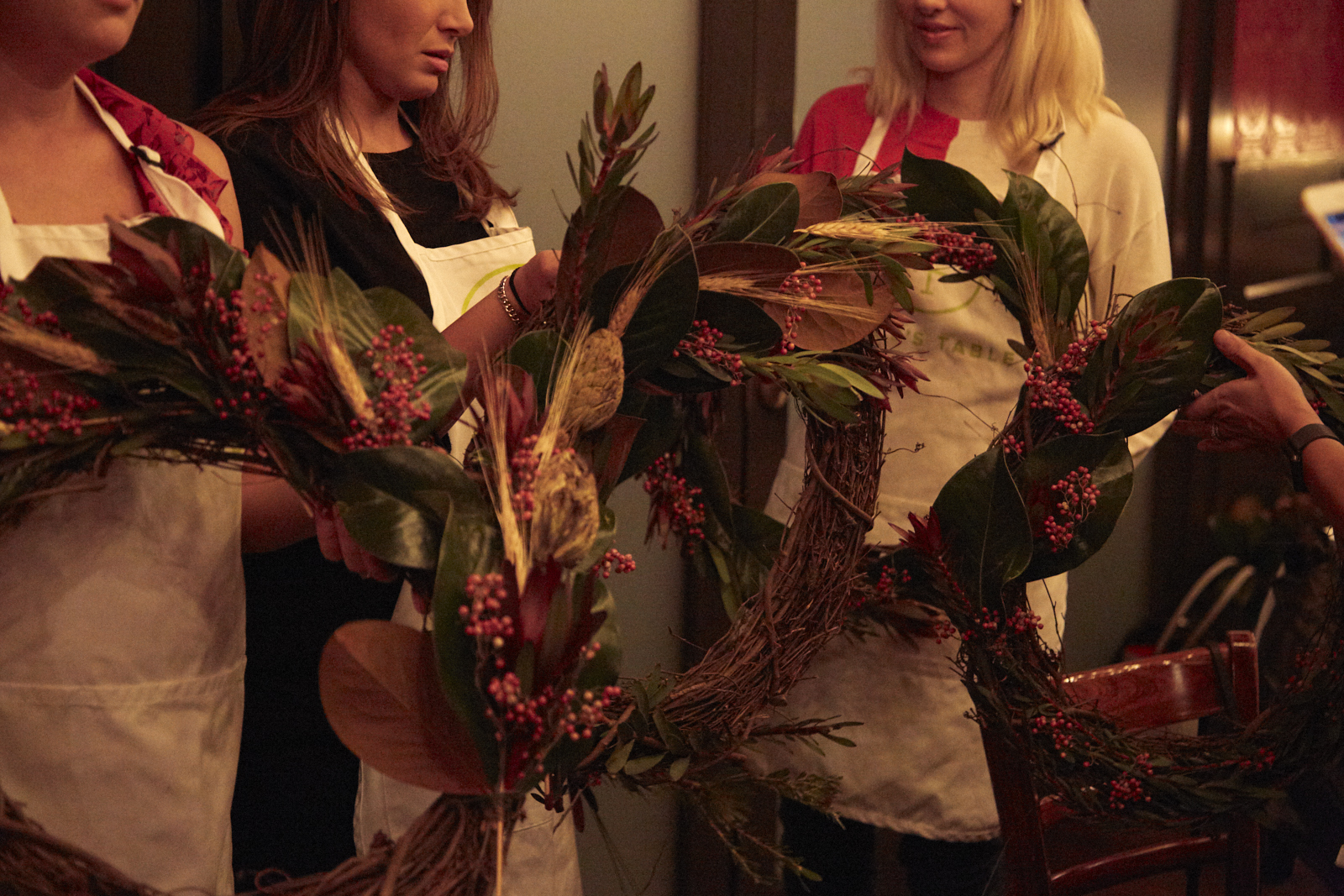 15. Holiday party
Honor local holidays with a holiday-focused party. No matter what you're celebrating, everyone in the office can enjoy it.
What: A holiday party is a classic corporate event that brings together employees and clients to celebrate the holiday season. The event can include food, drinks, dancing, and festive decorations.
Where: You can host holiday parties at a rented venue, or even at a restaurant or hotel banquet hall, as well as the office itself.
Why: A holiday party provides a fun and relaxed environment for colleagues to socialize and get to know each other better. It also serves as an opportunity for the company to thank its employees for their hard work and dedication throughout the year. Additionally, a holiday party can help build morale and improve team dynamics by fostering a sense of camaraderie and goodwill.
Eventbrite expert advice: Consider creating holiday-themed games, such as a themed trivia quiz or a gift exchange. Remember to respect local traditions for holidays and try to incorporate them into the themes.
16. Spring cleaning
With the gloom of winter passing, you can help everyone use their renewed energy to make your office cleaner and more organized, all with a festive atmosphere.
What: A spring cleaning event is a unique corporate event that can be both productive and fun. The event involves organizing and cleaning the company's workspace or even participating in a local community cleanup.
Where: The spring cleaning event can be held at the company's office, a nearby park, or any other public space that requires cleaning and tidying.
Why: Spring cleaning events can help you make your working environment more organized while helping everyone work toward a common goal. If you take the cleaning outside, you can also help contribute to the local community and foster a sense of pride.
Eventbrite expert advice: To make the spring cleaning event more engaging, you can create a fun twist by incorporating team-building activities, such as a scavenger hunt, a relay race, or a competition related to how much everyone cleans.
17. Winter wonderland
Just because it's cold doesn't mean you have to be glum. Keep everyone's spirits up with an exciting, winter-themed event.
What: A winter wonderland event is a magical and enchanting corporate event that creates a winter wonderland theme for guests to enjoy. Such an event makes excellent use of the winter season to build a cozy atmosphere filled with white and silver decorations.
Where: Winter wonderland events can be hosted at various locations such as the office, a rented space, a ballroom, or even an outdoor location. Venues that can accommodate winter sports such as ice skating or skiing are also great fits.
Why: With gray, gloomy winter skies above, you can boost morale with your own cozy atmosphere. Lift everyone's spirits with some wintertime creativity. It's a perfect way for each of you to bond as a team, express yourselves, and counteract some of the stress that can come at the end of the year.
Eventbrite expert advice: To make the winter wonderland event more engaging, you can create a fun twist by incorporating winter-themed games like snowman-building contests or an igloo-building competition. Also, a hot cocoa bar, a s'mores station, or a candy cane station can add to the festive atmosphere.
18. Summer picnic
It's a shame to be stuck in the office on a beautiful summer day, so why not bring everyone outside to enjoy the warmth?
What: A summer picnic is a fun and relaxed corporate event that allows employees and clients to enjoy the outdoors while indulging in some fantastic food, drinks, and games.
Where: You can host your picnic in a park, a beach, or even at the company's outdoor space if you have one. If you aren't sure, consider working with professionals like the Pop Up Picnic Co to find the perfect place.
Why: Summer picnics give employees a chance to showcase some of their favorite foods and enjoy outdoor activities while relaxing in the sun. They promote a healthy work-life balance, show employees that their employer cares, and give everyone a chance to unwind.
Eventbrite expert advice: You can add to the fun by providing some activities such as tug of war, water balloon toss, or an obstacle course. Consider getting your lunch from local food trucks if there are any nearby.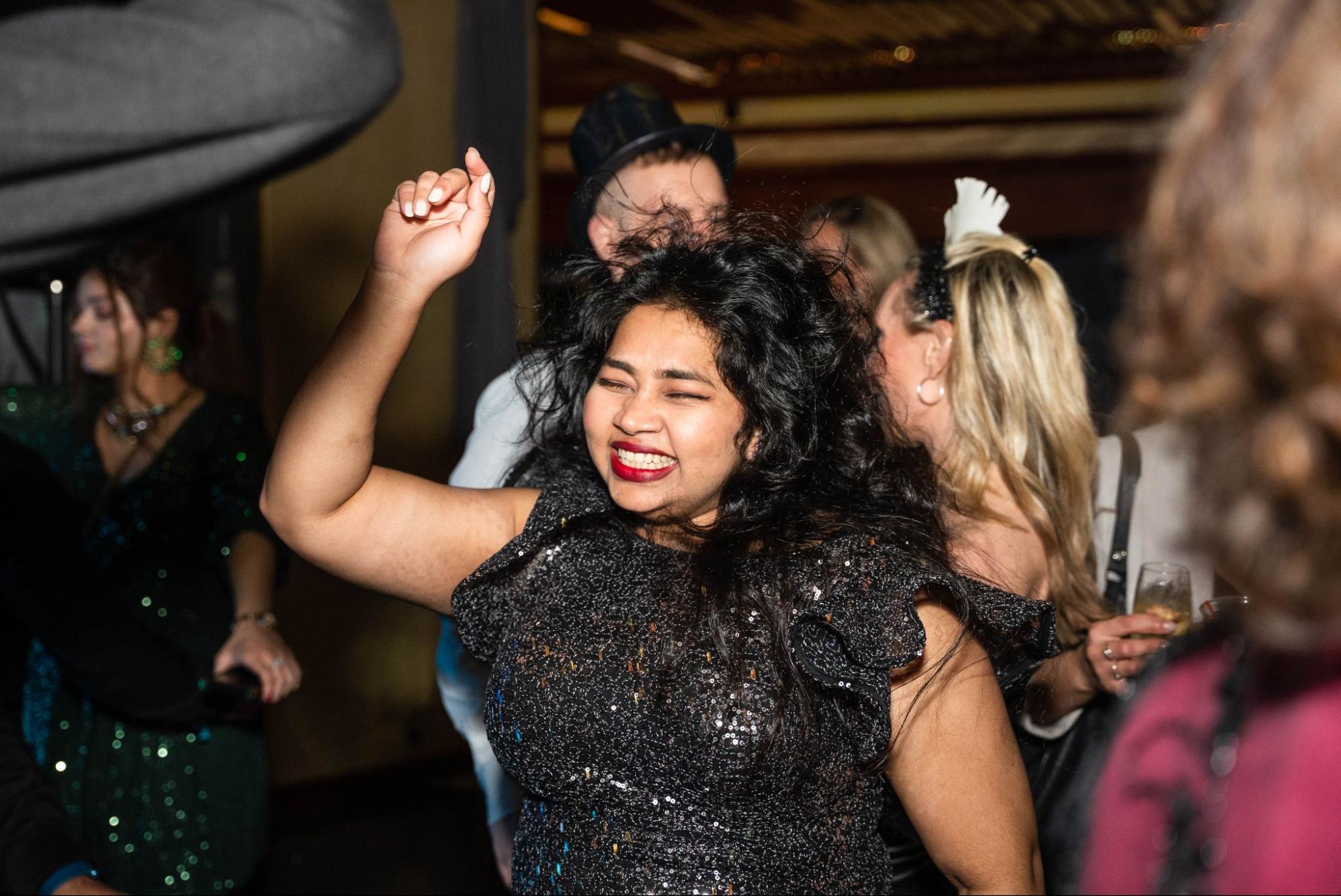 19. New Year's party
Ring in the new year with your coworkers! A New Year's party helps celebrate your past achievements and get everyone excited for the ones to come.
What: A New Year's party is a festive celebration that marks the end of one year and the beginning of another. New Year's parties often feature music, dancing, food, and drinks.
Where: You can host your party at the company's office, a local hotel, a restaurant, or even a rented event space. Try to make sure you have a TV or a projector so you can watch New Year's celebrations live!
Why: A New Year's party is a great opportunity for you to bond with your team members and celebrate. Having the company run a New Year's party also helps people learn to relax with their coworkers, feel a sense of community, and build excitement for the coming year.
Eventbrite expert advice: Offer some fun, optional activities like a photo booth, karaoke, or even a themed costume contest. It's also a good idea for someone from the company's leadership team to give a speech about their thoughts on the last year and what's coming around the corner.
Educational office party ideas
Many offices underestimate how fun learning opportunities can be, if you run them correctly. Check out these ideas for educational events that you can turn into fun office parties as well!
20. Craft workshop
Get everyone involved in a party where they make their own party favors! Craft workshops make great parties because they have a built-in interactive activity.
What: Ceramic painting, notebook making, and card designing are just a few of the crafts you could try. Provide the materials on the day or send out a materials list beforehand if hosting the workshop online.
Where: While some crafts are easy to do at the office, others, such as ceramics, require specialized equipment. Consider the needs of the specific workshop, and then look for a space that will rent them out to you.
Why: Craft workshops don't just teach people a new skill, they also give everyone something physical to remember them by. These are lasting, physical memories of a shared experience that help build a sense of community and shared culture.
Eventbrite expert advice: Tailoring your event idea to the company is a great way to engage both clients and staff. Consider a themed craft workshop, where the end product has to reflect a company product or value.
21. Guest speaker series
Reward your team's hard work by bringing in an expert that will fascinate them. Find the most engaging speakers in your industry and invite them to share their insights in an ongoing series of guest speakers.
What: A guest speaker series is a kind of ongoing corporate event that features guest speakers who share insights and stories about various industry-related topics. To create a more celebratory atmosphere, think about inviting the guest to have a casual sit down with your team after they're done with the presentation.
Where: You can bring guest speakers into the office, or you can have them speak virtually. Possible locations for the event include a conference room, an auditorium, or a rented event space.
Why: Guest speakers can offer knowledge as subject matter experts in your company's industry. They can also engage employees with entertaining examples of their work and provide insights about industry-wide trends.
Eventbrite expert advice: Add an interesting twist to your guest speaker series by organizing a Q&A, a panel discussion or roundtable, or a debate. Just make sure you get the guest speaker's permission first!
22. Interactive masterclass
Bring everyone together to learn something valuable with an inspiring masterclass.
What: Consider what employees at your company might be interested in – maybe they'd like to learn about photo editing or writing their first novel at a workshop run by creators like That's Novel Books.
Where: Depending on your circumstances, you can hold it online or in person. Any space with enough room and the facilities necessary for the class will work great!
Why: Everyone can learn something new and bond at the same time. Some people might even discover their love for a new hobby!
Eventbrite expert advice: Ask an industry expert to lead the class and don't forget to include interactive elements, such as group exercises or quizzes, to get everyone involved.
23. Leadership development session
Let everyone give leadership a try! Leadership development games are the perfect combination of education and fun for everyone involved.
What: A leadership development session is a corporate event designed to teach employees the skills and knowledge they need to become more effective leaders. Sessions typically include topics such as business strategy, conflict management, problem-solving, teamwork, communication, and decision-making.
Where: Depending on the style of leadership development session, you might be able to do them in the office or even virtually. But you should check with the session's leader to see what formats are compatible with their teaching style.
Why: Leadership development classes have a clear benefit: they help prepare your internal employees to take up leadership positions later on. They also help employees understand the challenges and strategies of their current leaders, which improves overall communication.
Eventbrite expert advice: After a leadership development session, you could add another layer of excitement by letting employees apply what they've learned to real-life situations.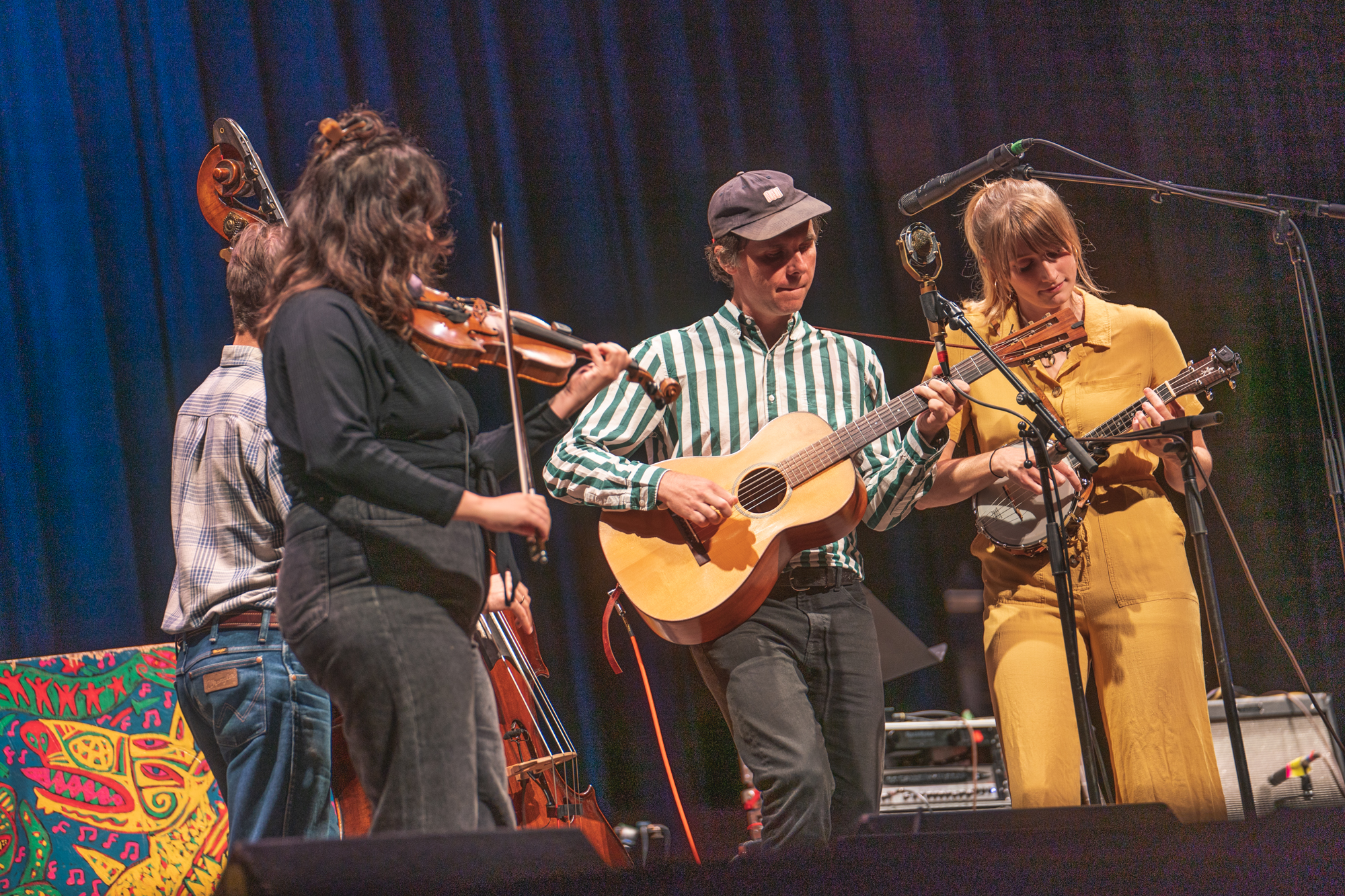 24. Jam session
Get everyone's feet tapping and grow your coworkers' appreciation for each other's musical talents.
What: A jam session is a lively, interactive live music event where you can gather to jam and create music together with your coworkers. You can bring various instruments and collaborate to create and perform music together, often improvising and experimenting with different styles.
Where: You can hold a jam session in different locations, such as the company's office, a rented event space, or even at a local music venue. If the company has access to an outdoor space, it could be perfect for a jam session under the open sky.
Why: Jam sessions are a great way to collaborate with coworkers you might not know very well, and they're a fun creative outlet too.
Eventbrite expert advice: To add to the excitement, consider hiring a local professional musician to jam alongside everyone else. To create a more competitive atmosphere you could also set up a "battle of the bands" made of coworkers.
25. Lunch and learn
Lectures are fine and all, but everyone learns a little better on a full stomach.
What: Where a speaker series or leadership development seminar can feel like a formal event that requires more commitment, lunch and learns are shorter, more casual learning sessions. A lunch and learn is a corporate event that pairs a quick presentation on a topic in the company's industry with a delicious lunch.
Where: You can hold a lunch and learn in person or virtually. Possible locations for the event include the office cafeteria, an outdoor venue like a park or beach, or a rented event space. If you're doing it from home, consider paying for a lunch delivery service so employees can still be excited about the session.
Why: Because they take a more casual approach, lunch and learn sessions can be a better way to encourage creativity and engage employees who might not go to a more formal event. The relaxed environment can also encourage everyone to act as a team player, as employees work on problem-solving together
Eventbrite expert advice: It's important to keep everyone fully engaged throughout the lunch and learn, so consider adding a competitive component like giving bonus points to participants who answer questions correctly.
26. Employee certification sessions
If you're looking for employees to earn a certain certification, make an event out of earning it!
What: Employee certification sessions are corporate events designed to certify employees on specific skills or knowledge related to their organization. These sessions usually involve knowledge assessments, tests, and/or interactive activities with the aim of educating employees about various topics and helping them upskill with official certifications. They can be conducted by your own employees, or by an organization that offers certification courses like B Lab does.
Where: Certification sessions can be in-person or virtual. Check with the organizer to make sure all components of the certification can be completed in the space you're planning on using before you schedule it.
Why: By offering employees certification sessions, companies can make sure each of their employees has all the skills they need to be the best team member they can be.
Eventbrite expert advice: You can put an interesting twist on an employee certification session by gamifying some parts of it. For example, you can provide prizes like gift cards to people that complete their certifications or prompt people to solve real-life problems with the skills they learned from the certification.
Virtual office party ideas
If some or all of your coworkers are working remotely, don't worry! You can still have an exciting office party that helps everyone get to know each other.
27. Virtual horse racing
Everyone has a chance to win with this exciting virtual office party theme.
What: Replicate the excitement of the racecourse with an online horse-racing event. A virtual 'bookie' explains the rules and the odds on each horse, and attendees can choose which one to back using 'fun money.'
Why: It's fast-paced and competitive – a great opportunity for office teams to go head-to-head.
Eventbrite expert advice: You can make a whole Kentucky Derby theme! Have everyone dress up in their best clothes and serve mint juleps. Give a prize to the person who can think of the wackiest name for their virtual horse!
28. Virtual bingo
Bingo isn't just for retirement homes! This simple but entertaining virtual office party can help get everyone hoping to win.
What: Good corporate events don't have to be complicated. Typically, each guest has their own bingo sheet.
Why: Virtual bingo is a hassle-free and immersive option that gives people the chance to relax after work. It's also easy to set up and everyone is in the running to win prizes.
Eventbrite expert advice: To strengthen your company's in-house spirit, you could split employees into teams, designating the boss as the bingo caller.
Start planning your unique office party
When it comes to creative corporate event ideas, there is a huge range of options to choose from. Interactive quizzes, masterclasses, street markets, and silent discos can all work brilliantly. Many are also flexible, as they're adaptable to outdoor venues or can be run online.
What's clear is that unique events are the way to go in today's landscape. They improve employee engagement, which can boost profitability by 23%. But in order to make your office parties stand out, you need the right tools at your fingertips.
That's where Eventbrite can help out. Whether you need the most powerful virtual events platform available or an easier way to organize your office parties, Eventbrite can help you boost your office party to the next level.