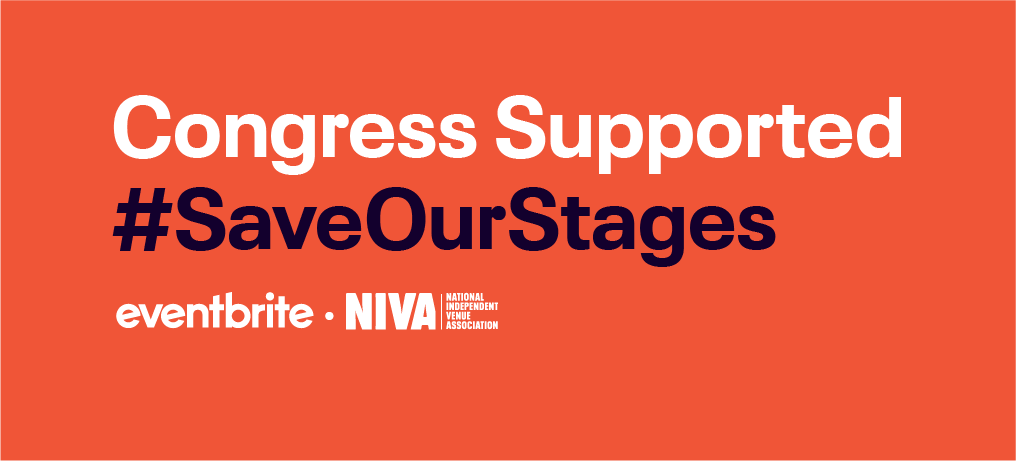 What Congress' New COVID-19 Relief Bill Means for Venues and Event Creators
After months of lobbying from the National Independent Venue Association (NIVA) and a grassroots social media campaign, pandemic relief is coming for eligible independent venues and event creators. On Dec. 21, Congress passed a COVID-19 relief bill that includes a version of the NIVA-supported Save Our Stages Act — renamed the Economic Aid to Hard-Hit Small Businesses, Non-profits, and Venues Act — which will provide $15 billion in grants to eligible live music operators and promoters, live performing arts organizations, comedy clubs, museums, movie theaters, and talent representatives through the Shuttered Venue Operators Grant program. President Trump signed the bill into law on Dec. 27.
The program's rules and application details are still in the works, and we'll have updated information as it becomes available. If you have specific questions about the program, email SVOGrant@SBA.gov and put the topic of your question in the subject line. The Small Business Administration (SBA) will also be holding webinars about the application process before grants become available. 
For now, here's what's in the bill, and what happens next:
How Much Grant Money Is Available?
SBA will distribute $15 billion in grants ($5 billion more than what was proposed in the original Save Our Stages Act) to eligible businesses that demonstrate a 25 percent reduction in revenues in 2020. 
Eligible businesses will be able to apply for an initial grant that amounts to roughly six months of 2019 gross revenues, capped at $10 million dollars. If funds remain, eligible businesses may apply for a supplemental grant of up to 50 percent of the initial grant, with total grant amounts (initial and supplemental) capped at $10 million per grant recipient.
Of the $15 billion in the program, $2 billion will be set aside just for venues and creators that employ 50 or fewer full-time employees. Those funds will be broadly available to businesses above that threshold if any such funds remain 60 days after implementation of the program begins. 
When Do Applications Start?
Applications for the program should be available within a few weeks (the timing is still TBD). We will update this post with more information on obtaining grants when it's available.
Which Businesses Get Priority? 
In the first 14 days of the program, grants will only be awarded to businesses that have lost revenue worth 90% or more in 2020, so they go to those hit the hardest first. In the next 14-day period, grants will go to businesses that have lost 70% or more of their revenue. After that 28-day stretch, grants will be distributed to remaining eligible applicants. 
What Can These Grants be Used for?
Initial grants may be used for specific expenses incurred from March 1 through Dec. 31, 2021, while supplemental grants may be used to cover costs incurred from March 1, 2020 through June 30, 2022. Qualified expenses include payroll costs, rent, utilities, principal and/or interest payments on mortgages or other debt incurred in the ordinary course of business and originated prior to Feb. 15, 2020, payments to independent contractors, personal protective equipment (PPE), and other ordinary and necessary business expenses.  
What's Next for NIVA?
The bill is welcome news for NIVA, its 3,000-plus member venues, and other independent entertainment businesses built around gathering in-person, all of which have been reeling since the pandemic started. 
"This is the lifeline our industry so desperately needs to emerge from a devastating year," said Dayna Frank, owner and CEO of First Avenue Productions and board president of NIVA, in a statement. "Without independent venues and promoters across the country working to engage their communities, staff, and artists, our voices would not have been heard – we are thankful for those tireless efforts."
Senator Amy Klobuchar, who introduced the Save Our Stages Act in July, noted to Rolling Stone that "This [program] does not apply to companies like Live Nation/Ticketmaster." Instead, it's especially tailored for smaller, independent venues and other cultural institutions with the greatest need. 
NIVA also stresses that this is just the beginning. Most of these businesses, which were among the first to close in March, are still shuttered, and may be for the foreseeable future. NIVA is hoping to work with the SBA to iron out the implementation process of the grant and make sure that venues get their funding as quickly as possible. 
NIVA is also encouraging supporters to donate to the NIVA Emergency Relief Fund, which is helping aid those venues that need assistance as soon as possible to prevent closing permanently, or to buy merchandise or gift cards from their favorite venues. Sen. Klobuchar also told Rolling Stone that another venue-directed relief bill, the RESTART Act, is still on the table for next year. 
"I think that through the horror of this pandemic and all the tears and tragedy, people embraced music and culture more and more," Sen. Klobuchar said to Rolling Stone. "But they were just alone doing it on their computers and their phones, and they want it back. They want that sense of community."
For more about NIVA's efforts, head to saveourstages.com.