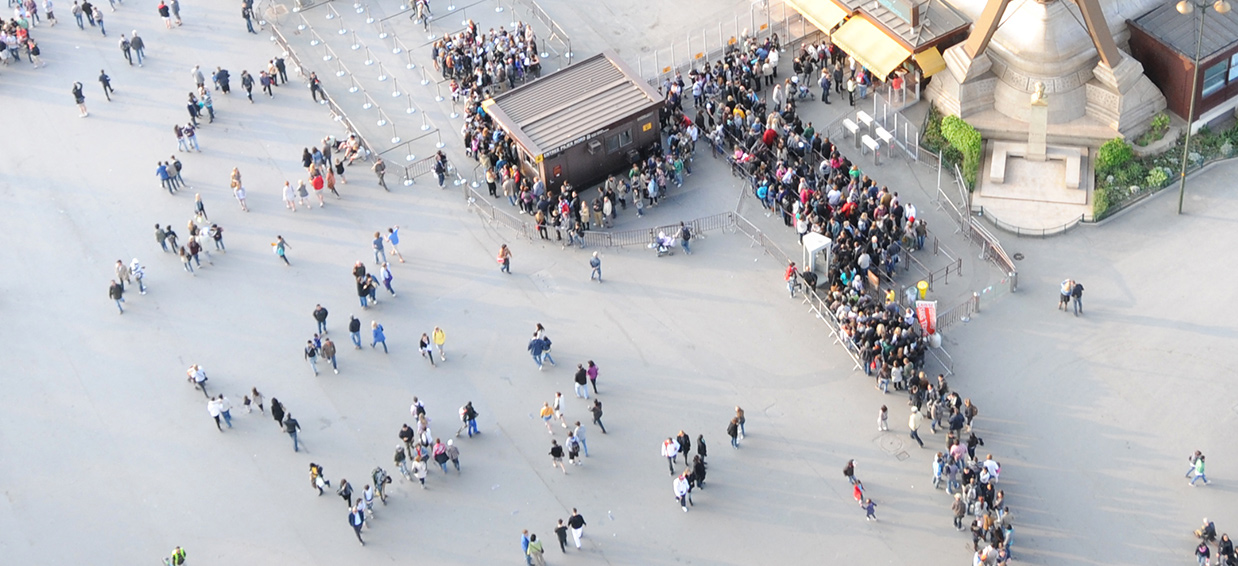 4 Event Risks You Can Easily Avoid
There are a million different ways something could go wrong with your event. Your job is to anticipate those risks — and make sure they don't ruin the experience for your attendees.
Failing to do so can have a huge can have a huge impact on the public perception of your brand and your ticket sales.
Here are four event risks to watch out for — and what you can do to prevent them.
Risk #1: Long lines
What's the flow of your event? When do you expect most people to arrive? Do you have staff in place to handle crowds? If you don't know the answers, you can be sure attendees will end up experiencing long lines — and they won't hold back from posting about it on social media.
Nailing your sequencing and logistics is critical to making sure you deliver the ultimate experience for your attendees. Start by creating a detailed, to-scale site map of your venue. This includes the layout of every vendor, stage, and toilet, as well as where there are areas for overflow and secure locations to store cash.
Want to learn more on how to execute a complete event logistics strategy? Download this guide.
Risk #2: Social media backlash
Even with careful planning (and best intentions), things can go wrong. Whether it's a public transportation meltdown or a shortage of food, don't face the unexpected without a rock solid communication plan.
Social media is one of the fastest, and broadest, ways to communicate with your attendees. This makes it one fastest, most impactful forms of communications. As for what to say, these three best practices can help you keep your cool when a problem arises:
Respond as soon as you can. If disaster strikes, people will be looking to your social accounts for an explanation. Try to get a message out to attendees quickly — just remember, the information needs to be accurate.
Don't get defensive. Even if the issue is out of your control, understand where the complaints are coming from. Maintain a professional tone to every response.
Re-evaluate scheduled content. Consider the other content that you had scheduled to post on social. If attendees are upset, it might be better to table that #tbt post you had lined up.
Want more on using social media to manage attendees' expectations? Check out this tip sheet.
Risk #3: Going over budget
Sticking to a budget can be hard, especially for large and complex events. Without a contingency figure in your budget, an unexpected cost will leave you wondering how to stretch the last of your funds.
This can easily be prevented. Just put together a rough budget — and update it regularly to make sure you're not going over. It's also critical to put a buffer in place so you're never left with unpaid bills on the table.
Looking for more tips on getting the most from your budget? Watch this webinar.
Risk #4: Outdated tech
If you're not using a modern ticketing solution, then you're probably working harder and putting more stress on your team than you should be. Processes that should be automated aren't, and you're missing out on valuable data you could be gathering about your participants.
The best ticketing solutions save you time by automating repetitive tasks, taking the burden of system maintenance out of your domain. Plus, they often integrate with other best-in-class technology solutions that you already use in your day-to-day.
Learn more about how best-of-breed tech can help you save time and money in this guide.
Avoid more common failures
Moments of panic are unavoidable, but there are best practices you can use to resolve the inevitable challenges of event planning faster. Learn how to further minimize risk of failure in The Event Preparedness Playbook.