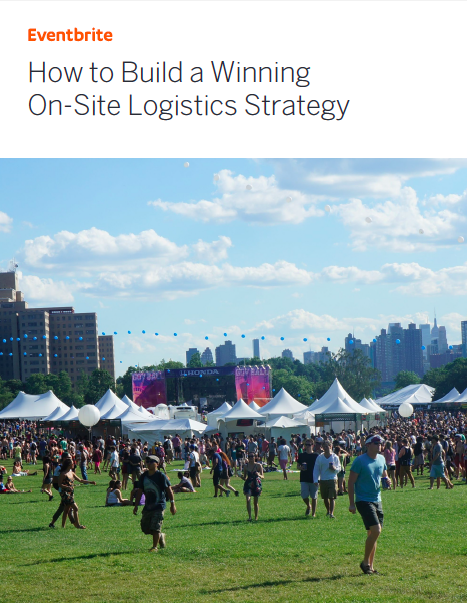 How to Craft a Solid Event Logistics Strategy
A seamless onsite experience ensures fans are talking about how great your festival was — not how long they had to wait to get in. Learn how to plan, set up, and execute a complete event logistics strategy. Simply fill out the form to view the full guide.
Long lines are consistently named as the most stressful and frustrating part of events and festivals. A seamless onsite experience ensures fans are talking about how great your event was — not how long they had to wait to get in.
View this guide to get expert advice from Tommy Goodwin, Director of Field Operations at Eventbrite. Goodwin has over 20 years of experience managing event logistics for major festivals, including Tribeca Film Festival and Governors Ball Music Festival.
Give your fans a great experience at the gate and learn:
How to plan, set up, and execute a complete event planning logistics strategy

Detailed best practices around technology, staffing, and layout

Common event logistics mistakes to avoid

---
PREVIEW
The gates open. Seconds later, eager fans stream past check-in. Last-minute buyers quickly purchase tickets, and happy attendees join their friends inside the event. And at the end of the event, everyone flows easily through the exits and heads home.
It sounds perfect, right? It is, but painless event entry and exit doesn't happen automatically. It's a huge accomplishment for your on-site management team, and it requires a thorough on-site logistics strategy that begins many months before your event.
If you're reading this, you probably know this all too well: When it comes to special events, we have to expect the unexpected. In this guide, I'll share the best practices I've learned as a partner and ground support for thousands of music festivals, food festivals, and business conventions as Eventbrite's head of field operations.
There is no set "formula" for on-site logistics— every event or festival is unique. A music festival held in below-freezing temperatures, such as SnowGlobe, needs to build a plan around the limitations of technology in cold weather. A festival held in a city, like BottleRock in Napa, CA, needs to anticipate local traffic and event regulations.
While there's no one-size-fits-all approach, there are three main steps to any successful on-site logistics strategy. And despite what we call it, this strategy requires a great deal of off-site work.
The three steps for a successful on-site logistics strategy:
1. Identify your requirements: Determine the right solution based on your event's unique needs.
2. Choose your resources: Build the infrastructure for your onsite solution, from technology to staffing.
3. Execute: Execute the solution you've built using day-of best practices.
Step 1: Identify your requirements
Eat See Hear is an outdoor movie festival that screens at five locations across Los Angeles. Each venue needs a unique on-site strategy to accommodate movie screenings as well as food trucks and live music. The event director starts the site selection planning process and visits the venue as early as possible to identify requirements and create a site map that includes everything from the entrance to food trucks to the 70-foot movie screen.
Like Eat See Hear, a festival's on-site strategy is dictated by its location, how it can accommodate the main attraction(s), and the number of attendees. To build a successful on-site strategy, you should start with a solid grasp of these requirements.
During this process, involve all departments that will be impacted by your on-site strategy. This includes your site operations, production, box office, power and IT, and ticketing provider teams. The day of your event is hectic enough — taking this extra step will help minimize confusion between teams.