June marks the start of summer as well as Pride Month! Cities like São Paulo, Amsterdam, New York, and San Francisco have become famous for their annual Pride Parades, which are filled with music, dancing, and rainbow flags. 
But revelry isn't the only way for LGBTQ+ folks and allies to celebrate — there are all kinds of fun ways to weave the history and significance of pride into your events.
Here's a look at some real Eventbrite creators whose Pride events are making us proud in 2023. From Pride parties, to educational and cultural events, there is plenty to celebrate, learn about, and do!
Pride party ideas
There's no doubt that a parade is the most iconic kind of Pride Month event. The first Pride parade was a civil rights protest, but these days most parades are a celebration of history and community.
Major cities like New York, Johannesburg, and Tel Aviv already host Pride parades, but there's nothing to say a Pride parade can't take place in a smaller town or neighborhood. Once the parade is over, consider planning a Pride party to cap off the day.
1. Put on your own parade
Organizing your hometown's official — or unofficial — Pride parade is an ambitious but ever-popular way to go. Seattle's Pride parade takes over downtown and features three stages, two alcohol gardens, food trucks, grandstand seating, and ADA priority seating.
When planning a parade, you'll definitely need to coordinate with local officials for any street closures and necessary permits. It's also a good idea to work with local LGBTQ+ organizations to gain their support and participation. If your town doesn't have a local branch, try contacting the regional or national office of organizations like Stonewall or the Human Rights Campaign.
2. Relive — or rewrite — memories at a Pride prom
A Pride prom lets your attendees get nostalgic — but may also give them a chance to relive prom night in a more inclusive, accepting environment. The theme of Austin Public Library's pride prom in Austin, Texas is the Roaring 20's. The event will feature drag performers, Queer Vinyl Collective, and more!
Whether they go solo or with a partner, people will love a chance to dress to the nines and dance the night away to a DJ spinning classic beats. Be sure to provide refreshments and plenty of branded photo-ops to raise awareness about your brand.
3. Host a dance party
There's no better way to celebrate than with dancing. For example, the Arts Council of Princeton will transform its parking lot into Princeton's best club with danceable tunes provided by the Princeton Record Exchange and a celebration of Princeton's LGBTQIA+ community & allies.
To hold your own, all you need is a beat and a dance floor and you're ready for a dance party. Having a Pride-themed event will attract a crowd, particularly if you team up with other local organizations that are also celebrating Pride. Up your event's fun factor with lighting effects, snacks, and cocktails to keep people dancing into the night.
4. Get out there with a Pride bar crawl
Long after the parade is over, invite your community to go out on the town with a themed bar crawl. Pubcraws.com is hosting Pride Bar Crawls in various cities where the revelers can experience the city's vibrant LGBTQ+ community in a fun and interactive way. The crawl is designed to be taken at your own leisure, with a digital map provided to guide you through the best bars, pubs, and clubs in the city.
If you're planning your own crawl, contact local bars to see about arranging drink specials or deals on appetizers. You might be surprised how willing bar and pub owners are to offer specials when they know a sizable crowd is coming. Don't forget to look out for your guests' safety — plan a walkable (or crawl-able) route or encourage guests to take an Uber or Lyft.
Inspire with educational and cultural events
Thinking you might want your event to feature something more on the educational or cultural side? If you consider the rich history and cultural contributions of the LGBTQ+ community, there are opportunities for Pride events related to human rights, literature and culture, and more.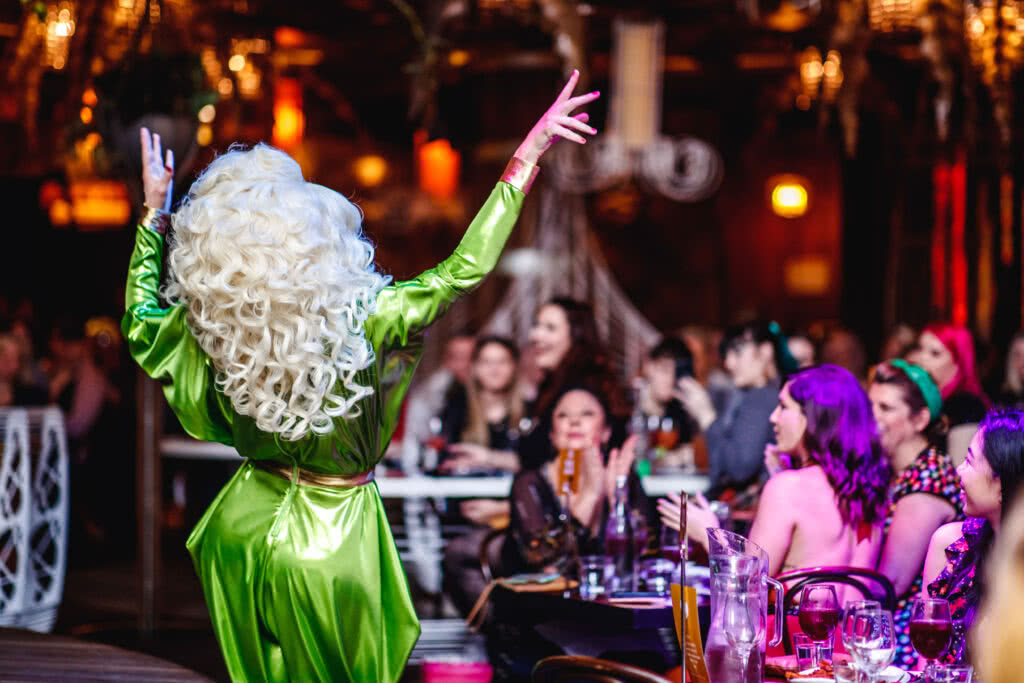 5. Host a historical educational experience
The fight for gay rights and marriage equality has come a long way, but the struggle for LGBTQ+ equality across the board is ongoing. The Edmonton Queer History Project hosts regular walking tours in which folks can explore the people, places, and moments that have helped build the city's 2SLGBTQ+ communities.
If you'd like to teach your community about landmark events like New York's Stonewall riots in 1969 or the fight for gay marriage in the US, host your own historical conference or learning event. 
Or, look at the issues that face queer and trans communities in the modern day. Invite scholars or local organizers to talk about the past, present, and future of the Pride movement and inspire your community to continue driving change.
6. Give back to the community
Even with recent civil rights victories, LGBTQ+ communities continue to face discrimination, hardship, and violence. Make a contribution to your community and raise awareness of important issues with a benefit or fundraising event.
For example, Dormont Arts in Pittsburg, PA hosts Drag Brunch Bingo benefitting Dormont Spark/Pride which does just that. The event includes a BINGO VICTORY with game-winner prizes of $100 and a coverall prize of $250. There is also a mimosa bar, an onsite food truck, and much more.
7. Celebrate creative talent
Celebrate Pride on the big screen with a film festival or other cultural event. Ontarios Queer North Film Festival celebrates outstanding, award-winning feature films plus International and Canadian LGBTQ short films: documentary and fiction over the course of 4 days including some locally-produced films.  
To host your own, consider highlighting the achievements of groundbreaking LGBTQ+ directors, actors, and icons. Or, encourage creativity in your community by putting on a short film contest or art show that lets local makers show off their talents.
8. Get out in nature
Since Pride takes place in June, it's prime time to get outside. Give your community a chance to enjoy nature with their friends and family away from all the noise and glitter of a Pride parade.
Creator Grassroots Ecology in Palo Alto, CA is hosting a LGBTQ+ Naturalist Walk that celebrates queer joy outside during Pride month. Participants will discover the beauty of California's local biodiversity by moving between grassland, forest, chaparral, and creekside corridor ecosystems all in a short time. 
For your own event, participants can enjoy spending time together and taking in the local scenery. Consider adding a picnic or barbeque to your outdoor event for guests to relax and make new friends.
Plan an event you're proud of
There are a ton of Pride Month activity ideas out there. Choose one that makes sense for your community and target audience, and look for opportunities to pair with local sponsors or organizations to expand your reach.

The first step is to find the perfect venue, then plan your theme, your activities, and invite your guests. 
Whatever format you choose, Eventbrite makes it easy to organize your event. You can sell tickets and track registrations, and market smarter with Eventbrite's suite of marketing tools.