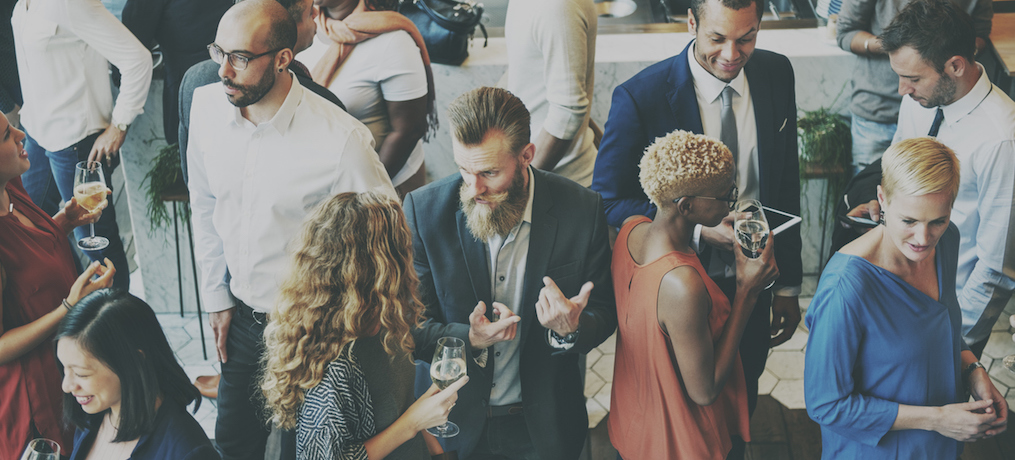 Improve Networking at Your Event: 6 New Methods
Think about how difficult it once was for two people attending a conference to arrange a meeting. 
First, you had to figure out who was going to be there by browsing a printed directory. Then, you would look up the email address (or phone number!) of the person you wanted to meet and contact them to see if they were interested. If they were, you would check your schedule, hoping for an overlap, and agree on a time.
But where to meet? Neither of you has ever been to this particular convention center before, and you don't know the layout of the conference or where a convenient meeting spot will be. 
Instead, you suggest a meeting by the registration desk, or perhaps by the entry to the lunch area. Hopefully you know what the other person looks like, otherwise you'll resort to describing what you plan to wear. 
The Internet has changed conferences, tradeshows and other events by smoothing out these inefficiencies. Event technology has made it easier than ever for attendees to pre-schedule their appointment agenda and get the most out of the event. 
Further, by making content accessible in advance, the Internet has elevated the importance of networking for event attendees overall. Savvy event planners are changing the ways in which they design events, and they're leaning on event technology to do so.
We're going to explore the following innovations in event networking:
Hosted Buyer

Speed Dating

Attendee-Driven Appointments

Ad Hoc Meetings

Topical Lunch Tables

The Hallway Track
Follow along to explore the six latest innovative networking models and strategies for events. As you read, check out Pathable's guide to the top mobile event apps on the market right now — many of which offer features to aid in the following strategies.
What are the latest innovations in the event networking space?
Hosted Buyer
In contrast to the traditional trade show model, hosted buyers are "hosted" by the event organizer.
The buyer attends the event for free, in return taking meetings that the event planner sets up with suppliers. On the supplier end, sellers are paying for meetings with qualified leads (rather than a trade show booth).
The process of creating the pre-scheduled meetings doesn't have to be onerous. Many event app platforms will do the heavy lifting, automatically building out everyone's personal agenda using attendee preferences combined with clever algorithms and artificial intelligence.
Once scheduled, attendees and suppliers can manage their appointments using the mobile event app's personalized agenda feature. Further, suppliers can collect contact information from buyers using app-powered lead scanner technology. This isn't the first time technology has been used to improve the trade show model, and it's effective.
Speed Dating
"Speed dating" is a structured event aimed at introducing attendees to many qualified leads in a short period of time.
This involves rows of tables at which suppliers, exhibitors, and even speakers sit for the duration. Attendees move through the rows and speak with the person seated at each table for a set period of time (typically 7 – 10 minutes). Those originally seated at the table stay put.
In the same way they did for Hosted Buyer meetings, event management platforms can automate the process of building attendee schedules for them.
These personal agendas ensure attendees know who, when, and where they are supposed to be for each meeting. This gives them the opportunity to research the people and companies they'll be meeting with in advance. 
Attendee-Driven Appointments
Attendee-driven appointments are those set up by two attendees before the event that will take place during the event. 
Attendees need to know who else is attending the event and have access to initiate contact. The best event directories allow for attendee-directed searching and filtering, giving attendees the ability to separate the wheat from the chaff. Further, social network integrations allow for the easy viewing of people already in an attendee's network who will also be at an event.
Attendees can access public discussion forums and private 1:1 messaging with event communities. Further, some apps even list available meeting tables/rooms for advance booking.
Ad Hoc Meetings
"Ad Hoc" means "when necessary or needed." So attendees create these meetings, somewhat off the cuff, when they're necessary. 
A perfect example of an ad hoc meeting would be a follow-up meeting. For example, when two attendees run out of time during their initial gathering to cover all materials. 
Event apps allow attendees to view other people's free/busy time. Then, they can propose a later meeting when both are available.
Topical Lunch Tables
Event planners organize each lunch space by topic and provide a map of these topical tables to attendees. Attendees choose to eat lunch at the table most relevant to their interests and network with other participants.
With intuitive maps and diagrams available right in attendees' hands via mobile event apps, gone are the days of struggling to find a specific table of interest. 
A comprehensive mobile event app and management software helps manage the many moving parts in this scenario. Check out this guide to event management software to help you choose a provider.
The Hallway Track
"The Hallway Track" is the name given to those somewhat serendipitous meetings that aren't outlined in the schedule.
This covers the chance meetings that attendees have when passing one another in the hallway. These encounters can be game-changing for attendees, and it's important to capitalize on them when they happen.
Event app features such as searchable directories and badge scanning address this exact event. With these features, attendees can search for a new contact and schedule a more formal meeting later. They can also gather a digital business card to keep in touch after the event.
Event planners have long used fun "ice-breaker" games to encourage networking at events. Now, they've found innovative methods to keep up with the new age of networking.
With the above six networking strategies, you'll ensure attendees create connections that count. Ready to make your networking event a reality? Sign up for Eventbrite today.