Post your events online for free
Post an event on Eventbrite and promote it in our marketplace. Sign up to get started.
Welcome to Eventbrite.
Best place to submit your events.
Eventbrite is the world's largest event technology platform, powering millions of events in 170+ countries and territories. We're building intuitive technology to help you create, promote, manage, and post your events online — so you can spend less time working on them and more time creating meaningful live experiences.
How to post an event on Eventbrite
Start submitting your event in minutes with a simple set-up process. Post your events directly on Facebook and more with easy-to-use, built-in tools.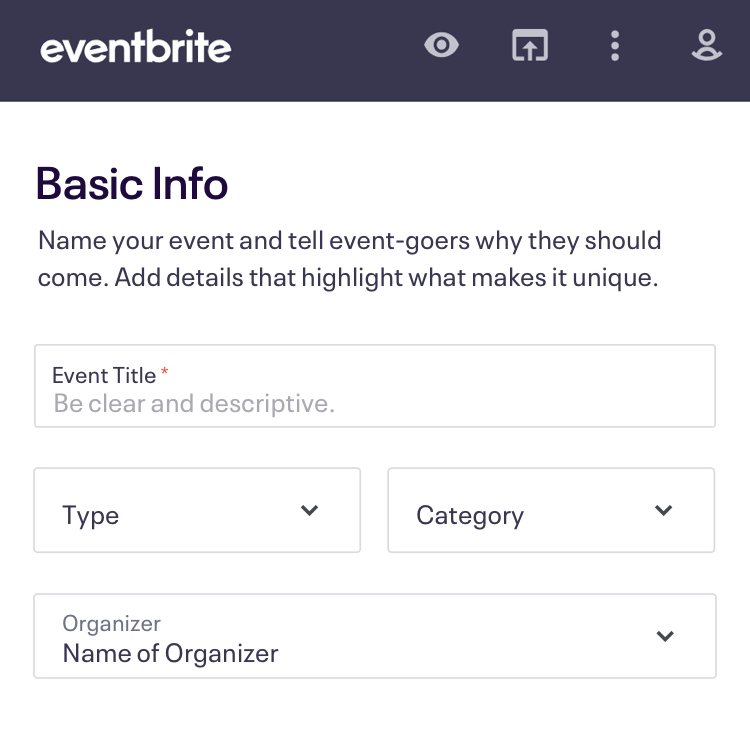 1.
Enter your event details
Let attendees know when, where, and what your event is about.
2.
Create your tickets
Set up your free tickets, or create multiple ticket types to maximize your sales.
3.
Post your event and share
Submit your event. Once the event is live, easily post to sites like Facebook and Instagram in two clicks.
Post your event online and increase your reach with industry-leading technology
Powerful virtual tools place you at the head of the pack.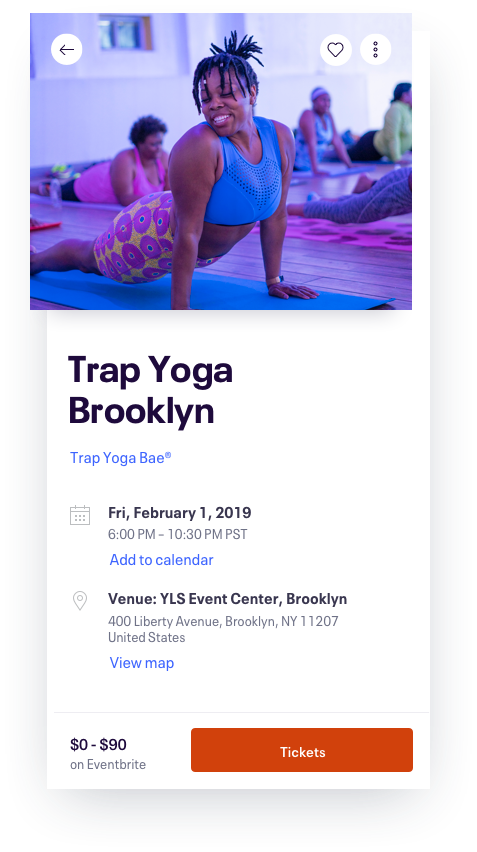 Use our built-in marketing tools and partnerships to save you time and money, freeing you up to do what you do best: putting on killer events that people remember.
Post an event on Facebook: Give your supporters the ability to buy tickets to your events in two clicks without ever leaving Facebook.

Boost your Google search ranking with our industry-leading SEO and partnership with Google Events.
Find out how many people seeing your submitted events and how many attendees register online with real-time reports.

Promote your posted event with free tools like custom email invitations, 
built-in social sharing, and targeted event recommendations.
Event promoting that works with your budget
Learn more about your pricing options and pick the package that's right for you. Eventbrite is always free for free events!
Essentials
Easy-to-use event technology for any budget
---
Preis pro kostenpflichtigem Ticket: 2% + $0.79
Kostenlos für eintrittsfreie Events
Ticketarten: 1
Professional
A powerful solution to boost sales and grow your business
---
Preis pro kostenpflichtigem Ticket: 3.5% + $1.59
Kostenlos für eintrittsfreie Events
Ticketarten: beliebige Anzahl
Premium
Tailored partnerships for large and complex events
---
Preis pro kostenpflichtigem Ticket: Custom Pricing
Kostenlos für eintrittsfreie Events
Ticketarten: beliebige Anzahl
Frequently Asked Questions
How do I post an event on Facebook?
Add your event to Facebook to promote, share, and sell tickets. Attendees can buy tickets directly on Facebook, share your event with their friends, and add it to their calendar.

Connect to Facebook.
Add your event.
Confirm your event's location.
Choose ticket types.
Publish your event.

Read more details here.
How do I add a ticket button on Instagram?
Thanks to a new integration with our partners at Instagram, you can now add a call-to-action button to your Instagram business profile to drive more interest to your event listing page or profile.

Select "Edit Profile," then tap "Contact Options."
Select "Add additional action."
Select Eventbrite as your partner.
Add your Eventbrite URL.
View your "Get Tickets" button.

You will find a simple step-by-step instruction here.
Can I submit an event on Eventbrite for free?
Yes, you can - free tickets have no fees. You can get an event up and running, for free, in a few steps.
Post an event on Eventbrite for free