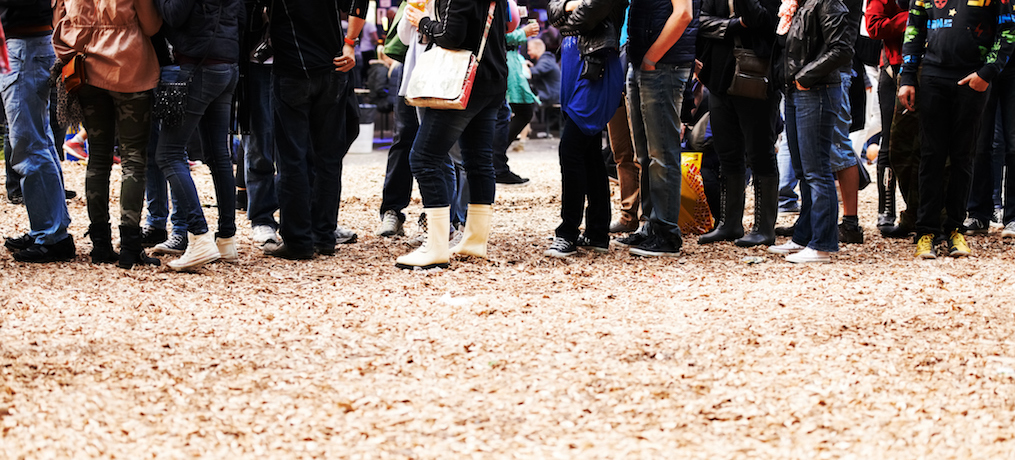 How to Reduce Long Event Lines and Keep Attendees Happy
Creating a great experience for your event attendees takes more than an impressive food or entertainment lineup. If your attendees spend hours waiting for food, drinks, or — worse — just to get inside, making them happy will be an uphill battle.
Research shows that 45% of attendees have abandoned lines without making a food or beverage purchase because the line was too long. Think: lost sales, attendee dissatisfaction, and poor reviews. Social media nightmares catch like wildfire, so don't be the subject of a scandal due to poorly managed line control.
With the right planning and buy-in, you can deliver the best possible experience for your attendees. Here are three ways you can reduce lines at your event.
1. Invest in your restrooms
At any event — and especially events focused on beer or wine — plentiful bathrooms are a must. Generally speaking, you want to have at least one porta potty per 100 attendees, and add 15-20% more if alcohol is being served at your event.
But sheer quantity isn't enough. You then need to have restrooms in the right places and should even consider upgrading your facilities. One option is upgrading from porta potties to vac toilets — temporary toilets that flush. When a vac toilet's door closes, a light turns on inside to help users to see. Rather than trying to use their cell phone as a flashlight, attendees have both hands available to get in and out quickly and keep the line moving.
Whatever restroom you provide, have enough stalls, in enough places, and with enough supplies.
2. Get the right technology
To really enhance the attendee experience, make sure you have the right technology. Deciding which tech is worth your time and money is a challenge, but with the appropriate tools in place, you have an opportunity to impress attendees, better their event experience, and increase efficiency. Your best bet is to double down on RFID (radio-frequency identification) wristbands, which can open up a whole new world of possibility onsite.
Get in faster
With RFID, attendees simply wave their wristband or badge over a sensor to get in. No more digging in purses to find tickets, or struggling to make scanners process wet or wrinkled barcodes. The tech can seamlessly handle re-entry for multi-day events, or provide easy access to multiple zones within an event (like a VIP area).
When SnowGlobe music festival switched to RFID, they were able to scan in more than 20 people per minute at each gate. That's upwards of 1,200 people per hour for each scanner, and just as many happy attendees who don't have to wait forever to get into the festival.
Go cashless
Moving constantly from a line at the bathroom to a line at the ATM to a line at the beer tent gets old.
With RFID, attendees can pay for food, drinks, or merchandise with a simple tap of their wrist. Click to Tweet
They're able to preload their payment information to their RFID tag before the event, decreasing the time to process payments. And because guests don't have to carry cash or drink tickets in their pockets, they can stop worrying about loss or theft, and focus on enjoying the event.
3. Up your beverage game
Eventbrite recently saw a 47% increase in food and drink events on the platform, a trend that shows no signs of slowing. Whether you're hosting a small pop-up dinner or a massive festival, you'll need to provide attendees plentiful food and drink options — and keep the lines short so they can try multiple vendors.
Long beverage lines are why GrinOn Industries developed the Bottoms Up Draft Beer Dispensing System, a draft beer dispenser that fills beverages through the bottom of the cup. This hands-free method is quicker than traditional taps and won't foam over, meaning you'll waste less beer and serve more people faster. Fests, like the Circle City In Pride in Indiana, and sports venues, like the Bridgestone Arena in Nashville, now use it to minimize their lines.
Whatever your beverage, you can also cut down on massive lines in general admission by offering VIP experiences for an additional price. While you might think few people will pay for an upgraded ticket to a wine or drink event, 40% of millennials said they are willing to pay more for an exclusive experience at a festival, such as a VIP tent or a special pouring.
Although there is no set "formula" for minimizing lines, there are simple ways to help reduce wait times (and stress) and create an amazing event experience for your attendees. And if you do it right, a smooth entry and exit should look easy to your attendees. There's a lot of planning and onsite support that goes into your event, so check out this guide to Onsite Tech and Staffing Solutions for additional tips that can help keep your attendees smiling.