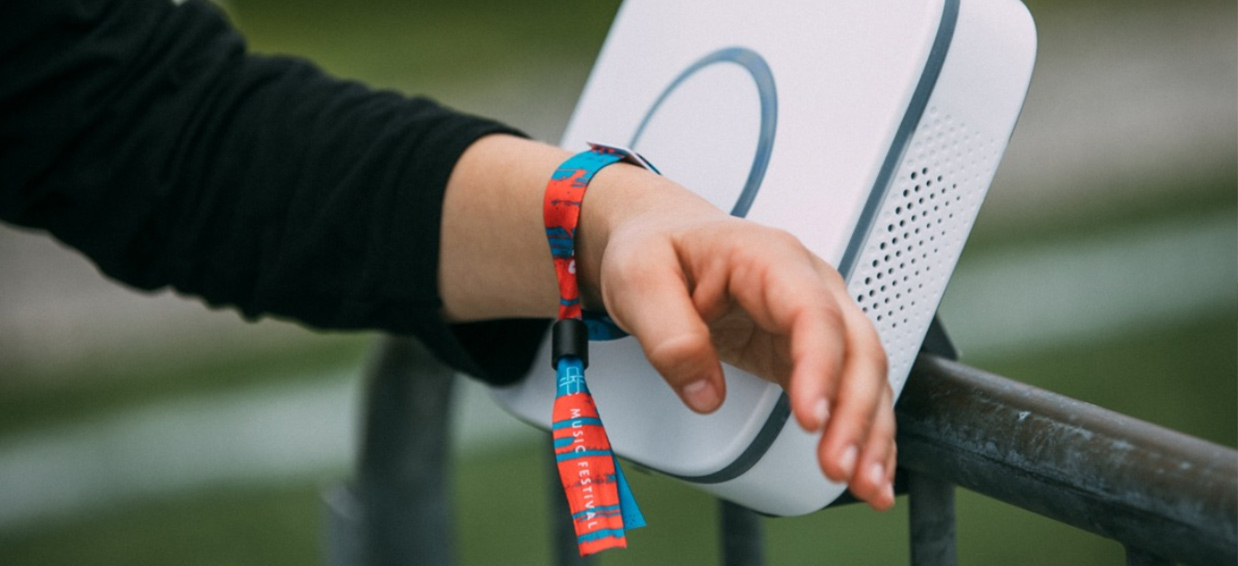 Are RFID Payments Right for Your Event?
Cash is so old-school. You can pay your friends and even your barista with a scan of your phone — so why should payments at events be any different?
In the past year, major festivals like Austin City Limits and Electric Daisy Carnival have embraced RFID payments. RFID wristbands are delightfully easy to pay with — all it takes is a simple scan of your wristband and you're done.
There are lots of benefits to using RFID — but are cashless RFID payments right for your event? When you're starting to think about jumping on the cashless train, here's what you need to keep in mind.
The benefits of cashless RFID payments
You'll make more money. Research shows that fans spend up to 20% more onsite when using RFID wristbands instead of cash. While research has focused on alcohol purchases, RFID payments can drive revenue in other ways as well.
One innovative way to take advantage of RFID payments is to capitalize on FOMO (fear of missing out). Give them a chance to see what's just past the VIP door. Highlight the VIP experience around the festival, and offer attendees the chance to upgrade if they decide they want to indulge.
Create a seamless attendee experience. No more reaching for wallets, counting out cash, or waiting for a slow credit card machine to finish processing. When fans pay for purchases with a simple tap of their wrist, lines flow smoothly.
It's also worth noting that when there's no cash or credit cards on-hand to steal, attendees don't have to worry about theft. RFID tags are unique and nearly impossible to duplicate, so they are completely secure. If a wristband is deactivated by customer service, its cashless feature is also instantly deactivated. And if attendees forget their PIN number, they can change it in real time so it doesn't impact their experience.
Vendor transparency and accountability. When vendors use cashless RFID payments, you get visibility into everyone who's touching money on-site. Even if your event isn't totally cashless, a point of sale system at each vendor ensures that cash and non-cash payments are being tracked in one place.
This also enables real-time inventory management. With insights into what products are selling out fastest and where, you can restock more efficiently and plan better for future years. Say goodbye to selling out of your fans' favorite beer.
What you need to consider before becoming a cashless event
You'll need more advanced infrastructure. Supporting cashless RFID payments takes power, internet, and personnel. Just like with credit cards, you need to be able to process transactions in real time. That means you can't place vendors in the middle of a field without a tent or power. It also means employing more staff to ensure that if anything does go wrong with the tech, it gets fixed before attendees (and vendors) notice.
Depending on your cashless system, you may also have to supply kiosks where attendees can add money to their wristbands. Ideally, this happens before the event, but inevitably people forget or need to add more funds. We recommend choosing a system that lets attendees link credit cards to their wristband. This eliminates the need to add more credit later, and allows attendees to activate RFID payments in advance, or activate from their phones at the event — no lines necessary.
You have to spend money to make money. Implementing the infrastructure needed to support cashless the right way is an investment. It can be tempting to go for the cheapest solution, but you can't do cashless halfway.
Be wary of solutions that skimp on infrastructure or support. If something does go wrong, you might have to stop sales and irritate your attendees in the process. Choosing the "cheapest" option on paper might cost you in the end.
If you don't do it right, attendee experience is at risk. Many RFID payment systems require fans to pre-load their wristbands with money, and pay a refund processing fee to get their money back. It's worth thinking twice about how RFID payments are implemented at your event. Our guiding principle: focus on making your attendee's experience better, and you'll be rewarded when they come back again and again.
The fees associated with cashless RFID payments can also be extreme. Our advice? Give users equal exchange rates and don't keep unspent money. We recommend real-time authorization systems that link a credit card to each attendee's wristband or badge, with a PIN number for security. Every time a purchase is made, a new authorization is enacted. With this system, attendees will leave your event feeling delighted — not with a bad taste in their mouth.
There's no doubt — RFID payments are the future of events
But not all cashless systems are created equal. Once you've chosen to take the leap, you need to be sure you choose the best RFID payment system for your specific event. Your fans — and your bottom line — will thank you.
Interested in implementing cashless? Download our free comprehensive guide to RFID technology for event organizers.