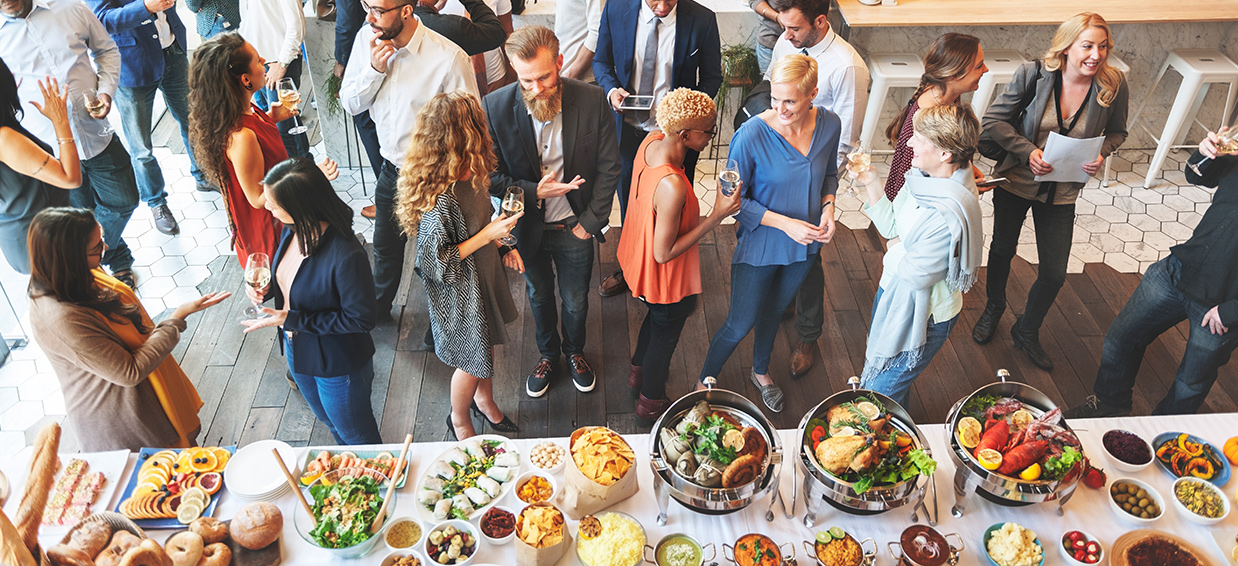 30 Catering Ideas to Make Your Event Menu Stand Out
Where once "comfort foods" like mac and cheese were all the rage, today's foodie fads tend toward the healthy. But which nut milk should you offer your event participants with their coffee? That's just one decision you're faced with when planning your event menu.
"Staying on top of the latest food trends" might not technically be part of your job description as an event creator. But "creating the best possible experience for attendees" certainly is. And with 77% of people saying food is important to them at any kind of event, your event menu matters.
Based on a recent Eventbrite survey of foodie trends, input from event experts, and the general buzz about town, here are 30 catering ideas to position your event menu on the culinary cutting edge.
Event catering idea #1: Artisanal doughnuts
It started with the cronut, the unbelievably delicious croissant-doughnut hybrid popularized by NYC pastry chef Dominique Ansel. Now, specialty doughnut shops are popping up all over the country, and your event could follow suit.
Event catering idea #2: Bánh mì
Vietnamese for "bread," bánh mì is a sandwich that includes traditional Vietnamese ingredients like pickled daikon, cilantro, and spicy chilis. Typically a casual street food, bánh mì sandwiches are a perfect stand-and-eat foodie choice for a busy event.
Event catering idea #3: Bento boxes
Bento is a traditional Japanese lunch served in a box with compartments. Typical components might include rice or noodles, sushi or fish, and chopped or pickled veggies.
Event catering idea #4: Bespoke toast
Toast is not just for breakfast anymore. Dressed-up bread with custom combinations of toppings, from smeared avocado to chèvre cheese, is a wholesome spin on the old bagel bar.
Event catering idea #5: CBD anything
CBD, or Cannabidiol, is popping up in everything from sodas to smoothies. Even Martha Stewart recently announced that she's advising a new CBD line. Infusing your event's food with this buzzy (but non-intoxicating) ingredient is a surefire way to draw attention and attendees. Play it safe by using CBD from hemp and double checking your local laws before serving.
Event catering idea #6: Chef's table
Recruit a local or celebrity chef (even better, a local celebrity chef) to conduct hands-on demos for attendees. People love cooking shows, and as Candace Price, the regional event director for iHeartMedia, says, "This is like a cooking show where they can interact with the chef while he's at work. It makes for a unique and lively experience."
Event catering idea #7: Coffee bar
When it comes to coffee, everyone has an opinion. Make them all happy with a diverse coffee bar that has it all: pour-overs, cold brew, nitro coffee, and all manner of non-dairy milks. Not sure how to pull this off? Enlist your local hipster coffee shop as an event vendor.
Event catering idea #8: Composting
Not about what you eat, but what you don't — a composting initiative at your event demonstrates that you're invested in sustainable practices. It also gives attendees a chance to give back.
Event catering idea #9: Farm-to-table meal
Dishes made with local, seasonal ingredients are often deemed healthier and more environmentally friendly. These include ingredients sourced from nearby farms and ranches, as well as locally made specialty food items.
Event catering idea #10: Farmers' market
Along with the "locavore craze" (scroll down), farmers' markets are experiencing a major revival. Add a mini-farmers' market to the mix of your event to capitalize on this craze.
Event catering idea #11: Fermented foods
Kimchi, kombucha, sauerkraut — all slightly exotic and terribly good for you. In other cultures and centuries past, fermented foods were a smart way to preserve food for longer. Today, we eat them because they're yummy and healthy.
Event catering idea #12: Food trucks
Food trucks have transitioned from being the cutting edge of hipness to a must-have at many events. In fact, food trucks are one of the top three types of food-related experiences Americans are most likely to go out of their way to check out.
Event catering idea #13: Gluten-free options
"There's definitely a niche interest in food restrictions right now," says Price. "We get a lot of questions about gluten-free options." Serving low-carb or no-carb options will endear yourself to those who habitually avoid bread — which is seemingly everyone these days.
Event catering idea #14: Grain bowls
Think farro, quinoa, forbidden rice. Layered bowls of grains, veggies, protein, and sauce provide a versatile, creative catering choice. Attendees can mix and match options.
Event catering idea #15: Hot chicken
"In Nashville, it's all about hot chicken," says Price. "Everyone thinks they have the best version." Offer it at your event for Southern flair.
Event catering idea #16: Italian food
Okay, Italian is more staple than trend. But after "American food," it's the most popular type of cuisine (60% call it a top choice, according to our recent survey). You can never go wrong with pizza and cannoli.
Event catering idea #17: Local restaurants
Partner up with a local restaurant to create a one-of-a-kind catering experience. "Restaurants can be a lot more personable and willing to create something together than a typical catering partner who cranks out events," says Annye DeGrand, Senior Event Director, Octagon.
Event catering idea #18: Matcha tea
A traditional green tea made from powdered tea leaves, matcha has recently exploded into urban tea bars. It can be served hot or iced, or used as an ingredient in shakes and smoothies, with touted health benefits. The vibrant green hue of matcha tea makes it also quite photogenic.
Event catering idea #19: Milkshake IPAs
This non-traditional type of beer is gaining momentum in the craft brew circuit. The creamy texture and sweet added ingredients (like fruit) mimic the goodness of a milkshake, plus adding these IPAs to your beverage repertoire gives you instant craft-beer cache.
Event catering idea #20: Miniature foods
It's a fact that small equals cute. Take tiny tacos. What could be cuter? Tiny pizza! Tiny lobster rolls! Yes to all of the above — and they're easy to pass around at an event.
Event catering idea #21: Pop-up restaurant
Move away from the traditional food court setup and instead surprise attendees with pop-up food options in unexpected places.
Event catering idea #22: Popcorn bowl bar
Movie popcorn is a sublime treat, but artificial butter flavoring is not the only topping that's delicious on popped corn. Also notable: nutritional yeast, parmesan cheese, sesame oil, kale flakes, and, of course, caramel.
Event catering idea #23: Rolled ice cream parlor
The frozen dessert originally from Southeast Asia is also sometimes called "stir-fried ice cream." Think delicious gelato, flattened on a sheet and then rolled into a vertical cylinder. Add toppings, stick a spoon in it, and bam! You've got yourself a delicious — and highly Instagrammable — festival treat.
Event catering idea #24: Shave ice
Traditionally a Hawaiian treat, shave ice has made its way stateside, replacing our outdated ideas of snow cones with healthier and more exotic topping options from lychee to tiger's blood.
Event catering idea #25: Skewers
An ideal grab-and-go food, skewers consist of anything on a stick, including grilled meat, veggies, and fruits. They work well for events because they can be prepped ahead of time, stacked, and offered as a self-serve option to attendees.
Event catering idea #26: Smoothie bowl bar
These beautiful breakfast bowls typically consist of a mix of fruits, veggies, oats, yogurt, and "superfoods" like acai, chia, and hemp. One-fifth of the people Eventbrite surveyed have never tried a smoothie bowl, but sure would like to.
Event catering idea #27: Tapas
Our survey showed that half (50%) of Americans prefer to eat small bites to large sit-down meals at an event. And tapas are an economical approach to catering.
Event catering idea #28: Unicorn food
Technically speaking, unicorns aren't real. But that doesn't stop unicorn food from being a legit food category, even according to the New York Times, which defines it as "any food item jazzed up with dye or cute accessories like fruit cut into little shapes or mountains of pastel marshmallows."
Event catering idea #29: Vegan options
Plant-based diets are getting a lot of play lately, as a focus on healthy eating and environmentally sustainable practices ramps up. Whether you go "full-metal vegan" or simply offer a tempeh Reuben option at your sandwich bar, honoring your vegan contingent is a nice way to say "we get it."
Event catering idea #30: Zero-proof cocktails
With healthy the big buzz in food, everyone's jazzed about booze-free cocktails. Hire a mixologist to set up a non-alcoholic specialty bar, and your attendees can experience the joys of revelry without hangovers.
Innovative catering ideas will make your event menu stand out. For more on the foodie movement and how it impacts your events, download the free ebook New Data: How Foodies Are Changing the Rules for Food at Events.