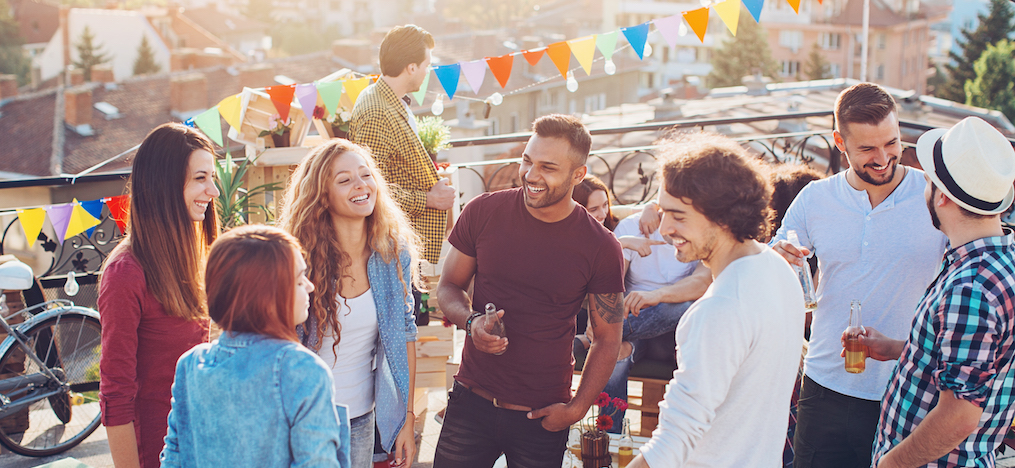 All You Need to Know to Host a Stellar Canada Day Celebration
While we're still cleaning up sequins and tinsel from celebrating the new year, love is already in the air for Valentine's Day. With time continuing to fly at mach speed, that means summer holidays are right around the corner. Americans may think they wear the national pride crown because of the Fourth of July — but here in Canada, we take it a step further.
That's right. It's Canada day. With so many uniquely-Canadian events happening at once, it can be difficult to attract event goers from the white-and-red parade to your salmon festival or citizenship celebration all while warming up your vocal cords to sing "O Canada."
If you're planning to host your own party, make sure you don't miss a detail with this expert party planning GANTT chart. Just download, customize, and you're ready to make your party the talk of the town.
Want to dive a little deeper? Check out these seven steps to stand out among the lineup and snag revelers.
Step 1: Come up with a stand-out format
People are always going to be excited to celebrate Canada's birthday, but they also want to have a great time. You need to come up with a fun, unique event format that will help you stand out in a crowd. BBQs are tried-and-true Canada Day events, but what about adding some local flavor by putting on a battle of the bands to entertain guests? By inviting your neighborhood to take part, your Canada Day event will truly feel like a celebration of Canadian culture and not just an excuse for a party.
Need inspiration? Start with these 77 event ideas and formats.
Step 2: Create a realistic budget
Whether you're starting from scratch or launching off of last year's budget, it's imperative to put a rough budget in place as soon as possible, so you know how much money you have to work with. A budget will keep your costs in perspective and help you get more for your money. Just remember to keep little money set aside for the unpredictable — Canadians may be a resilient bunch, but having some cash set aside for emergency weather gear may help your Canada Day event from getting washed out (literally).
Remember: Put in even the smallest expenses, and keep the budget updated at least every week. Things like flyers, food, and decorations can add up fast.
Not sure where to start? Download this budget template.
Step 3: Find event sponsors who will add value
Sponsors add an extra layer of value to your events — especially when your budget may not be what you wish.
To secure the most lucrative sponsors (who are also the best brand fit) you need to do a little legwork. And remember: Canada Day is all about celebrating Canadian culture. Local businesses and brands are your best bet, especially if they work in tandem with your event theme, like reaching out to a local outdoor supply store to sponsor your Canada Day charity hike.  
Here are some basic steps to follow as you start reaching out:
Draft an elevator pitch: Write two to three lines about the type of Canada Day event you're organizing, the value to a potential sponsor, and a request for a short meeting. Practice delivering this pitch if you meet a prospect in person.

Connect with prospects: As you approach potential sponsors, your goal is to get a meeting — not close a deal immediately. Connect with sponsors by attending events, interacting on social media, reaching out on LinkedIn, or sending emails.

Follow up kindly: Decision makers are busy, so it's not a "no" if you haven't heard back. Show respect for their time by keeping it brief and to the point. Reiterate your value statement and ask to meet.

Meet and listen: Bring your data, but don't overwhelm by presenting everything. Instead, ask sponsors how they measure success and cherry-pick the information that's relevant to them. Most importantly, take notes about what they want to customize your proposal.
Want more in-depth guidance? Check out our 2019 guide to sponsorship.
Step 4: Pinpoint a target audience
For your Canada Day event to succeed, you need to get it in front of the right people, at the right time — which means having a clear understanding of your target audience. Nighttime events like concerts and boat shows will appeal to a younger crowd with disposable income, while daytime parties or parades will attract families. There is always some crossover — fireworks shows enjoy multigenerational appeal  — but identifying your target audience will keep you from wasting money advertising your Canada Day bar crawl to disinterested parents.
Not sure about your target audience? Follow the exercises in this workbook to get started.
Step 6: Find a venue that will add value to your event
Finding the right space can take a bit of time. Even if you have a venue you've worked with in the past, it's worth it to shop around. A non-traditional space can inspire on-the-fence attendees to commit, but even a tried-and-true space can be utilized to attract event-goers. For example, if you're a local bar that hosts events year-round, you could play up the history of your building or neighborhood to attract event-goers to your Canada Day event.
Outdoor events are massively popular on Canada Day, so while you may save some budget by avoiding an indoor rental, don't forget that outdoor spaces need a lot of preparation, too. Proper waste disposal is essential to any outdoor event, as is making sure there is easy access to water and restrooms.
Before you sign that dotted line for your venue, take a look through this checklist.
Step 7: Market your Canada Day event aggressively
To sell out your Canada Day event, you need a solid advertising and promotion strategy. The essential elements of a modern, cost-effective marketing strategy are:
Email marketing: Start sending emails as soon as you know your event's on-sale date. Reach out to past attendees first. If this is the first time you have hosted a Canada Day event, share the announcement with your mailing list to start generating excitement.
Social media advertising: Use social media advertising on Facebook, Twitter, and Instagram. These ads allow you to target potential attendees based on their location, demographic information, and areas of interest. Sell tickets directly on these platforms as well to drive sales with less drop-off.
Search engine optimization (SEO): People are searching for activities to do on Canada Day. Using SEO to achieve higher search ranking increases your odds of converting those browsers to buyers.
Not sure where to start with your ad copy? Check out these 51 social ad templates from the experts at ToneDen.
Get your event out there
Ready to start selling tickets to your Canada Day event? Sign in or sign up for Eventbrite today.