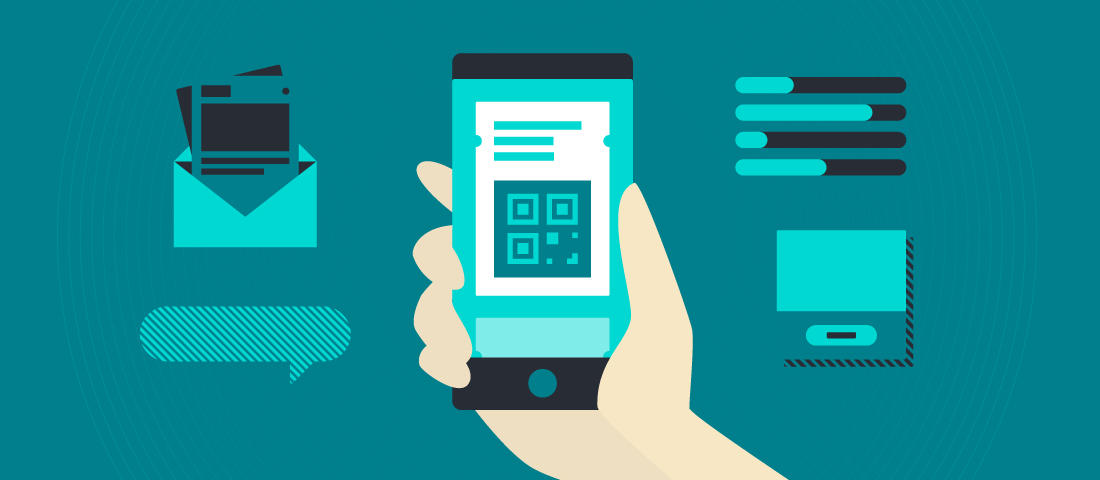 Using APIs to Grow Your Event
The accelerating pace of technology has revolutionized the way we plan, promote, and run events. But while new and exciting event apps can take your event to new heights, too many of them lead to diminishing returns.
On average, event organizers use anywhere between 11 to 16 different applications to plan and promote their events. Manually transferring data between them can be costly and time consuming.
App integration tools (like Zapier) can connect hundreds of different applications so they work together. But what do you do when your event technology doesn't already integrate with your favorite tech tool? Or what if you need a solution that doesn't exist yet, and want to build your own?
Say hello to APIs.
What does an API do?
APIs (or Application Programming Interface) are, in the simplest of terms, what allow different apps to work with one another.
To explain how they do this, we're going to need an analogy.
If you bought a bunch of LEGO bricks today and brought them home, you can rest assured that they'll work with the LEGO bricks you had when you were a child. That's because LEGOs universally connect via interlocking studs and holes. This allows bricks to be combined into works of art.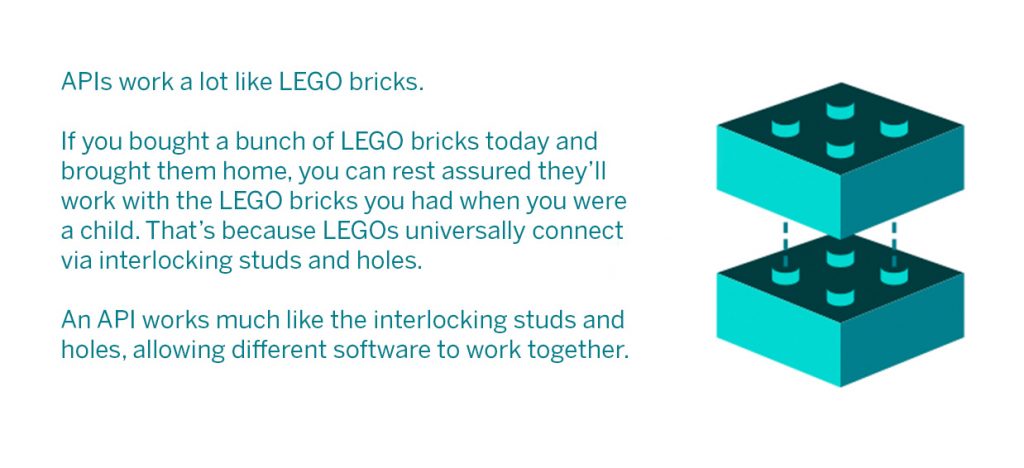 In the above analogy, each LEGO brick represents a piece of software. The interlocking studs and holes that allow LEGO bricks manufactured in 1958 to work with bricks available today is like an API.
Using APIs with your event technology
Now that you have a basic understanding of how APIs let different apps work together, let's talk about ways they can help you grow your event. Here are two examples for how you can take advantage of your ticketing and registration provider's API. Let these inspire you and guide brainstorms with your developer team.
Create complex event reports. When your event uses dozens of different apps to operate, it can be painfully difficult — not to mention time consuming — to combine the insights they provide and get a complete picture of your event.
Let's say you're monitoring email performance on MailChimp and website traffic on Google Analytics. Together with your ticketing and registration provider's API, you can integrate the data into a single report using data visualization software like Tableau.
When you have this holistic view of your event, you'll can make smarter, more timely decisions for your event.
Get special notifications. Events are stressful. A steadfast way to reduce your anxiety is to stay on top of ticket sales and registrations. But when you're constantly on the go, your mind on a million and one other priorities, it's time consuming to constantly check how sales are doing. If your ticketing or registration partner doesn't have a mobile app to keep you in the loop, then things get even harder.
An API allows you to develop a software program that sends you a text message if your event missed its sales quota. That way, no matter how many things you're juggling, you'll know when it's time to make a crucial decision in a more timely manner.
Need more inspiration for using an API to grow your event? Check out this post and learn how one venue built a solution to streamline their food and beverage operation.
No developers? No problem!
If you don't have a team of developers at your disposal and need to create a custom app for your event, you're in luck. Services like Upwork can connect you with skilled, professional computer programmers and coders to help bring your vision to life.
Take Advantage of APIs
If your event ticketing or registration partner has an open API, you'll be able to seamlessly connect your event apps to any number of leading business technology platforms.
From customer-relationship management software like Salesforce to email marketing platforms like MailChimp, each offer more than the sum of their features. Each specialize in delivering the best-of-breed solution to millions of customers. And as your needs evolve, and as technology advances, you can rest assured that they're investing significant resources to stay ahead of their competition — and keep their promise.
Find out how to take advantage of these innovative, flexible solutions in Future-Proof Tech for Large Scale Events.