Thanksgiving marks the official start of the holiday season. It's also the beginning of the year-end rush. According to research, November is one of the most popular months for hosting charity activities. Nonprofits and other community organizations can raise 50% of their annual funds during the Thanksgiving holiday season. Hosting a Thanksgiving charity event is fruitful for businesses, too — giving back during the holidays helps your brand connect with your community and shows you care.
Many people search for ways to serve their community and do good deeds throughout the season, but popular charities such as soup kitchens and shelters usually have plenty of volunteers. That's why some volunteers are looking for new ways to give back — which is where you come in. As an event organizer, you can fill the gap and offer fresh opportunities for eager volunteers. Thanksgiving charity events are a chance to get creative, embody the holiday spirit, and unify your community.
Ready to start planning? We've created a quick guide on running a Thanksgiving fundraiser event. And to give you some inspiration, we've included 10 Thanksgiving charity event ideas.
Hosting a Thanksgiving charity event in 10 steps
Planning and executing an event during the holidays doesn't have to be overwhelming. At Eventbrite, we know a thing or two about creating an amazing charity event — follow these 10 steps to plan your event.
1. Decide what type of Thanksgiving charity event you'll host
The style of your event lays the foundation for planning and helps you fine-tune the details later. First, think about the purpose of your event and the type of donors you want to attract.
Here are a few factors to consider:
Your cause's demographic: If you're raising money for a local community center, an all-ages event may be more successful than an all-parents fundraiser. If your audience consists of millennials, consider adding a digital element, such as a text-to-donate option.
Your donors' locations: If they are dispersed across the country, it makes sense to hold a virtual event. An online event is also a great option if you want to expand your event's reach and maximize donations.
The weather: Hosting an outdoor event when the weather is clear will draw more attendees; consider your location's climate around this time of year and decide if an indoor or outdoor event would be best.
Tip: Chances are you'll need volunteers regardless of the event. Recruiting and retaining volunteers can be critical for the success of your charity event. To learn more, check out our tips for finding and managing volunteers.
2. Set the date of your event
This time of year can be busy for most people, so you'll want to ensure the date of your event doesn't clash with travel arrangements or Thanksgiving dinner plans. Will you host a few weeks before the holiday? A few days before?
The date will ultimately depend on the event type. For instance, if you're hosting a food drive, it makes sense to host it a week or two before Thanksgiving so you have enough time to deliver the resources. If you're organizing a Friendsgiving dinner, setting the date for the day before or a few days before the holiday is fitting.
3. Determine your event budget
Figuring out the budget for your event is an essential planning element. It lets you know how much you can spend on the event and helps you identify areas where you can save.
If this is your first event, start by estimating the expenses. This includes food and drink, venues, entertainment, decorations, and promotion. It's also wise to have an emergency fund, which can give you some wiggle room in case of unforeseen circumstances or unexpected costs.
Tip: For more budgeting advice, see our guide on mastering your event budget.
4. Decide how you'll collect donations
If you're hosting a resource drive (i.e., supplies, food, clothing), you can have attendees bring their donated goods to the event, but this isn't the only way you can gather donations.
For example, if you're planning a virtual Thanksgiving charity event, you can accept mobile donations. Guests can contribute using their smartphone or tablet, via text-to-give, QR codes, or mobile-friendly donation pages and apps.
Additionally, you can ask attendees and donors to purchase branded merchandise at your event. The funds from their purchases will go towards a worthy cause. Incentivize their purchase by including a special certificate showing how their donation will make a difference. Donors will appreciate having something tangible that shows their commitment to your cause.
You also can have attendees donate at the ticket checkout — keep reading!
5. Create an event schedule
Preparing a schedule ensures that the big day goes as smoothly as possible. Here are a few key steps your team should consider:
Listing out tasks: Having a list of tasks ensures every detail is accounted for and that each team member or volunteer knows their role.
Creating a detailed timeline: After making a list of things you need to complete, schedule each stage of your plan on a timeline or calendar. You'll also want to confirm that every team member has access to this timeline.
Finalize event agenda: Ensure all participants know the schedule and expectations. It also helps to appoint a leader who will serve as a point of contact to answer questions.
Market your event: Make sure everyone knows about your event by using a marketing tool like Eventbrite Boost.
6. Brand your Thanksgiving fundraising event
Fundraising begins with recognition. Branding communicates the purpose of your event and helps draw in attendees and donors. Your branding goes beyond the logo and imagery for your event — it includes assets that make a statement and tell a story.
For instance, before the big day, you can send attendees an inspirational video that explains the purpose of your charity event. This is a great way to deliver your message and communicate your organization's core values. You can even tie in your branding with the theme of your fundraiser.
There are multiple ways to use branding for marketing your fundraising event. Learn more in our post about the importance of branding.
7. Book guests or entertainment
Put the FUN in fundraiser! Make your event memorable with top-notch entertainment. Vet performers that suit your event's theme and demographic. A DJ spinning today's hits probably isn't the best choice for an upscale fundraising gala, just as a pianist isn't going to add to the ambiance of an outdoor Thanksgiving turkey trot.
Also, consider the type of special guests you want to invite. High-profile speakers can bring in a crowd and help deliver your organization's message.
To ensure your entertainment and guests can make your event, we recommend contacting them at least four weeks ahead of time. Once the big day arrives, don't forget to coordinate rehearsals and sound-checks.
8. Prepare to sell tickets to your event
Now it's time to figure out how you'll handle ticket sales and registrations. Eventbrite provides a few ticketing options for fundraising and charity events. First, you can create a donation ticket. This option allows attendees to choose the amount they want to pay instead of a price you set. For this ticket type, service fees are waived, so you'll only be charged a 2.5% credit card processing fee. This means more money will go straight to your cause!
You can also offer free tickets, but this doesn't mean you have to miss out on generating revenue for your fundraiser. Eventbrite's add-on features allow you to sell extras on your event listing, including branded merchandise like t-shirts, mugs, and other products. Proceeds from the sold merch can go to your cause.
9. Focus on promotion
Don't let your hard work go to waste — now is the time to spread the word and attract guests and donors!
The most effective promotional activities involve multiple communication channels. A few ways you can market your event online and off include:
Flyers
Direct mail
Print ads
Your website (optimized for SEO)
Social media
Email
New to digital marketing? Eventbrite Boost makes it easy to jump in and create targeted campaigns. With Boost, you get a set of email and social media marketing tools. You'll also get access to advanced analytics that track performance.
10. Follow up after the event
Don't leave guests hanging after the event — follow up and thank them for their support. Send thank-you notes to everyone involved with your event, including guests, volunteers, sponsors, and staff. Update them on your progress so they know how their contributions made a difference.
Follow-ups are an opportunity to receive feedback on your event, too. This will help you understand your event's success and apply constructive ideas to future fundraisers. Gathering this type of information from your donors ensures that your events will keep improving, which means more funds for your cause.
How will you give back for Thanksgiving?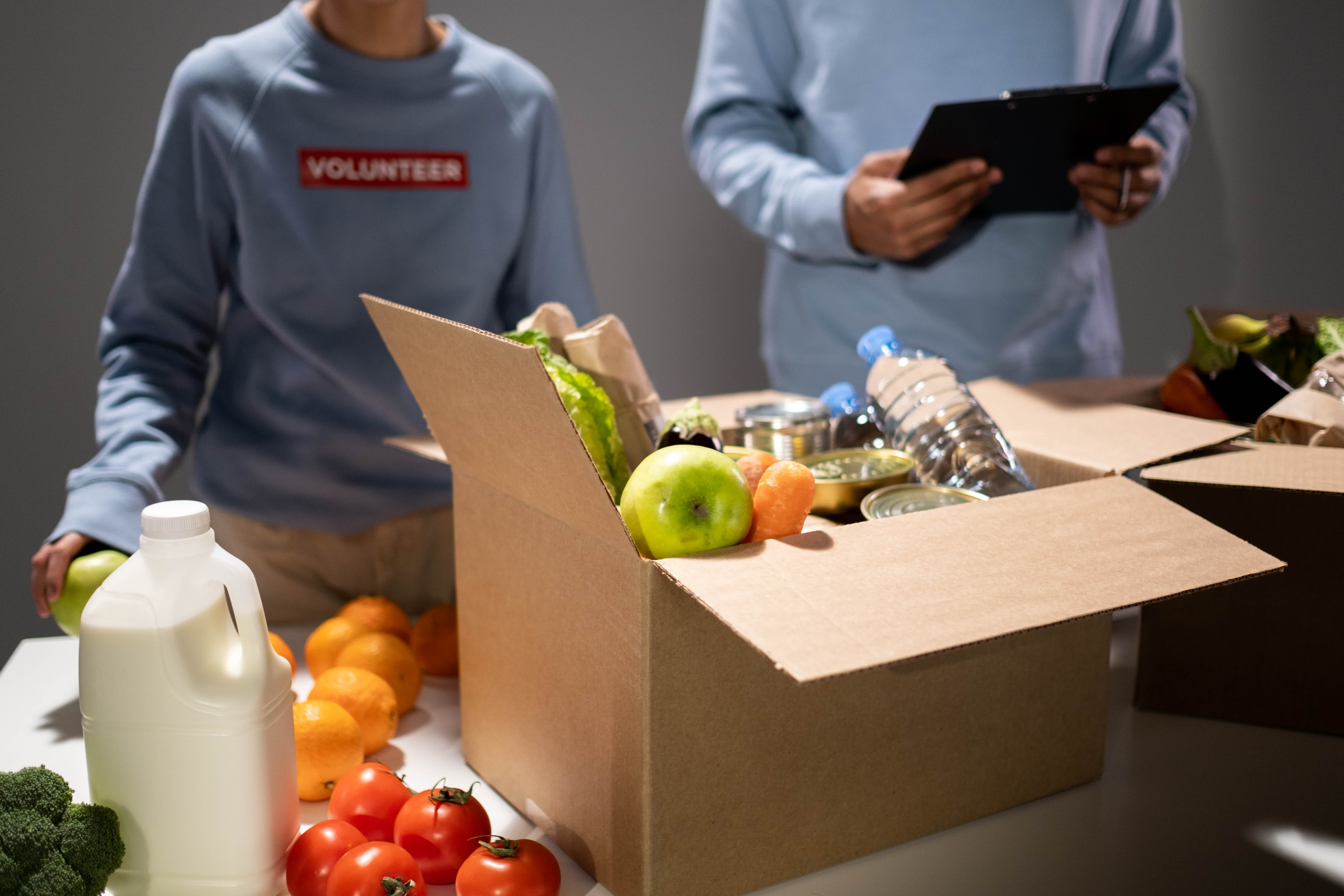 Now that you know the basics of organizing an event that gives back, let's get into some Thanksgiving charity event tactics that will help your event stand out.
1. Partner with a charity that makes sense for your brand
Find a charity that aligns with your brand values and whose mission will speak to your attendees, inspiring them to donate to something they're passionate about supporting (Eventbrite makes it easy to collect money online). Choose a theme that makes sense for the kind of charity you're supporting and still speaks to your organization's identity. This builds authenticity, credibility, and trust, leading to more donations.
Creative Girls Rock hosts an annual Charity Sneaker Ball in Nashville, Tennessee, where attendees are encouraged to wear their black-tie attire with their best pair of sneakers. The proceeds from the event are used "to create additional programming for young girls and women," and the event showcases art, fashion, and music. The event creators work with vendors and sponsors to put on a memorable event that benefits young women in their community.
2. Reimagine your Thanksgiving event as a fundraiser
Even if you're planning an event that isn't focused on fundraising or a Thanksgiving charity, you can still add a charitable component. Announce to potential attendees that you're donating a certain amount of money to a nonprofit organization for every ticket sold, or that you're donating a portion of your profits.
You can also give ticket-buyers the option to add on a donation as they check out. Your organization's generosity can inspire potential attendees to support your chosen charity and help them decide to purchase tickets to your event because of the charitable component.
Koru Yoga Studio in Oakdale, CA, holds donation-based Vinyasa classes on Thanksgiving morning, with proceeds going to the Children's Crisis Center of Stanislaus County. Participants get double peace of mind knowing they're supporting a local organization while they stretch and breathe.
3. Tap into existing volunteer networks
Organize a volunteer event by partnering with an existing organization that supports a local charity. These events are perfect for youth groups or corporate organizations, and there's no need to reinvent or create a volunteer opportunity — they'll likely already have this built-in staffing.
Search local organizations that already have these opportunities and have mastered organizing volunteer events. Look for a local meal service providing Thanksgiving charity meals, a shelter, or a school that needs some extra hands to serve. If you're aiming for something unique, consider an animal shelter, veterans affairs organization, or music venue.
Thanksgiving for Paso Robles hosts a free Thanksgiving community meal for 1,500 people every year. This huge undertaking is entirely organized and executed by volunteers; the preparation takes several days, and about 200 people work 1,200 hours. Without volunteers, events like this wouldn't happen!
4. Find sponsors that matter to you and your guests
Find sponsors who share your event's vision. The right sponsor might become a long-term partner for greater impact in your community while a sponsor who's not a good fit can send the wrong message to your potential attendees. Once you've landed a great sponsor, let potential attendees know; remember, consumers appreciate corporate responsibility.
FoCo Cafe in Fort Collins, Colorado, is providing traditional, locally sourced Thanksgiving lunches on the holiday, and attendees have the opportunity to pay it forward by paying for someone else's meal beforehand. The organization is sponsored by local farms, vendors, and businesses that help them provide sustainable, nourishing meals to their community. Its philosophy is that if you can give more, pay it forward with an extra meal for someone else. If you have less to pay, you can also pay what you're able to and still get a tasty meal. Using local and seasonal ingredients, FoCo does less harm to the Earth while helping people.
How can you find the right sponsor for your event? Here are a few quick tips:
Reach out to local businesses
Contact companies that share the same mission as your organization
Consider brands that have already sponsored similar events
Create sponsorship packages that fit different budgets
5. Make the charity part of the event
If you're planning an event that will benefit a specific charity, include them in the event by donating a booth or a table they can utilize. Make sure they get prominent placement with high foot traffic and lots of hype in your marketing materials. This is an excellent way of giving back without spending lots of money or time. Offer these guests the opportunity to share more about their charity or organization at your event. Prearrange a time limit for them to tell an impactful story that will encourage attendees to support them.
When selling tickets on Eventbrite, you can choose to enable different ticket types, such as VIP tickets. Consider creating ticket tiers that include larger donations for your chosen charity, with the top tier including the greatest donation amount.
6. Offer discounted tickets for your Thanksgiving charity events
Use discount codes to give ticket-buyers a deal on your event. You could offer discounted tickets to a specific set of people, like seniors or those buying in bulk.
Or you could let anyone use the code during a particular time window (bonus: these limited-time offers can create urgency and increase your sales). As a creator on Eventbrite, you can also use discount codes to easily navigate guests' tickets and determine which are charity recipients.
Providing discounted tickets expands your audience and ensures more people can attend your event.
7. Consider a virtual event
If an in-person event doesn't make sense for you this year or you want to reach a wider audience, consider taking your Thanksgiving charity events online. There are many ways to create an engaging, virtual fundraising event. Plan a Thanksgiving-themed cooking class, trivia night, or a virtual concert so attendees don't have to leave their homes to attend. If you're hosting a crafting or cooking event, don't forget to send the materials before the event or provide attendees with a list of the ingredients or tools they need.
Chef Faith Brown hosted a virtual cooking class teaching attendees how to cook vegan macaroni and cheese and peach cobbler before their Thanksgiving events. In honor of the holiday, 15% of the proceeds were donated to the Feeding America charity. You can take a page from Chef Faith Brown and donate ticket proceeds to a worthy cause, or you can create a donation ticket (as we've described earlier in the ten steps for hosting a Thanksgiving charity event).
8. Give thanks to the Earth at your event
Say thanks to Mother Nature by creating as little waste as possible, using recyclable or compostable materials, and going paper-free when you can.
The Ecology Center in Berkeley, California, hosts a class on creating a sustainable Thanksgiving from start to finish, educating the community on how to be less wasteful during the holidays. Chef Alison Mountford teaches attendees about zero-waste cooking, responsible food storage, using up leftovers, and managing stress levels, whether they're hosting a party themselves or attending as guests.
Ready to plan a Thanksgiving fundraiser?
With so many volunteers looking for ways to give back during the holidays, it's a great time to host a charity- or service-focused event. A soup kitchen or community center offers people the opportunity to show gratitude during the holiday season, but this isn't an option for some. Many organizations may have to turn away eager volunteers — but that's where you come in. As an event creator, you can offer new ways to engage your community and embody the spirit of gratitude. You can do that with the help of Eventbrite.
Ready to plan a Thanksgiving give-back event? Sell more tickets and secure more donations for your event with our nonprofit ticketing software.