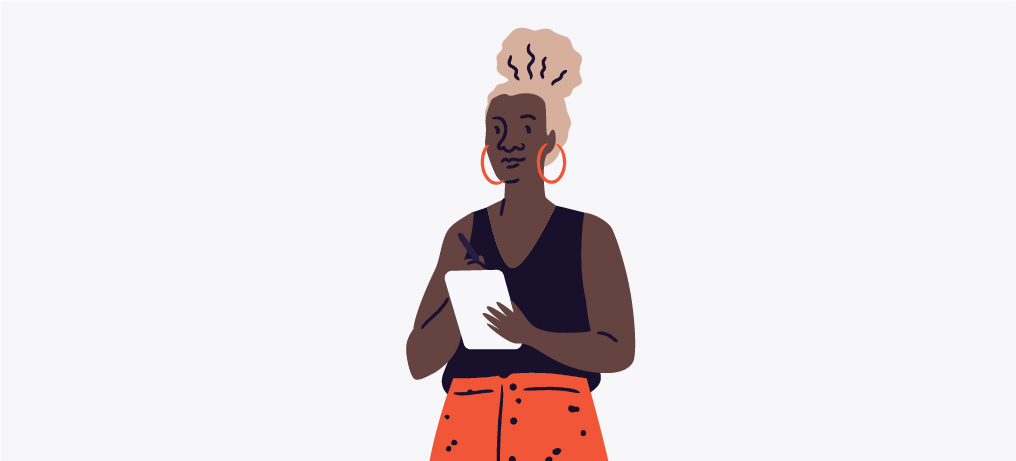 30 Tips and Tricks for Hosting a Successful Online Event
Virtual events have quickly become the norm — and for good reason. Not only can you host them from anywhere in the world, but they can save you money, increase engagement with your audience and potential customers, generate leads, build your brand, and help you establish yourself or your clients as industry leaders.
What is a virtual event, exactly?
It may seem obvious, but an online event is any kind of event you host…online. This includes webinars, demos, masterclasses, Q+As, panels, and interviews with celebrities or industry leaders. On a bigger scale, it can include virtual trade shows, conferences, and company-wide gatherings.
Online events are great because they often give the audience direct access to the speaker(s). This builds trust with attendees and boosts your industry cred as a thought leader.
From strategy to planning, marketing, hosting, and presenting, follow these 30 essential tips and tricks to help you create an incredible virtual event.
Virtual Event Strategy
Understand Your Audience
Before you plan anything, answer the following questions: 
Who will be attending? 

What challenges and problems are they facing?

What are their goals?
Understanding who your attendees are, what they're struggling with, and what they want will create a strong foundation for a successful virtual event.
Be Consistent with Visual Branding
It's important to align your online event's materials with your brand's aesthetic. You might be thinking of your online events as separate from everything else you do — don't make that mistake! 
Use the same logo, colors, fonts, and other graphics or elements that match your brand's overall style. By doing so, you'll create a consistent experience for your attendees, and you'll make your brand more recognizable too. 
Think Mobile
Many of your attendees may attend your event on their phones, so it's important to optimize for mobile experience when creating your materials. 
If you're using slides, keep the text on each slide to a minimum, and increase the font size so it's readable from a pocket-sized screen. Select a platform that supports mobile devices with their interactive features, so attendees can chime in no matter where they are. 
Monetize, If Possible 
In-person events may have come to a halt, but that doesn't mean you don't bring the same value online. If it fits your online strategy, see where you can raise money, opt for donation tickets, or charge a small fee for a curated experience. 
If you decide to, you should look for a ticketing partner or payment processor that makes it easy to track who has paid so you can gate your event accordingly. Even if it's free, you may still want to consider allowing donations, or requesting people register for a spot so it's easier to communicate with attendees, track registrations, and more.
Virtual Event Planning
Get Help
Sure, you've got the smarts to create a virtual event by yourself, but do you really want to? With so many moving parts and different strategies to consider, it's worth dedicating time to research and asking peers what has and hasn't worked for them. Carve out time to attend virtual events and take actionable notes to reflect back on when it's your turn to be in the driver's seat. 
If you have access to a team, find out who is the most tech-savvy and ask for their assistance. They can help you troubleshoot and moderate attendee interactions while you're focused on what you do best – presenting. If you don't have access to a team, picking the right platform is critical. 
Pick a Stellar Topic
When choosing your topic, it's important to remember that content is king. Your attendees are showing up to learn something, so prioritize what you believe they'll find most interesting (see tip #1). 
Stay away from going too broad or vague, and hone in on one specific area. For example, if you're targeting dog-lovers and want to showcase your knowledge, don't just pick "dogs" as your topic. Instead, zoom in on one breed you're particularly knowledgeable about. Then, break down your knowledge about that breed into smaller pieces that may not be well-known. This will help you stay focused and keep your audience interested. 
Choose Your Format
Once you know your topic, it's time to plan the virtual format you're going to use. Test out the formats you're drawn to — or even try out a combination — until you find the one that's most successful with your audience and easiest for you to implement 
Here are some popular formats:
Single Presenter:

One presenter shares their insights or tips.

Dual Presenters:

Two presenters can help inform and engage the audience from two different perspectives. 

Panel:

Host a group of experts speaking on a specific topic.

Q&A:

Q&A is a great way to maximize attendees' engagement. An expert, or panel of experts, answers the questions your audience asks via social media or chat. 

Interview:

Host a popular influencer as a guest speaker to increase attendance and build your own authority. 

Product Demo:

If you're promoting a product, the product demonstration or tutorial format can be a great way to showcase what you're selling. 

AMA:

If you want to take the social route, host an "Ask Me Anything" to give your followers an opportunity to get to know you and your brand more personally
Find a Great Speaker
If you're hosting an online event with speakers, make sure they have the right experience to talk about the topic you've chosen. Your speakers should hold some authority and credibility on the topic. 
Do your research on possible speakers to see how they do in a public speaking context. That way, you can vouch for their abilities as a presenter. 
Pick a Time and Date 
When picking a time and date, think about the day-to-day activities of your audience. If you're appealing to the 9-to-5 crowd, Monday is probably not going to work. But later in the week, when they're needing a mental break from their workload? Much better. 
Keep time zones in mind, too. If you're based on the East Coast, starting an online event at 9am will most likely be too early for attendees on the West Coast.
Choose the Right Platform
When researching the right platform to use for your event, look at the pros and cons of each. Ask yourself the following: 
Is it in your budget? 

Does it have the features you need? (Recordings and surveys are good features to look for.) 

How many attendees are able to join? 

Are the

resources you need

to be successful available? (A robust knowledge base or access to a customer success manager are worth considering)
Platform options include:
Zoom

GoTo

Adobe Connect

Google Hangouts

ON24

Webex
Test Your Tech
Once you've picked your platform, set up a test. Try out every feature you want to use during your event and record a clip. 
Get a second opinion on your sound, video quality, backdrop, and anything else that will optimize your event to be the best it can be.
Do a Dry Run
Before the day of the presentation, schedule a dry run and act as if  the real thing.
Make sure all the equipment is working properly, the slides are all in order, and the speakers know what they're doing, so you don't run into any surprises on the day of your event.
This is also a great time to assess for noise. Check out your space to see if there are any potential distracting sounds, mute notifications for apps running on your computer, and make sure kids and pets can't access your space while you're hosting.
Document Your Process
If you want to streamline your event in the future, documenting your process is a great way to do it. 
Track your dates, topics, and speakers in an editorial calendar so you know what's happening and when. Also, make a to-do list that includes every task you do, at every stage. Getting organized will make it that much easier to duplicate what works and tweak your process to perfection.  
Virtual Event Marketing
Create a Landing Page
Depending on the type of event you're creating and who you're marketing to, you might consider creating a landing page. You can use it to get your attendees to register and provide the who, what, when and where of your event in a digital format that's easy to share.
A landing page is an opportunity to get your audience excited about your event, so make sure to include juicy details on what they'll learn.
Write a Blog Post and Share on Social Media
Write a blog post to promote your event in advance. You can write a few paragraphs on what led you to create your event, why it's relevant to your audience right now, and what they'll learn. 
Then, share your blog post on social media to boost attendance. Remember to use hashtags — or create a branded hashtag of your own, which can work well for attendees to ask questions or post their own content on social media during your event. This increases your audience's engagement and expands your brand's reach. 
Use Email to Promote Your Event 
If you have an email list, promote your event to your subscribers. Make sure to send email reminders to attendees who have already registered. You can email them a "thank you for registering" email, and then send a reminder email one or two days before the event, as well as one an hour before it starts. 
You can also use email after your event to ask attendees for feedback that can be used to improve your next virtual event.
Virtual Event Hosting
Start on Time
Showing up late to a meeting is never a good look – even virtually!Your entire presenting team should be ready 10-15 minutes before it's time to go live. If your event is an hour long, block your calendar for an hour and a half so you have plenty of time to prepare and close down. To save on time, make sure you set the attendee's microphone default to mute, and ask your audience to limit interactions until the end of the presentation, if necessary. 
Hook Them In the First 15 Seconds
The first few seconds of your event determine whether attendees will keep watching, or tune out and go somewhere else. So, tell them exactly what they're going to learn, summarize the problems you'll solve for them, and tease them with something particularly exciting that you're saving until the very end.
Set the tone by welcoming people by name and saying hello. Practice saying the bios of your speakers out loud before your event, so you can introduce them smoothly. 
Prep Q&A Questions
It's a smart idea to have a list of prepared questions ready, just in case the audience isn't as engaged as you expected. If you have a highly engaged audience and run out of time before you're able to respond to everyone, take the time to follow-up with them via email. This is a great way to further strengthen your connection with attendees well after your event has ended.
Find Your Zen 
As with live events, no matter how much you plan, some things are out of your control. Glitches are bound to happen, whether it's your WiFi, your laptop, or the software you're using. So prepare yourself for them in advance and you won't have a meltdown on screen in front of your audience. And, don't give up! We're human and sometimes you can spin mistakes in your favor. Deal with whatever happens in stride and remember that the show must go on.
Virtual Event Presenting 
Write an Awesome Script
A good script can make or break your event. Treat your script like your road map that will keep you on the right track. You don't have to memorize every word you say, but at least have a solid set of bullet points you can constantly refer to.
Practice, Practice, Practice 
Practice makes perfect, and that goes for online events, too. Just because you have a script doesn't mean you have to (or should) read your script out loud word for word. Try practicing it to sound like you're naturally speaking off the cuff. If you have any acting experience, now is the ideal time to put it to use. By speaking naturally, even if you're "pretending", you can express your message in a way that an audience can hear. 
Build Visually Interesting Slides
It's easy to want to cram as much into every slide as will fit. Don't make this mistake. To keep your audience engaged (not yawning), put emphasis on the visuals in your presentation, not the words. Instead, use a recap email to highlight important text.
Look through free photo websites like Unsplash and Pexels for gorgeous photos that can illustrate your points. 
You can also try out different media formats, for example, videos, animations, or PDFs to keep your event entertaining. 
Create Interactive Moments
Plan specific moments in your event that invite your audience to participate, and they'll feel like they're more involved in what's happening. 
Make a pop quiz, ask for their answers on a poll, and generally be conversational as you go through your content. Most online event platforms have interactive tools like a chat box, where attendees can ask questions and share their answers to any questions you pose.
Sell While You Teach
If you're selling a product or service, don't wait until the very end to make your offer. In fact, your entire event can be focused on teaching your audience what it is they should want. 
Then, when you make an offer, you are offering them the exact thing that they just learned they needed. 
Make a Call to Action
Don't let your attendees sign off without telling them what step they can take next. If you want them to sign up for a limited-time offer or download a special report, provide them with the links in your event, and send it in your follow-up email, too. 
If you do offer something, make sure that it:
Is straight-forward and easy to buy

Is a great deal that saves them time or money

Is something they can't get anywhere else

Is only available to them during your event or for a limited time after (24-72 hours)
Post-Event Follow-up
Crowdsource Your Next Topic
If you want to keep your attendees coming to your events, hand over the reins and let them vote on what your next event should be about. Ask them on social media, through a poll, or before your current event is even done running. 
This strategy makes it more likely for attendees to return and saves you from having to come up with topics alone.
Send a Survey
If you're dying to know how your event went over with your attendees, there's only one way to find out. Ask them. 
With tools like Google Forms or SurveyMonkey, you can ask your attendees to share their raves and rants with a quick survey. Their feedback can provide invaluable insights into how and what to improve. 
Send Out More Content
The conversation doesn't have to end when you close your computer. Send everyone on your attendee list more content, even the ones who didn't show up or who left half-way through. You can repurpose the content you created for your event into a blog post recap, or just share the link to the video recording.
Track Your Results
Last but not least, remember to track your metrics. How many attendees registered? Where did your registrations mostly come from? How many attended? And how many minutes did they spend watching your event?
Getting your data and analyzing it is key to making your online events even more awesome. 
Summary
Virtual events are a fun, effective way to reach people all over the world. Creating an online event takes strategic thinking, proper planning, and marketing chops, but with these tips, you'll be well on your way to success. 
Ready to create your next online event? Get started on Eventbrite today.