Save time and money with Eventbrite Boost
If you're an event creator who promotes events, you've probably heard of Facebook Ads Manager. Even if digital marketing is your full-time gig, Ads Manager is challenging. If you're an event creator wearing many hats, you could easily go down an Ads Manager wormhole, only to reduce the effectiveness of your campaigns.
Meet Eventbrite Boost. It's the only marketing platform built specifically for event creators that works with Facebook Ads to save you time and money, ensuring your most optimized marketing experience. Scale your advertising efforts and make life easier, not harder. Plus, creators who used Facebook/Instagram Ads sold on average 3x more tickets per event*. Here's what you get with Eventbrite Boost's toolbox for Facebook & Instagram Ads:
Easier Campaign Setup
Our strategy templates make it simpler to run a high-performing ad campaign for your event in no time. Based on your objective, Eventbrite Boost will automatically tailor the campaign creation process to your needs.
Without Eventbrite Boost, a single ad campaign can take up to 50 minutes to complete. With Eventbrite Boost, the average ad campaign is created in under 10 minutes.
Audience Targeting
Based on your objective and data, Eventbrite Boost will automatically create the best targeting audiences for your ad campaign, increasing your chances of success and driving conversions. Advertise to past attendees or find new audiences that look similar to those that have purchased from you in the past with a click of a button and put your events in front of thousands of new people likely to attend.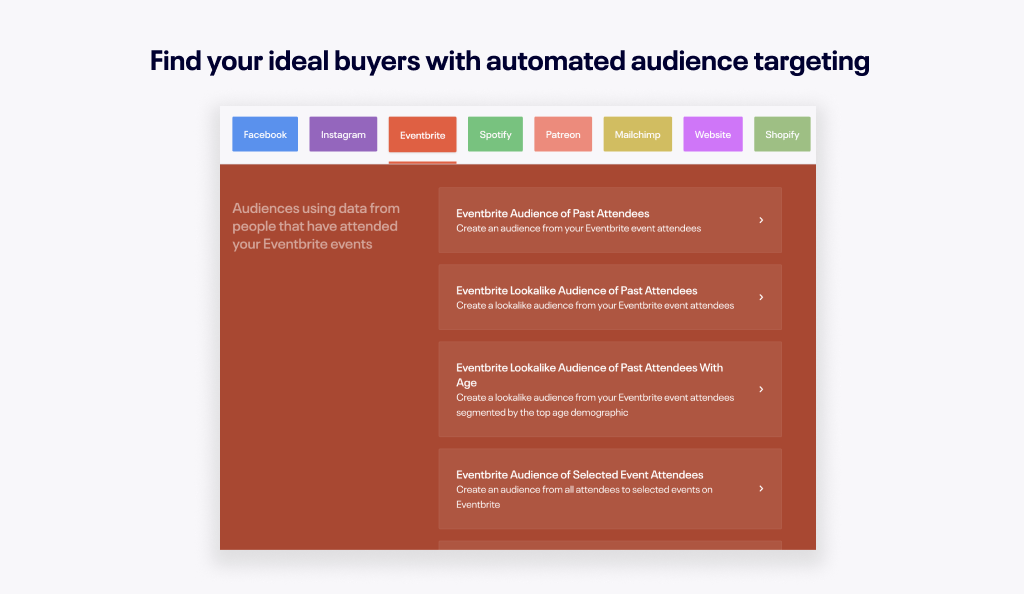 Creative A/B Testing
Instead of trying to figure out which combinations of images and text are most persuasive, Eventbrite Boost creates ads with every possible combination of creatives. As soon as we see which ads are performing best, we'll put your money on the proven winners (and take the dollars out of the ads that are lagging). From the Newsfeed to Stories placement, rest easy knowing that your marketing dollars are being spent on what's performing best at all times. On Ads Manager, you have to manually create your ads and monitor them constantly to try to determine which variables (i.e., copy, creative, etc.) are moving the needle. 
"I was desperately looking for solutions to ease that burden of running so many ads for so many different events." — Learn how Eliot Goodwin, Founder of American Outdoor School, promotes 500+ events with Boost. Read it here. 
Automated Budget Optimization
Set it and forget it. Once your campaign is live, Eventbrite Boost monitors your campaign's performance around the clock. Our system shifts spending to target audiences where conversions are happening so you're never wasting money on poorly performing ads. This will maximize your ad spend and take your marketing dollars even further.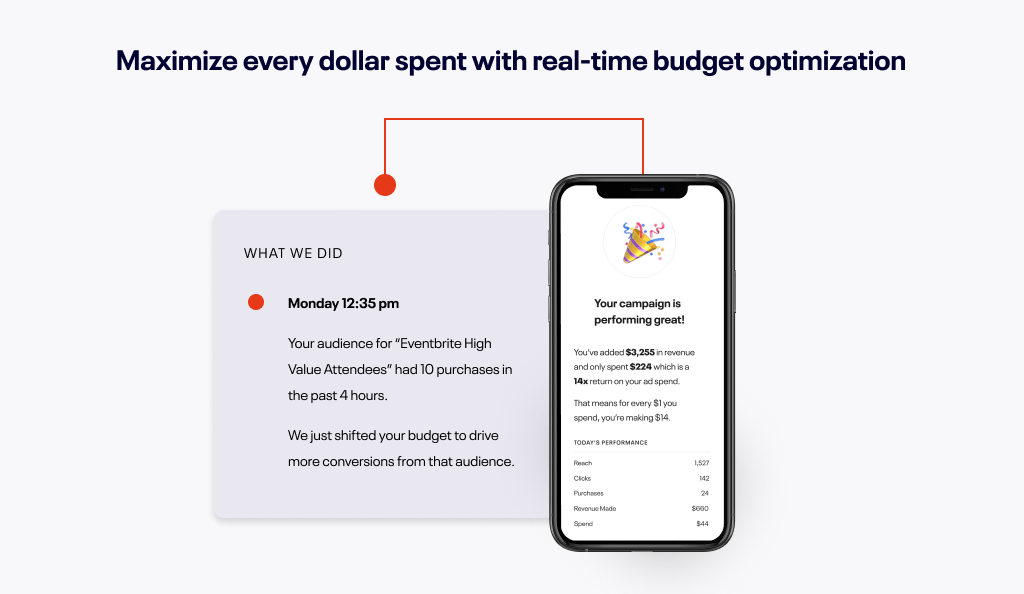 Clear, Readable Reporting
Better understand how your campaigns are performing without analyzing hundreds of rows of data. Eventbrite Boost's interface is straightforward, showcasing only the numbers that matter to you most.
Personalized campaign recommendations for event marketing
Running the right kind of ad campaign at the right time can make or break your marketing dollars. Eventbrite Boost uses insights from your events and others to recommend the right campaign at the right time.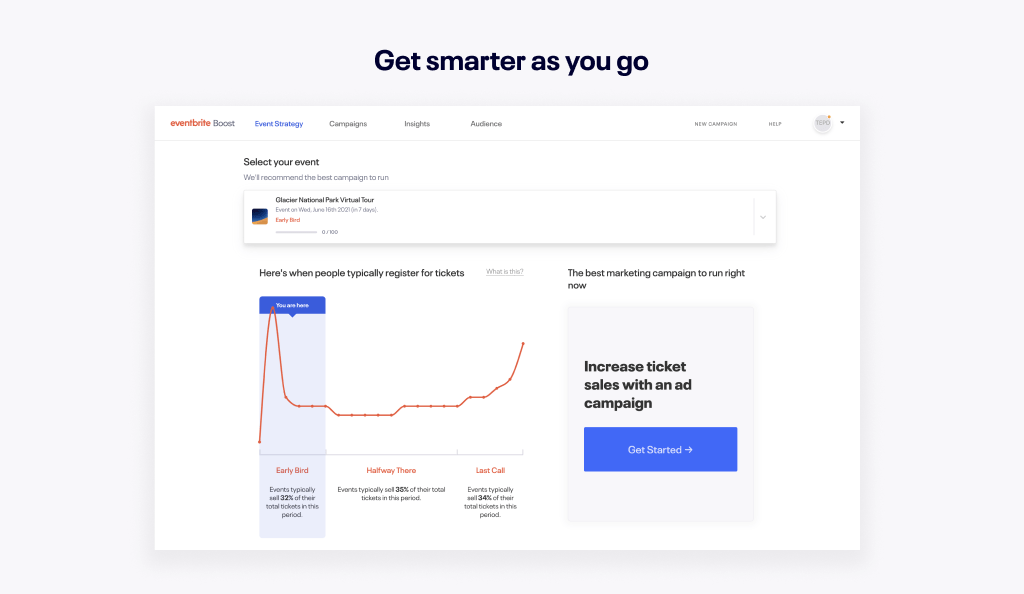 Creating events should be your focus. With Eventbrite Boost, digital marketing strategy just got simpler. 
 *Eventbrite data 5/1/2022 – 12/1/2022 comparing events promoted with Eventbrite Boost with any event that was not promoted with the same tool.