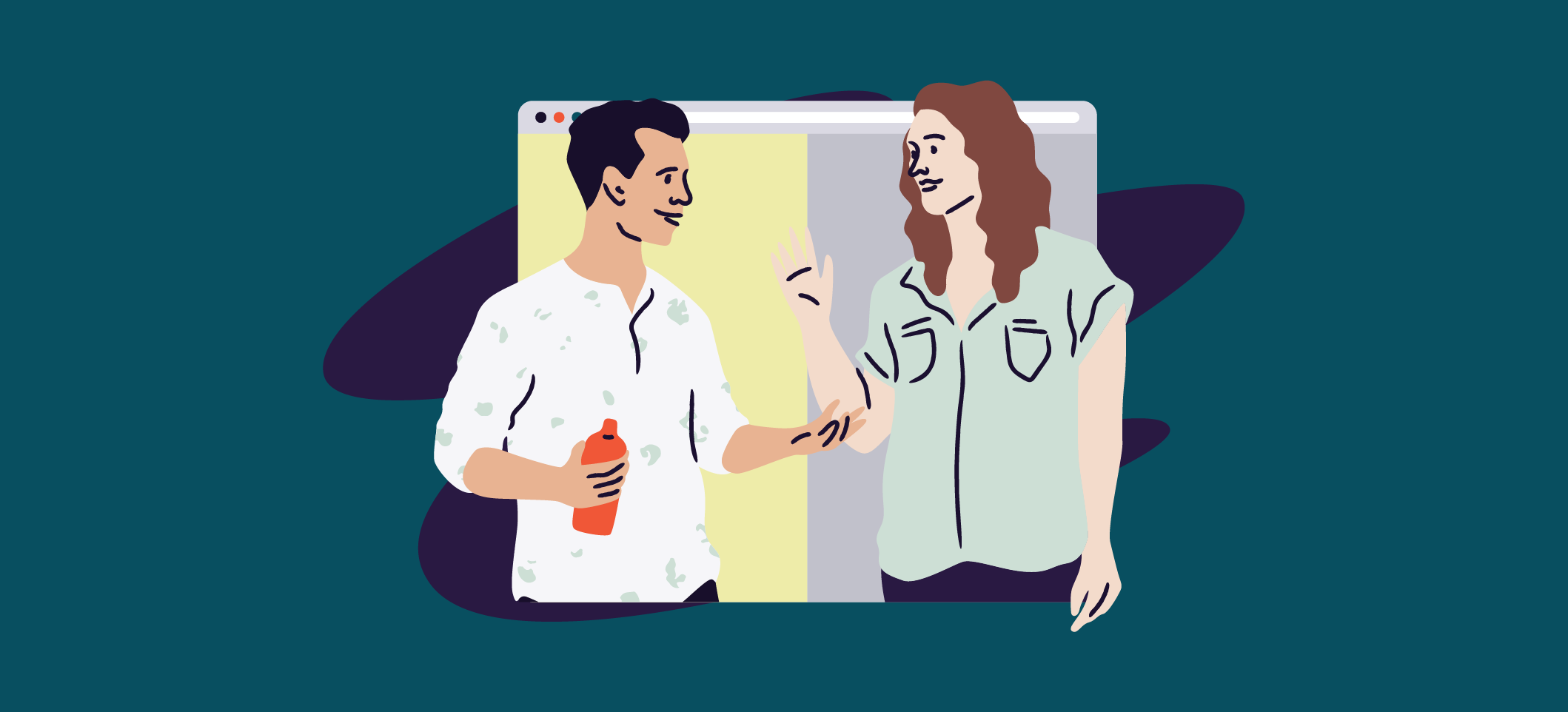 One Year in Quarantine: How the Pandemic Has Shifted the Way We Gather
It's been a year since the pandemic upended life as we knew it, creating a new normal that forced us to put space between one another. But even as lockdowns rippled across the globe and social distancing became a fact of life, people still felt a deeply human urge to congregate and connect. Eventbrite creators found a way to facilitate that connection, even with six feet between many of us: In 2020, more than 4.6 million events were hosted on the platform, with more than 230 million tickets issued overall. On Eventbrite, about 330,000 creators published their first event ever during this turbulent time.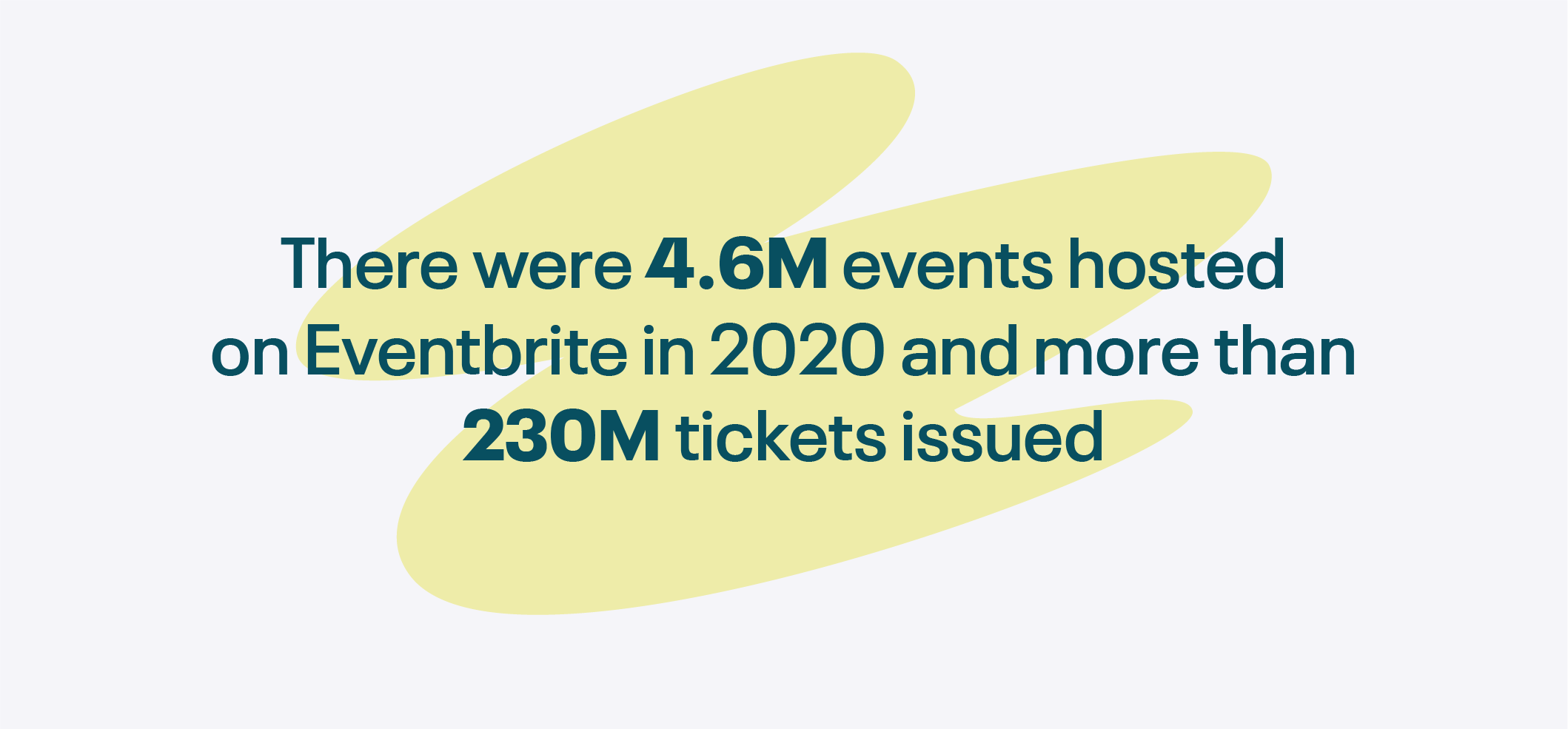 It's clear that even when apart, many of us found ways to be together. But how? For the answer, Eventbrite dug into nearly a year's worth of data. Our findings show that even when the deck was stacked against them, Eventbrite creators managed to get, well, creative.
Re-inventing the internet
It's likely not a huge surprise to many that virtual gatherings loomed large in 2020. Over the course of the year, Eventbrite creators hosted more than 1.3 million online events, accounting for over 20 times the number of virtual gatherings from a year before. These listings included everything from rock concerts and standup comedy shows to Minecraft parties and dance festivals.
Going online, it turned out, had some unexpected benefits. Last September, Live Talks Los Angeles founder and producer Ted Habte-Gabr told us that although the pandemic shuttered venues' physical doors, it gave online creators more opportunities to book high-end talent without the burden of ponying up cash for flights and accommodations. "Before the pandemic, if I'm booking somebody, I'd be limited to pairing them with someone from LA, but now I can think more widely," Habte-Gabr said. In the last year, he's managed to book a huge variety of guests from across the country, including chef Marcus Samuelsson, actress Priyanka Chopra Jonas, author Seth Godin, and director Judd Apatow. "In some sense, it creates a lot more interesting opportunities," he said.
Vito Rinaldo, a 73-year-old retired teacher, also discovered new and interesting opportunities when he decided to channel his love of live music into helping struggling musicians (and music fans) get through the pandemic. Last May, he used Zoom and Eventbrite to create TOF Productions and its entirely virtual music venue, the Tree. Unlike most music live streams, which Rinaldo finds "totally one-directional," concerts at The Tree put guests front and center — literally. Those who turn their camera on find themselves part of a virtual crowd, able to applaud after songs and chat with other guests. 
The Tree attendees showed that they were willing to pay for experience, between $10 for admission and for $20 for a VIP experience that might include an intimate pre-show meet-and-greet and exclusive performances. More attendees were willing to pay for online offerings than ever before, proving that, even when they weren't in person, people were willing to contribute to the experience economy. 
"We're trying to simulate every aspect of what the real music world is like," Rinaldo told us in October. "It's as close as we can get to that symbiotic relationship that artists and their audiences have — how they feed off of each. That takes shows to a higher and higher level, and right from the first show, we knew that was happening." 
Jaclyn Rosenberg, a cofounder of coworking space SocietyX, also strived to help others make connections during the pandemic. When the pandemic took in-person gatherings off the table, Rosenberg pivoted SocietyX's offerings online. Through online workshops, classics, meetups, happy hours, and more, Rosenberg was able to reimagine her company as a virtual society where members can share their skills, whether through online photography classes or at-home herbalism webinars. In some ways, the connections forged online were stronger than they otherwise might have been. This was perhaps most true during the first quarter of the pandemic, during which half of all Eventbrite's total events occurred. People were hungry for connection, and it showed.
"The internet has been a place where we've always been able to connect with people, but we were never forced to seek them out unless we wanted to," Rosenberg told us last year. The pandemic "opened the door for people to connect from all over the world, and they don't have to leave home to do that."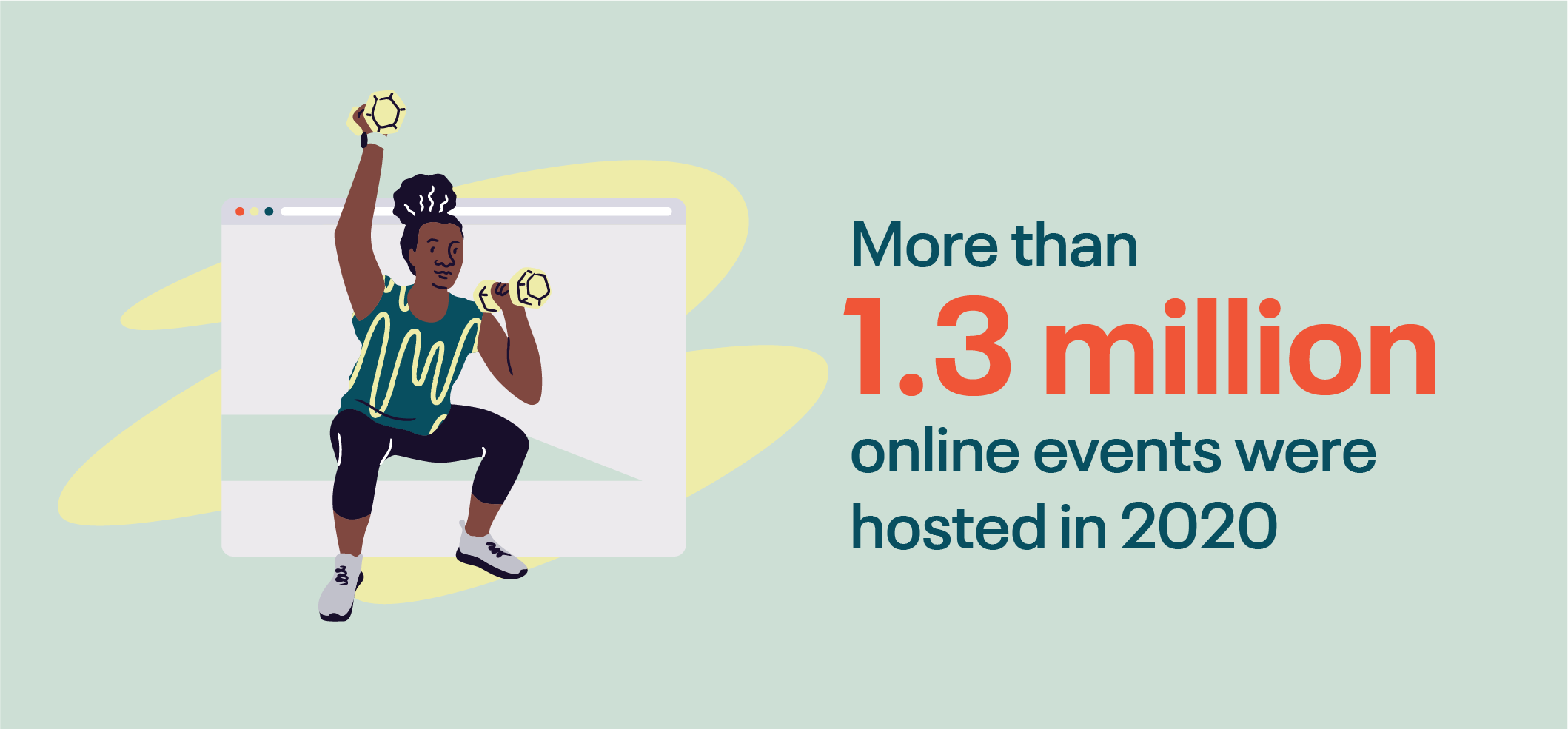 Branching out into new territory
Before the pandemic, few might have predicted the epic comeback of the drive-thru. After all, in October of 2019, only 305 of the 4,000 drive-in movie theaters that once littered the U.S. were still in business. And yet, the data proves that stranger things have happened. In 2020, Eventbrite creators hosted more than 1,000 drive-in events, almost ten times as many as during the same periods in both 2019 and 2018. They also turned the retro drive-in experience on its head, inventing new formats like the drive-in church service, the drive-in comedy show, and even the drive-in fitness class. 
One success story belongs to Colorado jam band The Magic Beans, which transformed its annual music festival into a two-day drive-in extravaganza Beanstalk: At the Drive-In! Guitarist Scott Hachey told Eventbrite that the band was 20 minutes away from cancelling the whole thing before thinking to call local drive-in venues. Soon, they found The Holiday Twin Drive-in in Fort Collins. "The Colorado vibe is important for us, and we were scared of moving it into a parking lot, but the location was beautiful," Hachey told us. "It was a unique experience. You're tailgating in the lot, and then all of the sudden the show comes to you."
The reimagining of the drive-thru — in a sense, an entirely new event category — speaks to the ways in which people thought outside the box in 2020. That openness is perhaps, too, why certain genres are seeing more traction: Last year, the number of events categorized "Religion & Spirituality" increased 5 times, and those labeled "Sports & Fitness" increased 1.5 times. Attraction-style happenings — a.k.a. events like Beanstalk — also proved wildly popular, increasing nearly 2.5 times.
Perhaps sensing that attendees are more open to different types of experiences, in 2020 creators also leaned into the hybrid event, a.k.a. in-person experiences that are live-streamed to virtual attendees. Tito Soto, a San Francisco-based producer and drag performer, found remarkable success with this model in October. At "Princess and Skyhigh Odditorium's Halloween Drive-In" — a drive-in variety show featuring performances by drag queens and kings, aerial acrobats, and DJs — in-person attendees watched from their cars and enjoyed audio beamed into their AM/FM radios. Virtual guest watched the whole thing go down via a live Twitch stream.
Soto treated both the online and in-person portions of his event as equally important experiences, each with their own benefits — something that's proved key to the success of hybrid events. "A live-streamed experience is a real experience and you need to make sure people can see it, make sure that the stream goes up, make sure that people can get in, answer questions if people have them," says Vivian Chaves, who handles community marketing at Eventbrite.
For other creators, elevating at-home experiences last year meant mailing attendees a little something special. Enter the "mail-in" event, for which attendees are shipped a kit with goodies to enhance the overall event experience. It's proved key to tasting-style online gatherings like those hosted by Murray's Cheese, which ships a quarter pound of four different cheeses and four accoutrements — jam, chocolate, dried fruit, or crackers — to as many as 80 cheese enthusiasts per class. The rise of events with mail-in components suggests that giving attendees a physical takeaway helps virtual events to feel more real and grounded.
Looking into the future
Few would argue that the last year was anything but difficult, but the story of 2020 is also one of resilience. On average, creators who published events during the pandemic were more prolific — publishing more events, more often — than creators the year before. Events per creator nearly doubled from the fourth quarter of 2019 to the fourth quarter of 2020. Though creators faced unprecedented challenges, they also rose to meet them, and in the process gained skills and knowledge.
It's easy to see how challenging times inspired creators to innovate in new and exciting ways in 2020 and beyond. Even as in-person experiences return and the world eases back into pre-pandemic patterns, the ability to reach new audiences virtually and build ever-more loyal followings will likely remain important tools in creators' arsenal. With good news about the pandemic on the horizon and with the ingenuity we saw throughout 2020, creators are poised for success in 2021. The resiliency, grit, and innovation shown by Eventbrite creators in 2020 was truly an inspiration, and we are eager to see what develops in the coming year.