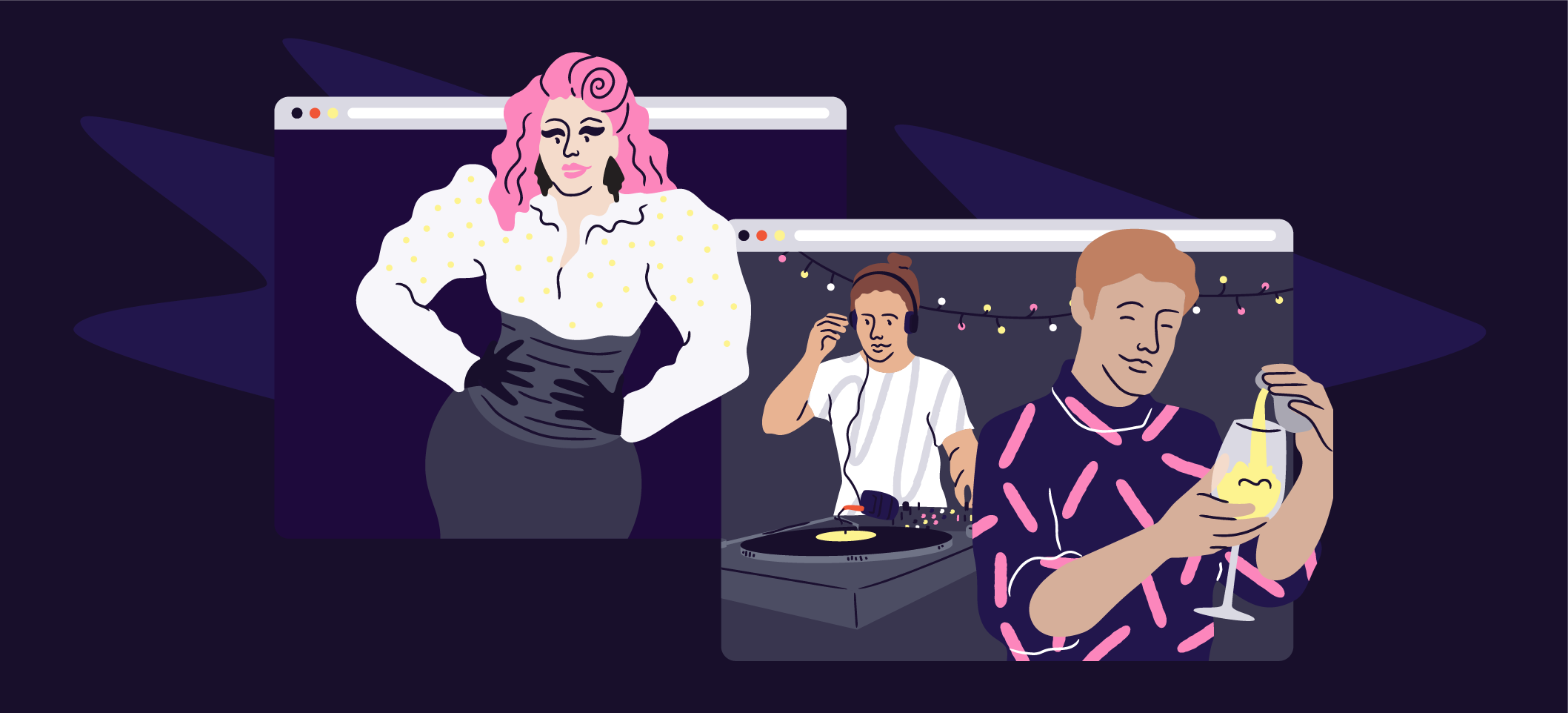 Hybrid Events: An Accessible Way to Reach More Attendees
It's official: Online events are here to stay. Event-goers are more likely than ever to purchase a ticket to a virtual experience. When it's safe to gather again, many event organizers may opt to take a hybrid approach — an in-person experience that's also livestreamed to virtual attendees — to reach wider audiences and make their events more accessible.
Here are two who attempted a hybrid event last fall, and their tips for doing it right if you consider this approach in the future — and what to avoid.
Get creative with hybrid events
When Tito Soto saw his friends in the San Francisco drag community losing work due to the pandemic, he knew he needed to take action fast.
"We've had to get creative and find virtual ways to make money and still be able to entertain," says Soto, a producer and performer in the San Francisco drag show "Princess."
"After a lovely visit to a drive-in double feature, and many months of watching digital drag shows, I felt a huge need to produce a live drag event that could also be safe for performers and guests."
"Princess and Skyhigh Odditorium's Halloween Drive-In" was a whimsical mishmash of circus antics and drag bravado, featuring drag queens and kings, aerial acrobats, and DJs. During Halloween weekend, attendees watched the entire spectacle from their cars via a large projection screen at the parking lot of Traverse Fitness in Richmond, California, and had the audio beamed into their AM/FM radios. Those who couldn't make it in person streamed the whole thing live via Twitch.
But even for an event planning pro such as Soto, pulling off a hybrid show during COVID-19 is no easy feat. If you're thinking about producing a similar event, these are the tips you should consider.
Familiarize yourself with the most current guidelines
The ever-changing nature of the pandemic has made planning a challenge for event producers. What could've worked three months ago might not necessarily be relevant now as COVID-19 is still a risk. "I think the key is in understanding where we're at with the pandemic and what's safe for people at the moment these events happen," says Soto, who teamed up with fellow drag performer Drago Nesa of Bay Area circus company Skyhigh Odditorium. For their event, the duo had to follow a specific set of guidelines from the city of Richmond for drive-in events on private property, which included stipulations such as no food or drink sales. 
Navigating COVID-19 guidelines can be tricky, prompting some event producers to lean on venues to handle logistics. Vivian Chaves, who handles community marketing at Eventbrite, not only had to deal with COVID-19 but the ravaging wildfires that engulfed the state of California for her socially distanced burlesque-inspired dance performance. She says working with Richmond, California's Armistice Brewing Company was tremendously helpful. "One thing I would highly recommend for events with both online and in-person components is to partner with a venue, as they will often know the covid regulations," she says. Chaves sold roughly 25 tickets for her outdoor show at the brewery to maintain social distancing, and she says that Eventbrite's platform allowed her to message attendees and group people together by pods
Treat the livestream and in-person components as two separate experiences
One more thing you can try is to think of livestreaming as a whole separate experience from the in-person show, says Chaves, who enlisted outside help to manage online logistics and equipment for her show that was streamed to Zoom.
"A livestreamed experience is a real experience and you need to make sure people can see it, make sure that the stream goes up, make sure that people can get in, answer questions if people have them," she says.
"If you're producing the in-person experience, you can't do both." We recommend using a production agency such as Elevated Stream to help with the virtual aspect of hybrid events.
Consider charging a premium for in-person event tickets
There's no silver-bullet answer to how much you should charge for in-person and livestream tickets. However, Chaves notes that she felt confident in her decision to charge more for in-person tickets now than she would have before the pandemic, given the effort and rarity of hosting in-person shows right now.
"I've found in my personal experience that attendees are a lot more comfortable with a higher ticket price than they have been in the past," she says. "Because they're not going to as many experiences, and they were genuinely excited to support the effort and the artists, we were able to charge a lot more for our in-person show."
Diversify your revenue stream with hybrid events
There are many hybrid event benefits, including easily diversifying your revenue stream by offering your event to a wider audience. That's the approach Soto took for his drag celebration, charging a suggested door fee online. "Unfortunately producing an event of this caliber gets expensive really quick. Luckily, we have a great community that is well connected and contributed a lot to its success," he says.
Chaves is considering adding suggested donations as part of her next hybrid event. She says having flexible pricing points prevents those who can't afford a standard ticket from being excluded.
"All of us event producers are scared to do it wrong," says Chaves. "The thing is that nobody knows what they're doing right now."