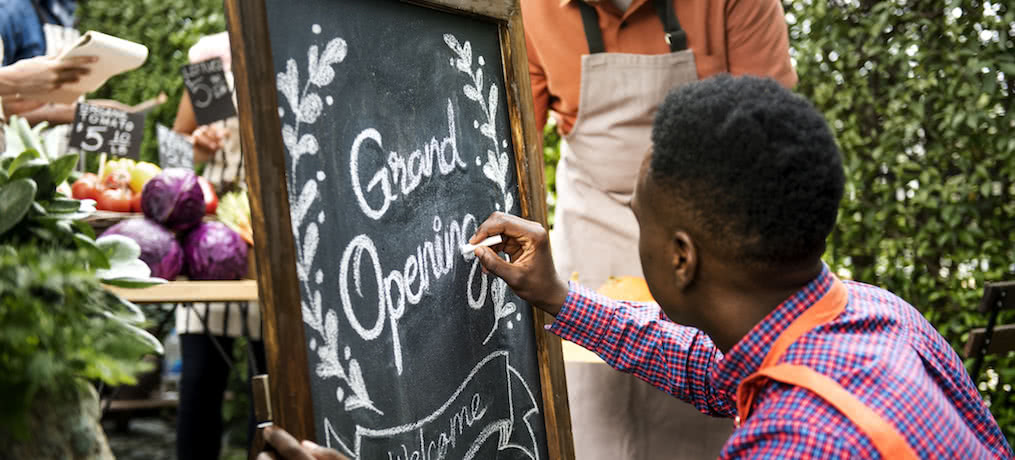 Retail Grand Opening Ideas: Craft an Event Customers Won't Forget
When your new store is ready to launch, it's essential to make a splash in your community. You've already invested a lot of time, money, and effort, so you want to go the extra mile and make sure the people around you know what your new store has to offer. And that means coming up with some
retail grand opening ideas
.
The retail space is perhaps more challenging now than ever, with many shoppers limiting their public excursions, big brand stores dominating malls and shopping centers, and the continued rise of online shopping. Sharp eyes, nonetheless, may have noticed a gap in the market: local stores that can respond to their community's needs more quickly and more thoroughly than a big box store or an online retailer. In this competitive environment, it's key to attract attention to yourself, and few things can draw your community's attention quite like a store launch.
Planning a grand opening
means more than simply stringing a banner over your entrance. To do the event right, you'll need some
unique grand opening ideas
that can grab people's attention. Knowing
how to plan a grand opening celebration
might not be your biggest strength — after all, you're in retail, not event planning. So we've put together an inspirational list of
retail event ideas
to get you started. Let's check it out.
Zero in on your goals, then
shop grand opening ideas
A
grand opening
isn't just any event. Your business goals should be specific. For instance, you might be looking to:
Create awareness around your brand. This is your first big marketing effort, and you can only do it once. So, sure, a big banner with your brand painted on it works to help people find your store once they reach the neighborhood. Even better is brainstorming some

grand opening decoration ideas

that will complement your banner. And don't forget to

explore how social media can be used

to bring awareness to your store.

Get people excited about your business. 

Beyond awareness, you want to create an authentic connection with your local community. You might not be the first store of your kind in town, and your

grand opening

is the event that can differentiate your business. Depending on the size of your parking lot, consider including a bounce house — they can help attract attention and send a signal that you're a family-friendly store, so they can be an excellent choice for toy stores. For sporting or outdoor goods stores, try renting an outdoor rock-climbing wall. Food-oriented events like cheese tastings or chili cookoffs can be a fun way to grab attention, too, and work exceptionally well for selling home goods.

Build relationships with the community. Your

grand opening

event can kick off your relationships not just with customers but with business partners and vendors you'll interact with over the years to come. Get these relationships off on the right foot by inviting them to a

grand opening

party that will genuinely excite them. Nothing builds relationships quite like helping to promote their businesses alongside yours. Communities tend to do best when everyone's doing well, and your store is no different. You'll appreciate it when the favor is returned, too.
Eventbrite can help you achieve these goals, from building your presence online to connecting with your community. With your business goals in mind, it's time to brainstorm
grand opening
ideas.
Grand opening
ideas for retail stores that stand out
Every successful launch starts with a great idea. And while one idea might be great for one kind of store, it's important to realize that
boutique grand opening ideas
will be different from
club launch ideas
, and those will differ from
showroom launch ideas
. The kind of retail business you are launching should play a key role in the kind of
grand opening
you ultimately host.
Here are six
store grand opening ideas
to make your launch an affair to remember.
1. Break a record or create a publicity stunt.
Did you know that Guinness World Records has a strategic Business Solutions team? These experienced marketing pros can help your store break a record at your
grand opening
party. Attention-getting stunts are an effective
grand opening
idea, generating PR. It's even better if the stunt matches thematically with your store's focus — athletic achievements for sporting goods retailers, for example.
2. Bring a past decade to life.
Tap into event-goers' happy memories of the past by hosting a decade-themed
grand opening
event. You might not be able to book a famous artist, but cover bands that harken back to a specific musical era can draw a surprisingly large crowd. Encourage costumes, incorporate
grand opening
decorations and serve food and drinks typical of the decade to extend the theme.
3. Dress it up.
It doesn't have to be October for people to want to dress up. Inspire attendees with a thematic costume challenge. If you're opening a store devoted to luxury items, for instance, a Great Gatsby party makes for a
great time an
d allows your visitors to take social-media-worthy photos. Turn it into a hybrid event by streaming it to virtual attendees, who can dress up at home and sip cocktails for their own social media sharing, or simply watch all the fun from a distance — and look for your store when they're next in town.
4. Support a cause.
Is there a charity that's closely aligned with your business's theme or goals? Is there a local cause you could support?
Fundraisers
, 
sponsorships
, and simple donations are all great ways to establish your brand as charitable and attract a generous crowd. If you're supporting a cause at your event, highlight the charity or cause in your
grand opening
announcement to help bring your community together in a thoughtful way.
5. Showcase your brand at a pop-up.
A 
pop-up grand opening
 instantly showcases your brand to a large crowd. Connect with other business owners to host a pop-up event in a public space where locals can check out different local businesses, including yours. Host your event on Eventbrite and you can create multi-tiered tickets for sale at various price points — offer a VIP experience and customers will be happy to spend extra. This event design can be 
especially effective for retailers
 looking to showcase their product line.
6. Take part in a local fair or festival.
Secure a booth at a local fair or festival and host an off-site
grand opening
event that connects you with a large potential customer base. Feel free to get creative and check out how one 
virtual fair
 allowed event-goers to connect with businesses from around the world.
Your
grand opening marketing plan
Marketing a
grand opening
event is slightly different than promoting other events because your brand or space is new. That means you might not have an existing audience to market to. These 
30 creative event promotion ideas
 can offer some inspiration as you develop a marketing plan.
To reach new people, you'll need to adopt some specific tactics.
Use social media. 

Get the most

out of

the 

social media pages

 you've already set up. While we all know that tagging posts at local hot spots with popular hashtags can help users who aren't yet following you to see your posts, we may not all know the newest trends. The major social media platforms constantly launch new tools, so be sure you're familiar with them. Twitter, for example, can let you go live and share live videos with your followers.

Make a Facebook Event. Create a 

Facebook Event

 from your Facebook Business Page, so your

grand opening

event will come up for all users who conduct a relevant event search. Facebooks Events are also easy for followers to share with their networks, so word of your event can spread exponentially rather quickly.

Engage in creative ways. 

Social media gives you plenty of opportunities to engage with your followers and promote your event. Offer sneak peeks of the event using Facebook or Instagram stories, detailing the event planning and day-of prep. Go live on these platforms to engage in real-time with followers to preview your

grand opening

event and answer any questions they may have.

Reach out with Eventbrite Boost. 

Use 

Eventbrite Boost

 to create ads, gain followers, improve social media engagement, and launch contests for increased reach. It's a powerful tool that makes it easy to reach new people and build your brand, even as it saves you time.
Once you gather email addresses in the registration process and at your event itself, you'll be able to send attendees marketing updates. Consider emailing them post-event with a discount and links to follow you on social media.
Once your
grand opening event planning checklist
is complete, keep the momentum going
With a full range of tools like professional listings, online streaming, data-driven metrics, and Eventbrite Boost, Eventbrite makes it easy for you to spread the word to your neighbors about your new retail store. Then after the smashing success of your
grand opening
, remember that an opening is just the start. Keep everyone engaged by staying in touch with your community and integrating your store into the middle of it.