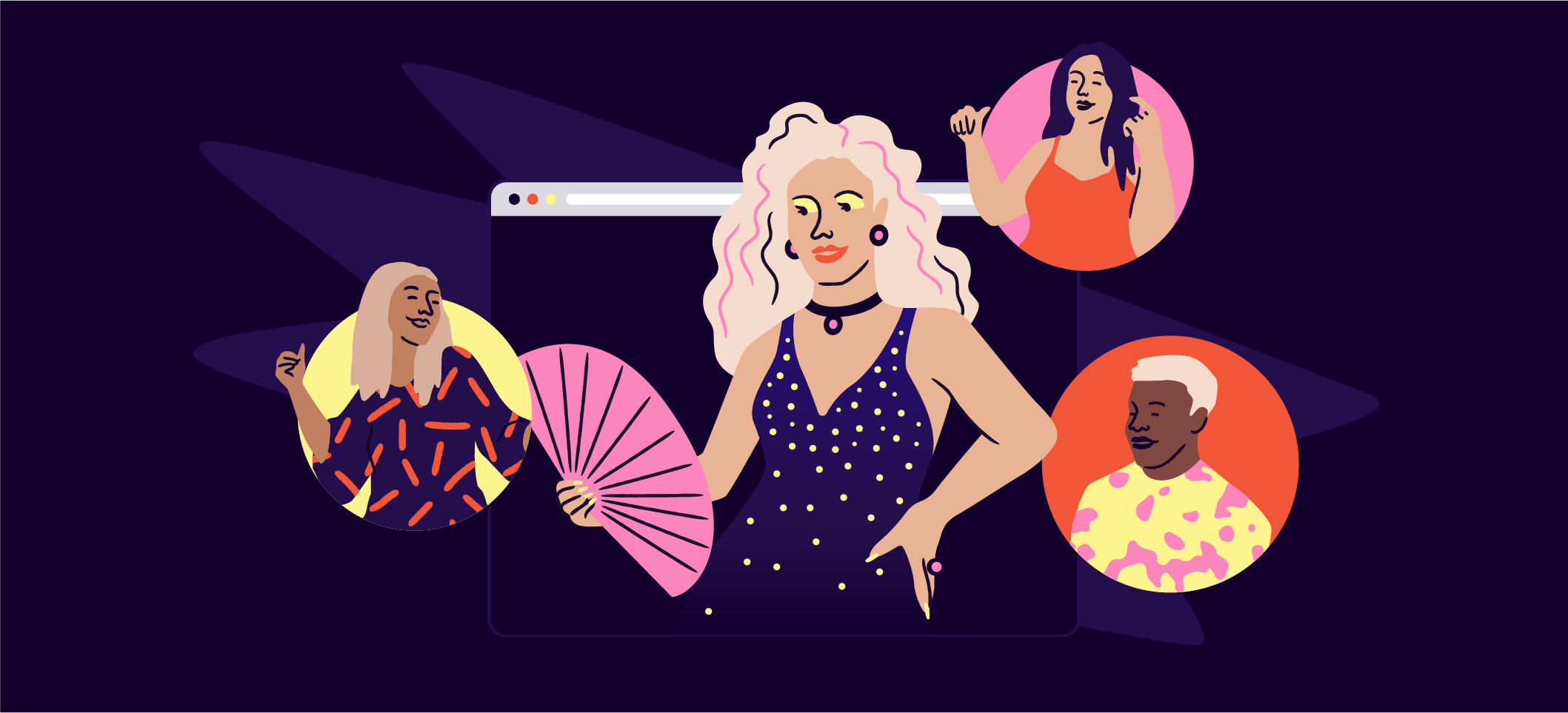 The Drag Community Keeps Slaying It Online
From over-the-top make-up tutorials on YouTube to live-streamed drag shows on Instagram,  the drag community has been werking its online presence long before the age of quarantines and COVID-19. If there's a silver lining to the current pandemic, it's that web-savvy queens are expanding their online presence, often picking up cash as bars and venues remain closed — and entertaining the rest of us cooped-up folk in the process.
Legendary San Francisco queen Juanita MORE! is heartened by what she's seeing online. "We're seeing a lot of people go live and a lot of people share recorded stuff that they're producing in their own apartments," she said. "And I think that's super exciting—it's forcing a lot of drag queens to be more creative in different ways."
Irish queen Dylan Jordan, who lives in Dublin, has always done online tutorials and uploaded her performances, but now she's gotten into the digital event space with an Eventbrite make-up masterclass that happened in early April. In the class, she taught everything from how to glue down your eyebrows to dabbing on a dramatic eye. "It's just an extension to what I have been doing already," Jordan explained, describing herself as a "bedroom queen" who doesn't do many in-person gigs. "This isn't foreign to me!"
The current crisis has led drag show promoter Alex Sanchez to completely rethink his performances. His latest event, aptly named Sickening Drag Event, broadcast pre-recorded performances on an online streaming service. The marquee featured a list of dazzling performers, which included RuPaul's Drag Race alums like Gia Gunn, Laganja Estranja, The Vixen, Trinity K. Boney, and Yuhua Hamasaki. Viewers were encouraged to donate $10 a pop through services like PayPal and Venmo, which will go to struggling performers in the community. Performers' donation handles will be broadcast on screen so that they can be tipped directly, just like an in-person drag show.
"Just about every drag queen I know is a part of at least one digital drag show," Sanchez said. "Some of these entertainers have appeared on TV shows like RuPaul's Drag Race and The Boulet Brothers' Dragula, but most are small town/local drag performers."
"Nightlife workers are just completely out of work," added Juanita. "There are people that I know that work in nightlife that literally live day-to-day. It's not paycheck-to-paycheck. It's cash tip to the next cash tip." That's why she's helped form the San Francisco Bay Area Queer Nightlife Fund, which is raising money to give back to local nightlife community, "from the barback and bartender to the lighting person to the drag queen."
Pivoting events online has the potential to keep revenue streams open for hurting drag queens, although the medium has both pluses and minuses. "In person, you can see peoples' reactions and you can feel the energy in the room," said Jordan. "It gives you a sense of what to bounce off of in a momentum kind of way." But online, there are other things a performer can work with. "I feel you get a closer connection with people online that you can follow up with and keep the conversation going," she continued. "I find [that] doesn't happen as often in a real-life experience."
This period of transition is not without its lighter moments. "I'm looking at it as a viewer and having to learn how to experience it in a new way," mused Juanita. "I get tons and tons of messages like, 'Oh, my God, so-and-so is live! Oh, they just dropped the camera! They don't have the light on their face! The music went out!'" she said. "It's a whole new experience for both sides. It's super real."