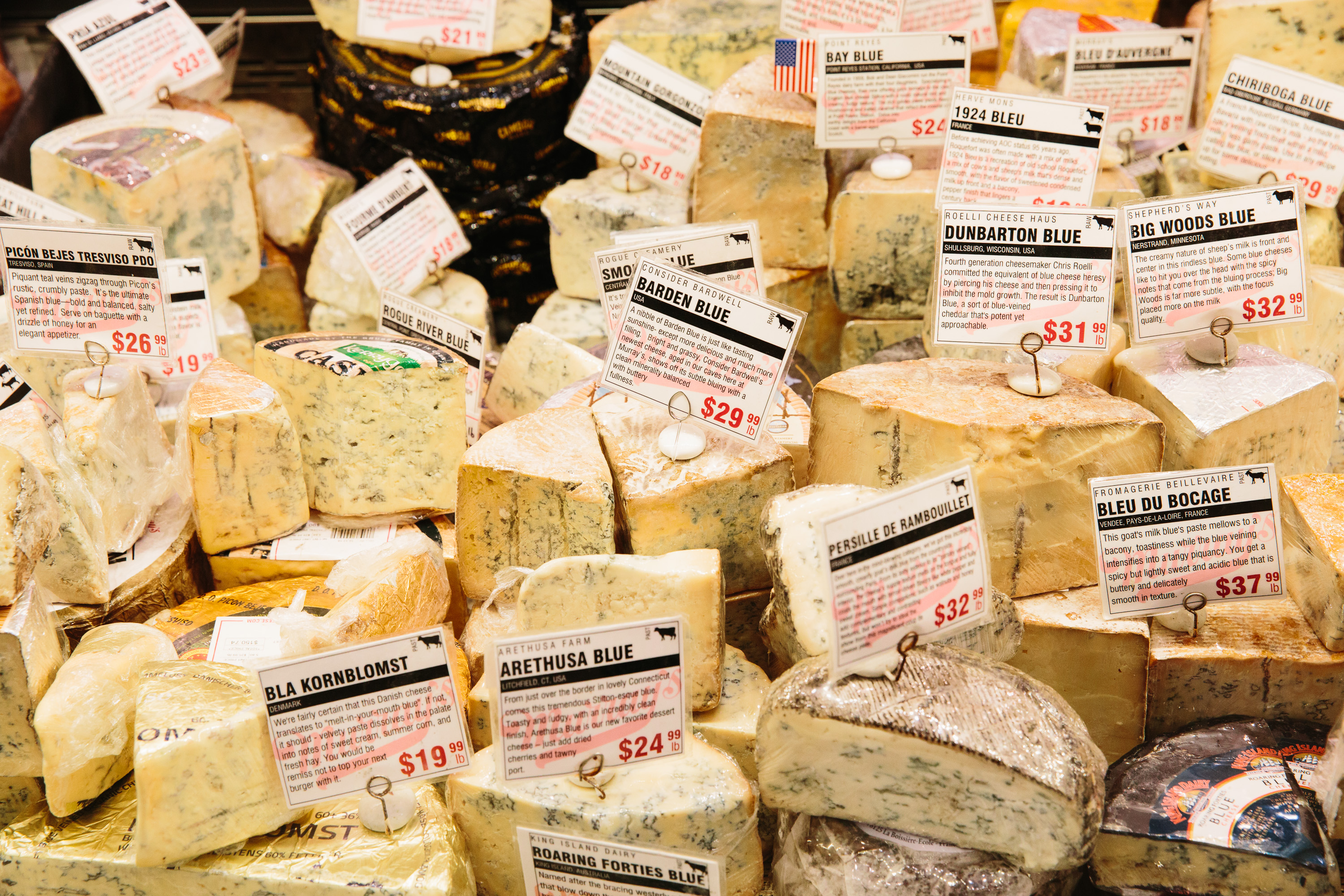 Cheese Whiz: How Murray's Turned Cheese Tasting into the Next Must-Attend Virtual Event
From the moment Murray's Cheese opened its first shop in the Greenwich Village neighborhood of New York City, cheese lovers have come from far and wide to taste the shop's impressive selection and learn from its team of experts. 
This focus on quality and expertise has helped Murray's become a New York landmark and a staple in Kroger grocery stores, which carries their cheese nationwide. And it's all based around a simple motto you'll see right on the logo: "We know cheese." 
Murray's instructors like Alexandra Horne really do know cheese. They undergo rigorous "Red Jacket certification" that trains them in cheese science, history, and product sourcing and eventually awards them the iconic red jacket all Murray's staff wear. Then they pass this knowledge on through popular daily classes. In these classes, students taste cheeses from different regions and learn how they pair with wine and foods. 
But when the COVID-19 pandemic hit, Alexandra and her team needed a way to bring the rich sensory experience of Murray's classes into the virtual realm. "We already had a really great product — we just needed to find another way to get it out to people," says Alexandra. The team would quickly find that despite the difficult situation, there was a real hunger for virtual events — and delicious cheese.
Quickly embracing the new normal
The COVID-19 pandemic has altered our daily routines, forcing people around the world into their homes for the sake of public health. For businesses that offer in-person experiences, virtual classes became a must — and for Murray's there wasn't a lot of time to get up to speed. 
"We got the message that we needed to work from home on a Friday, and we started the virtual classes project the Monday after," explains Alexandra. The Murray's team had seen just how much coworkers, friends, and families were using technology to remain connected. It was clear that people's social lives were still a priority, even if this socializing could no longer happen face to face. 
Although online events are pretty straightforward for presenting a college lecture course, teaching cheese-tasting virtually presents challenges. After all, these classes rely on a back-and-forth between the teachers and students — and actual cheese for tasting. To bring this experience into homes, it was time to get creative.
Adapting an in-person experience to an at-home lifestyle
Murray's has been working with Eventbrite for years for online ticketing. Its virtual classes would once again leverage Eventbrite — except now these tickets would include a link to a webinar powered by ezTalks, a video conferencing tool that could handle Murray's large class sizes of 50 to 80 cheese enthusiasts. 
Once Alexandra was satisfied with the tech setup, she and her team needed to ship the star of the show: the cheese! "For these classes, we send a quarter pound of four cheeses and four accoutrements to go alongside the cheeses, like jam, chocolate, dried fruit, or crackers," explains Alexandra. These cheeses are often associated with a particular region, like France or Spain, in order to give these classes a specific theme. 
Faced with this new normal, Murray's has gotten creative with its themes — especially because they can't ship wine as a pairing option. So the team started offering kid-friendly classes for parents who might be at home with young children. And they're working on Mother's Day classes for the upcoming holiday. They even want to launch classes that teach you how to pair cheese with your favorite TV shows. After all, there's never been a better time to kick back and enjoy some Netflix.
Embracing new opportunities for connection
Alexandra and her team of instructors have been delighted by the feedback they've received for these virtual events. There have even been some surprising benefits to the virtual nature of these classes. For instance, ezTalks' chat functionality has actually led to more vibrant class participation. "I think the chat gives people a little bit more freedom to ask the things on their minds," says Alexandra. A real-life classroom can be a bit more intimidating, which can inhibit discussion. 
These virtual classes have also opened up a whole new revenue stream for Murray's. While their in-person classes only reach New Yorkers and tourists in the city, their virtual classes enable them to reach people outside of the New York market. The company is already planning how to incorporate virtual events into its business even after social distancing restrictions have been lifted. 
Along the way, technology hasn't let Murray's down. "It's really easy to work with Eventbrite," says Alexandra. In administering these virtual events, Eventbrite platform has taken on a bigger role than just ticket sales. "We now use Eventbrite as a guide to enter orders," says Alexandra. "Eventbrite is where we get everyone's information so that we can put it into our point of sale and get their cheese shipped on time."
The success of Murray's online classes proves that our new normal doesn't mean people have to give up fun experiences with friends and family. "It has definitely proven to me that people get nearly as much satisfaction from an online event as they do in person," says Alexandra. "So if you already have a good foundation with your product, you should just give it a try."