Busspepper Promotions' soca-star DJs and rock-bottom rum brunches bring the Caribbean to Londoners "who've never experienced the culture." To do so, director Mateen Hepburn appeals to the senses. "I can't get the venues to smell like the Caribbean's fresh sea breeze," he says, "but if we get the sound and the taste and the atmosphere right, it gives more authenticity to the event." 
The name "Busspepper" refers to the potent Scotch bonnet chili found in Trinidadian curries and stews. "When you have a 'buss-pepper,'" says Hepburn, "that chili has exploded in your pot. All of a sudden, your food is really, really spicy. I wanted to describe the events as fiery and hot. The name does that."
Founded in 2003, today Busspepper's fiery-hot monthly events bring a mix of young-professional partygoers to upmarket venues around London. Come the annual Notting Hill Carnival, Busspepper's carnival arm, Omnia, serves up Caribbean flair on speaker-packed 18-wheelers. 
And to sell out events and reach the widest audience, Hepburn uses Eventbrite Boost. 
"I instantly fell in love with Boost," says Hepburn."The reporting is fantastic, and I find it really easy to use. I don't need to become an advertising expert. I just need to grow and create great events. That's what a simplified system like Boost helps us do."
Eventbrite Boost crushes it with 3.4x ROAS at "For the Love of Carnival"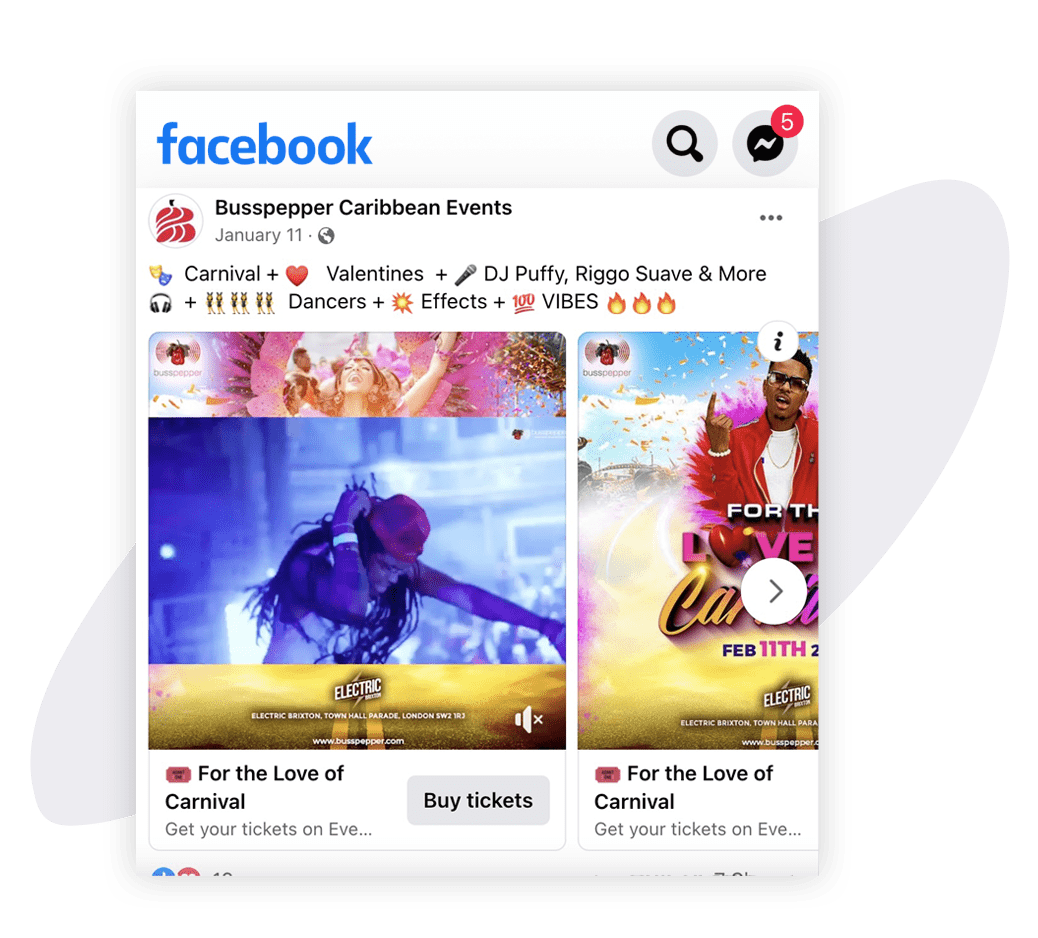 Hepburn has seen Boost change his approach to event marketing. 
"When I create my events, I start advertising immediately. It's there, part of my ticketing dashboard. So it's really easy to click on that button and get a campaign going." 
Those campaigns deliver: Users have reported selling 63% more tickets on average after subscribing to Boost. The only all-in-one marketing platform designed specifically for events, Boost lets users automate email campaigns, post on social media, and, like Hepburn, run paid ads on Facebook and Instagram.
Busspepper's February "For the Love of Carnival" event paired two of the biggest names in Soca: DJ PUFFY and Riggo Suave. An early Valentine's Day party, "For the Love of Carnival" brought the vibes of Trinidad Carnival to London club, Electric Brixton.
Hepburn used Boost to run a Facebook and Instagram ad campaign for the event. The ads featured exclusive video interviews with the musicians as well as still photography. A "Buy tickets" button on the ads sent people to Busspepper's Eventbrite ticketing page. 
The ads ran on Facebook and Instagram from December 29 through February 10. Over those 43 days, they reached 26,791 people using Boost. And who were those people? Hepburn limited his targeting to people over the age of 21 in Hampton, London. From there, he used Boost to hone in on: 
"Lookalikes" whose behavior on Facebook and Instagram paralleled those who had previously engaged with Busspepper events 

"Past attendees"

"Interest audience," or people who identified as fans of Machel Montano, Patrice Roberts, Bunji Garlin, or Kesha
Behind the scenes, Boost took audience targeting to the next level, shifting ad spend to the best performing audiences. Twice a day, Boost's optimization shifted the campaign budget to whichever audiences were performing to improve return from this campaign. (For example, when the Lookalike audience was underperforming, Boost decreased the budget on that audience by 2.03%; when the Interest audience was performing well, Boost upped the budget by 2.8%.) 
Hepburn kept tabs on his results in real-time with easy-to-read graphs. "My favorite Boost feature is the analytics on my advertising," he admits. "That dashboard of how everything's going."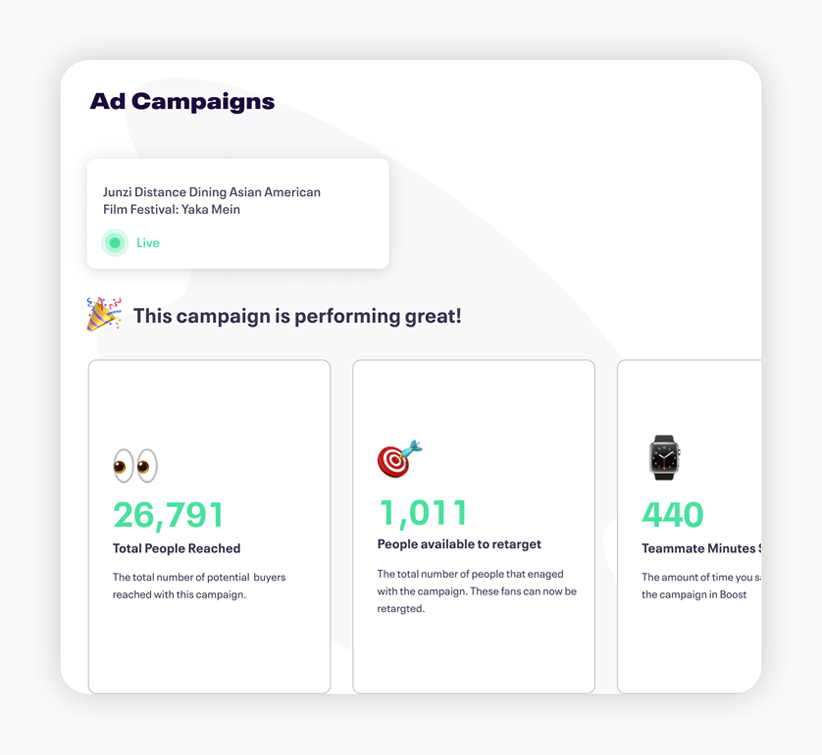 And by the end of that campaign, that dashboard featured a party popper emoji. His "For the Love of Carnival" ads delivered huge results: Hepburn sold 699 tickets. He spent £200 on the campaign and generated £689.68 in revenue — a 3.4x return on ad spend. For every £1 he spent, he made £3. 
On top of the reporting, Hepburn also touts Boost's automated A/B testing, which is an efficiency and productivity unlock not supported by Boost alternatives. 
"You try two different descriptions and two different pictures," says Hepburn, "and Boost automatically tests them, starting and stopping the ads based on which is performing better. Think about the work that would have to go into that, if you were manually doing all that on Facebook or Instagram yourself — it's wild."
Boost automates the technical side of Facebook and Instagram advertising 
Hepburn urges event creators to incorporate Boost into their workflow on Eventbrite. After all, creators who used Boost marketings tools saw 2.5x more listing views*. Says Hepburn: "There's a couple of clicks to get you over the finish line to start your ad campaign. It's money well spent, and it simplifies your advertising efforts."
And especially for creators who don't have the budget to hire a marketing specialist or the time to spend launching multiple ads and digging through analytics dashboards, Hepburn recommends Boost. He sees Boost as a "real value in that for emerging businesses or anyone unversed in the technical side of Facebook and Instagram advertising. It just lets everyone get on with what their real job is, which is to put on events."
*Eventbrite data 5/1/2022 – 12/1/2022 comparing events promoted with Eventbrite Boost with any event that was not promoted with the same tool.