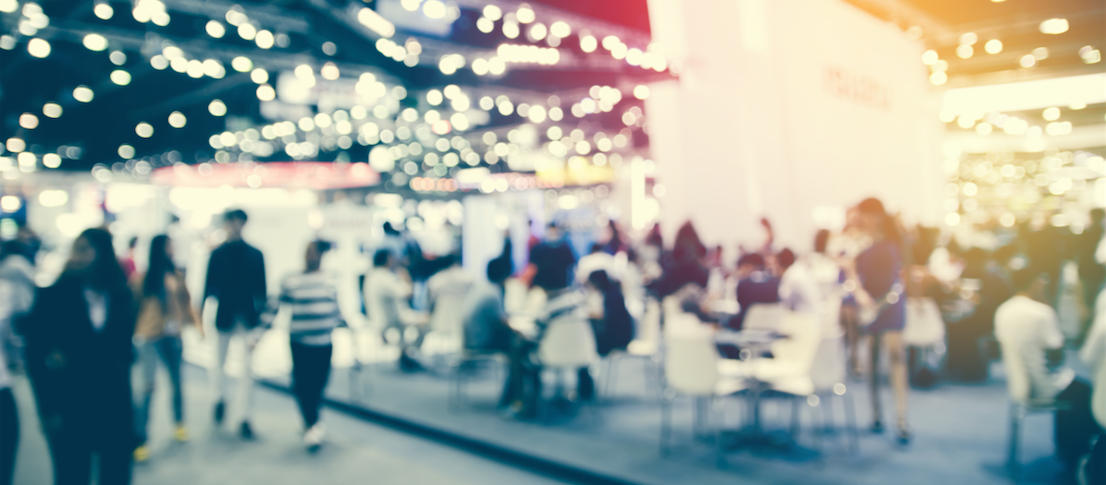 6 Creative Booth Design Ideas for Tradeshows and Conferences
Do all your sponsors' exhibit booths look the same? Are attendees bored out of their minds and sponsors experiencing worse and worse engagement?
As a conference or tradeshow director, helping your sponsors create a more engaging booth design will result in more event-day traffic for them, and a better experience for the attendees.
Why exhibit booth design matters
With so much to see and limited time, conference attendees tend to pick and choose the booths they visit. But if every booth looks identical, it's uninspiring at best. That results in a low energy vibe, bored sponsors, and less-than-stellar media coverage.
That's why your goal should be to encourage your sponsors to put time and effort into making their booths eye-catching, interactive, and unique. Your sponsors will see better ROI on their investment, and you'll be able to keep them coming back (and even charge them more) for your next event.
Here are six creative trade show booth ideas to share with your sponsors to help them stand out.
Booth design idea #1: Use RFID at a booth for lead retrieval
If you use RFID badges at your conference or tradeshow, consider arming your sponsors with sensors at their booths. This way, they can engage attendees in contests or other activities on site, and instantly add them to their database. It's a powerful lead generation opportunity, and those in attendance will be impressed by the high-tech touch.
Booth design idea #2:
Keep branded booth copy clear and concise
People are drawn to booths that either pique their curiosity or speak directly to something they are interested in. In other words, trying to be too abstract or quirky can backfire. Encourage sponsors to come up with a short tagline or slogan that defines their brand and serves as an introduction to their products.
Booth design idea #3:
Declutter your design
Design experts often say that white space is a very effective way to help your graphics and logo really pop. Don't try to include too many images or feel you have to go crazy with big screens. A simple, clean look with a few striking graphics will be more inviting.
Booth design idea #4:
Choose crisp, clean, and consistent colors
A vibrant color scheme that matches the brand colors can help draw eyes toward a booth, but beware of bright color overload. You don't want to distract from your message with crazy patterns or a rainbow of neon colors.
Booth design idea #5:
Incorporate a cool offer or freebie
Whether it's a charging station, free Wi-Fi, or a unique piece of swag, incentivize people to walk over to your exhibit booth. Discover the most popular event swag in this infographic.
Booth design idea #6:
Add engaging activities
Another way to attract crowds to a booth is by offering an activity that breaks up the monotony of business card exchanges. For instance, sponsors can provide a photo booth, run a contest, host a social media wall, or set up a game or challenge, whether trivia or a putting green. Attendees who take part in the activities can be prompted to join the sponsor's email list.
Help your paying exhibitors get the most out of their space at your conference by offering them these creative trade show booth ideas. Once they generate more traffic to their booth, they'll be sure to join you again for the next event. Plus, you can make more money on your sponsorships once you prove how effective they are.
Of course, booth design is just one element of creating an engaging sponsor experience at your conference or tradeshow. For more on how to improve the sponsor experience at your events, check out The 2017 Guide to Event Sponsorship.