As we recap 2022 and head into the new year, it's clear that people want to continue experiencing the magic of events and social connection. Eventbrite was founded over 15 years ago with a mission to bring the world together through live experiences, and this mission has never been more important than it is today — we saw proof of this in our latest consumer trends report.
While 80% of respondents say they're tightening budgets in 2023 due to inflation, 70% still plan to spend the same amount, or more, on events. Meanwhile, over half of them shared that live events spark a sense of human connection, with 41% saying that events make them feel part of a community.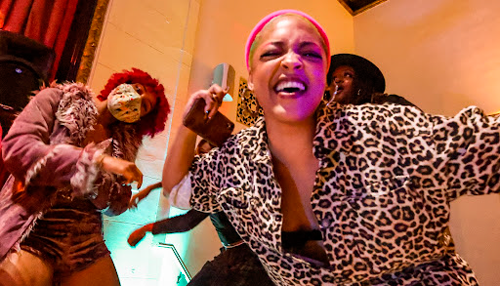 As this excitement to connect and find community grows, Eventbrite wants to make it easier than ever for people to find unique and local events, while serving as the leading demand driver for the event creators who make Eventbrite, Eventbrite.
Our product team collaborates with creators and event-goers from all over the world to continuously improve our platform experience for everyone by making sure we're connecting them to the right events and helping them complete their purchases faster. Last year, we launched 50+ enhancements that contributed to growing demand:
One in four tickets purchased on our platform are now driven by Eventbrite's exclusive channels, such as our marketplace, consumer app, and newsletters.
Almost one in five events received more than 50% of ticket sales from Eventbrite-driven demand.
Here's what we did to help event creators connect with new audiences and sell more tickets
✔ Debuted Eventbrite Ads so creators get visibility where it counts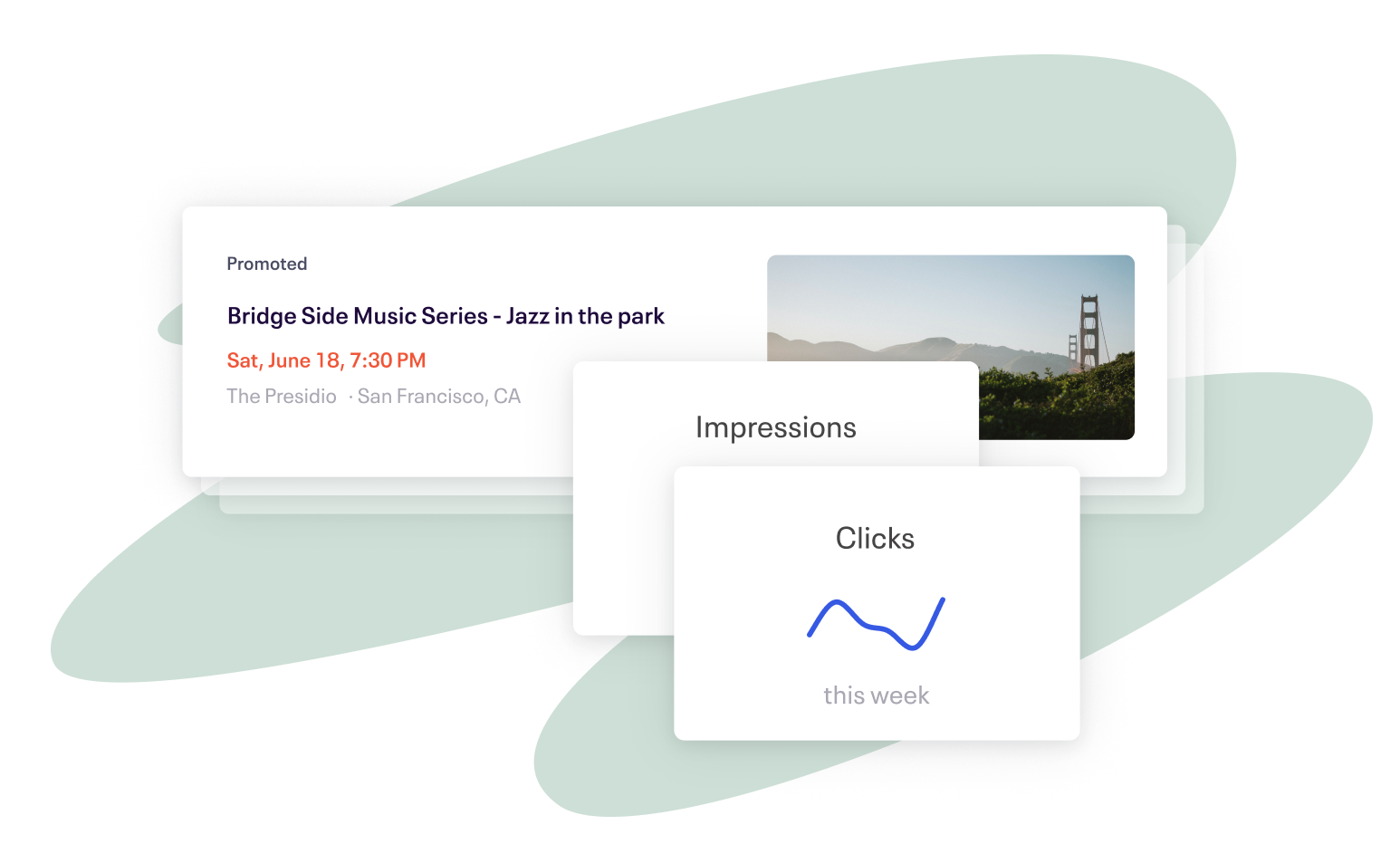 We launched Eventbrite Ads, which allows creators to set up hassle-free ads on our platform and target attendees most likely to buy tickets to their events. The result is 14x more exposure on our homepage, related events, search results, and more.
"Eventbrite allows us to have a great-looking event listing that we feel good about sharing. We're really excited about Eventbrite Ads — they've definitely brought in more attendees to the events. Eventbrite has just made the whole process much easier," says Bryan Fiorito, Hayes Law Firm.
✔ Continued improvements to our Eventbrite Boost product
In 2021, we introduced Eventbrite Boost, the only marketing platform designed specifically for events — and we continued evolving it in 2022. Using our tools to automate event marketing, Boost subscribers sell 63% more tickets by tapping into data from millions of events to power email and social media promotions.
"Boost has made it easier for me to reach the market that I want. It helps zone in on the people who are interested in comedy, interested in entertainment. Eventbrite Boost has a spot where you can put people you're looking at in your area … We're getting a large portion of people who are new coming to the venue, which the venue loves," says Danny Minch, Clovis Comedy Scene.
"I instantly fell in love with Boost. The reporting is fantastic, and I find it really easy to use. I don't need to become an advertising expert. I just need to grow and create great events. That's what a simplified system like Boost helps us do," says Mateen Hepburn, Busspepper Promotions.
✔ Diversified our payment methods for ease of use
We added more payment methods like Apple Pay and Google Pay for faster checkout that have driven 2X more conversions compared to the industry average.
✔ Enhanced personalization and event recommendations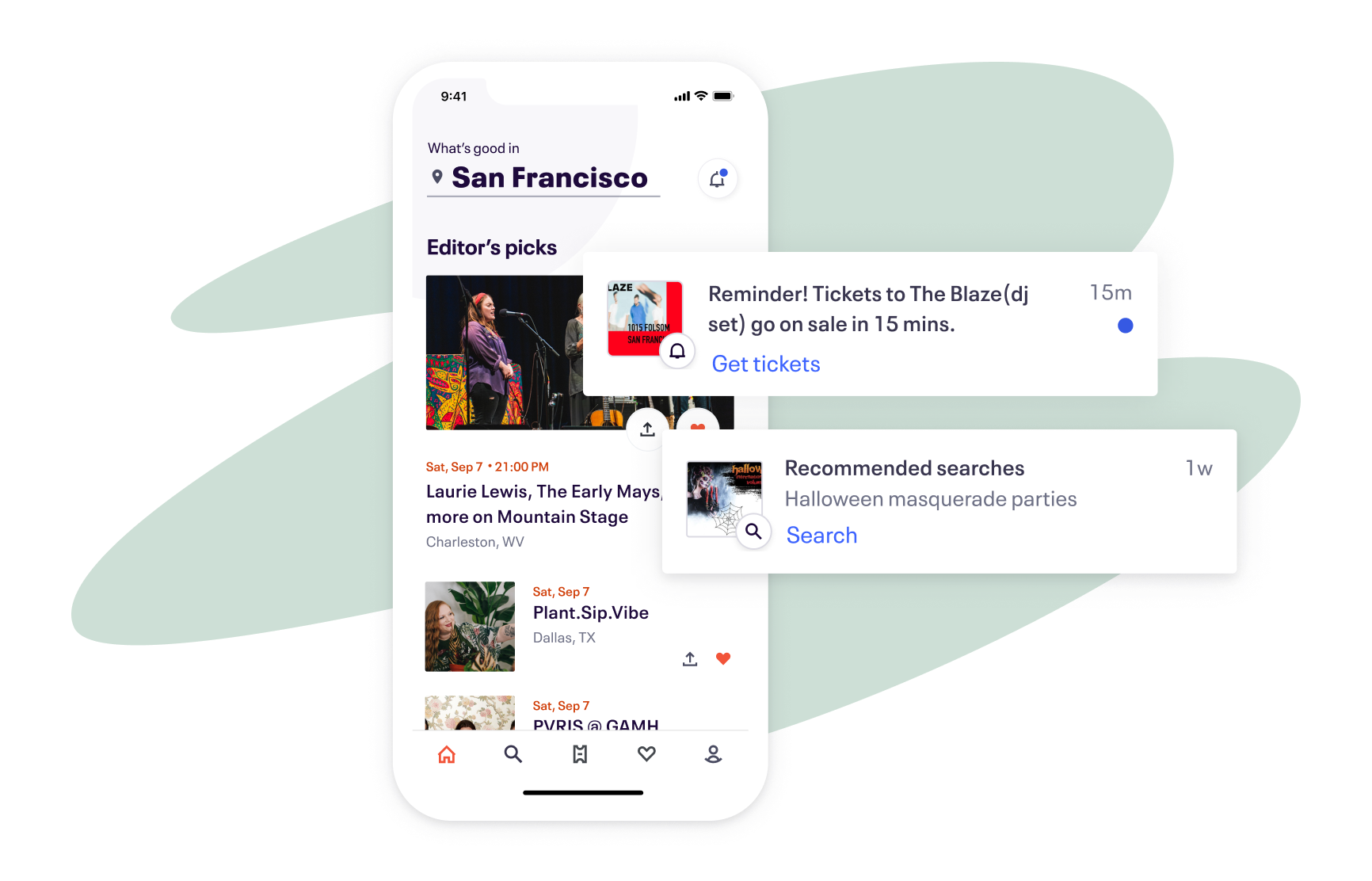 We improved personalized event recommendations in our marketplace based on attendee interests, which has led to 9x more consumer engagement across event listings pages.
How we made it easier than ever for people on Eventbrite to find and score tickets to events
✔ Added new ways for attendees to find the events they're most interested in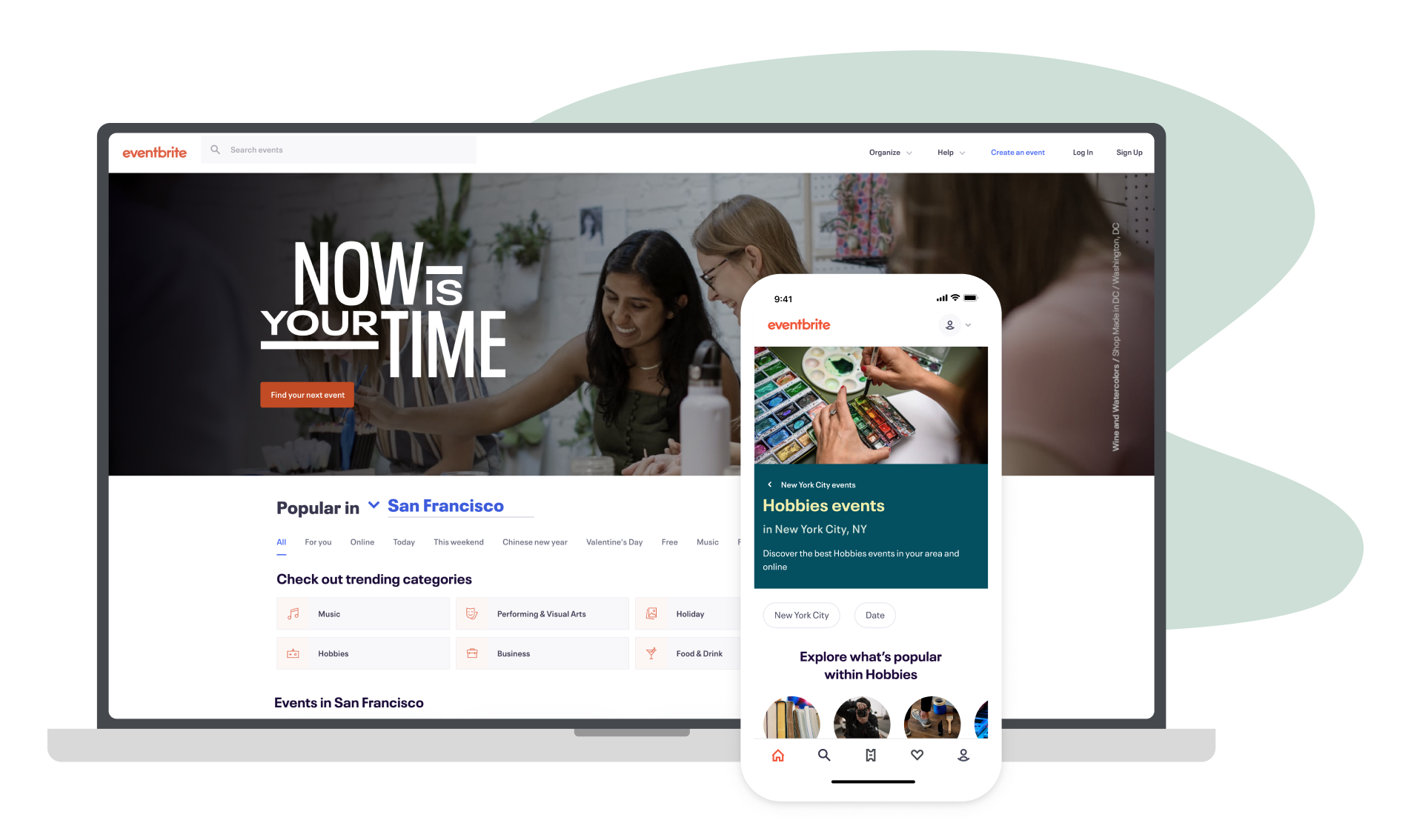 Previously, people could only browse events by city or collection, but not by category. They're now able to seamlessly search common and popular categories for a more tailored browsing experience. Since launching, we've seen a much higher rate of clicks within a category browse page to an event.
✔ Improved personalization added to iOS mobile-app users
More people are seeing an improvement in event recommendations based on their past interactions and personal interests in our app. This has increased consumer engagement and click-through rates by 9x.
✔ Newly redesigned event pages for mobile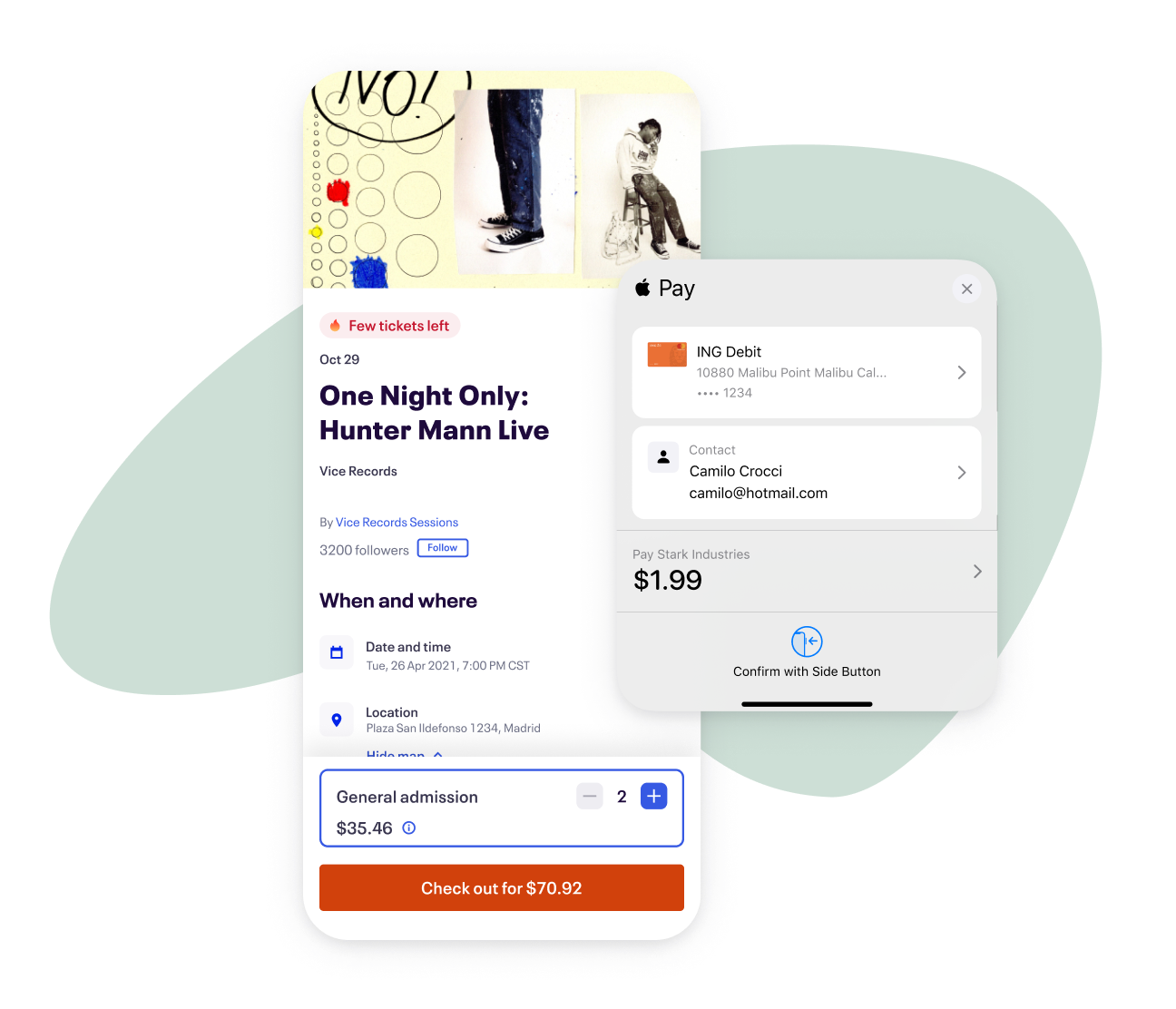 Given 70% of event pages viewed by people are from mobile devices, we've redesigned the mobile experience to make it easier for people to find the information they need when looking for their next event.
This includes a series of labels, such as "Few tickets left", "Early Access", "Popular" and more, which let people know it's time to act fast and help them make a quicker purchase decision. Since launching, we've seen a significant lift in buyers who discover event pages and then go on to purchase tickets.
✔ More payment methods added like Apple Pay and Google Pay for faster checkout
We've simplified the process of buying tickets to only three steps — compared to six steps on other platforms. Attendees no longer need an Eventbrite account to check out — they can now purchase tickets as a guest with less hassle (see image above).
---
For all the exciting product features our team builds, we conduct thorough research and testing to ensure the updates we're making are effective in helping event creators reach a larger audience and sell more tickets, while connecting people with the best and most unique local events tailored to their interests and respective locations.
Learn more about Eventbrite's collaborative product development process.
Stay tuned for the wave of what's to come in 2023 as we continue to invest in features that will drive even greater demand for creator events and help people more easily find their next unforgettable event.
Want to learn more? See Eventbrite's Product Updates for more information on the latest releases.