Navigating estate planning requires legal experts who can help people understand a complicated — and sensitive — subject. That's why Hayes Law Firm holds digital events to demystify this critical process.
"Webinars and seminars are a great way for us to educate people about the complexities of estate planning," says Bryan Fiorito, Director of Business Development and Marketing for Hayes Law Firm. "There are many reasons why you want an experienced attorney drafting your estate planning documents rather than using an online document form filling service."
Located in South Pasadena, California, Hayes Law Firm is an estate planning, probate, and elder law firm. Their free webinars run on Wednesdays and Saturdays; topics include "The ABC's of the Probate Process" and "Trustee and Power of Attorney Training School." Those webinars are a key pipeline for business, says Fiorito. "We're in an extremely competitive market here in Los Angeles. A lot of attorneys, lots of options. Webinars give us an opportunity for prospective clients to get to know our attorney better before coming into the office."
To stand out in a crowded marketplace, Fiorito uses Eventbrite Ads. "Eventbrite allows us to have a great-looking event listing that we feel good about sharing. We're really excited about Eventbrite Ads — they've definitely brought in more attendees to the events. Eventbrite has just made the whole process much easier."
Promoting a free webinar with Eventbrite Ads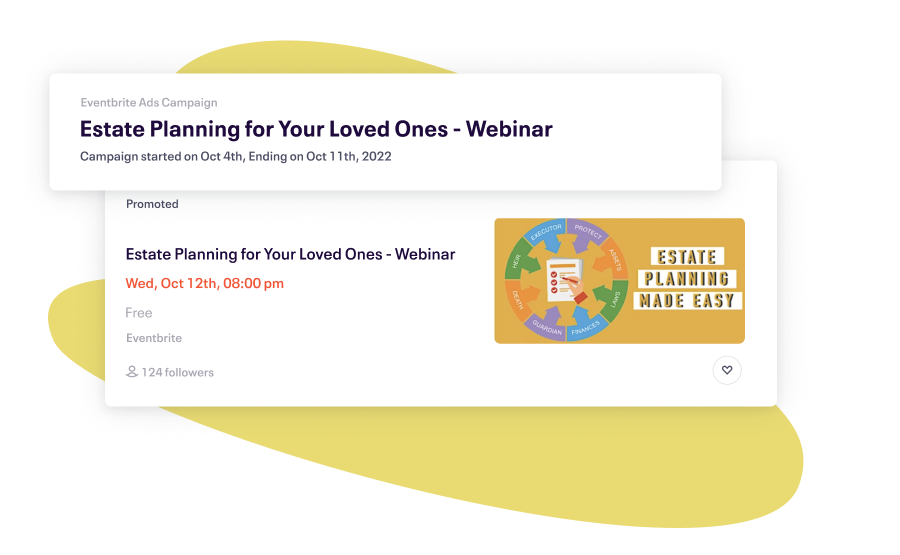 To advertise a recent webinar, "Estate Planning for Your Loved Ones," Fiorito used Eventbrite Ads. He set a budget of $40 total, scheduled the ad to run for seven days leading up to the webinar, and within minutes the campaign was created. It appeared at the top of Eventbrite search results, targeting event-seekers interested in estate planning and other related topics.
At Hayes Law Firm, registration for webinars is free, and attendees receive a complimentary fifteen-minute consultation with an attorney after attending. So Fiorito sees Eventbrite Ads as an investment in top-of-funnel marketing. "We pay to promote our webinars and reach a large group of people. Out of this group that attends the webinar, some will be interested in meeting with our attorney, getting more information, and eventually becoming clients."
And reaching a large group of people is exactly what Eventbrite Ads delivers. By the end of the campaign, 1,226 people viewed the listing. While organic searches only generated a handful of clicks, the Eventbrite Ad yielded more than 3x the clicks. With Eventbrite Ads, even small events with relatively modest budgets can see good returns.
For Fiorito, the old adage "quality over quantity" applies. "As a marketer, when you launch campaigns, they can drive a ton of traffic. But are they people who are ready to buy? Are they just taking our attorney's valuable time? What the webinars allow us to do is get more qualified appointments. When our attorney's sitting down with them, they already know the importance of estate planning, the pricing — and they have specific questions. We can keep it pretty efficient that way."
And with Eventbrite Ads' ease of use and clear reporting, Fiorito keeps Hayes Law Firm's marketing efficient as well.
Reaping the benefits of exposure with Eventbrite Ads
For Fiorito, Eventbrite Ads provides an important assist for smaller events. "Whether it's an educational seminar like we're doing where it's free, or a larger paid event, Eventbrite can help bring a lot more exposure to the event."
At the end of the day, he finds the tool invaluable. "Anyone with any type of event to promote should consider Eventbrite Ads," he says. "I'm sure for concerts and other larger events, it's a slam dunk, but for smaller events like ours, it's still shown that it can increase the number of registrants on a smaller scale."