If part of your event marketing strategy is growing on Instagram, you've clearly had that lightbulb moment. With more than 1 billion active users spending an average of 53 minutes per day on the platform, Instagram can be an incredibly effective tool – especially for creators who know how to use it. 
The secret is simple: Stories. Instagram Stories let you share videos or photos – with a limited shelf-life. After twenty-four hours, your Stories content disappears, giving followers an incentive to view and engage with your brand this second.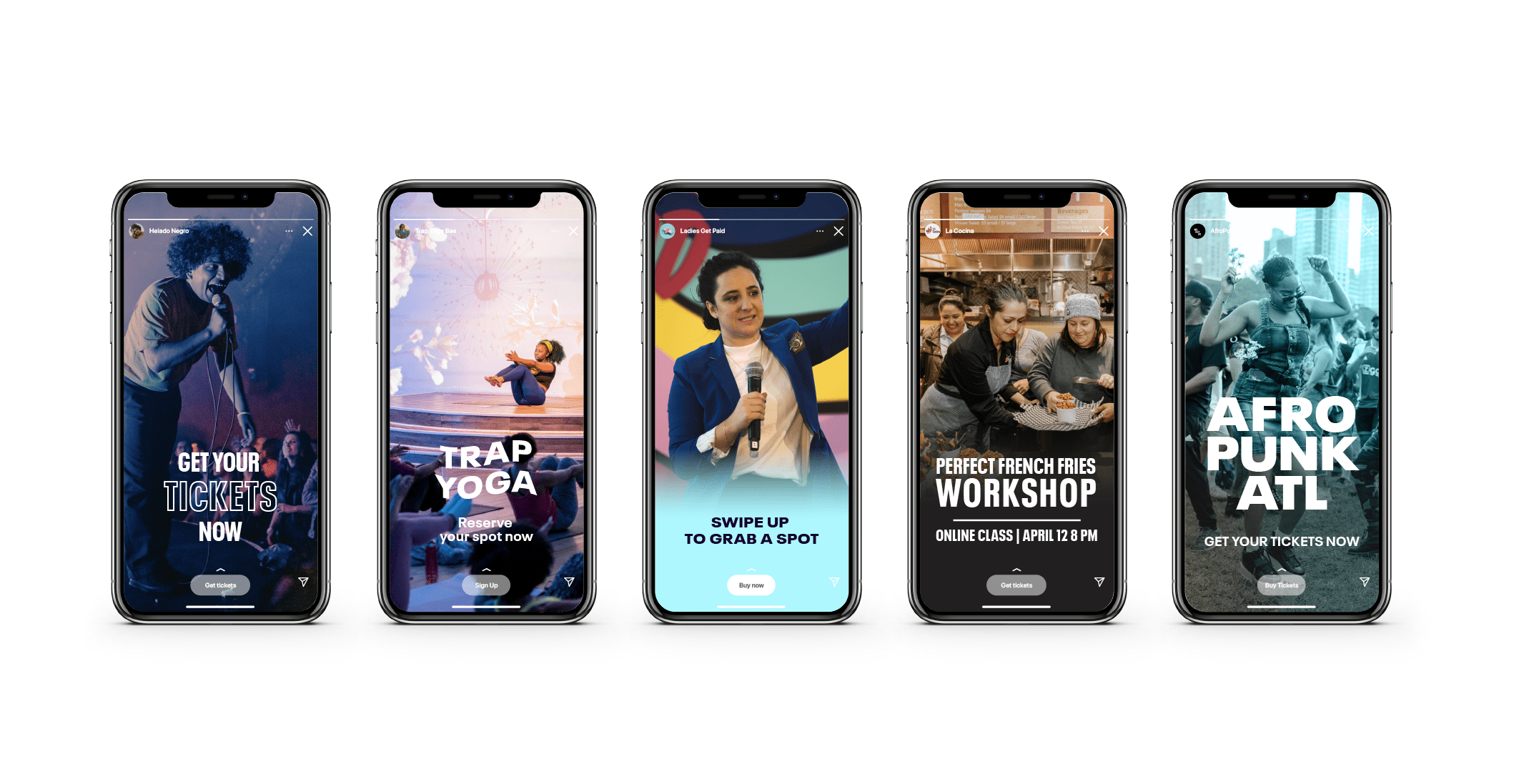 Using Instagram for business
From their introduction in 2016, Instagram Stories Ads have been helping businesses grow their brands. Stories have led to an uptick in the amount of time users spend on Instagram. Translation: More opportunity for engagement. According to Oberlo, ⅓ of the most viewed Instagram Stories are from business accounts and 80% of businesses consider Instagram engagement their most important metric. 
Eventbrite Boost's Instagram Growth Playbook lets you unlock the social marketing potential of Instagram – even if you're not marketing an event. Using gorgeous Instagram Stories Ads that reflect your brand's unique (and amazing) personality, you can build your following and cultivate your brand all while planning your next cake decorating workshop, drag show, yoga jam … you name it. With Eventbrite Boost, growing on Instagram easily becomes part of your daily marketing routine. Even better, events promoted with Facebook/Instagram Ads sold on average 3x more tickets*.
In this article, we'll bring you insights from the experts at Eventbrite Boost on what makes the best creative for Instagram Stories. We'll break down image vs. video, the right dimensions for your ad creative, and more to help your Stories attract the most followers (i.e., success). 
What creative is best for Instagram Stories Ads?
Instagram Stories can take the form of still images or video. When designing Instagram Stories ad creative, video – even if you're a photographer – always beats the still image. 
Users are more likely to swipe up on a video rather than still images. If that's not convincing enough, videos with sound hold users' attention 5x longer than still images. 
Pro-tip: Recycle event content with video montages or boost your brand with exclusive, behind-the-scenes content.
How do you make ads for Instagram Stories Ads?
To make ad creative specifically formatted for Stories, you can use any number of simple (and free!) design apps. The Eventbrite Boost team loves Canva (fun fact: Boost gives you Canva access), as well as Vimeo Create, but there are many other options to help you quickly create high-quality visuals. 
What are the specs for Instagram Stories Ads?
Remember that videos give you the best results with your Instagram Stories Ads. Keep these specs in mind: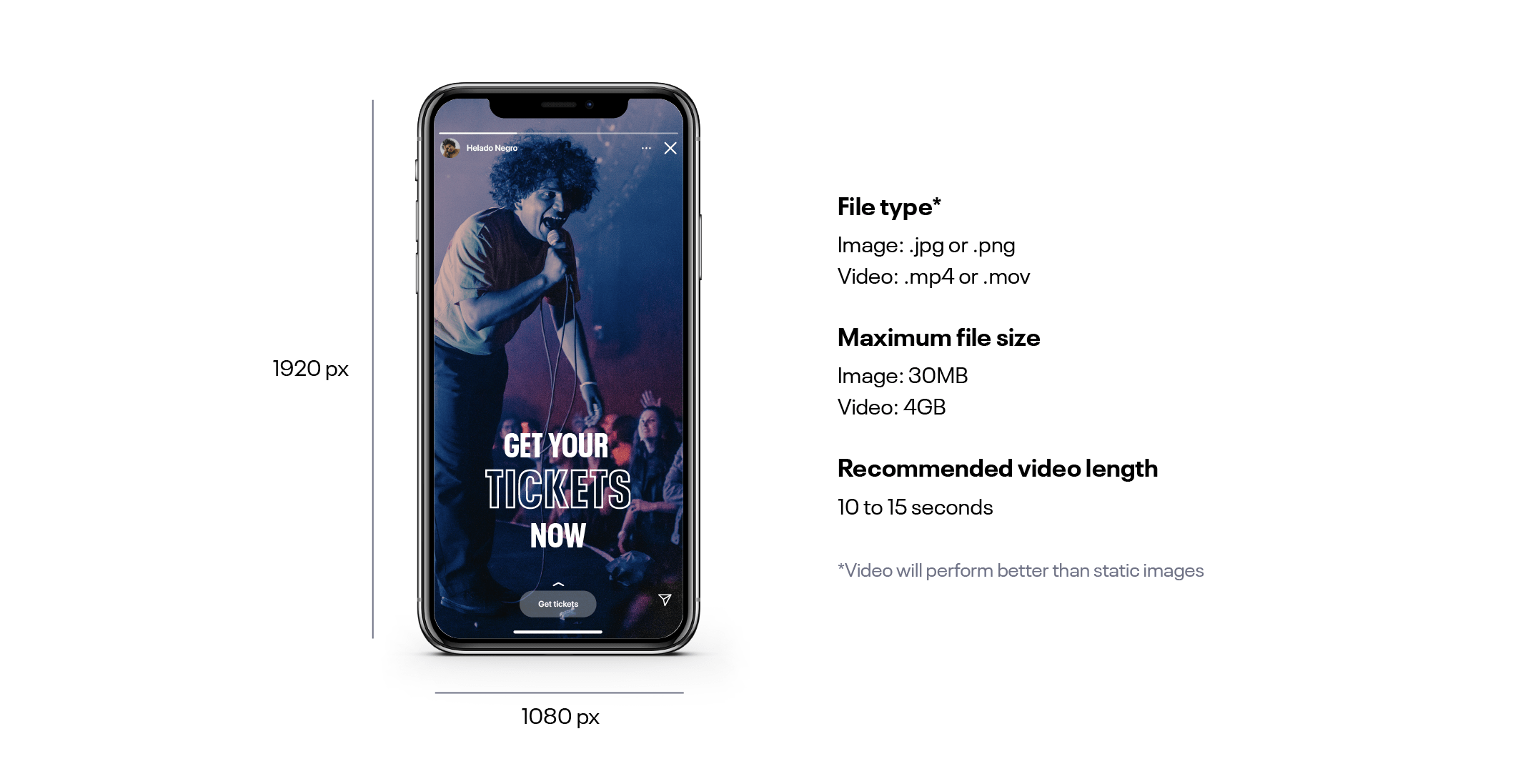 Recommended resolution:

1,080 x 1,920 pixels

Recommended duration:

10-15 seconds

Maximum file size:

4 GB

Supported video types:

.mp4, .mov

Video quality:

H.264 compression, square pixels, fixed frame rate, progressive scan

Audio quality:

Stereo AAC audio compression at 128kbps+

Sound:

Optional but

highly recommended
What should you include in your Instagram Stories Ad?
Every Instagram Stories Ad includes the same components. Where your brand identity comes through is in what you put into those components. Think of the ad like a recipe for a cake: There are lots of recipes for lots of kinds of cakes, but they always include a sugar, a grain, and a leavener.
Your Instagram Stories Ad should contain your:
The name of your account, brand, or business. 

Quality video – This is the creative you've made. Ideally, you'll include sound. Images also work.

Compelling Swipe-Up copy – This is the message that tells users to follow you on Instagram.

Instagram Logo (optional) – If you've got it, flaunt it. 
What should I avoid in my Instagram Stories Ad?
We don't want to hate on creativity, but in the world of Instagram Stories Ads some styles just don't fly. Too much text can make an image look crowded (and distract from your Swipe-Up copy). Videos or images that aren't properly formatted for Instagram Stories (i.e., square videos, with awkward borders) take away from that immersive experience. Use your best aesthetic judgment: If the video or image is grainy, pixelated, dark, or generally not eye-catching, try another option. Remember: Eventbrite Boost has that Canva integration. (Hello, gorgeous videos!)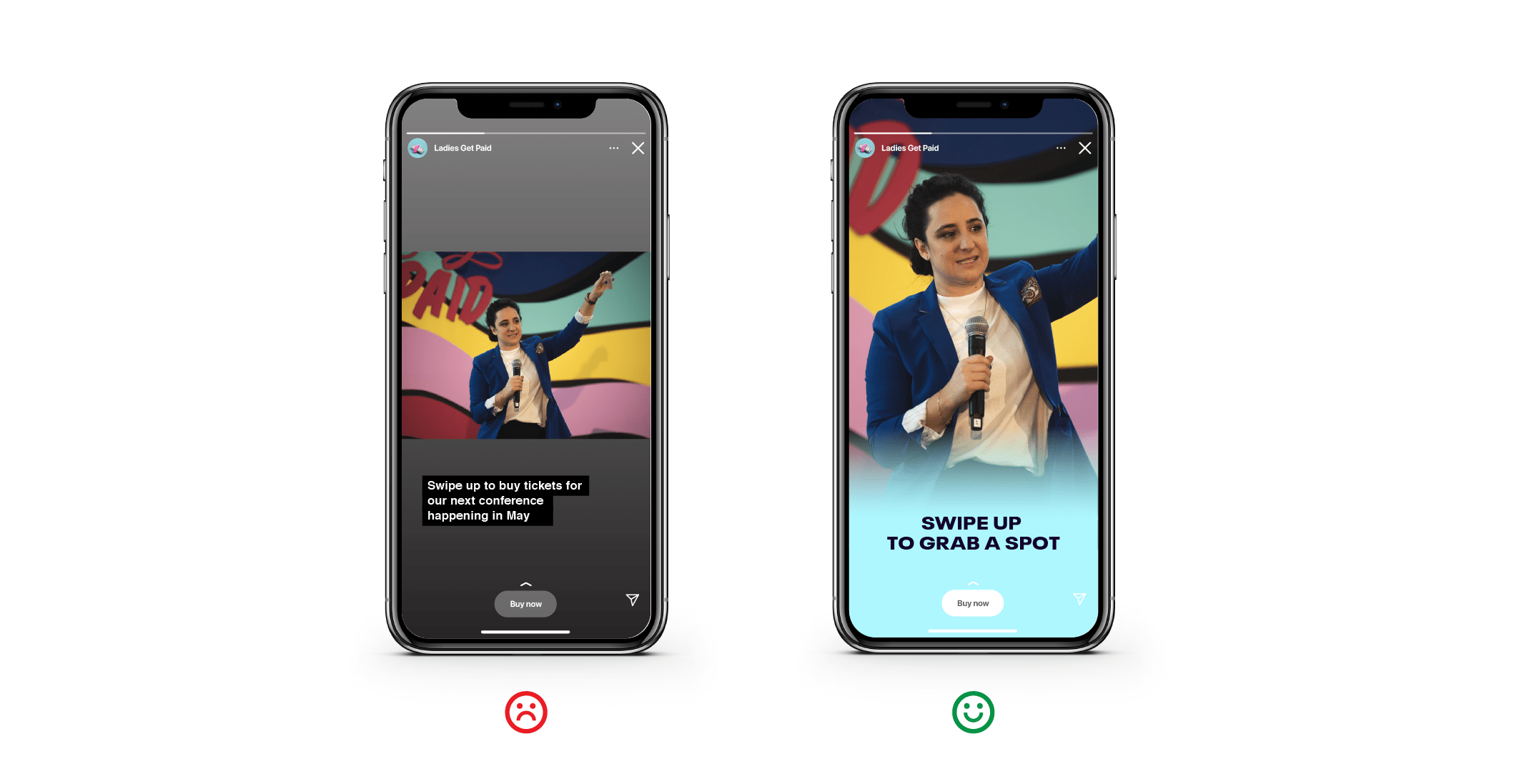 Using Instagram Stories Ads to grow your brand and expand your following can be fun and simple. With Eventbrite Boost's Instagram Growth Playbook, you can build an event marketing strategy that works for you – no event required.
* Eventbrite data 5/1/2022 – 12/1/2022 comparing events promoted with Eventbrite Boost with any event that was not promoted with the same tool.