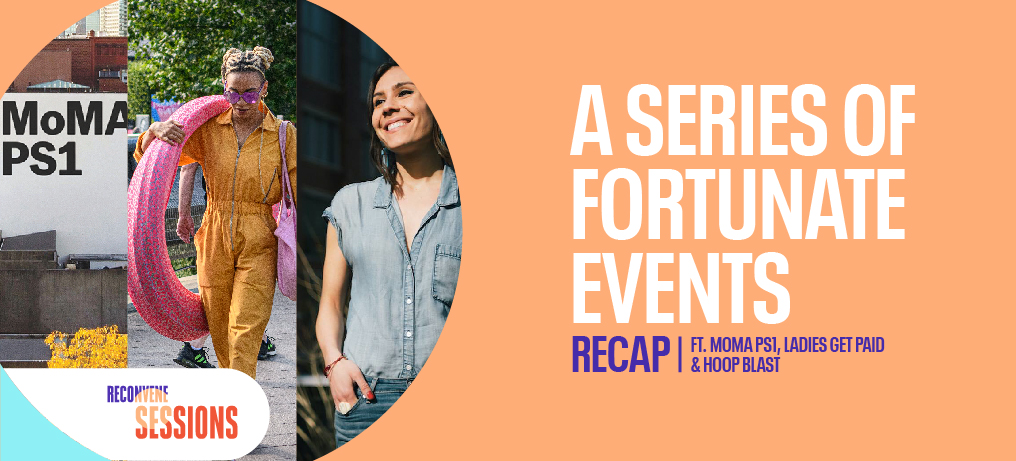 Tips and Tricks for Using Event Series to Grow Your Audience
One of the best ways to grow your business is to launch an event series — recurring programs that attract a loyal audience who return again and again.
During Eventbrite's debut RECONVENE Sessions: A Series of Fortunate Events, three female creators described their successful event series, as well as how they effectively manage and promote them.
Watch the full Session — featuring MoMA PS1, Ladies Get Paid, and Hoop Blast:
Below are key takeaways for creators from each of the event's speakers. For more insights from Eventbrite's ongoing RECONVENE events, visit our recaps hub. 
Register now for the next free virtual RECONVENE Session, Tales of Failure — How I Messed Up and What I Learned, on Nov. 10. 
MoMA PS1: Taja Cheek
Taja Cheek curates MoMA PS1's Warm Up, an outdoor program in New York City that draws loyal crowds every Saturday in the summer. It's inspired by day parties in Berlin, and it's a place where people know they can come for dancing, connection, and fun. "Seriality is an entry point to sustained engagement with the community," Cheek says. She suggests that you:
Make your event series inclusive
It's important to Cheek that Warm Up is inclusive of everyone. "We have to acknowledge the diversity of our audience's experiences," Cheek says. "All of these members of our community have different needs and we have to find ways to support all of them." 
Consider space and accessibility
Warm Up's courtyard setting proved ideal during the pandemic: People could still safely gather there. MoMA PS1 invited local young creatives to design the backdrop for the program, which helped deepen the event series' ties to the community. There are also numerous entry points: People can come throughout the day — the event lasts from 3 to 9pm — all throughout the summer. Making it easy for people to attend is key to enticing them to return.
Make your event series affordable
Warm Up keeps ticket prices affordable and offers a lower price of admission to high schoolers and other students. There are also free tickets for those in certain neighborhoods surrounding the event's location.
Read more about how MoMA PS1 blurs the line between museum and music venue.
We're here to help
Take what you learned from these resources and apply it to your next event with help from our event experts.
Contact us
Ladies Get Paid: Claire Wasserman
Claire Wasserman's business, Ladies Get Paid, teaches women how to advance professionally and financially. She's produced more than 1,000 events around the country. Her tips:
Create an ambassador program for your event series
Recruit people in local communities to represent your brand. When you're considering who makes the most sense, ask yourself: Who would do an excellent job representing your group's mission, values, and spirit? Who shows up enthusiastically to all your events?
She also recommends looking for recruits with diverse skill sets, such as social media or food and beverage expertise. When you reach out to folks, detail what the commitment would be, and allow them to take time to determine if they can truly commit. In the early days, Wasserman told her ambassadors she would fly to their city and host their first event with them. Later, they were able to split the profits from their events, which was motivating.
Market your event series through relevant partners, speakers, and sponsors
Ask yourself: Who has a terrific distribution list who you could partner with? To incentivize them to participate, invite one of their leaders to be a speaker. When you're thinking about sponsors, consider what they're looking for. "Your demographic has to be attractive," Wasserman says. And make it easy to promote your event. You can design snazzy, free images on Canva to share on social media or in emails and distribute to your partners for low-friction promotion.
Learn more about how how Ladies Get Paid expanded their events (and audience) with Eventbrite and Zoom
Hoop Blast: Amazí
Amazí, a professional hula-hooper who runs Hoop Blast in London, presented a case study and live demo on how to schedule events and package deals using Eventbrite. She likes the tool because it allows for "more workshops, less admin," she says.
As Amazí demonstrated, you can use Eventbrite's scheduling tool to list multiple events on one page, which makes things super easy for everyone: You can post that one link in your social media profiles, for example, and the simplicity will encourage customers to sign up for more than one event. (Watch the full video to see the tool in action.)
Plus, you can keep all of your customers' contact information in one place, which makes it easy to send messages to them at once. That's a big time-saver: You won't have to collect individual names and emails or send out email after email.
Read more about how Hoop Blast cultivated a loyal virtual following in Eventbrite's OFFSCREEN series.