We're helping you take your event promotion to new heights with the ultimate event marketing partner: AI tools.
---
At Eventbrite, we're committed to innovation and empowering event creators with the tools you need to host successful events, reach new audiences, and grow your business with confidence and ease.
That's why we're thrilled to introduce the latest update to our platform: AI-powered tools for event creators, helping you write like a pro in record time and drive more ticket sales.
In the world of event planning, writing compelling copy is crucial to the success of an event. The words used to promote an event can be the deciding factor between a sold-out event and a poorly attended gathering.
For attendees, the right words convey the value of the experience, the thrill of being a part of something unique, and the sense of community that comes with attending events. For event organizers, crafting strong messaging gives you an edge and helps your event stand out from the crowd.
Write Like a Pro With Our AI Text Generator for Events
Event organizers have a lot of responsibilities on their plate, and writer's block can be a major hurdle in the event planning and marketing process. We've all been there. Ideas can't seem to flow, and productivity comes to a halt. Our new AI tools help jump-start creativity, save time, and streamline the copywriting process.
With AI-generated text, we'll automatically craft compelling messaging for your event pages, emails, and social media ads, allowing you to focus on other important tasks.
Drive More Ticket Sales With Engaging AI-Generated Copy
Eventbrite's AI-powered copy intelligence goes beyond taking the guesswork out of writing. It's a powerful tool that can help you sell more tickets by crafting copy that converts potential ticket buyers into attendees. With AI, grab attendees' attention where you need it the most.
Event pages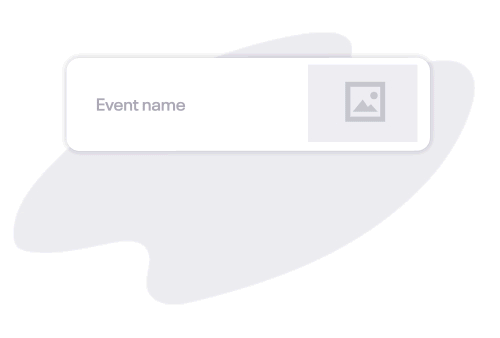 Just fill in your event title, location, and dates, and we'll automatically suggest your event summary and description — and even a relevant AI-generated image if you don't have one for your event.
AI will also automatically fill in your event type, category, and sub-category — all features that make it easier for people to discover your events.
---
Email marketing campaigns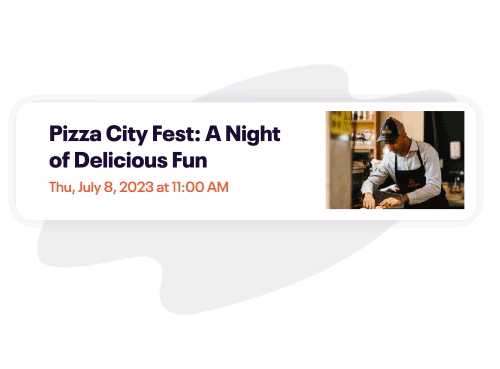 Stand out in your attendees' inboxes and get more clicks and ticket sales with AI-powered copy for your email campaigns.
---
Social media ads on Facebook & Instagram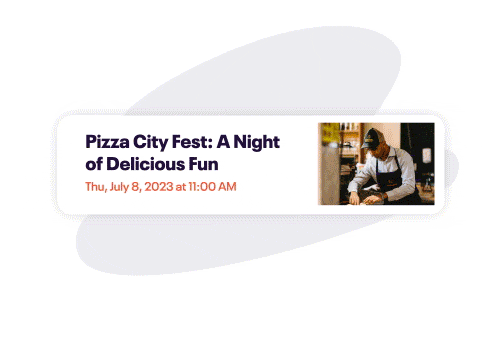 Craft more effective ad copy on Facebook and Instagram that helps you get more reach and engagement with your social media event marketing.
On average, social ad campaigns using Eventbrite's AI-powered copy saw a 17% decrease in Cost Per Click compared to social ad campaigns not using AI-powered copy.*
Save Time and Stress Less With Eventbrite AI-Powered Tools
One of the biggest benefits of using AI-powered copy is saving time. Creators are launching ad campaigns 30% faster with AI-powered copy compared to non-AI.*
You can craft more-impactful messaging in just seconds, freeing up time to focus on other aspects of event planning. This not only helps to reduce stress and increase productivity but can also lead to better results for the event overall.
Eventbrite's AI-powered tools are your new ultimate event marketing partner. This exciting addition to our platform helps event creators write copy like a pro in no time and drive more ticket sales. With AI doing the heavy lifting, you can spend less time writing and focus more on what matters most: creating unforgettable experiences for your attendees.
Evenbrite's AI-powered tools have started to roll out to event organizers. Interested in being the first to know about future AI innovations on Eventbrite? Sign up here.
*Based on Eventbrite data from March 23–May 5, 2023