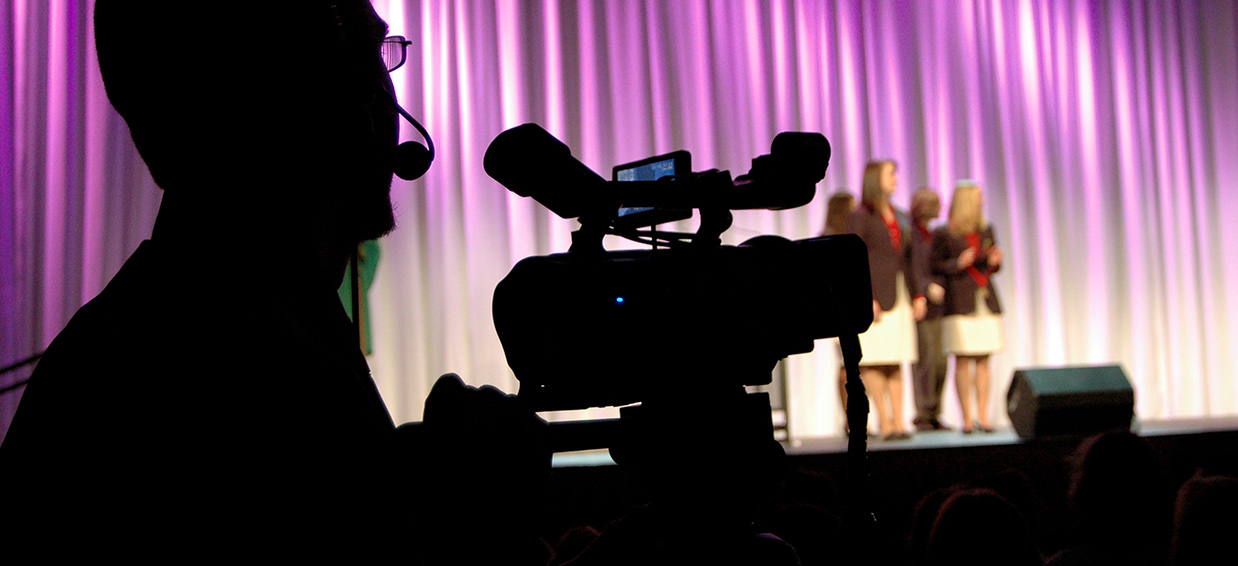 Tips for Using Video Before, During, and After Your Event
Have you heard that video will account for nearly 80% of global internet traffic by 2020? Or that video holds people's attention 5x longer than still images?
Video is on the rise — and the event industry is feeding the trend. So how can you use video to promote your event and engage attendees long after it's over?
In a recent webinar, video expert Mark Robertson opened his playbook for event professionals hoping to leverage the power of video. Read on for his top tips for using video before, during, and after your event.
Get more tips in the full on-demand webinar.
Before Your Event
In the months leading up to your event, video can help drive awareness, encourage registrations, and build excitement. Here are three effective ways to use video as a powerful promotional tool for your event:
Sizzle reels
If you have video content from previous events, you can use it to create a collage of short clips. Pull from recorded sessions and interviews with speakers, sponsors, and attendees to show interested event-goers what your event has to offer.
Speaker and sponsor teaser videos
If you don't have footage from previous events, you can still create video content that gives registered attendees a reason to excited — and would-be attendees a reason to register.
Ask your speakers and sponsors to help you create short, simple videos of them telling attendees why they're excited for your upcoming event. These low-effort videos help put a face to the names on your event agenda and give potential attendees another reason to attend.
User-generated content
You can even leverage video without having to shoot a single frame. "User-generated content that mentions or features a brand gets 7x more engagement than videos uploaded by that brand," says Robertson. You can incentivize attendees to create user-generated content by holding a contest that offers the winner anything from a free conference pass to a VIP upgrade.
During Your Event
There are numerous ways to use video during your event. Add a little fan fare to your speaker introductions with a short introduction video, let a high profile speaker address attendees virtually, or capitalize on built-up anticipation with a kickoff video.
The kickoff video
After months of anticipation, your attendees are huddled together in the main room.
There's no better way to ignite the explosive energy in this moment than to kick things off with a video. In the webinar, Mark shares an example from his event, ReelSummit:
Robertson leveraged user-generated content to unify the audience and pay homage to what they, as an industry, had achieved.
Consider how you can create something similar for your event. How can you use video to capture and amplify the excitement of the crowd? If you need a place to start, think about turning your event agenda into a fun, exciting video that lets attendees know what to expect from the day.
Livestreaming
Livestream your sessions on-screen so that attendees in the back of a large, crowded room can get up close and personal with speakers and panelists. Increase exposure by broadcasting live to people at home. A reader survey with New York Magazine revealed that 67% of viewers are more likely to buy a ticket to an event after watching a similar event's live video.
After Your Event
Once your event has ended, you can use video to keep the buzz going — and promote next year's event.
The recap video
Do you send out your post-event thank you note to attendees, sponsors, and presenters? You should! When you do, include a video with short clips from recorded sessions and on-camera interviews, intercut with footage that captures the zeitgeist of your event.
Encouraging them to share with their social networks. Then use the same video on your event website and invitations for next year's event to drive registrations.
On-demand sessions
Share recorded sessions with your audience to promote your next event. This glimpse into the quality of your event plays a crucial role in event-goers' decision to attend.
Watch the On-Demand Webinar for More
In the recorded webinar, Robertson discusses the trends shaping online video today and outlines how you can use video to grow your event year after year.