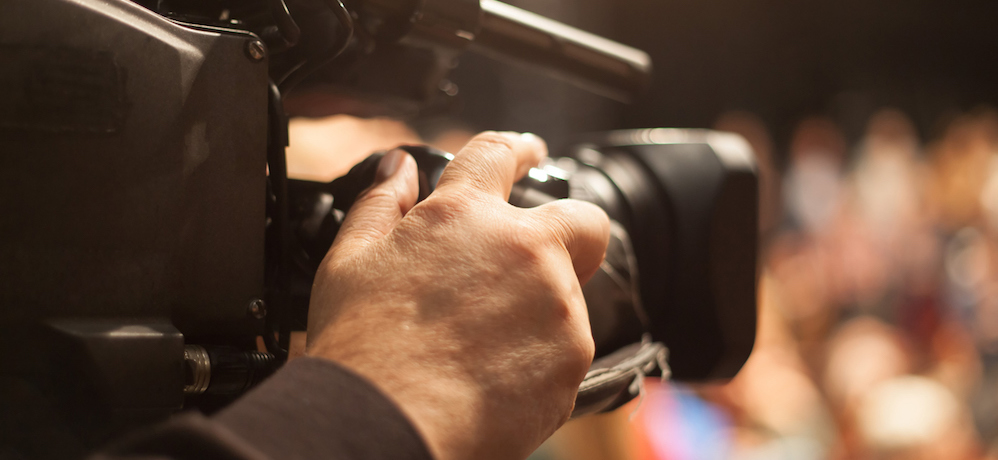 How to Get More out of Your Corporate Event Video
Video is vital for events. From growing your audience to marketing and promoting your event, it's one of the most engaging and cost-effective tools you can use. In fact, 52% of marketers worldwide name it as the content type with the best ROI.
But in today's content-rich world, creating a boring old event wrap-up simply won't cut it. If you want to grab people's attention and get them excited about your event, you need to create content that's useful and interesting. Here's why.
Why your corporate event needs video
Without a doubt, video is on the rise. By 2020, it'll account for nearly 80% of global internet traffic. And it holds people's attention 5x longer than still images, making it a fantastic medium for marketing and engaging attendees long after your event is over. Plus, video marketing rewards brands with a 97% increase in intent to buy.
Luckily, events are well-suited to take advantage of this powerful marketing medium. Festivals, concerts, runs, and conferences are often brimming with perfect opportunities to capture video content. For corporate events specifically, your speakers are an obvious choice to create video content.
No matter what you decide to film, the way you use video will generally fall under two categories: livestreamed or repurposed video.
Livestreaming event videos
Viewers spend 8x longer with live video than recorded video, and investing in it can have a real impact on your bottom line. In fact, 67% of viewers are more likely to buy a ticket to a concert or event after watching a similar event's live video.
And, contrary to popular belief, livestreaming doesn't have to be prohibitively expensive. There are many options for those on a budget, from using Facebook Live with your phone to buying an inexpensive live camera like Mevo for under $400.
Which platform you choose to stream your live video on will depend on your goals and which channel makes the most sense for your event. Here's an overview of two of the most popular livestreaming platforms for event videos.
Facebook Live
Facebook Live lets you broadcast video in real-time to your followers, as well as directly to an event page or group, all from your mobile phone or tablet. To get started, go into the Facebook app and head to your Facebook page, event, or group, then look for the "Live Video" button.
Some tips Facebook gives for getting the most out of Facebook Live:
Build anticipation by letting your audience know when you'll be broadcasting. Facebook finds that a 24-hour advanced notices gets the best results.

If you have a weak cellular or wifi signal, your live video will be choppy or unavailable. Don't go live until you have a strong signal.

Facebook Live asks you to create a description before hitting the "Go Live" button. Be sure to write a description that lets viewers know what to expect.
YouTube Live
YouTube Live lets you broadcast video in real-time to your audience, either via desktop or mobile phone. To get started on your desktop, go to Creator Studio tools and select "Live Streaming." In the mobile app, simply select "create a live stream."
There are three options to choose from:
Stream now

is an easy way to go live. This option lets you quickly send content, with YouTube automatically starting and stopping the stream for you at the right time.

Events

provides greater control over your livestream. Preview before you go live, have backup redundancy streams, select privacy options, and start/stop when you want.

Mobile

, available on Android 6.0+ and iPhone and iPad iOS 8+, lets you stream from the app. However, to livestream on mobile, your channel must have at least 100 subscribers.
Repurposing event videos for marketing
The best part about live video? After you finish the livestream, you can take all the footage and repurpose it for different marketing materials. You can use the footage to create teaser videos for future events and to engage followers on social media year-round.
You can also record live footage at your event specifically intended to be used later on to create marketing videos like speaker teasers, quick-fire interviews with attendees, or even a recap video that captures the best of your event.
Why invest in repurposing your footage for marketing on social media and beyond?
Users spend 3x more time and comment 10x more when a video is live, according to Facebook.

30% of people who watch a livestream of an event will attend the same event the following year, according to Digitell.

Enjoyment of recorded video increases purchase intent by 97% and brand association by 139%, according to Unruly.
Once you have your event video, don't be afraid to feature it on your event page. According to Eventbrite research, one of the top two places consumers bounce to after visiting your event page is YouTube.
Why? Because they're looking for videos that will show them what to expect from your event. By showcasing video on your event page, you can encourage more event-goers to register instead of leaving the page.
Use your video at every stage of your event
Discover the trends shaping online video today, plus tips for using it to grow your event before, during, and after in How To Use Video For Event Marketing.